Best Air Purifier Review // HEPA Air Purifiers 2019
Air purifiers come in all shapes and sizes and the prices vary widely.
Below I ranked what I think are the best air purifiers on the market based on reviews, star ratings and descriptions.
#1.) Honeywell AirGenius 6 Air Cleaner
#2.) Fellowes AeraMax 290 Air Purifier
#3.) Honeywell HPA300 Allergen Remover
#4.) Alen Breathe Air Purifier Review
#5.) Levoit Air Purifier (x2)
#6.) Winix Air Purifier with True HEPA
#7.) Winix Ultimate Pet True Air Cleaner
#8.) Honeywell True HEPA Air Purifiers
#9.) Rabbit Air BioGS 2.0 Air Purifier
#10.) Coming soon

** FYI — home air purifier links go to Amazon (which typically has the best prices)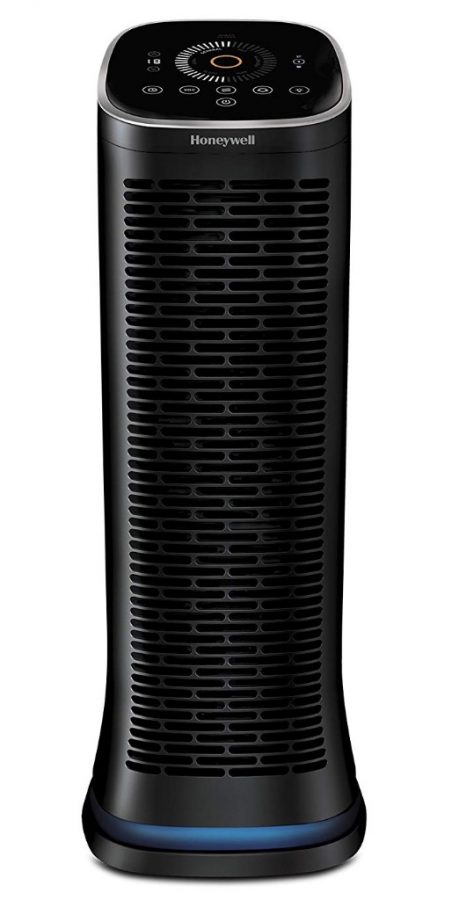 Say goodbye to pet dander and bad odors (especially smoke) — The Honeywell Bluetooth Smart AirGenius 6 is an air purifier w/ a sleek tower design. I love the slim aesthetic because it looks great + easily fit in any room.
For those who are tech-savvy, it is a 'smart air purifier'. Sync it with your iPhone or Android and you can command it from anywhere: timer schedule, get alerts and turn ON/OFF
Air cleaner promises to get rid of 99.9% of airborne particles causing unpleasant odors and breathing issues. It can process and recirculate the air in a room up to 5 times within 60 minutes, which means the air will always be of the highest quality.
⭐⭐ Best Air Purifier for Baby's Bedroom ⭐⭐
Another cool thing? The filter is washable. You don't have to spend more money when your filter gets dirty.
I also noticed that this model tells you how much pollen it removes from the air. Very cool feature for anyone who suffers from seasonal allergies or allergies to dust (or pet dander!).
Perfect for bedrooms, if you're a light sleeper or need it for a baby's room, you'll find this to be a terrific option because it's very quiet when operating.
This Honeywell Air Purifier be expensive, but it certainly is not the most expensive — buyer reviews confirm it's worth the extra money.
Highlights
Removes 99.9% of airborne particles

small as 0.1 micron

smoke, pet dander, pollen, etc

Smart Air Purifier = control w/ smartphone

get alerts on your iPhone or Android

schedule air cleaning times

reminders for cleaning filter

Air Quality Indicator + Oscillation

Circulates air 5x per hour

Washable filter

Newest AirGenius model

Honeywell AirGenius 4

Honeywell AirGenius 5
Potential Flaws
Newer Honeywell model = not tons of reviews yet

The Fellowes AeraMax 290 air purifier is one of the most affordable models on this list.
Model promises to eliminate 99.97% of the harmful particles in your air. It also has an AeraSmart Sensor so it can automatically adjust fan speed based on how clean the air is. Users found it to be very quiet when in use, which I like because it means it won't keep me up at night.
It comes in 2 color options of white or black.
If you have asthma or allergies you will want to take note of the fact that this model is certified by Asthma and Allergy Foundation of America.
Lots of positive buyer reviews confirm the AeraMax is very effective in large rooms.

The Honeywell True HEPA air purifier promises to clean the air 5 times an hour. The models will take out 99.97% of all the stuff in your air that's bad to breath or unpleasant to smell.
Air purifier has a rectangular design — I like the fact that it can be placed against a wall & isn't very noticeable — personally I don't love the design, but I think it's the best air purifier for not drawing much attention.
⭐⭐ Best Air Purifier for Size Options ⭐⭐
You can even choose from 5 different model sizes for this air purifier; It's important to study all of them if you decide to go with the Honeywell True HEPA HPA300.
FYI: Some model sizes are available on Amazon Prime, so Prime members can get free shipping. Others are sold by independent retailers and have wider range of prices.
Filters last 12-18 months so you won't need to replace them too frequently.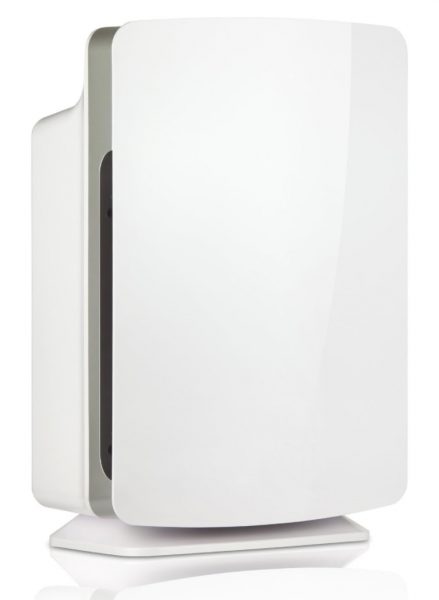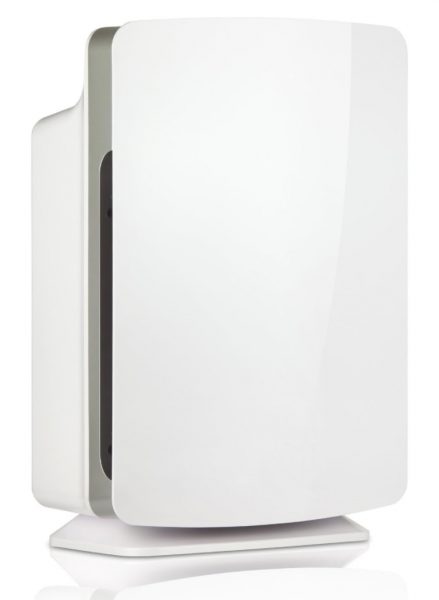 The Alen Breathe is a true luxury air purifier specifically designed for dust and seasonal allergies.
What's makes it unique – it comes with better tech.
Includes 4 different air filters + Intuitive intelligence which automatically adjusts for particle size — allows it to purify rooms in only 1-2 hours. (auto adjusts for particle of 0.01 microns making it very efficient)
Being super quiet, it's a solid choice for light sleepers or babies rooms.
⭐⭐Most Efficient Air Purifier ⭐⭐
Another aspect that surprises me is how well it performs in large rooms ranging 800-1100 square feet.
FYI: Quiet performance is not common in large-scale air cleaners.
Last feature is the Smart Sensor; it automatically detects the level of room pollution and will decrease energy if needed. (Less energy = less noise)
Downside – it's expensive. One of the most expensive on my list.
On the bright side, the Alen Breathe has MANY happy buyer reviews which confirm how well it performs.

Levoit HEPA Air Purifiers include 3-filter system to remove 99.97% of airborne particles.
As HEPA purifiers, they are very high-performing and scrub odor-causing particles including mold spores, dust and even some forms of smoke.
You can't beat the price – the price is what's most surprising. Levoit purifiers are very affordable for most consumers (which is rare for HEPA-grade purifiers). In my opinion, these should cost upwards of $200 each.
⭐⭐ Best Portable Air Purifier (6.6 pounds) ⭐⭐
In terms of functionality, they offer 3 power settings to choose from. Lots of positive buyer reviews confirm that Levoit purifier run very quietly, and great for bedrooms because of their size.
You'll also like the built-in nightlight which is a small thing, but is nice for kids or baby's rooms.
As one of the most lightweight air purifiers on the market, it's very easy to move room-to-room. Only 6.61 pounds = very portable air purifiers.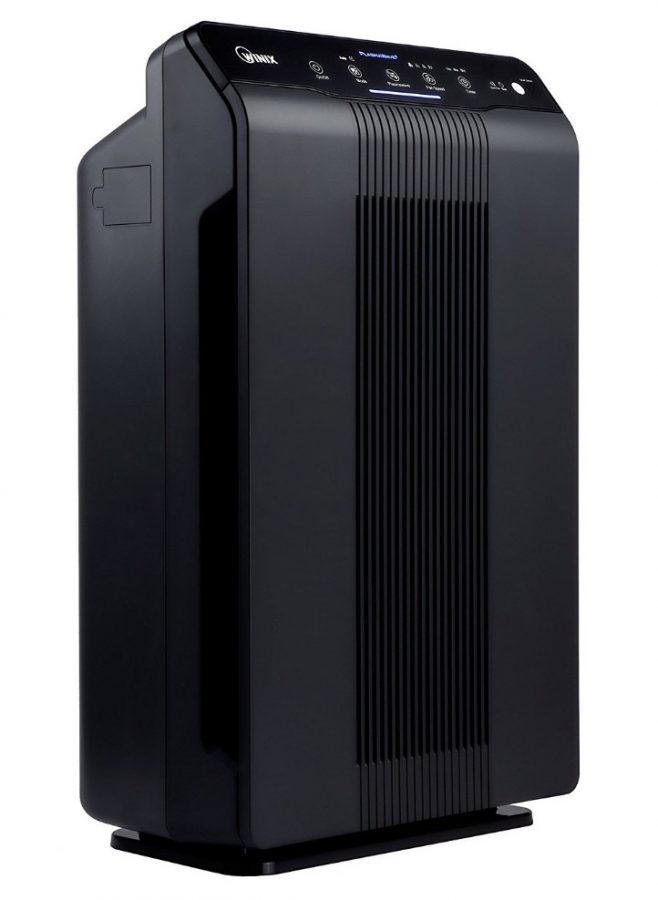 Winix 5500-2 Air Purifier promises to eliminate 99.97% of airborne odor-causing particles.
Reasonably priced and one of the most popular air purifier models online, with a very high customer satisfaction rating.
One of the things I really like is the washable filter. You can save money because you don't have to replace parts regularly. It's also a plus that you aren't producing trash that adds to waste in landfills.
⭐⭐ Best Air Purifier for Bad Smells and Mold ⭐⭐
This model highlights a few special features, such as timer + sleep mode. This means you can keep the air purifier running at night without having it keep you awake. Happy customer reviews note how very quiet it is making it ideal for bedrooms.
It also has Smart Sensors. This means that the unit can self-adjust its setting if there aren't as many pollutants in the air to remove. Plus, this model has 4 fan speeds users can choose from.
This model is very easy to set up and maintain, which I find appealing and users appreciated how quickly they could put their air purifier to use.
California residents will like the fact that this model is CARB certified + ENERGY STAR certified.

Winix WAC9500 air purifier promises to deal with 99.99% of airborne pollutants and allergens. With numbers like that, seasonal allergy sufferers will find this to be a good affordable option for cleaning the air.
This model is white and it has a remote control. Its sleek design can blend in with home decor and I like the overall look.
⭐⭐ Best Air Purifier for Affordable Price ⭐⭐
Built-in Smart Sensors are automatic so it purifier won't operate at maximum when not necessary. Also has an operating light that dims when in the dark.
I love the fact that there's a sensor to tell you when the filter needs to be replaced.
Filters are long-lasting and includes a pre-filter that is washable which helps extend the filter's life.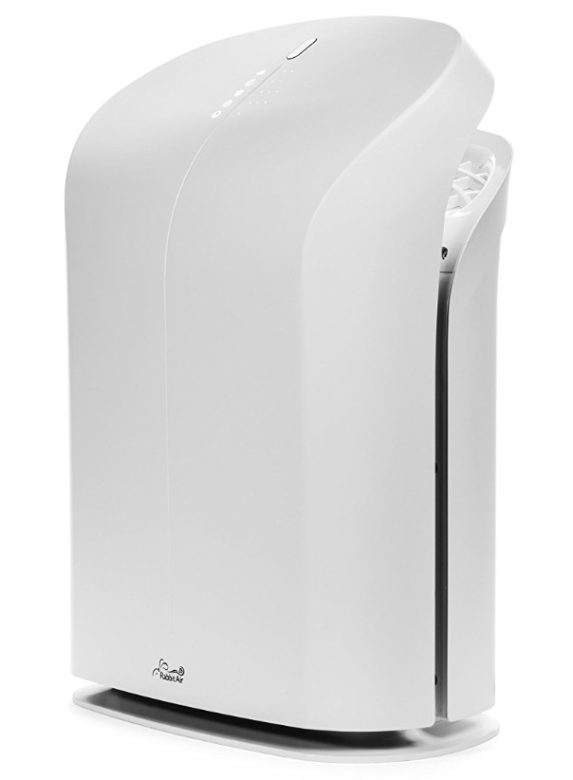 The Rabbit Air BioGS 2.0 Ultra Quiet air purifier is designed to circulate + clean air in rooms up to 2 times per hour.
It works at 5 different speeds, so you can adjust it to meet your needs when you're operating it. Low speeds are extremely quiet and perfect if you're running it at night.
⭐⭐ Best Air Purifier for Smokers ⭐⭐
I love the fact that it's ENERGY STAR certified. Filters are also long-lasting, and will need to be replaced every 3 years.
Rabbit Air BioGS is one of the most expensive air purifiers on the market because of its carbon-activated air filter. This is the feature which removes the smallest micron particles such as cigarette smoke.
FYI: Most HEPA air purifiers do not have capability to effectively remove cigarette smoke.

Honeywell HPA600B Air Purifier is for larger rooms and promises to circulate the air in your room up to 5 times each hour — great for anyone with respiratory issues.
Online reviews show that it particularly appeals to those with asthma or seasonal allergies. Also great for anyone with respiratory issues from too much dust.
⭐⭐ Best Air Purifier for Respiratory Issues ⭐⭐
It is designed to eliminate 99.97% of the stuff in your air that's causing odors.
Bit of a more expensive model, but users find it does a great job purifying the air in larger rooms, which not all models can work effectively in. I think this model's capability to work in larger spaces will appeal to people with open-concept homes.
You do need to replace the filters, but filters are designed to last a full year.
Sleep mode allows you to run the air purifier at night without keeping everyone awake.
** I'll add #10 best air purifier 2019 soon. Stay tuned!
Types of Air Purifiers:
Basic Air Cleaner – remove 99% of household airborne particles
HEPA Air Purifiers – remove 99.97% of airborne particles larger than 0.03 microns
Carbon-Activaed Filter Purifiers – remove smallest particles like cigarette smoke (0.01 – 0.04 microns)
Best Air Cleaners – Conclusion:
HEPA Air Purifiers are designed to keep the air fresh of 99.97% of harmful particles.
Great for people who have asthma or allergies because they remove pet dander and other allergens from the air. They also eliminate smoke from cigarettes — however you will need a purifier w/ a carbon-activated air filter to effectively remove most cigarette smoke. (FYI: smoke has smallest micron particles)
These days, air purifiers can come with a lot of impressive features, so it's important to consider your needs. It isn't just those who have allergies or asthma that may be in the market for a good air purifier. Some models even tackle smoke and ash from wildfires. Got a musty basement? You can get rid of mold spores.
Pet owners will also find that using a good air purifier will help their home smell fresh and clean.
Best Air Purifier Review, Related:
Top 10 Humidifiers Review
Top 8 Austin Air Purifier Review
Biota Bot Air Purifier Review
iTvanila Cool Mist Humidifier Review
Dyson Cool Link Air Purifier Review
Top 10 Heated Toilet Seats Bidets
Best Robot Vacuum Cleaners