Best Generac Portable Generators.
Portable generators are solutions to storm-induced power outages, modern camping, and construction projects.
In this article, we have researched the best Generac generators online – many of the lighter models are ideal portable generators, while others are heavier and may be more suitable for home emergency backup power, or generators for RV trips.
FYI: for California residents, many are CARB Compliant
Prices on Amazon range, $349 – $3,999.
Generac 7117 GP2200i Review

Generac 5940 GP6500 Generator

Generac 6866 iQ2000 Generator

Generac GP15000e Portable Generator

Generac 5939 GP5500 Generator
---
The Best Generac Generator Reviews
---

Because of its compact size, it can maintain 1700W and has a maximum power of 2200W.
Gas tank: 1.20 gallons
Time: 10.75 hours (at 25%)
Pricing: Medium
The powerful battery and the weight of 46 pounds make it the best option during emergencies – power outages or while camping. Buyers also say it is one of the best for social gatherings or outdoor events.
It is also relatively quiet and comes w/ multiple outputs.
Buyers say it is the best Generac portable generator for camping and can quickly power multiple devices:
laptops, mobile phones, headphones, speakers, grills, kettles
Generac GP2200i generator works with alternating current, plus smooth current – ideal for sensitive devices that can be destroyed by a high-powered burst.
Lots of positive buyer reviews.
---

Compared to the Generac 5941 GP6500, the Generac 5940 GP6500 is equipped with a large fuel tank that weighs less than comparable generators.
As a heavy duty generator, it features a 7.2-gallon tank design – runs for up to 10 hours at 50% load.
Running Watts: 6500W
Starting Watts: 8000W
Pricing: Medium
Generac GP6500 delivers up to 8000W  which can power most household items: refrigerators, water heaters, and washing machines.
On the back you'll find a 30A socket and two 20A duplex sockets. Each is protected by individual circuit breakers – helps ensure fragile electronics are safely charged.
In my opinion, the large capacity and lighter weight make the Generac 5940 GP6500 the best portable generator for the RV and the cabin.
Also very ideal for power outages!
---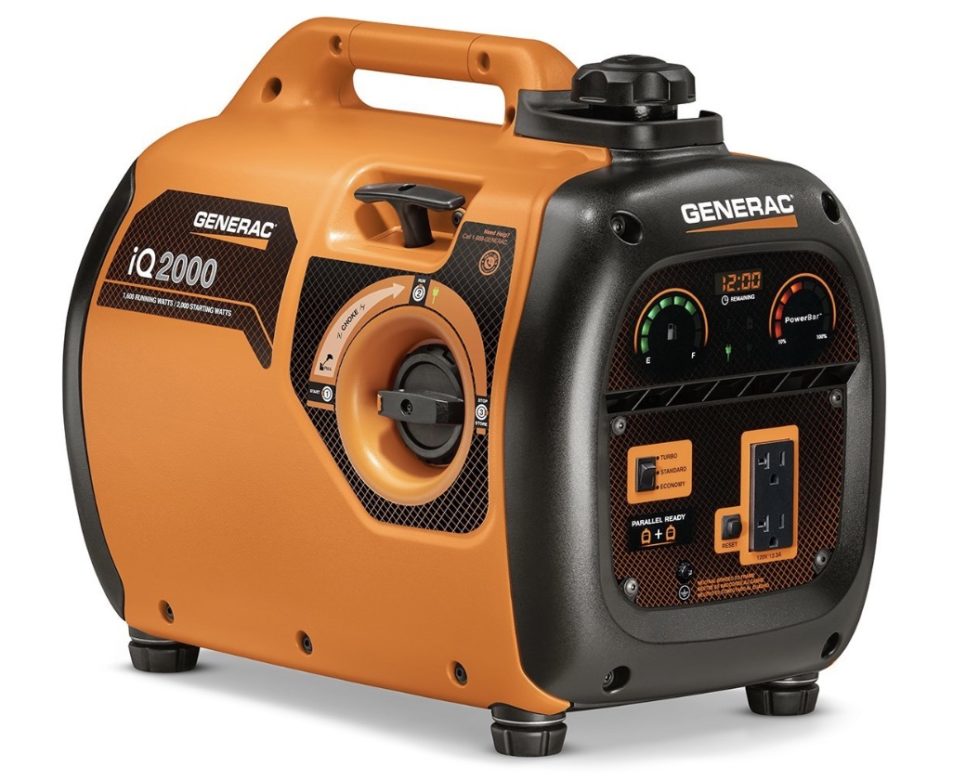 The Generac iQ2000 has a power of 2000W and is CARB Compliant.
Compared to similar units, this Generac portable generator produces much less noise than its direct rivals, the Honda E2200 and the E2200i.
Buyers love the iQ2000 digital display that shows the remaining fuel and energy capacity.
Capacity: 2000 watts
Gas tank: 1.06 gallons
Capability: 7.7 hours (at 25%)
iQ2000 is perfect portable generator for camping – very quiet, lightweight, and capable of powering multiple devices.
It is also deal for smaller homes or apartments: you can power a variety of small to medium sized appliances if there is a storm or a power outage.
Choose between three modes of operation:
economic, standard & turbo mode
As an inverted generator, the iQ2000 saves a lot of fuel and allows an operating time of up to 7.7 hours with a 25% load. This can be further increased by establishing a parallel link with another generator.
Top 6 Portable Inverter Generators >>
The Generac iQ2000 decibels are lower than the Honda EB2000i. Generac does not give a decibel level because it will depend on the load capacity: the full load of 1600W will be stronger than that of 1000W.
Lots of positive buyer reviews.
---

The beast of Generac Power Systems, the GP15000E generates 15000 watts of power.
Five bedroom house? RV road trip? No problem!
This generator will meet all your electrical needs in times of emergency. It has a huge 16 gallon tank that contributes to about 10 hours of operation with a 50% load.
Capacity: 15,000 watts
Gas tank: 16 gallons
Capability: 10 hours (at 50%)
It is an excellent option if you live in an area with potential storm damage to energy systems, especially if you have important systems that you want to keep running, such as medical equipment or garage door.
GP15000E generator is equipped with a battery for additional power if needed. 
6 Best Honda Generators Review >>
Personally, I think it is Generac's best generator for emergency backup power for large homes and large construction projects.
Very positive buyer reviews and rating.
---

The Generac GP5500 is equipped with a 389cc OHV engine.
As a heavy duty, gas portable generator it can operate up to 10 hours at 50% capacity.
Quality materials, solid construction and a protective casing of metal pipes ensure that the Generac GP5500 generator remains durable. In an emergency, the GP5500 can provide critical backup power.
Capacity: 5500 watts
Gas tank: 7.2 gallons
Capability: 10 hours (at 50%)
It generates more than 5500 W and has a large enough tank, 7.2 gallons to be exact, to turn on a full-size refrigerator, a television and an A / C system for 5-6 hours.
In addition, the GP5500 is supplied with a low-oil automatic shutdown function, never flat wheels for better portability and splash lubrication for greater protection of engine parts.
Possibly the best Generac portable generator for construction jobs.
Some mixed reviews but mostly positive overall.
---

The Generac 5735 GP17500E is the most powerful portable generator available.
It is equipped with a Generac 992cc OHVI engine and a whopping, 16 gallon fuel tank. Operating at 50% capacity it can provide up to 10 hours of run time.
Running: 17500 watts
Starting: 26250 watts
Generac 5735 GP17500E is the best portable generator for extended power outages. You can let it run at lower capacity, powering only the essential appliances, and make it last days.
Buyers say the 17500W Generac GP17500E is the ultimate standby generator – easy to start w/ enough power to run a five TON air conditioner.
For large families or extended trips, the GP17500E is possibly the best portable generator for RV or cabins. It is a lot lighter and more compact than similar 17500W generators. The hardened steel frame makes it durable for travel as well.
The Generac GP17500E is heavy duty without the super heavy weight.
Lots of positive buyer reviews, but expensive price tag.
---

The Generac GP6500 generator offers enough power for large appliances like a refrigerator.
Designed with a 389 cc OHV engine, it is equipped with splash lubrication that significantly extends its life. In addition, a safety sensor will tell the engine to turn off automatically in case of low oil level.
Capacity: 6500 watts
Gas tank: 6.7 gallons
Capability: 10 hours (at 50%)
Weighing 198.3 pounds it can be a bit much, but it should be expected for a heavy generator. It is also why the GP6500 is one of the most popular RV generators on the market.
For easier portability the Generac generator is designed with a hardened steel tube cradle making it more compact than similar 6500W models.
Generac generator reviews say the 6500W generator is very easy to start. It has a rip-cord, but most users say they get it on the first pull.
Because of its size and capacity, the Generac GP6500 is the ideal portable generator for RV or as a home backup power supply.
---

Running Watts: 2300W
Starting Watts: 3000W
Running at 3000 watts, the Generac GP3000i can run 4.5 hours (at 50% capacity) or 5.8 hours (at 25% capacity).
At 3000 watt capacity it offers low emissions and a PowerDial – you can adjust the output level, making it an efficient portable generator.
It includes a PowerRush feature that delivers 50% more starting capacity than normal portable generators – this makes it super quiet and one of the most fuel efficient portable generators.
Generac GP3000i generator is expensive, but one of the best options available.
---

The Generac 6866 IX2000 is similar to the Honda portable generators.
It's a compact, lightweight 2000W inverter generator that is designed with all the newest features.
Buyers like the Eco-Throttle button, and the user has the option to turn the fuel saver on and off. When "on", the motor rotates according to the power demand, saving a lot of energy and reducing noise.
Running Watts: 1000W
Starting Watts: 2000W
In addition, the generated power is effectively "cleaned" and stabilized using an electronic microprocessor. It may look like a small feature, but the IX2000 can safely charge sensitive electronic product (such as a computer or mobile phone) – these smaller devices require consistent power, and a large influx will likely break it.
I would describe the IX2000 as a heavy duty, portable generator – it weighs 52 pounds, but is much quieter than similar 2000W inverter generators.
Some mixed reviews, but overall positive rating.
---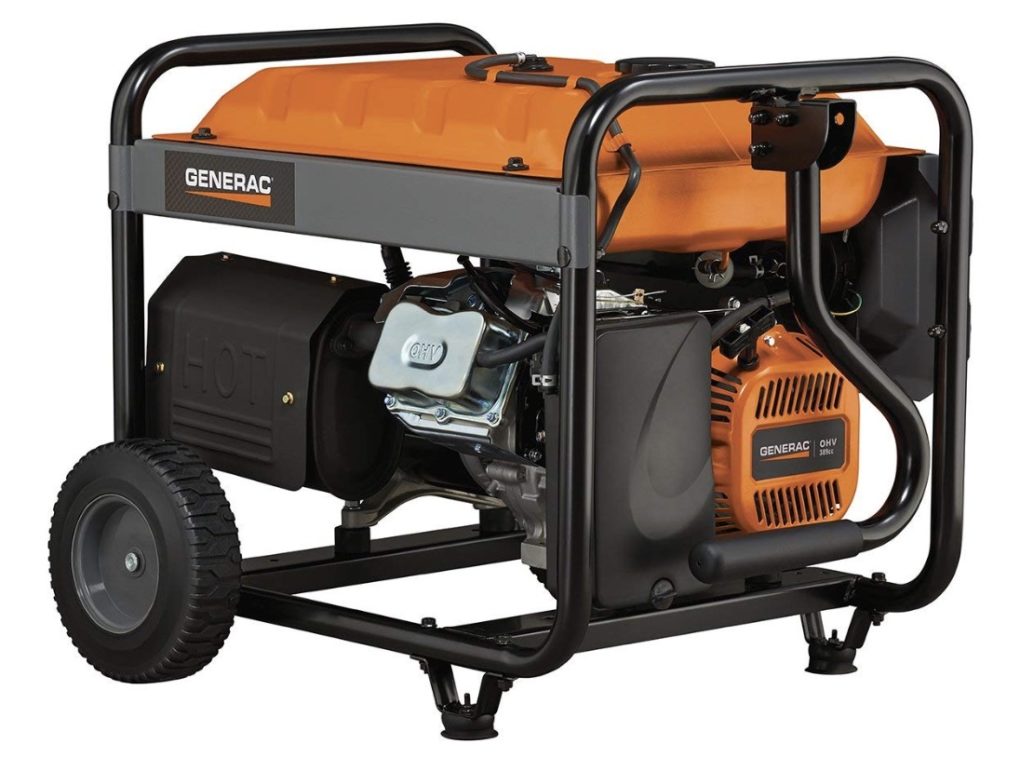 The Generac 6672 is powered by a 5500W, 389cc OHV motor which can power multiple power tools simultaneously.
Its 6.7 gallon tank allows for less than 11 hours of run time – enough to last a full day of work on a single fill.
Running Watts: 1000W
Starting Watts: 2000W
Other unique features include the Splash Lubrication inside the motor which helps with durability. And in case it runs out of fuel, the Generac 6672 portable generator will automatically shutoff, preventing device damage or fires.
Reading buyer reviews online, the Generac 6672 portable generator is popular among schools and businesses too. It is useful during an electric outage, but it is also used in school gyms and during sports games.
Ex: the football team needs forced air heaters or industrial size fans
Other buyers use it for powering construction site equipment.
propane heaters, electric saws, commercial drills, pressure washers, etc
Generac 6672 is also one of the easiest portable generators to start. Although a bit noisy at runtime, its rugged construction and reliability make it a valuable backup power tool for construction projects or home emergency.
Weighing 171.8 pounds, it an be pulled on wheels for portability.
---
Generac Portable Generators:
If you don't want to spend excessive amounts on portable generators just because of a brand name, consider buying a Generac generator.
The company produces excellent generators that fit all needs – from electrical power for camping and tailgating to emergency home back-up power and construction site back-up electrical supply.
 ** I'll be adding 9-10 best Generac generator reviews later this year! Stay tuned!
---
Best Generac Portable Generator Reviews