Singer Sewing Machines Review
One thing I love about the Singer Sewing brand — they offer tons of online video tutorials!
Here are my picks for best ones online.  (#5 is my pick for best sewing machine for beginners)
#1.) Singer Heavy Duty Sewing Machine
#2.) Singer Quantum Stylist Sewing Machine
#3.) Singer Computerized Portable Machine
#4.) Singer Vintage Sewing Machine
#5.) Singer Quilting & Sewing Machine (8500Q)
#6.) Singer Featherweight Machine
#7.) Singer Computerized Sewing Machine (adv.)
#8.) Singer Confidence Sewing Machine
#9.) Singer Heritage Sewing Machine
#10.) Singer Simple Handy Machine
** FYI — Sewing Machine links go to Amazon (which had lowest prices)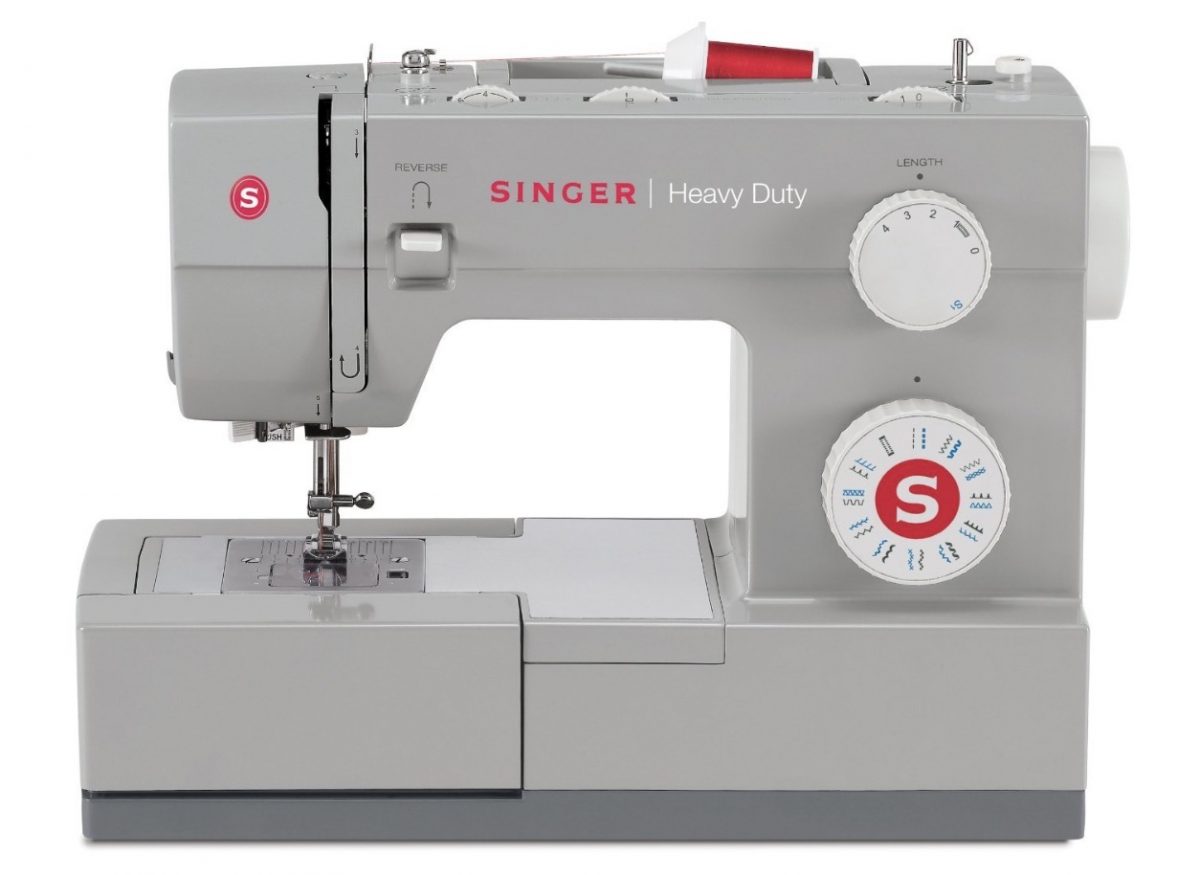 If you need a machine for heavy duty jobs (such as canvas or denim work) the Singer 4423 is a solid option!
One of the most affordable Singer machines, it's extremely durable w/ a heavy metal frame.
You'll also notice the stainless steel bed plate — it offers a smoother surface so fabrics glide smoothly.
⭐⭐ Best Singer Sewing Machine for Fast Sewing⭐⭐
It comes w/ high-out motor + 23 built-in stitches. Max speed is 1,100 stitches per minute (medium range).
Also includes automatic needle threader + customized settings for decorative items: quilts or clothing (i.e. jackets or jeans).
** Also read Bethany's list of the Top 10 Sewing Machines
Highlights
Speed:

100 stitches/minute

Lightweight: approx. 17 pounds

23 built-in stitches

basic, stretch, decorative,

+

buttonhole stitches 

customize for different fashions, quilts, home décor, crafts, etc.

Automatic needle threader function

60% stronger motor

Pressure foot pressure control

Top drop-in bobbin for easy set up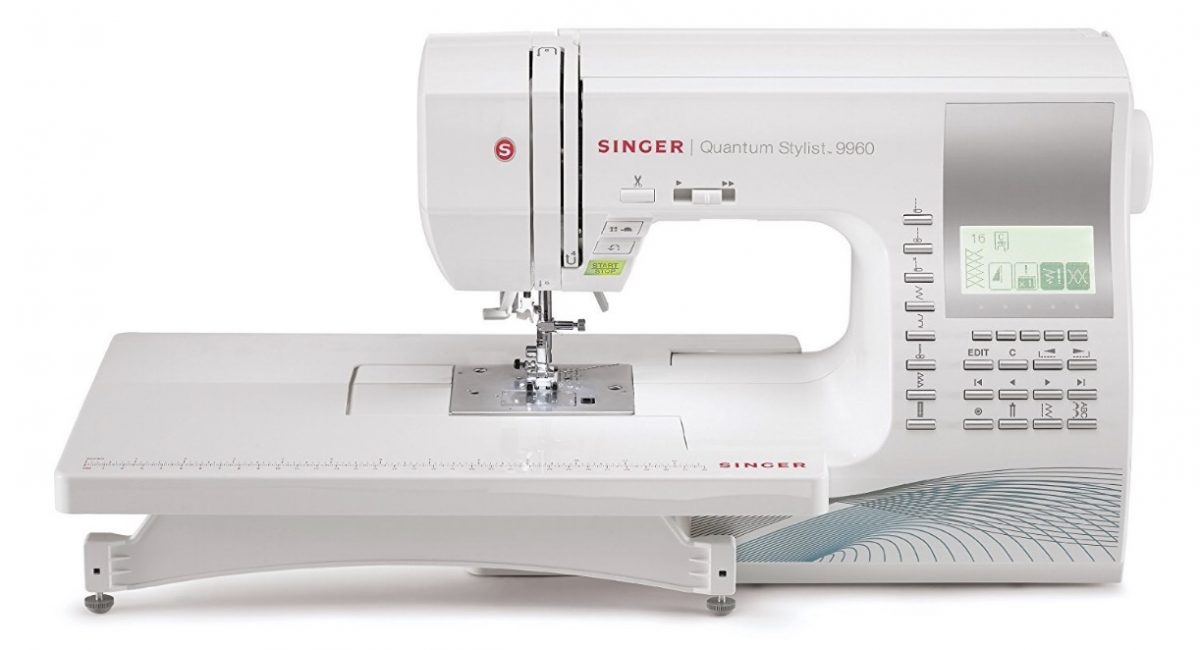 Singer Quantum Stylist (model #9960) is a mid-priced machine from Singer which is just perfect for budding designers with not just 600 built-in stitches but also 5 beautiful fonts to choose from.
You can use mirror imaging and elongation modes to further mix up the options and creativity of your designs. The Quantum Stylist 9960 includes an extension table to give you more room if needed. 
⭐⭐ Best Singer Sewing Machine for Designers ⭐⭐
Able to stitch long seams such as curtains at a super high-speed of 850 stitches-per-minute.
If that's too fast, you can easily slow the speed down — Speed toggle feature makes the Singer Quantum Stylist perfect for large + detailed projects.
The downside is that it's a little more advanced — beginners should probably start w/ something simpler.
FYI: it's similar to #6 on Top 10 Brother Sewing Machines
Highlights
Speed: 850 stitches/minute
Built-In Stitches: 600

Includes 5 Alphanumeric Fonts

13 built-in 1-Step Buttonholes w/ under-plate.

Mirror Imaging & Stitch Elongation.

Auto needle-threader

Easy Load Drop-In Bobbin System w/ Clear Cover

Machine extension table

One touch stitch selection

Electric Twin needle setting

Heavy-duty, metal frame for durability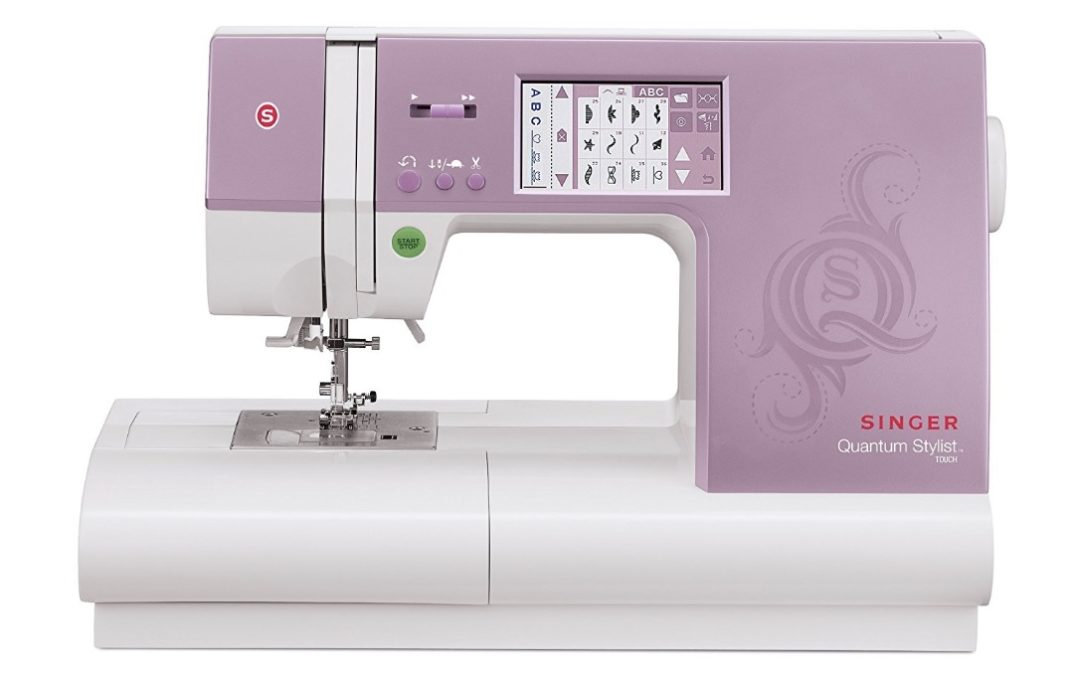 Singer Quantum Stylist has everything a seamstress could want — it comes w/ 960 built-in stitches + 6 lettering fonts (for monogramming)
A neat feature is the stitch-selection dial which you can see on the side.
It's also very user friendly — easily change speed (up to 850 stitches per min) or adjust stitch length + stitch width using the touchscreen.
⭐⭐ Best Singer Sewing Machine for Exact Stitching ⭐⭐
What I really love about this Singer Sewing Machine is how precise it is!
You'll be able to monogram small letters + shapes within fractions of an inch!
Example: stitch a cute, personal note on the back of a shirt or loved someone's initials on a cuff.
(If you're a romantic, I think this is the one for you!)
Downside is the price – it's pretty expensive.
Highlights
Speed: 850 stitches per min
Built-In Stitches: 960

Includes 6 Alphanumeric Fonts

13 built-in 1-Step Buttonholes w/ Exclusive Under-plate

Mirror Imaging & Stitch Elongation

Automatic needle threader function

Singer thread timer

Stitch memory w/ editing

Large touchscreen (LCD)

Heavy-duty, metal frame = very durable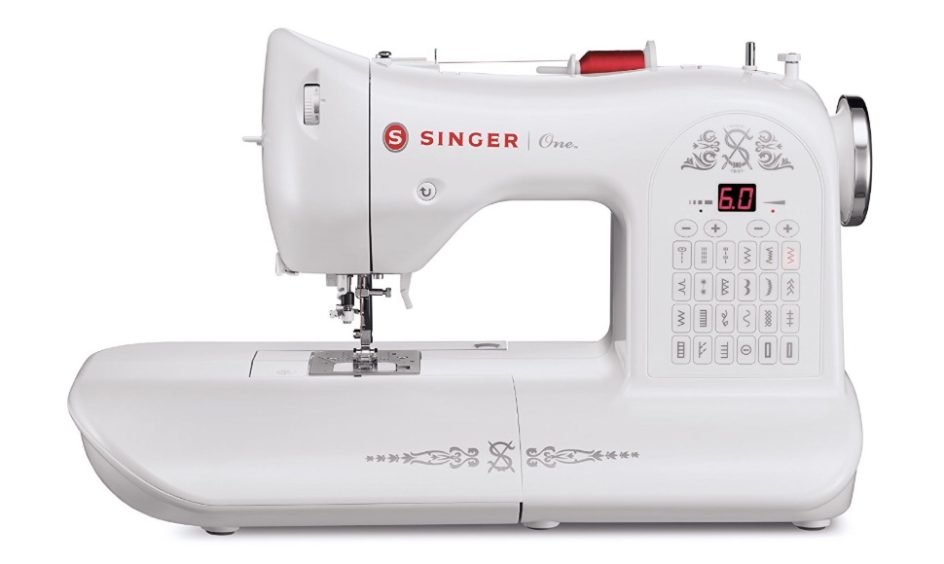 The Singer One is a great machine for beginners with it's easy-to-use features, technology and style.
At less than $400 it's a great way to start learning with a great machine packed with features that you can get to grips with in your own time.
⭐⭐ Best Singer Sewing Machine for Beginners ⭐⭐
You'll love the bold, fresh design and automatic needle threading function that's standard with all Singer machines. The built-in needle threader is a favorite feature among beginners and those w/ limited sewing experience.
The Singer One has a direct stitch selection that beginners will find useful as well as an extra large workspace: 374 mm x 14.7 inches
Highlights
Speed: 750 stitches/minute

24 built-in stitches

basic, stretch, decorative, & auto 1-step buttonhole stitching

Automatic needle threader function

High Presser Foot Lift

Auto Reverse

Quick-view stitch editing

Drop & Sew bobbin feature

Vintage Inspired graphics & design

Heavy duty metal frame

This model from Singer is perfect for general sewing but it especially excels at quilting.
Quilters enjoy the extra long extension table, quilting guide, and the wide range of feet and other quilting accessories.
One of the more hefty machines, the Modern Quilter weighs 37.5 pounds, but that can be attributed to its heavy duty frame. Although it is not as portable as other sewing machines on my list, it can handle larger projects w/ multi-layered fabrics.
Computerized with an LCD screen, 8500Q offers a ton of automatic, time-saving features — electronic autopilot mode, thread-trimmer, stitch-memory, and even automatic twin needle mode.
With 200 built-in stitches, including 17 quilting stitches and 6 buttonhole stitches, this machine can be a fun way to explore your quilting hobby.
** Great choice for hobbyists who want to get more serious about sewing.
Highlights
Built-in stitches: 200
Weight: 37.5 pounds

Great for quilting

Tons of accessories

LCD screen

17 quilting stitches

Extra long table



Potential Flaws
Some customers experienced thread tension issues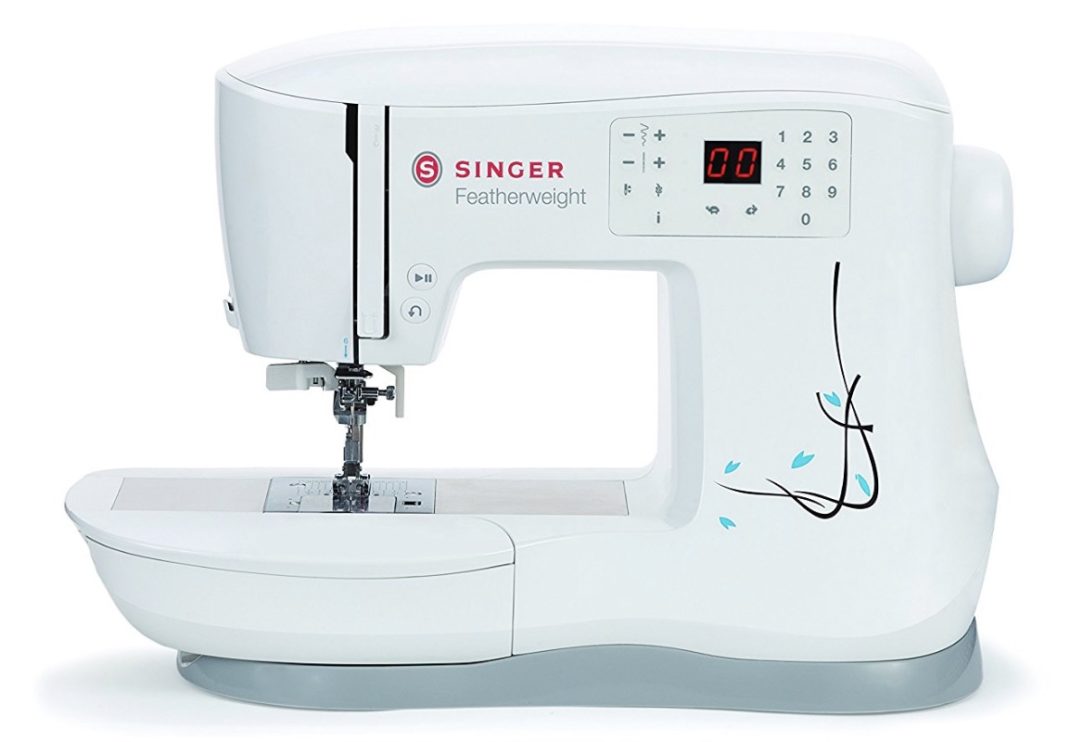 SINGER Featherweight C240 portable sewing machine with IEF System weighs less than 15 pounds which making it very portable. It's perfect for taking with you to a friends home to help out with alterations or to take with you to class.
If you earn money from making, designing or altering clothes – the Singer Featherweight is a perfect machine to take to client's homes. Being only 15 pounds makes it very portable + easy to carry!
⭐⭐ Best Singer Sewing Machine for Portability ⭐⭐
The SINGER Integrated Even Feed System (IEF) is advanced technology which allows you to sew any fabric and through several layers without having to match up every seam.
Highlights
Speed: 700 stitches per min
Weight: 15-pounds (lightweight – as it's name suggests!)
Stitching: 70 built-in stitches

basic stitches, stretch stitches
decorative stitches, quilting & appliance stitch

3-styles of buttonholes.

Automatic Needle Threader

IEF technology

Heavy-duty, metal frame for durability

x2 LED light sources

29-needle positions

Programmable Needle Up/Down

Foot tap control function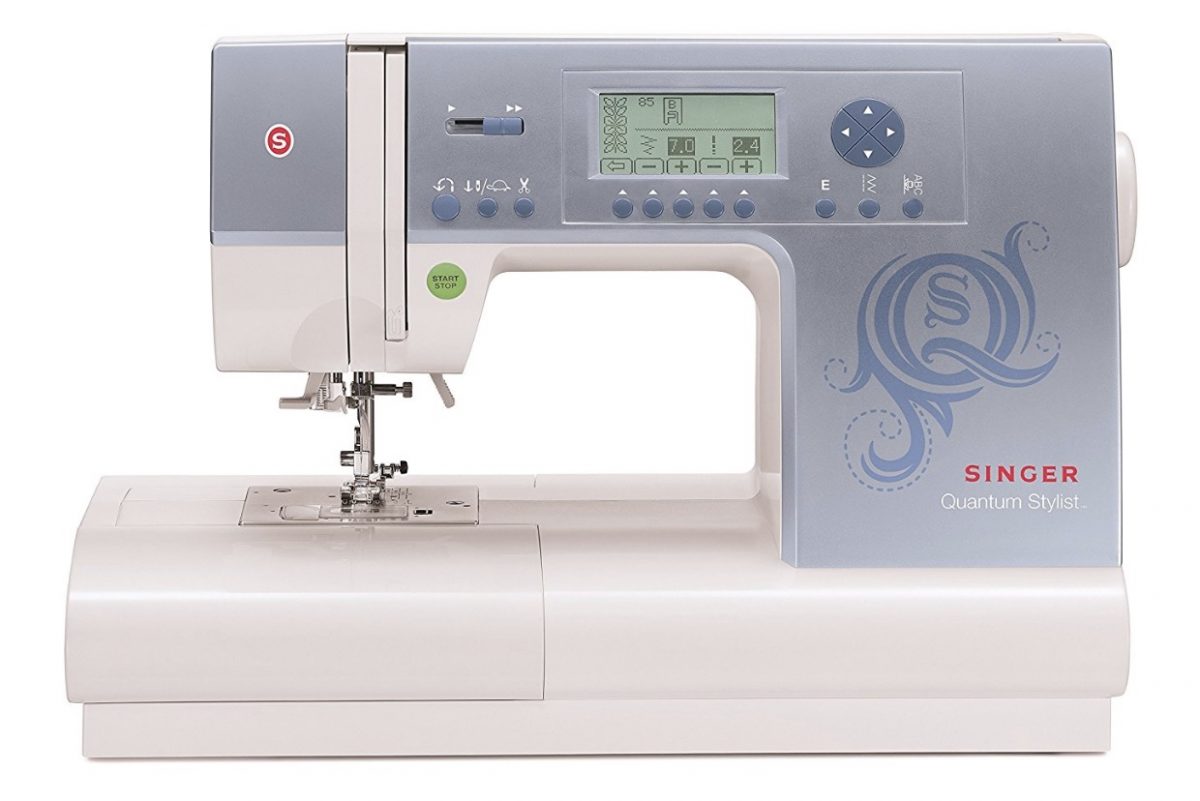 Singer's Quantum Stylist (model #9980) sewing machine is an advanced sewing machine from Singer which is perfect for quilters. It has a host of additional features and has 800 built-in stitches. 
⭐⭐ Best Singer Sewing Machine for Speed Adjusting ⭐⭐
Quantum is a high speed sewing machine that can do up to 850 stitches/min. It also includes some advanced features such as the "Needle up" and "Needle down" for quilting.
** Personally I like the speed control – You can set the machine's max speed for bigger items that repeat the same pattern.
Ideal for smaller projects where you need to be exact, set it to a lower speed – useful for fixing clothes or bedding.
Highlights
Speed: 850 stitches/minute

820 Built-In Stitches

Includes 5 Alphanumeric Fonts

13 built-in 1-Step Buttonholes w/ Under-plate

Mirror Imaging and Stitch Elongation

Automatic needle threader function

** Speed control for adjusting stitches per min

Pressure Foot Sensors

Built-in Sewing Assistance

Top Drop-in Bobbin

Heavy duty metal frame

The Singer Confidence Quilter (model #7469Q) portable sewing machine wins our best budget sewing machine award.
With 98 built-in stitches it's still a super fast machine sewing at 750 minutes-per-min and perfect for quilting.
Multiple stitching options include basic sewing, decorative, embroidering, and more.
⭐⭐ Best Singer Sewing Machine for Large & Heavy Fabrics ⭐⭐
Something that's pretty unique is reverse sewing button – as you can guess, you'll be able to sew in reverse which lets you easily patch seams from any point. This gives you a more exact stitch for clothes and less uneven fabric areas. Great feature if you need something perfect!
As you can see in the image, it includes a big sewing table area – ideal making quilts or any big/heavy fabrics: drapes, bags, and heavy garments. 
Highlights
Speed: 750 stitches permin
Stitching: 98 built-in stitches

7 fully auto 1-step buttonholes 

Automatic needle threader function

Programmable needle up & needle down

4 bonus quilting feet

Extension sewing table

Electronic twin needle controls

Adjustable stitch-length

What makes Singer Heritage Sewing Machine so easy to use is the fully computerized system.
Using the small LCD display can always know which mode you're using and have everything you need at the reach of a hand and clearly displayed. It also has a wide variety of stitch options you can choose from.
⭐⭐ Best Singer Sewing Machine for Vintage Look ⭐⭐
Comes w/ 52 stitch functions to select, as well as 24 built-in stitching patterns. You can pick any of these just by pressing one button with the OneTouch Stitch Selector, so choosing a mode that best suits your project will be a breeze.
It's also lightweight at only 26 pounds – enough that moving it around won't present a difficulty for anyone.
What I love most is the classical Singer Heritage design – it looks like a machine from the early 1900s, yet modern enough to be computerized. The sleek look and beautiful decals on black paint has made it a favorite among sewing community.
Highlights
Weight: 26.6 pounds
Stitches: 52 stitch functions

24 built-in stitching patterns

Computerized system

One-step buttonhole

Drop-In bobbin

Free Arm mode

Adjustable Stitch Length + Width

Adjustable Needle Position

Auto Threading mode
Potential Flaws
Occasional errors in stitching

One of the things that the Singer Simple Sewing Machine (model # 3323R) is known for is the simplicity of its design. It's made so anyone can use it with only a little sewing experience and knowledge.
It's lightweight making it very easy to carry around the house and yet very durable + capable of sewing thicker materials.
⭐⭐ Best Singer Sewing Machine for Portability ⭐⭐
What I love are the variety of accessories that come with it: stitches, buttonhole foot, thread spool caps, bobbins, pack of needles, foot pedal, etc..
Highlights
Built-in Stitches: 23
Weight: 12.2 pounds (lightweight)

4-step buttonholes

Heavy duty metal frame

Automatic bobbin winder

High-pressure foot lifter

Free arm sewing

Accessories include

presser, bobbins, and multiple needle positions
Potential Flaws
Threads can sometimes get jammed
Conclusion
If you wait long enough everything will come back in fashion – and that is definitely true when it comes to making your own clothes.
Pro Tip — If you're new to sewing and sewing machines, Singer is a good brand for users of all experience levels. To make the best use of these machines you can watch Singer's tutorials online or signup for a local meetup group!
Decades ago, the only people with "homemade clothes" were those that couldn't afford fashion from the main street/mall or those that couldn't find clothes to fit.
These days making your own clothes is what the coolest and most expressive individuals do. 
If you want to get into fashion design and create your own individual creations for a fraction of the price then get your hands on a Singer sewing machine.

Best Singer Sewing Machines, Related:
Top 8 Best Sewing Machine
How to Buy a Sewing Machine Guide
Top 10 Janome Sewing Machines
Best Brother Sewing Machines
Top Serger Machines Review
Top 10 Juki Sewing Machines