Best 14000 BTU Portable Air Conditioner.
If you're looking for a high-powered air conditioning unit, there's a lot of options available.
They're perfect for cooling most residential spaces between 450 and 700 sq. ft.
high ceilings, open layouts, home offices, basements, etc.
To help you find the right one I reviewed some of the most popular units — I'll review more as we move further into summer.
Portable air conditioner prices on my list range from, $229 to $499.
Best 14000 BTU portable air conditioners:

The Honeywell 14000 BTU portable air conditioner is a high-powered, 3-in-1 unit.
Despite its large AC motor, it's surprisingly quiet and operates at a much lower noise level than similar models.
AC Power: 14,000 BTU
Room Size: 550 – 700 sq. ft.
For cooling, the Honeywell HL14CESWK offers adjustable temperature — simply select your desired temp, and let the AC do the rest!
Most portable air conditioners let you adjust speed/power, but don't let you choose your exact temp.
Buyers say they feel a drop in temp immediately.
As a 14,000 BTU portable air conditioner is one of the most powerful residential AC units on the market.
Temperature: 60°F – 90°F
The Honeywell 14,000 BTU air conditioner also offers new "Sleep Mode" for low noise operation.
Other features include:
dehumidifier, dual filtration system, fast cooling, easy install
Quiet enough for bedrooms & powerful for large areas, the Honeywell HL14CESWK would be my choice.

The Della 14000 BTU air conditioner is a high-end unit.
It's very similar to the Honeywell HL14CESWK — similar capacity AC power, but it's more energy efficient and includes a powerful dehumidifier.
Room Size: 550 – 700 sq. ft.
Dehumidifier: 111 pints (daily)
What makes it energy efficient is the self-evaporation system —  it uses condensation from the dehumidifier water tank to cool the AC coils. Process decreases energy usage 10-30%.
Also includes a full-functional remote for controlling temperature + speed.
Expensive model, but has lots of positive buyer reviews.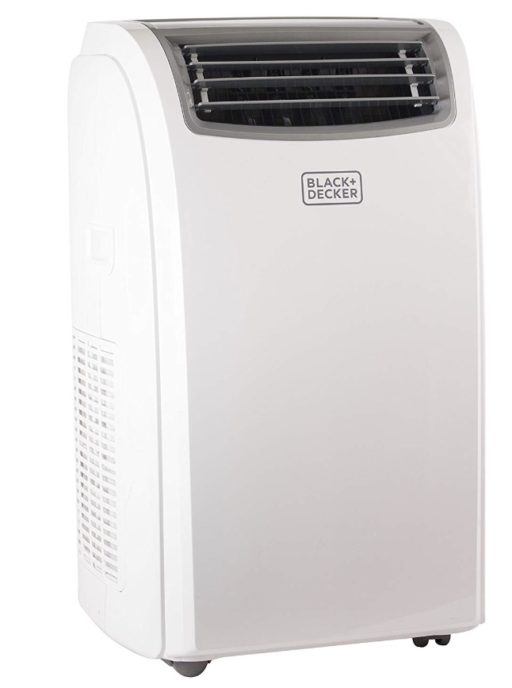 The Black+Decker BPACT14WT portable air conditioner is one of the most affordable 14,000 BTU units.
It offers 3-in-1 functionality, but has a smaller AC motor.
Room Size: 400 – 500 sq. ft.
Temperature: 62°F – 88°F
As a 14,000 BTU air conditioner, the Black+Decker BPACT14WT is designed for fast cooling.
Buyers say it's good at maintaining cooler temps for long durations — great for using 6+ hours.
Ideal unit for multiple scenarios:
living rooms, basements, offices, public spaces, college dorms
Reasonably priced and high-function unit.

The Whynter ARC-14S was the most popular 14,000 BTU portable ac last year.
It's designed for fast cooling and energy efficiency.
Models: ARC-14S / ARC-14SH
Room size: 500 sq. ft.
It uses a self-evaporation system for higher efficiency — using dehumidifier condensation to cool the AC coils for operation.
Another benefit is its quiet operation — fairly low noise for bedrooms or living rooms
Noise level (dBA): < 56 decibels
It also includes a powerful, built-in dehumidifier with continuous drainage for basements.
Whynter ARC-14S air conditioner is expensive, but has a good track record.
Lots of positive reviews last year and in 2019.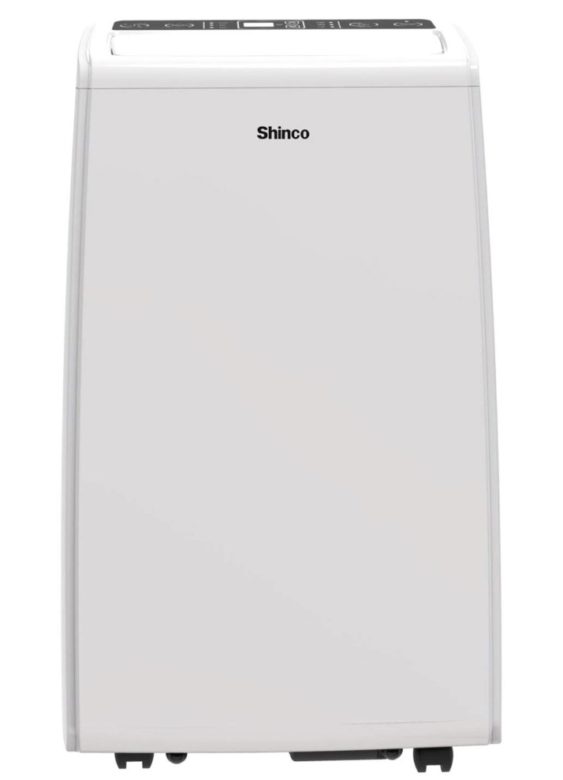 The Shinco SPS5-14H is an affordable air conditioner + heater.
It's rare to have both available for a reasonable price — most combo units have a 20-30%  higher price tag.
Cooling: 500 – 650 sq. ft.
Heating: 300 – 450 sq. ft.
As a 14,000 BTU air conditioner this Shinco unit is high-powered and fairly quiet.
If you're looking for a portable ac for a bedroom or office area (anywhere quiet), this might be the one for you.
Noise Level (dB): < 55 decibels
It also comes with a remote control — buyers suggest that if using as a bedroom air conditioner you pre-cool a few minutes ahead of time.
The Shinco SPS5-14H might be a little loud initially, but it's very fast at cooling large areas.
Lots of good reviews from buyers + affordable price.

The Midea 14,000 BTU portable ac is the highest rated online.
It's a smaller capacity unit, but is well liked for its compact size and SleepWell function.
Model: MPF14CR81-E
Rooms: 300 – 350 sq. ft.
Midea portable air conditioner includes a LCD remote control w/ adjustable temperature, letting you set a desired climate.
Full Midea MPF14CR81-E Review >>
Buyers say it's super fast at cooling + quietly maintains cooler temps for long hours.
Tons of positive buyer reviews online.
Recommended 14000 BTU Portable AC Unit:
Honeywell HL14CESWK AC Review
Whynter ARC-14S Review
Colzer 14000 BTU Air Conditioner
Shinco SPS5-14H Air Conditioner
Whynter ARC-14SH Review
Della 14000 BTU Portable Air Conditioner