Midea MPF14CR81-E Review. 
The new Midea 14000 BTU portable air conditioner is a compact, elegant unit.
It features 3 modes of operation:
air conditioning, dehumidifier, fan mode
Compared to similar models, it has a higher price tag, but includes a powerful AC motor + Sleep/Eco mode options.
Midea 14,000 BTU Portable AC Review:
Midea offers the Easycool portable air conditioners come in 4 sizes.
** At the bottom I created a Midea EasyCool comparison chart
Personally I like the larger air conditioner size because of its ability to quickly cool medium to large rooms.
AC Power: 14000 BTU
Rooms: 300 – 350 sq. ft.
The Midea MPF14CR81-E portable air conditioner is a little more expensive than the 12000 BTU unit.

Midea MPF14CR81-E Air Conditioner:
As a portable air conditioner it's ideal for cooling larger areas.
AC Power: 14000 BTU
Rooms: 300 – 350 sq. ft.
Buyers say it's extremely fast at cooling.
You'll feel a difference immediately ~ buyers suggest pre-cooling rooms, especially if using for as a bedroom portable air conditioner.
For cooling it's one of the most powerful residential units on the market.
Midea Easy Cool 14000 BTU:
The Midea AC unit makes it easy to change settings, including temperature + relative humidity.
You can use the LCD control panel or LED remote control — the remote is fully functional and lets you switch modes, set set speed, or set to sleep mode (for quiet operation).
You're also able to set the exact temperature you want.
Other AC units usually let you increase/decrease power, but not set an exact temperature.
Temperature: 62℉ – 90°F
Noise Levels: 57 / 59 / 60 decibels
For it's 14000 BTU size, the Midea MPF14CR81-E is very quiet — most similar size units have noise levels above 60 decibels.
It also includes SleepWell and EasyTimer functions — perfect for light sleepers!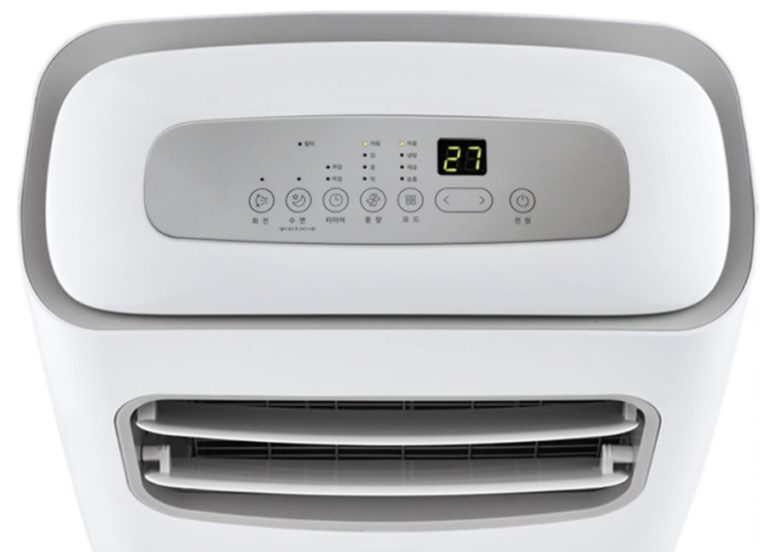 What's included:
Midea

portable AC unit (80 lb)

Window installation kit

Exhaust hose

Remote Control

Drain hose for dehumidifier

User manual
Midea Portable Air Conditioner Review:
Model: MPF14CR81-E
AC Power: 14000 BTU
Room Size: 300 –

 350 sq. ft.

Temp Range:

62

°F –

90

°F

Sleep mode (SleepWell) for quieter operation

Energy efficiency using Eco-Mode

Reusable, washable filters

EasyTimer function

LED control panel

Caster wheels = portable ac unit

Midea MPF14CR81-E Portable Air Conditioner:
Midea air conditioner has excellent buyer reviews online.
They're considered luxury units because of their fast cooling + quiet operation.
As a 14000 BTU portable air conditioner it can be used for most rooms in your house — it's compact design allows it to sit nicely along the wall or unobtrusively in the corner.
large bedrooms, home offices, basements, living rooms, city apartments/flats
For anyone looking for an efficient, quiet cooling the Midea air conditioners are options worth considering — the price is a little higher but w/ the positive reviews, it's probably a safe bet.
Let us know what you think in the comments!
Midea EasyCool Comparison Chart:
[table id=63 /]