Best Weighted Blanket Reviews

.
Weighted blankets have become super popular in the last couple years.
They are proven to decrease stress and anxiety, help with insomnia, and treat forms of PTSD or ADHD — even those without stress issues say a weighted blanket helps them get better sleep.
Rule-of-thumb: weighted blankets should be 8-12% of your body weight (most come in 3-5 sizes)
To help you find the best weighted blanket, I created my list based on price, size/weight options, and buyer reviews.
Weighted blanket prices on my list range from, $69 to $299.
Best Weighted Blanket Reviews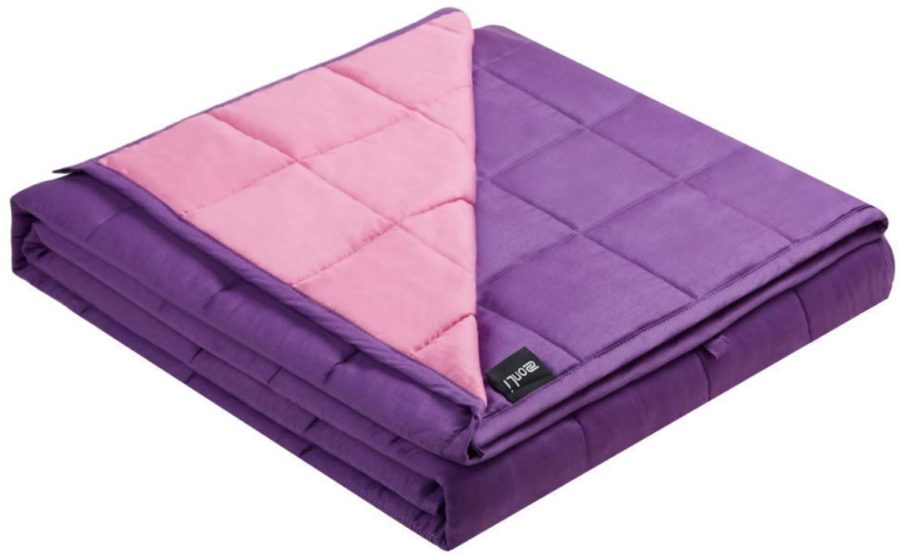 ZonLi weighted blanket is an affordable option – the most popular online.
Made of 100% cotton, the weighted blanket is designed in small, symmetrical squares holding the weighted beads.
Weights: 7 -30 pounds
Pricing: Affordable
The fabric is designed to be very soft and "cuddly" — it uses a specialized breathable cotton that does not ruffle while you sleep.
Buyers love that the weight is evenly distributed and does not clump like lesser weighted blankets.
Also one of the best weighted blanket options for versatility – great for sleep or lounging around!
ZonLi weighted blanket is machine washable – the cover is easily detachable.
Affordable price and lots of positive buyer reviews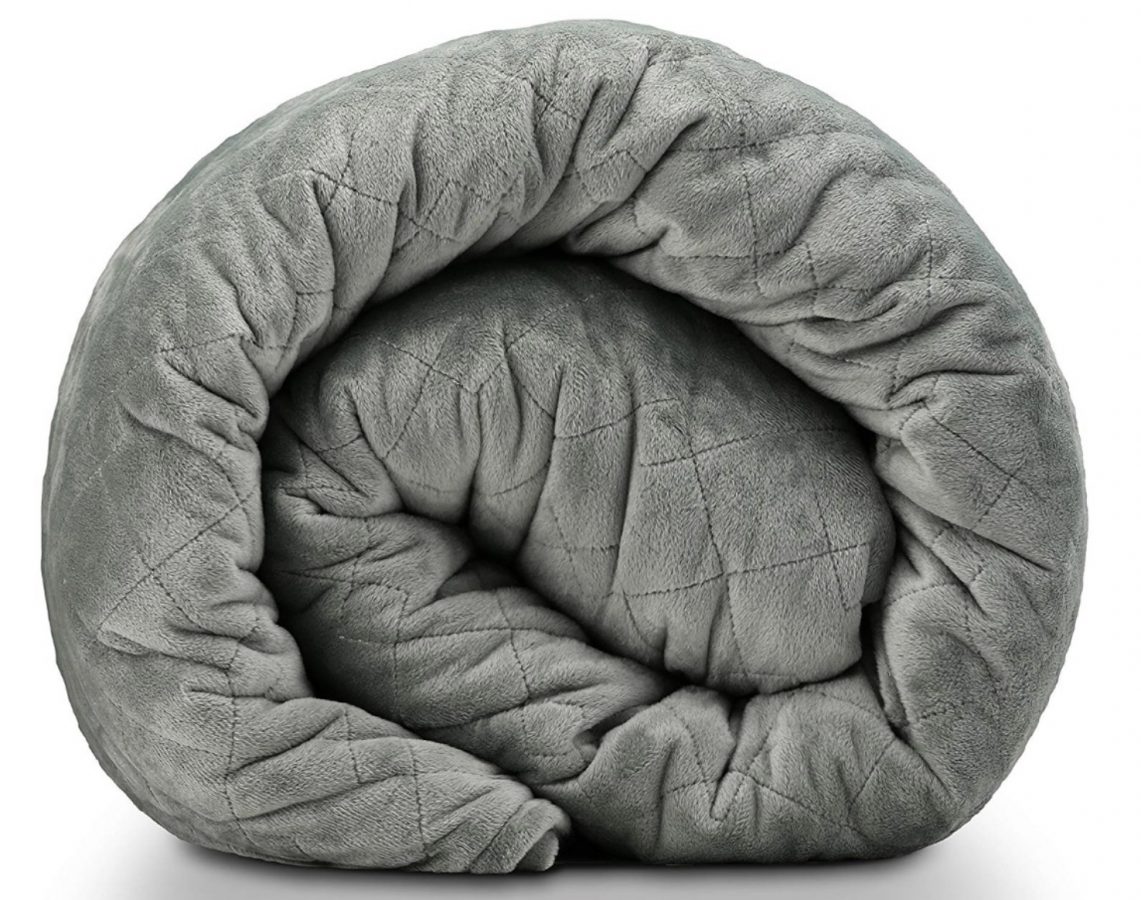 The Miran blanket is perhaps the softest blanket on my list.
It's made of 100% high-grade cotton and is designed for people w/ dry skin – it won't cause itching.
Weights: 7 – 25 pounds
Pricing: Medium
Miran weighted blankets are thicker and made for winter, but if you get too hot you can detach the duvet cover.
Buyers say it's very comfortable while sleeping + lounging around.
It's also machine washable (use cold on the first run).
Medium price, but has lots of happy buyer reviews.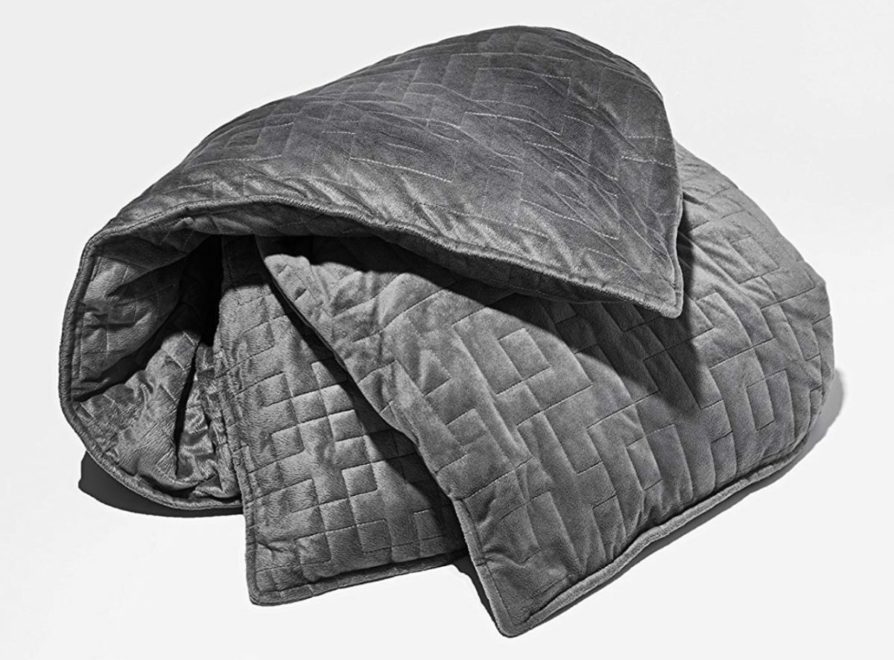 Dr. Hart's is one of the softest weighted blankets you can buy.
It comes w/ a super-soft microfiber cover that's sown w/ gridded stitching — creates equal weight and avoids "bumpiness".
Weights: 15 – 25 pounds
Pricing: Medium
For the weight it uses eco-friendly, odorless fabric – it is 100% hypoallergenic for those with sensitive skin.
Buyers say that it helped w/ insomnia and stress. They also love the extra softness when sleeping.
The Dr. Hart blanket is machine washable.
Medium price and good reviews from buyers.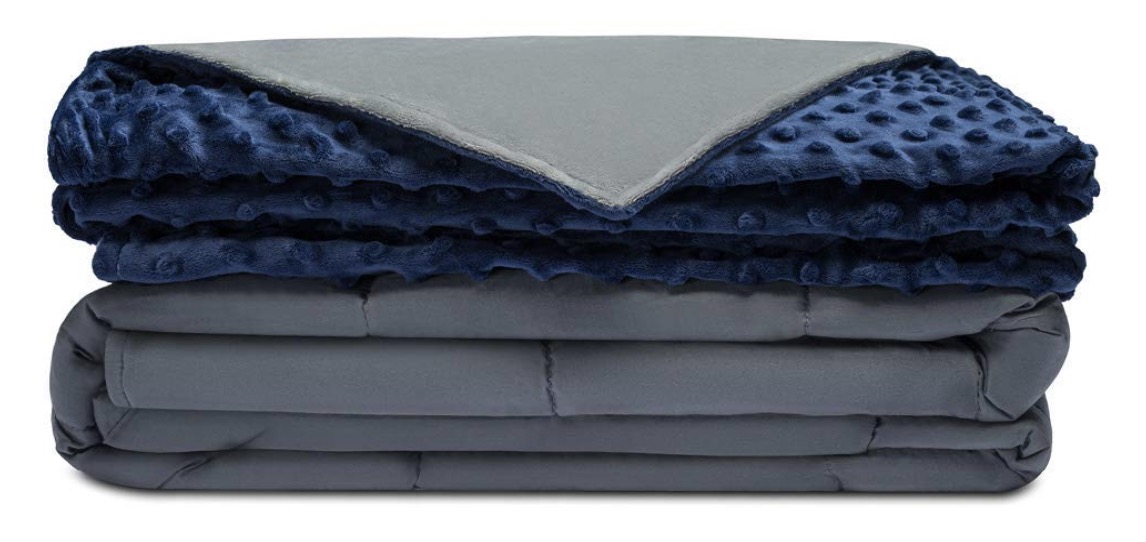 The Quility Weighted Blanket has tons of happy buyer reviews.
Designed for colder weather it offers 7-layers of 100% breathable cotton w/ weighted pockets throughout.
Weights: 15 – 25 pounds
Pricing: Medium
It is one of the best weighted blanket options for softness. Soft-to-the-touch, the Quility (removable) minky duvet cover is machine washable.
Each polyester pocket has equal amount of weighted beads.
Buyers say that it is still super soft after washing multiple times!
Medium price + positive reviews, make it a good option.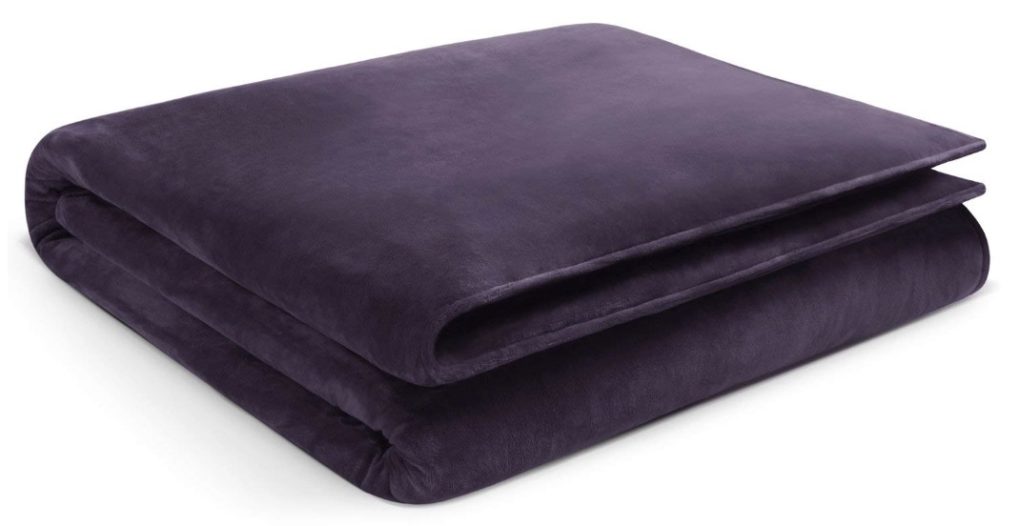 The Restorology blanket is designed for anxiety, insomnia + ADHD.
As you can see, it has a consistent texture and softness — you can also remove the cover and machine wash.
When re-attaching there's inside loops. These make sure that the duvet fits perfectly w/ the cover.
Lots of happy buyers — some say it's "cuddly" + great for cold nights.
Offered in multiple colors, although the dark purple is most popular.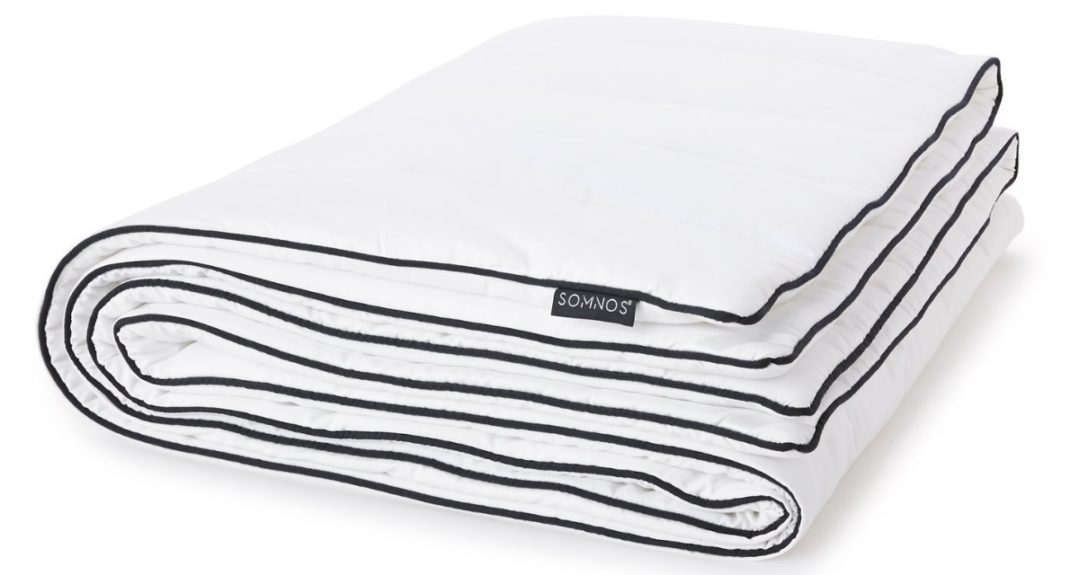 The Somnos weighted blanket is perfect for those w/ allergies + respiratory issues.
It's made of hypoallergenic cotton and reinforced w/ Tencel — a newer fabric allowing it to stay cleaner longer.
FYI: hypoallergenic cotton guards against dust mites, mold and dust.
What's unique – you can open using the zipper and split into 2 blankets. Buyers say it's one of the best weighted blanket models for couples!
Although very expensive, the split blanket makes it an attractive option.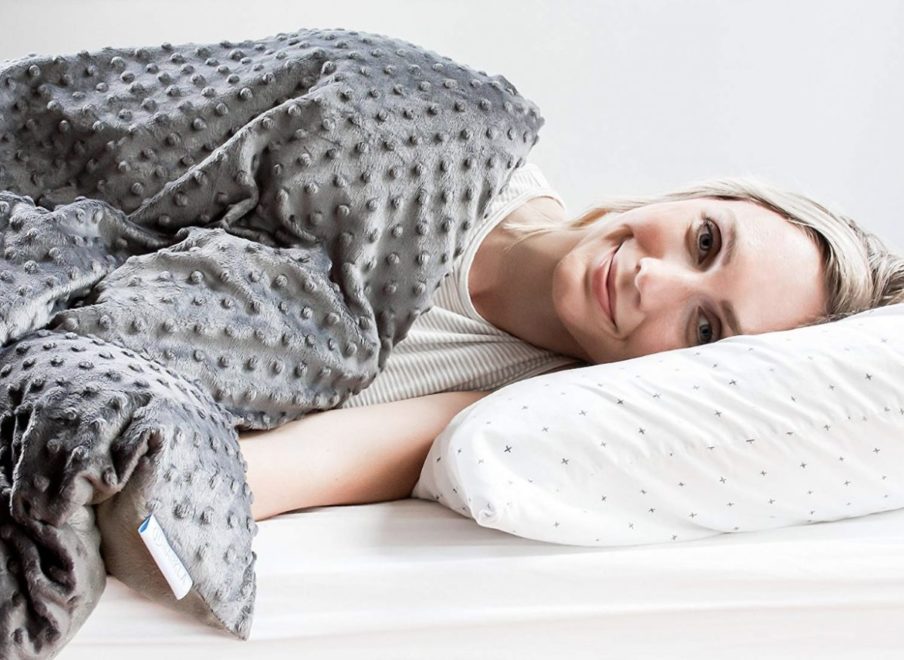 If you're a restless sleeper or fighting anxiety, Harkla weighted blanket can help you fight it off.
Comes with a soft Minky duvet cover that makes it extremely comfortable to sleep in (according to reviews).⭐
There's multiple colors and sizes to choose from, although the 25 pound weighted blanket is their most popular.
Another benefit is that it's super easy to wash.
Using a 2-piece duvet removable cover you can remove the top part and wash/dry at home, preferably in cold water.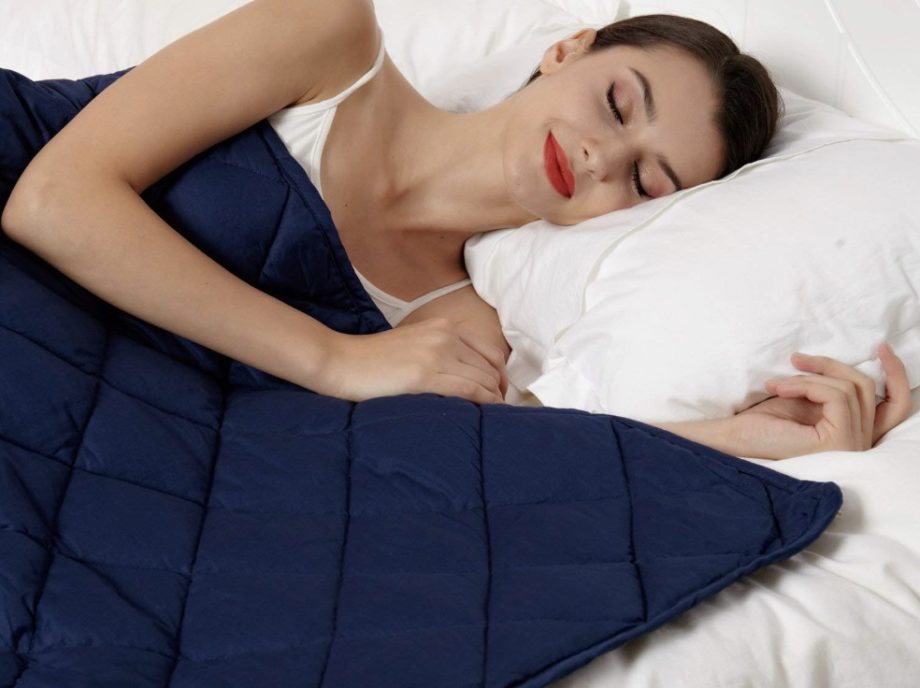 The Hypnoser weighted blanket is the best weighted blanket for couples.
Buyers confirm that it's super soft and very comfortable for two people — the Hypnoser king size weighted blanket is one of the largest on the market.
It comes with a high-grade, premium cotton cover that is hypoallergenic and very soft — buyers say it's super comfortable to sleep in!
It's one of the best weighted blanket models if you are allergic to certain fabrics.
Hypnoser offers a few variations in size – each blanket is filled with mini glass beads.
The blanket cover is made of an odorless and non-toxic material that's comfortable to sleep or lounge in.

Offering versatile features and benefits, YnM weighted blanket is available in 4 different sizes to adapt to every person's weight.
Designed with a soft, hypoallergenic duvet cover allows you to add or remove the cover depending on the temperature.
In summer you can sleep without the cover, while in winter you just add the cover and for more heat.
Easily maintained since the inside is fully removable through the zipper — can be washed without getting damaged.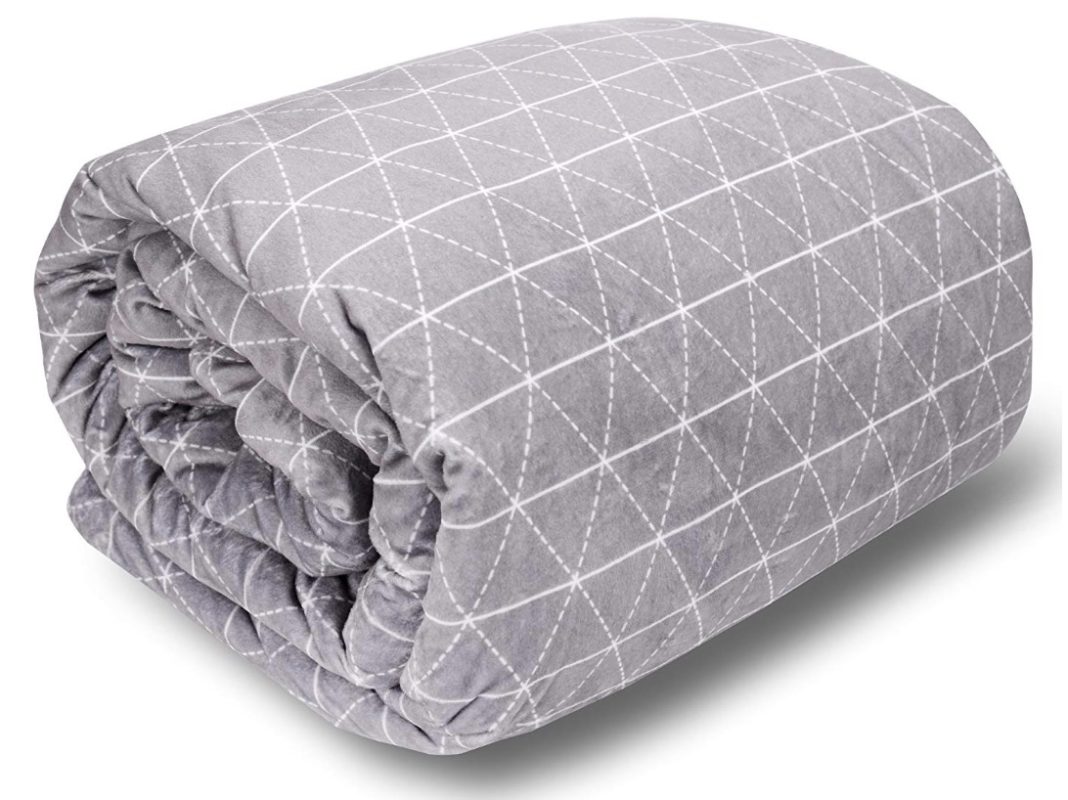 Rocabi weighted blanket gives you the option of selecting from 4 different weights: 15lbs, 20lbs, and 25lbs
Depending on who you are shopping for, the weight you want will depend on who you are shopping for. 
Thanks to the poly pellets (polyethylene), a non-toxic material which is sown in pockets between the layers of cotton. It adds mass to the blanket and evenly distributes the weight.
Blanket weights are meant to simulate a person's hug; sounds a little goofy, but it's been proven scientifically to help you relax and sleep better. (And better sleep gives you more energy the next day!)
You have the option of buying it with or without a minky cover, a material used to make baby clothes that's extremely soft and comfortable to sleep in.
** Rocabi weighted blankets are machine washable – but remember to use cold water!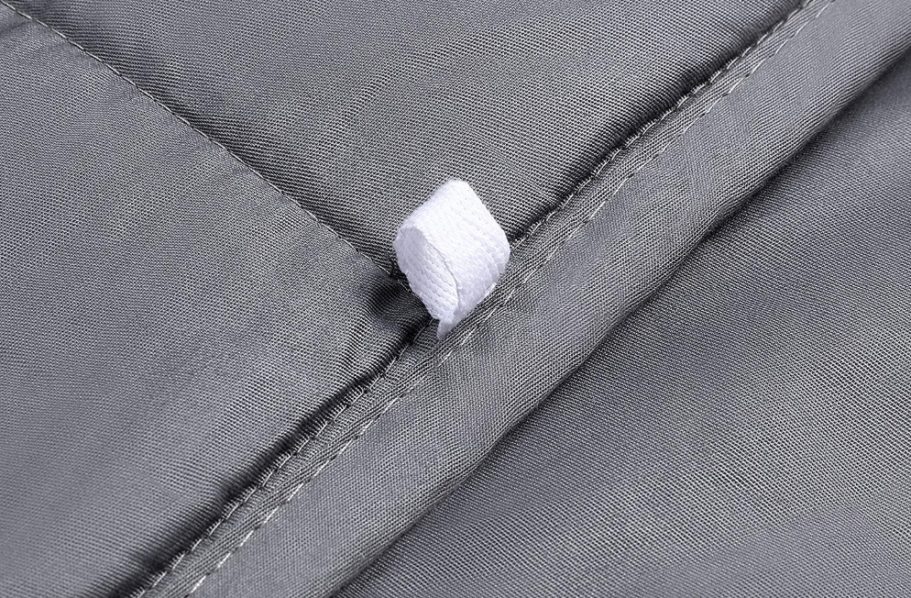 The Buzio weighted blanket can be purchased in multiple weights:
12 lbs, 15 lbs or 20 lbs
Dimensions of 60″ x 80″ it's long enough for taller people and is wide enough to cover 2-3 people. (also makes a great gift!)
Easily adjust the weight by folding the blanket in half and make it heavier or use it without the additional cover to make it lighter.
Upgraded polyfill material makes it very comfortable to sleep in. Besides, it's a healthy material choice that has multiple benefits for your body and health state.
** Buzio weighted blankets are machine washable – make sure to use cold water lower than 86℉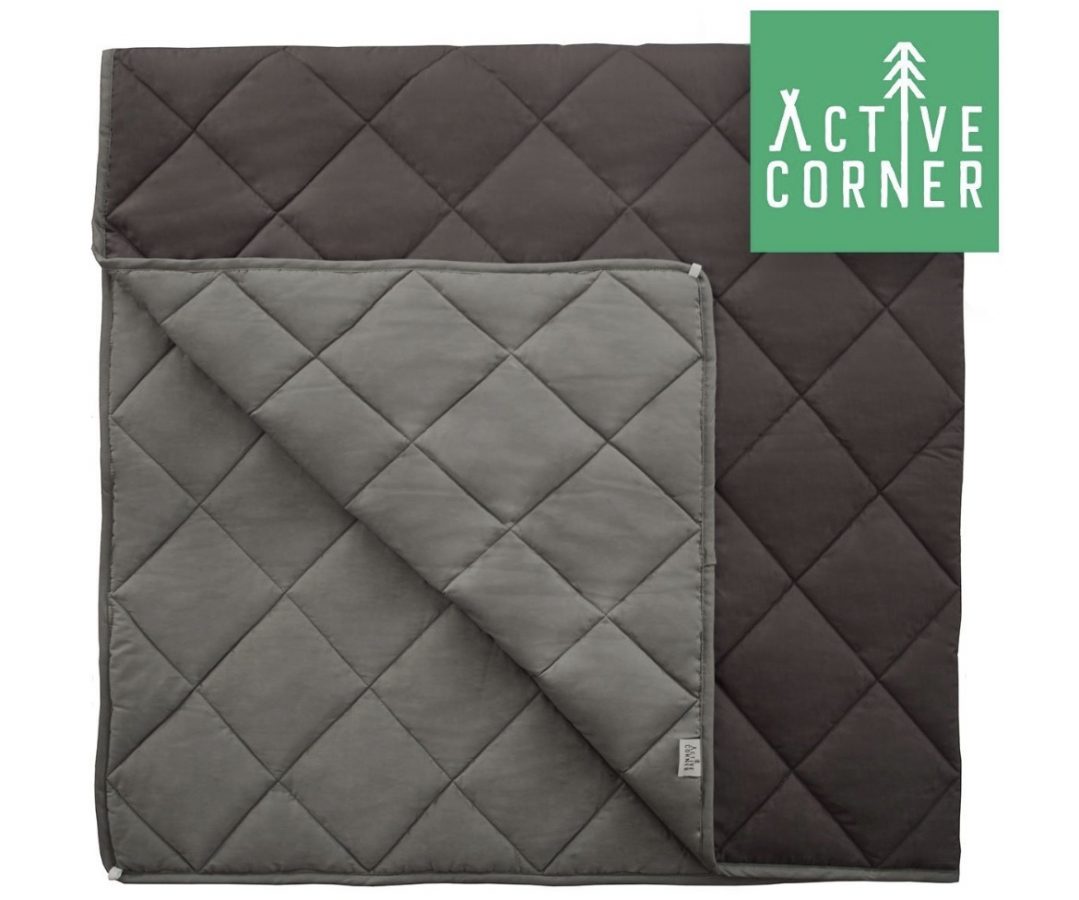 Deep Press therapy has been proven to help alleviate stress and anxiety.
Offering 12 pounds of pressure helps your body produce more serotonin, a chemical and neurotransmitter that helps your body in many ways.
Made of 100% cotton material allows your skin to breathe during the night, preventing sweating and uncomfortable sleep.
One of the best weighted blanket models for all year-round (winter or summer!)
FYI: Active Corner did not make my "top 10 weighted blankets" list because it is one of the newer ones and has fewer buyer reviews.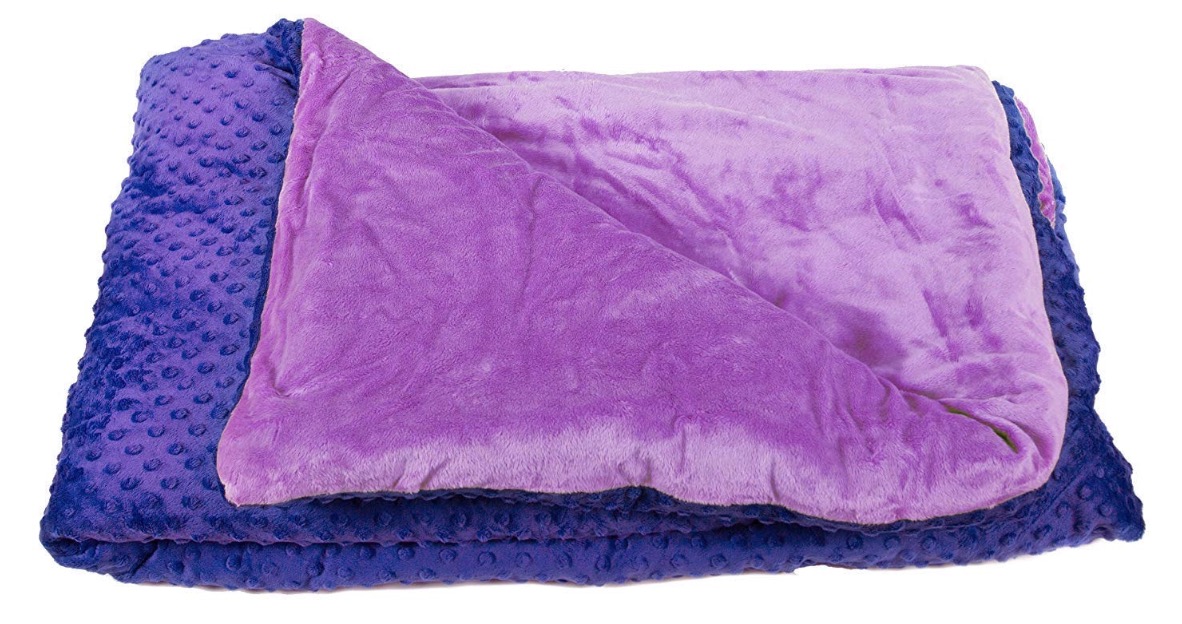 What makes Harkla one of the best rated weighted blankets is its high-grade material.
The blanket is filled with Poly Pellets, a weight that is safer than the usual glass beads.
Unlike glass beads, Poly Pellets will not cause damage to the blanket  – They are also hypoallergenic and unlikely to cause allergic reactions.
Very easy to wash and comes in 3+ colors (many of them brighter colors)
Multiple weights available.
My Weighted Blanket Experience:
I bought my dad the calming weighted blanket for Christmas.
He has difficulty sleeping and from buyer reviews, it does a good job reducing stress and helping anyone w/ difficulty falling asleep.
It's been a few months and he absolutely loves it. He uses it at night and when reading on the couch. Even though it's more expensive than others, I think it was well worth the money. (also not all of them have a 25-pound blanket)
I'll another later this year for my mom!
Best Weighted Blanket Reviews 2019
Best Heated Blankets Review
Best Mattresses for 2019
Best Air Purifiers for Home
Top 10 Best Air Mattresses