Juki Sewing Machines.
The Juki brand produces many of the popular sewing machines today.
Unlike other brands Juki focuses on high-end models that cater to intermediate and advanced sewers.
To help you find the right model, I researched some of the most popular Juki sewing machines and rated them on price, performance and buyer reviews.
Prices on my list range, $299 – $1199.
Juki TL-2000Qi Sewing Machine

Juki TL-2010Q Sewing Machine

Juki HZL-G220 Computerized

Juki HZL-LB5020 Reviews

Juki HZL-LB5100 Sewing Machine
---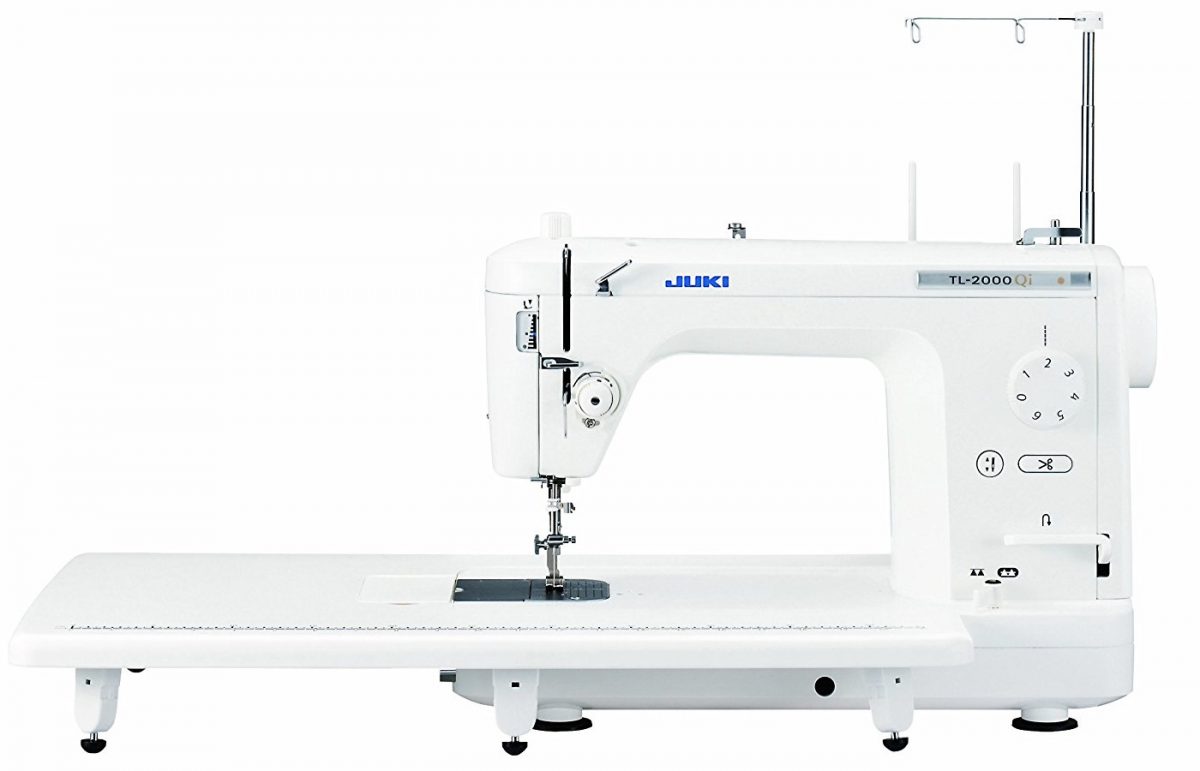 The Juki TL-2000Qi is for high-precision sewing.
Excellent option for for clothing, home decor + quilting projects.
Buyers love its speed and efficiency — it is one of the fastest Juki sewing machines on my list.
Speed: 1500 stitches per min
Weight: 37.8 pounds
Pricing: Expensive
Weighs 37.8 pounds and includes a large, 23-inch sewing table – the large sewing table helps stabilize the machine for heavy duty fabrics.
leather, drapes, denim, quilts, totes/handbags
Buyers say they're able to sew thick materials or layered materials without vibrating, shaking, or overheating.
Rely on it for complex projects and it will complete its task with minimal or no errors.
Expensive model, but still another high-end, dependable machine.
---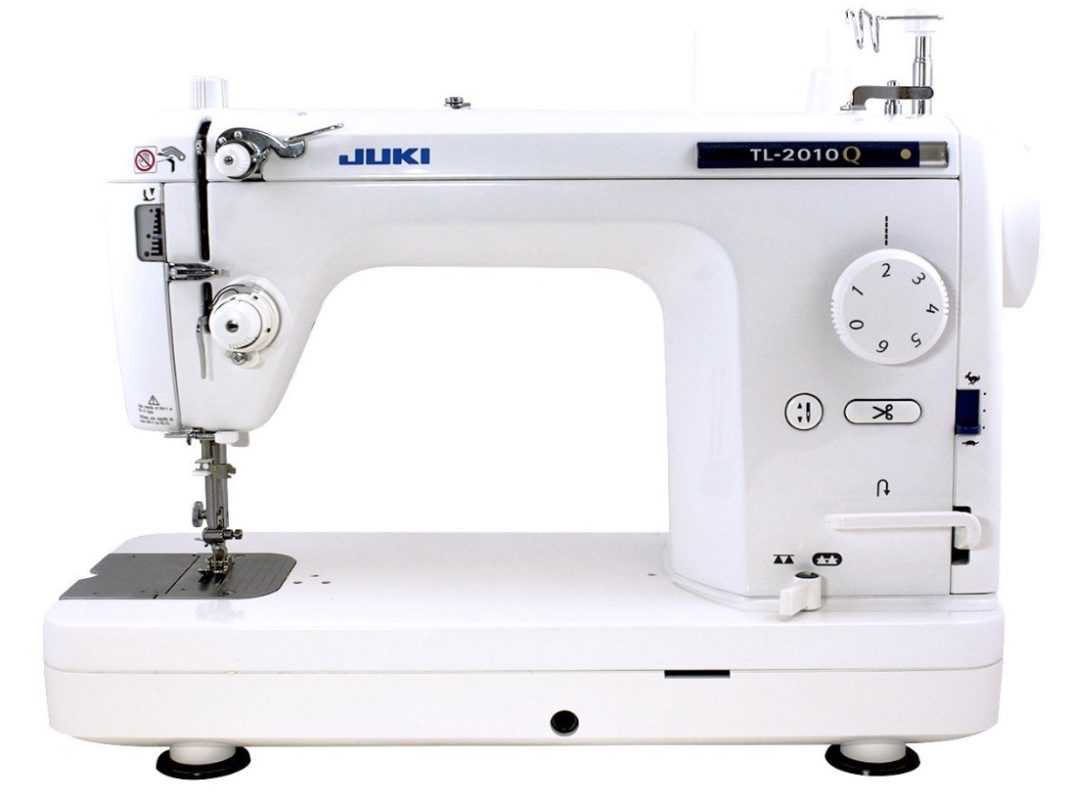 The TL-2010Q sewing machine is built for heavy-duty projects.
drapes, denim, and heavy fabrics
Wider base and flat surface make it one of the more sturdy Juki sewing machines – buyers love that it does not vibrate or shake when working with heavier fabrics.
Weight: 25.4 pounds
Speed: 700 – 1500 SPM
Pricing: Medium
Includes variable speed controller which lets you adjust speeds.
FYI: Online buyer reviews say it is very stable, even when sewing thick fabrics at high speed.
Also features adjustable 1/4 and 1/5 quilting feet for better precision and higher speed.
Very good buyer reviews online.
---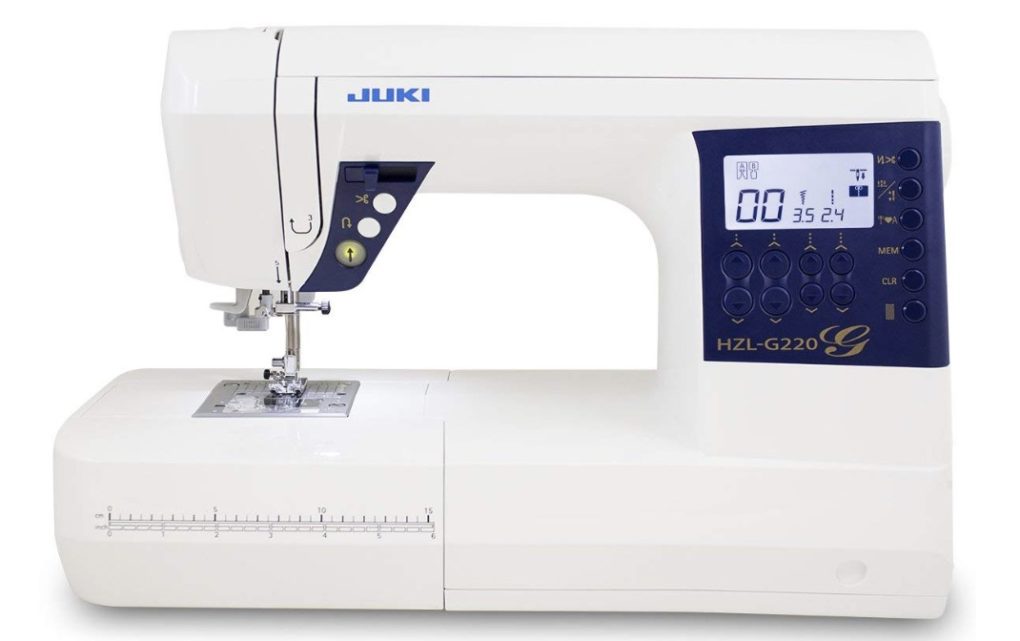 The Juki HZL-G220 is newer, but offers high-end sewing features.
As a top rated computerized sewing machine it is built for speed and precision.
Speed: 900 stitches per min
Designs: 180 stitch patterns
Pricing: Expensive
Features Juki's Box Feed system – prevents materials from moving or shrinking (while sewing).
Buyers say the HZL-G220 offers the highest stitch quality and is the best for producing beautiful seams. Computerized LED screen lets you easily select features:
thread cutter system, embroidery function, decorative stitches, and lock-stitching
Juki thread trimming feature lets you trim upper + lower threads at the same time.
Overall, the HZL-G220 sewing machine is ideal for big projects requiring wide underarm space.
Very good reviews online!
---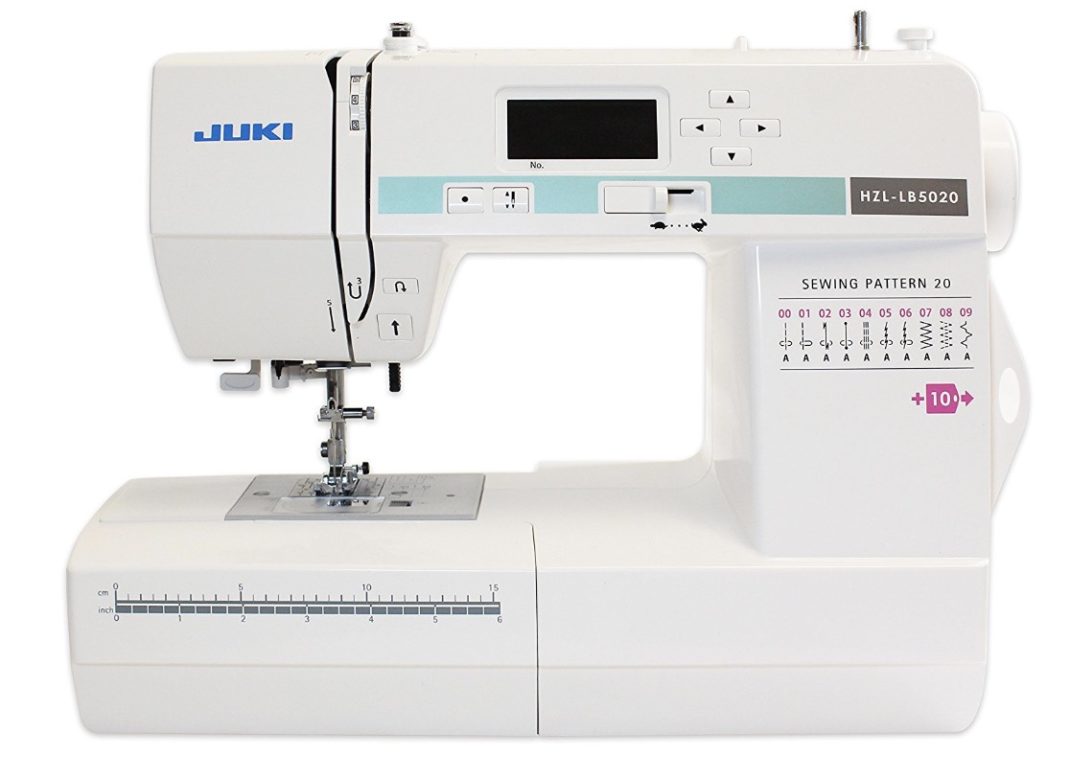 The Juki HZL-LB5020 is the one of the few that is perfect for beginners or intermediate sewers.
Buyers reviews like it because of its high-precision and efficient speed – great for large projects and learning new skills!
Speed: 700 SPM
Weight: 18.1 pounds
Pricing: Affordable
Great for developing new sewing skills at a faster pace.
Functions are simplified and the LCD screen helps you navigate the the controls.
Beginners appreciate the Free Arm Mode which makes it easier to sew with higher precision and faster efficiency – ideal for larger projects.
Sewers also like that they do not have to adjust stitch length, since the machine does it automatically.
Little expensive, but for those serious about learning new skills quickly, the HZL-LB5030 is a great option.
---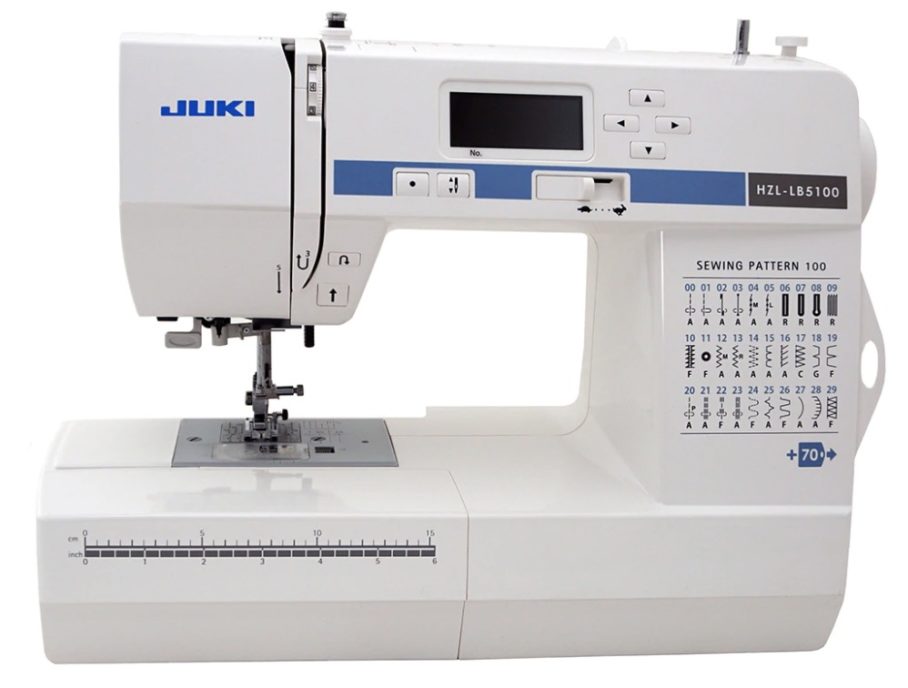 The Juki HZL-LB5100 is a solid machine for any skill level.
Great for beginners or experts.
Lightweight, compact sewing machine w/ max speed 700 stitches per minute — not the fastest, but good for beginners or mid-experience sewers.
Weight: 12.3 pounds
Stitches: 100
Pricing: Medium
Buyers love its ability to handle thick fabric, and are pleased w/ how durable + user-friendly it is.
Includes extra accessories — applique/satin stitch foot, zipper foot, spools, needles, and even an instructional DVD.
FYI: If you're new to computerized machines, the DVD guide will come in handy!
Not a ton of reviews on this one yet, but so far, buyers appear to love it!
---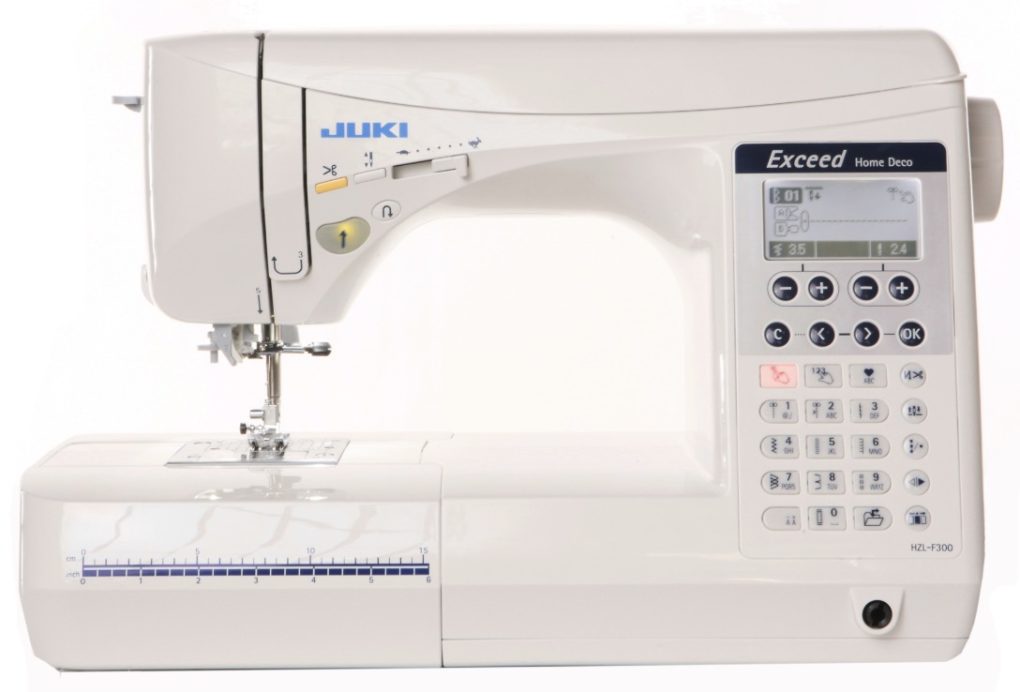 The JUKI HZL-F300 Exceed is great for both sewing and quilting.
Very portable, it weighs only 21.6 pounds and offers a wide range of features.
With 106 built-in stitch patterns to choose from, plus three fonts for letter sewing, the possibilities with this sewing machine are endless.
Speed: 900 SPM
Stitches: 106
Pricing: Expensive
Anyone who has struggled to thread a needle by hand will benefit from the automatic one-touch needle threader; automatic thread cutting is another time-saving feature.
Sewing buttons is a breeze with 16 automatic electronic sensor controlled buttonhole options.
Online reviews mention this machine's ability to sew through several layers of denim with ease, a tough feat many machines can't manage.
---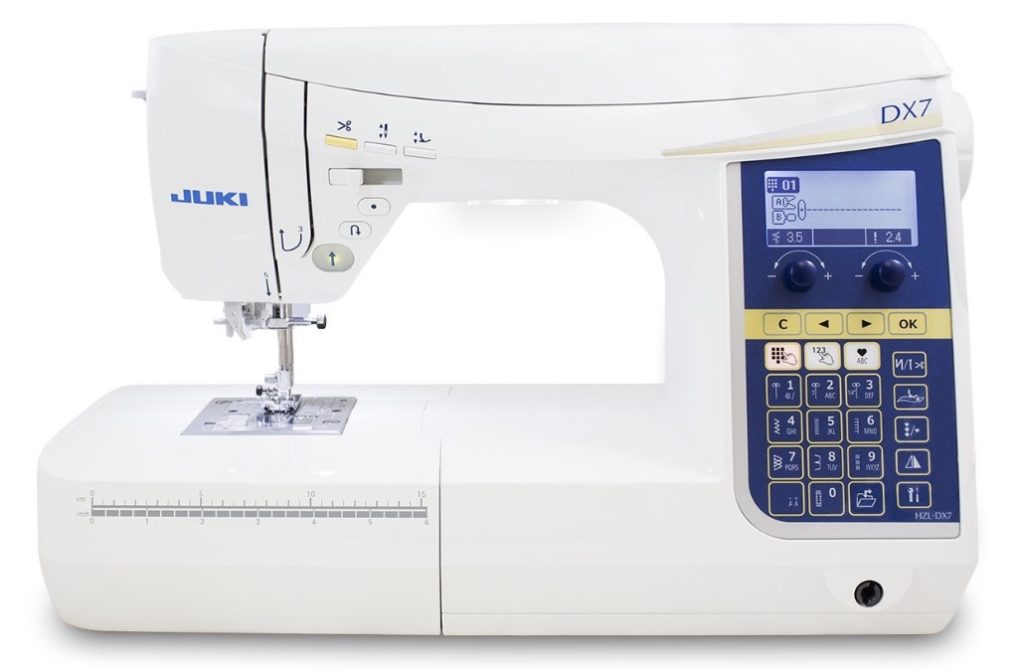 Juki HZL-DX7 is a high-precision sewing machine for decorative projects.
User-friendly features like the box feed help you sew w/ minimal errors and higher quality.
Speed: 1,050 SPM
Weight: 35.9 pounds
Pricing: Expensive
A straight stitch hole allows you to sew even the gentlest materials without allowing them to be pushed too quickly.
The presser foot can be set to float above the fabric as you are sewing — won't cause crumples or line marks caused by the pressure and avoid additional ironing time.
Additional features:
reverse stitching, thread trimming, single stitching
Depending on the type of fabric, the Juki HZL-DX7 can likely handle it with ease!
---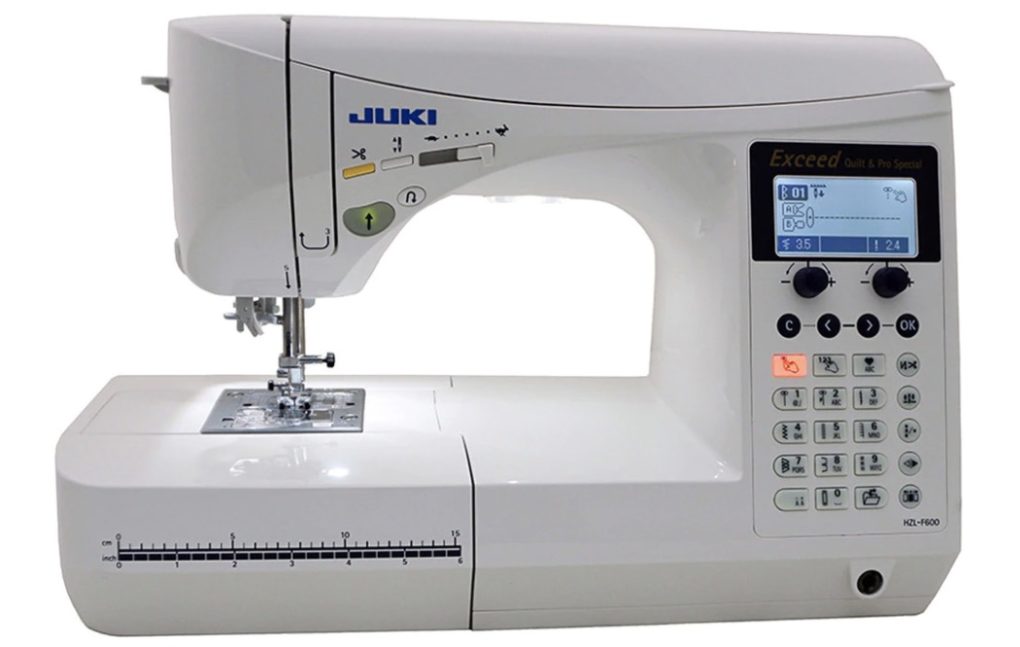 The Juki HZL-F600 sewing machine offers a lot of high-end features for experienced sewers.
Upgraded box-feed design, you will not experience fabric shrinkage.
Speed (SPM): 900 stitches per minute
Stitch patterns: 225
Machine weight: 33.4 pounds
Pricing: Expensive
It stays in contact with the material longer, therefore preventing the fabric from shrinking or looking uneven – ideal for sewing thinner materials, such as clothes or decorative projects.
Buyers say it is user-friendly, while being heavy duty. It can sew through multiple thick fabrics and has "smooth as butter" stitching, even at higher speeds.
The industrial-strength needle gives it the extra strength, decreasing unpleasant vibrations.
Users also like how quiet the JUKI-F600 operates – they say you can easily hear over it.
Perfect machine for those with 2-3 years experience.
---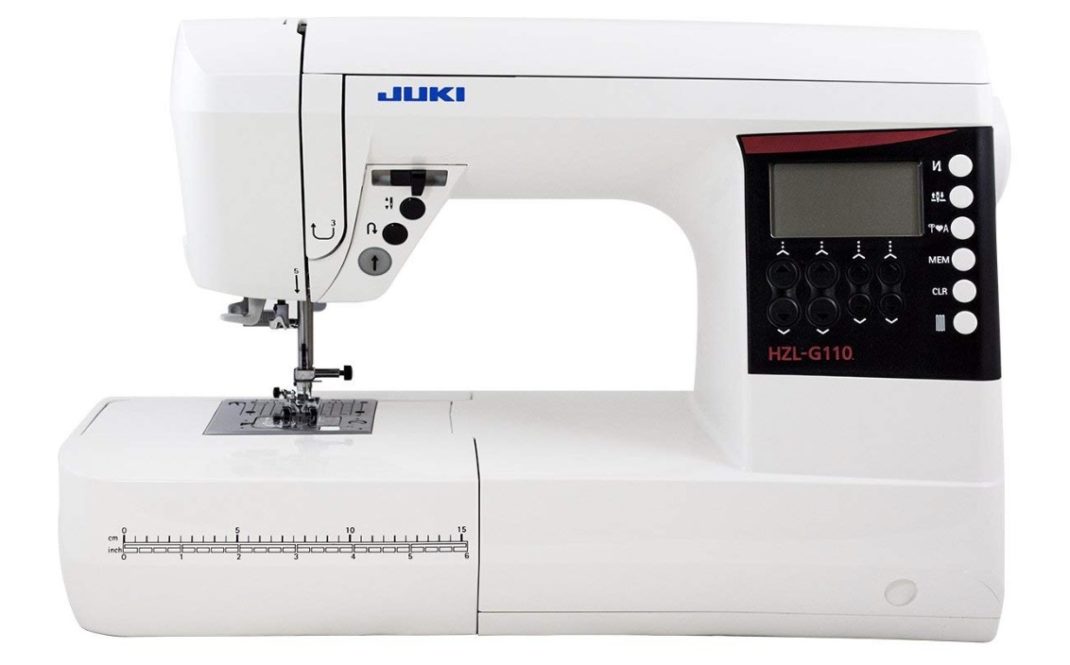 The Juki HZL-G110 is a good intermediate sewing machine.
It is built for versatility — Many buyer reviews appear to have 2-5 years experience.
Speed: 900 SPM
Patterns: 180 stitches
Pricing: Expensive
Buyers say it's great for precision, especially on decorative-type projects.
For its size and functionality, I think the HZL-G110 is the best Juki Sewing Machines for versatility – from simple quilting to major design projects.
And, the best thing is that you don't have to worry about needles.