Best GPS for Europe Travel. 
For those traveling to Europe, having a better navigation device can help save a lot of time.
Smartphones are useful, but nothing beats an actual GPS device.
The best GPS has the most up-to-date nav maps, provide landmark directions, and provide a better visual for intersections. Many offer unlimited map updates!
Below I rated the best GPS devices for Europe.
Some models may require a MicroSD/SD Card for Europe nav maps.
Prices range from, $109 – $299.
Garmin Nuvi GPS Europe

Garmin LMT GPS for Europe

TomTom GO 5200 Review

Garmin DriveLuxe EU GPS

TomTom Western Europe GPS

Garmin Nuvi 1370t Europe

TomTom 3.5″ Western EU GPS Nav

Garmin Camper GPS for Europe
---
The Best GPS for Europe 2020
---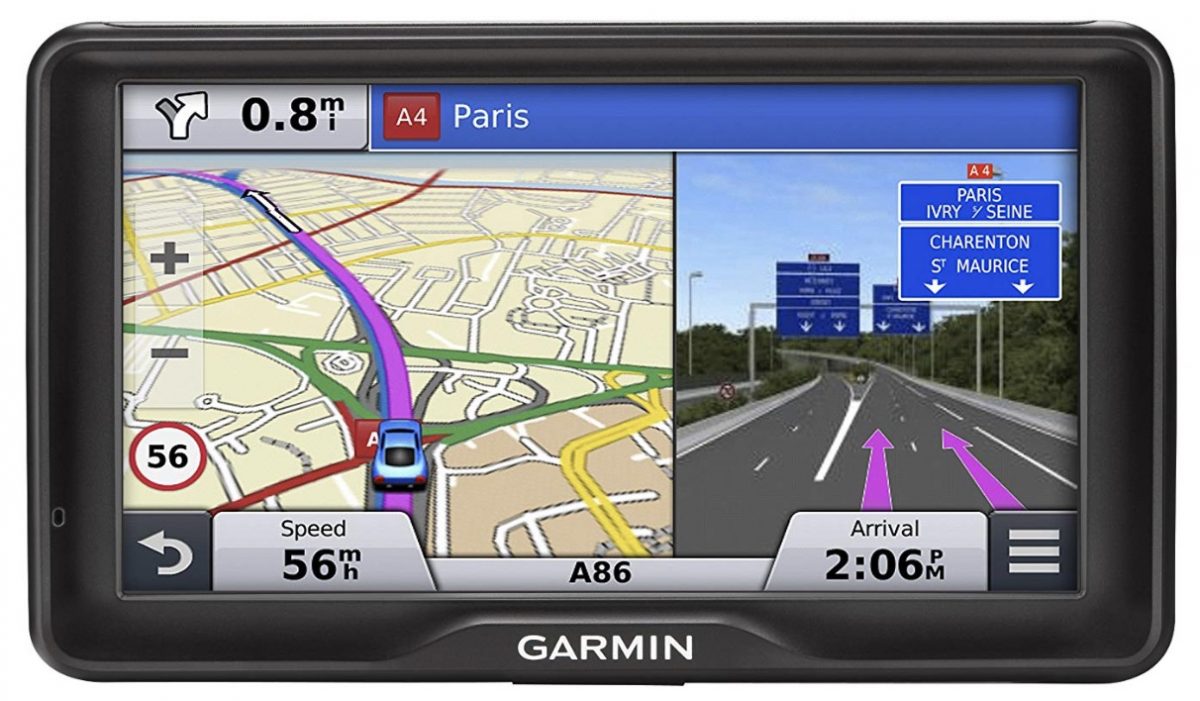 The Garmin Nuvi's 5-7 inch screen provides large nav map images + directional arrows.
Pricing: Affordable
It includes the new Trip Planner feature – allows you to select your route type:
fastest route, scenic route, custom directions
Nuvi comes w/ lifetime nav map updates for all 45 European countries.
Garmin Nuvi includes "Real-Voice" (for verbal directions) and "Birdseye View" for a visual of the correct lane.
The Garmin Nuvi is the best GPS for Europe vacations!
Also offers "Real Directions Mode" ~ option for hearing directions via landmark.
Lots of positive reviews!
Pros
Voice instructions
Preloaded maps
Simplified directions
Tells you landmarks
Road warning alerts
Good price!
Cons
---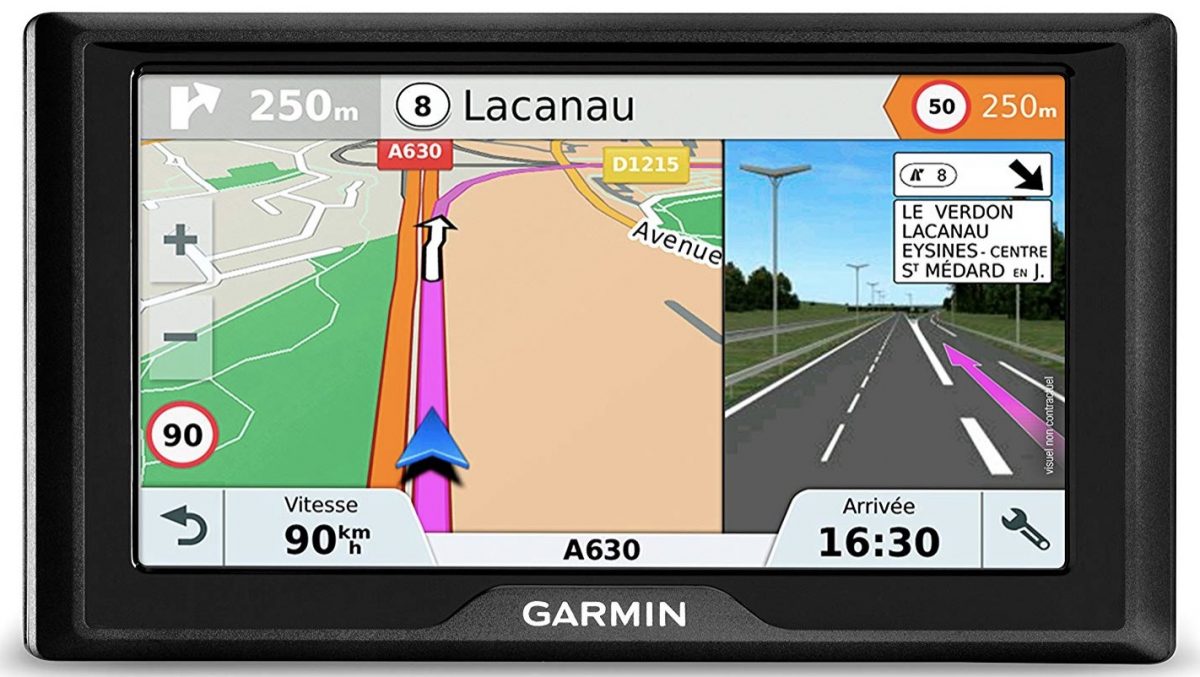 The Garmin 2559 LMT comes w/ both USA and Europe nav maps.
It has a 5-inch display screen and pinch zoom for overlapping streets and intersections.
Pricing: Expensive
Garmin 2559 model includes free nav map updates + traffic avoidance data.
While driving, you will receive the trip duration estimates based on historical traffic trends and data.
Also features Garmin Real Directions for turn-by-turn directions — includes street directions and new landmark navigation (such as buildings).
Ex: "turn right after gas station"
Expensive, but a high-end GPS device with all the new features.
---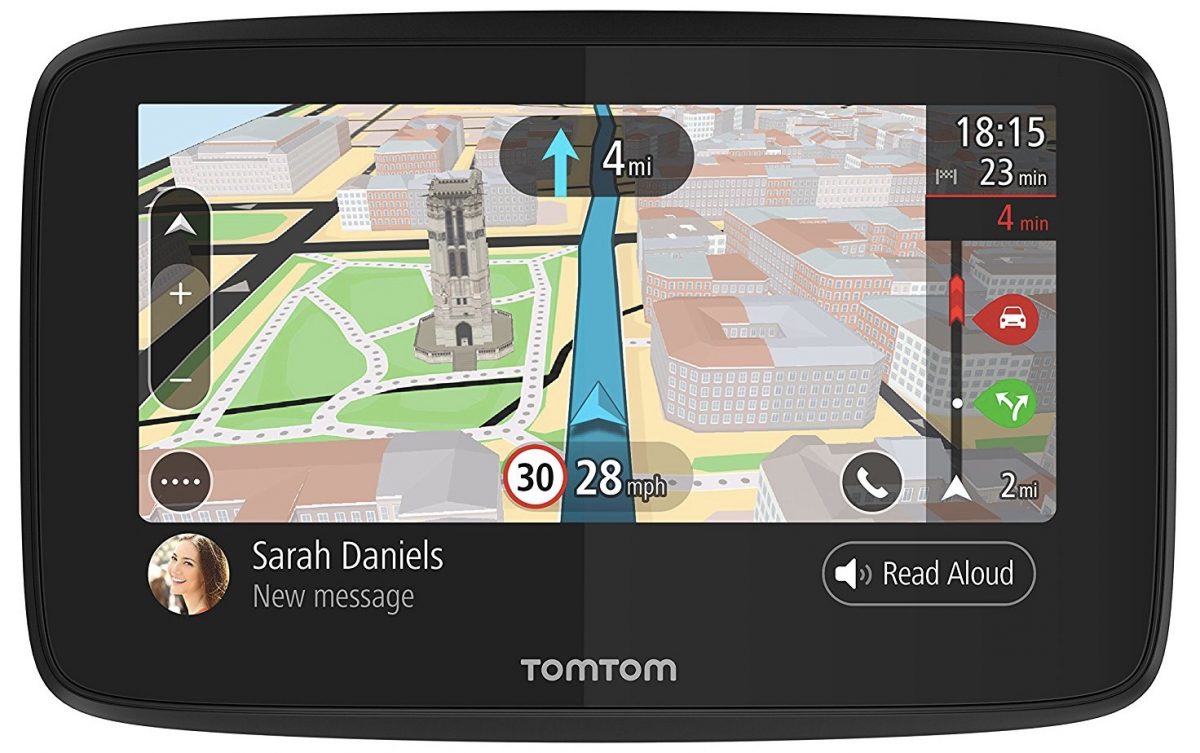 The TomTom System is one of the best GPS devices for getting the most up to date directions.
Europe street maps auto update via WiFi — connect w/ your phone and TomTom provides the newest nav maps available.
Screen Size: 6.96 inches
GPS Navigation: Bluetooth
For voice directions, you can connect via bluetooth which also updates nav maps automatically.
Designed for the tech savvy crowd, because of the upgraded, sophisticated smartphone features.
Can be a little tricky if this is your first GPS device.
If you're not familiar, it might be better to purchase a simpler version of TomTom.
---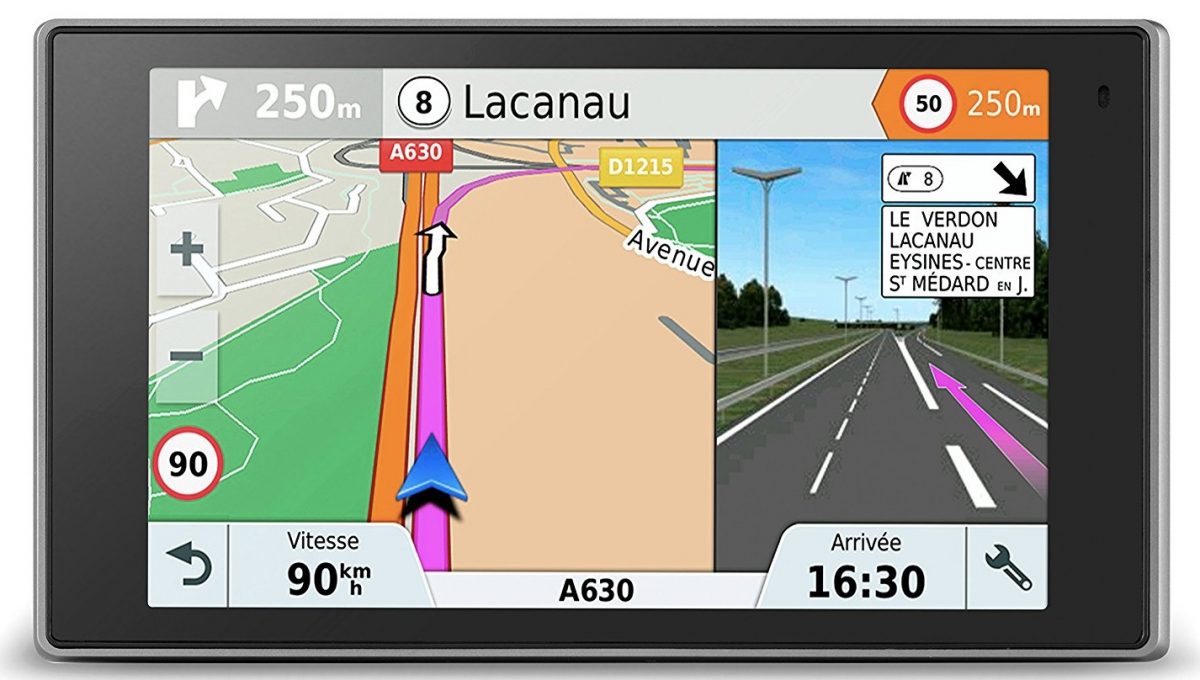 The Garmin DriveLuxe comes w/ spoken directions which means you can focus on your driving and let the GPS guide you.
It uses landmarks + buildings to make it easier if you are unfamiliar w/ the streets or lanes.
Screen Sizes: 5 – 6 inches
GPS Connection: Bluetooth WiFi
DriveLuxe provides real-time updates such as the live traffic + live parking.
Top features make this Garmin GPS Europe more expensive, but I personally think might be worth the extra money – easy directions and large screen make it easy to get around!
Garmin GPS for Europe gives you free lifetime Europe nav map updates.
Highlights
Screen Size: 6 inches
GPS Connection: Bluetooth WiFi
nav map Options: Western Europe

Hands-free calling

Birdseye Junction View

Real-time features

Garmin GPS Europe free nav map updates
Potential Flaws
---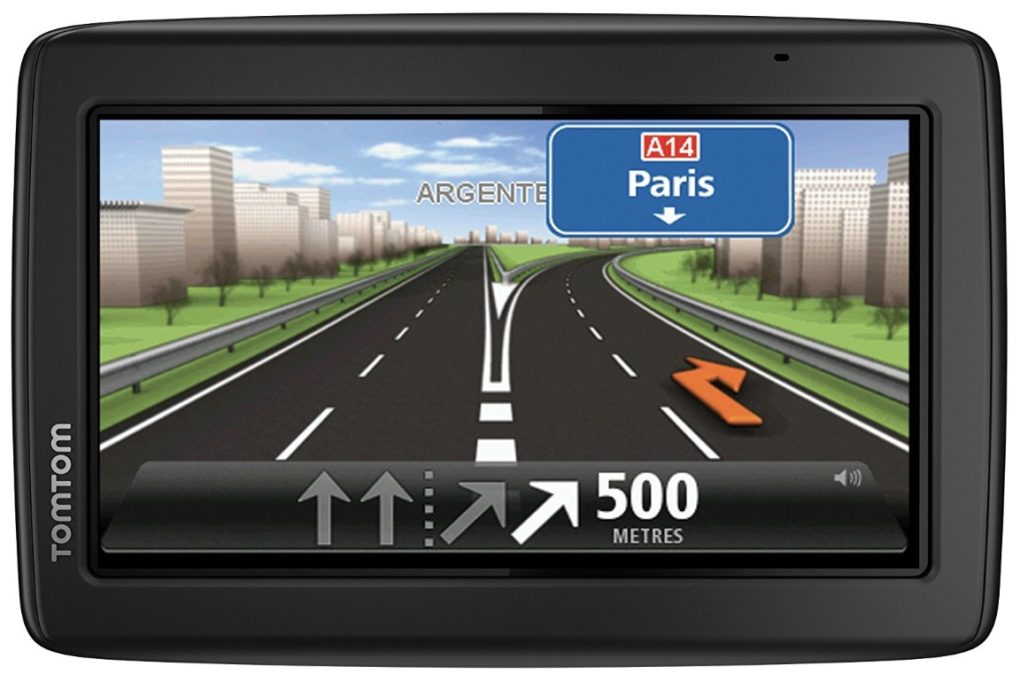 The TomTom 5″ is an affordable GPS device.
It comes w/ IQ Routes which auto-generate the fastest route to your destination — nifty feature which calculates routes based on historical data.
Advanced Lane Guidance helps you see which lane to take at confusing junctions.
Screen Size options: 5″ or 6″
Connection: WiFI
Also includes new 3D Feature for complicated street layouts.
This TomTom model will also auto update nav maps (including lanes + construction).
Western Europe nav map is the most popular w/ option to purchase Full Europe or 48 EU country nav maps. 
---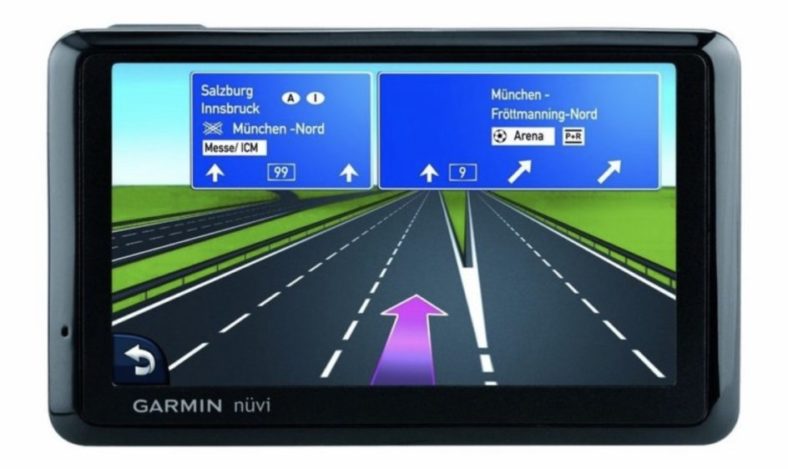 The Garmin Nuvi 1370/1370T has a slim design + easy touchscreen interface.
It comes with bluetooth connection — easily sync it to your phone for hands-free voice control. You're also able to take phone calls while receiving directions.
Garmin Nuvi 1370 comes preloaded with USA and Europe nav maps.
Once connected, the GPS unit can download street updates + show you public transit routes.
buses, subway/metro + rail schedules
As a European GPS device, it provides turn-by-turn directions including lane assistance, traffic alerts, and realtime ETA (estimated time of arrival).
EU Travelers really like the emergency, "Where Am I?" locator — with unfamiliar areas, this can be very handy.
Some mixed Ratings, but the upgraded version has better buyer ratings.
---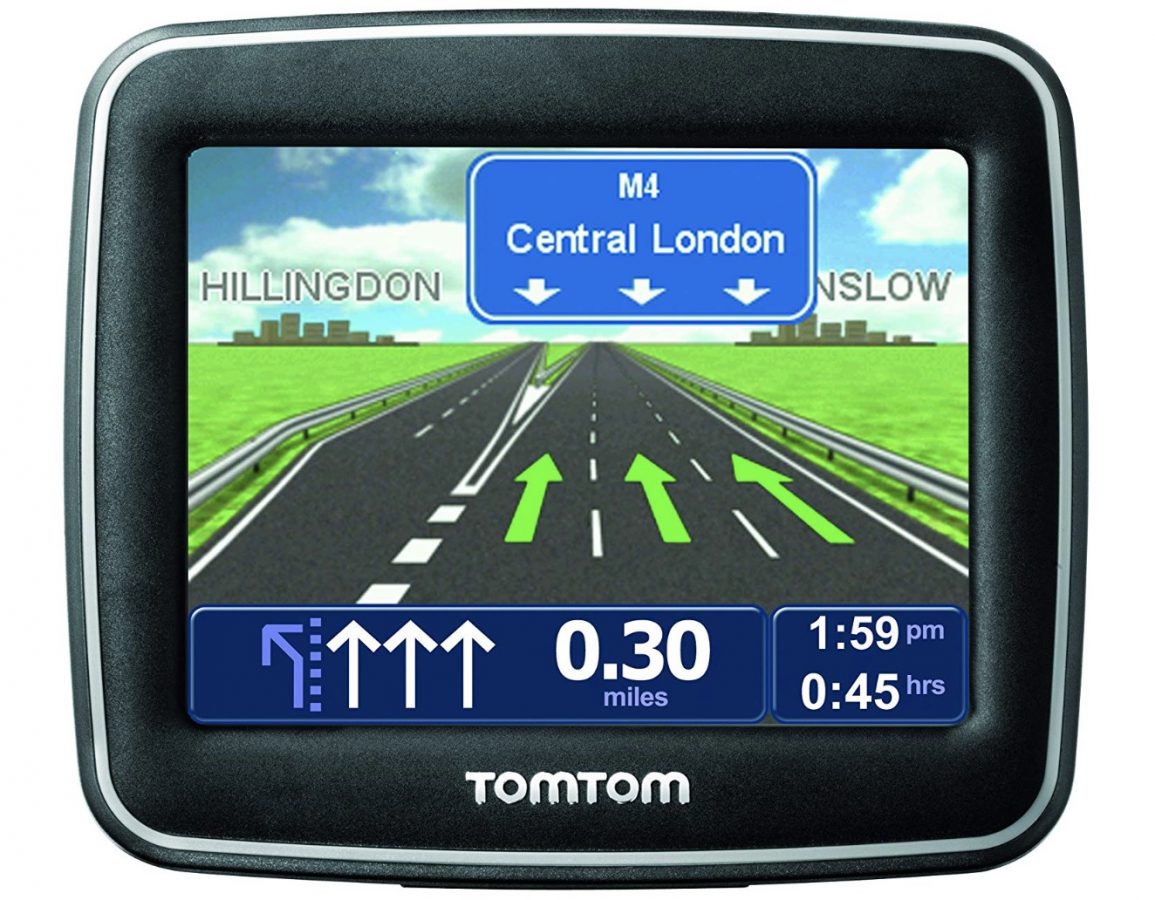 If you are traveling through Europe and want an affordable Europe GPS Sat System, the TomTom 3.5″ is worth considering.
It comes w/ all the basic features and lots of Europe nav map options — includes UK and Ireland nav maps, speed camera alerts + IQ Routes (for smarter route nav mapping)
Screen Size: 3.5  – 5 inches
GPS Connection: WiFI
Since it has the basic features, it's an easy-to-use Europe GPS system.
Bluetooth updates nav maps often so you will be up-to-date.
It is a bit smaller screen at 3.5″ but it's very affordable + comes w/ voice assistant.
Lots of strong buyer Ratings — many speak to its durability over the years.
Highlights
Screen Size: 3.5 inches
GPS Connection: USB
nav map Options: Western Europe (22 countries)

Advanced lane guidance

Plan Route option

Browse nav map option

Cheaper than other GPS devices
Potential Flaws
Smaller screen than other GPS units on my list
---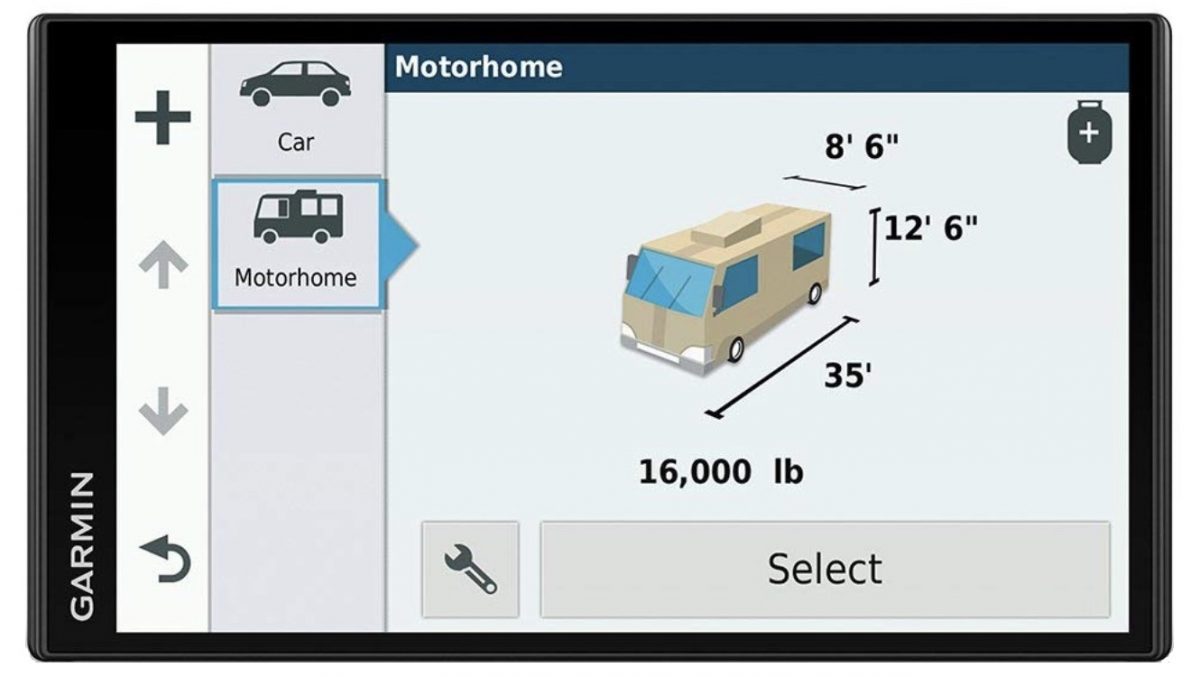 The Garmin Camper GPS is equipped w/ tons of features for camper vans, motorhomes and cars.
Upon installing it, you can select the type of vehicle + size dimensions. You can also save multiple vehicle profiles.
Garmin GPS for Europe will help you find the Top/safest route depending on traffic and historical records.
⭐⭐ Top Camper Van GPS for Europe ⭐⭐
Example: tight, curvy, or steep incline streets are not ideal for campers (with a big turn radius).
If you're driving through the Snowdon Mountains you'll want to have a GPS which suggests the safest route.
Garmin Camper (model 770LMT-D) has a Trip Planner so you can view routes by circumstance: night routes, bad weather routes, or fastest route.
Highlights
Screen Size: 6.96 inches
GPS Connection: Bluetooth
nav map Options: Western Europe

Built-in WiFi

Multiple apps pre-installed

TripAdvisor, Foursquare, ACSI

Trip Planner option

BirdsEye Junction View

Free lifetime updates on Full Europe

Can be connected with a smartphone
Potential Flaws
More expensive than other GPS devices
---
Best GPS for Europe 2020