Best Infrared Sauna Reviews.
Buying a home infrared sauna used to be an extreme luxury for the super wealthy, but in the last few years they have become affordable for every day consumers.
The best infrared saunas are constructed of Canadian Hemlock wood for the best insulation.
With so many infrared saunas entering the market, below is my list of the best infrared saunas for home.
Infrared sauna prices on my list range from $699 to $1999.
Best infrared sauna reviews.

The Radiant 1-2 person sauna (BSA2409) is a high-end infrared sauna with 30% more space than similar models.
Includes six carbon heaters and is constructed of double paneled, Canadian Hemlock wood – it can reach up 141°F within 20 minutes.
Sauna Model: BSA2409
Capacity: 1-2 person sauna
Price: Medium
Because of its quick heating, a few buyers say the Radiant BSA2409 is the best infrared sauna for home use – great for morning workouts!
At highest temps, you can expect to lose up to 600 calories within 30 minutes.
Includes an oxygen ionizer – makes it much easier to breath (especially at hottest settings)
Additional features include:
two premium speakers, oxygen ionizer (for easier breathing), bluetooth connection, tempered glass door
Lots of positive reviews w/ medium price tag.

Dynamic's Venice IR Sauna is another top 1-2 person infrared sauna.
Built for durability, the Venice infrared saunas is made of Canadian Hemlock wood and double paneled walls for fast heating.
Capacity: 1-2 person sauna
Heating: 6 carbon heaters
Price: Affordable
Dynamic's Venice sauna offers six Low EMF heating panels.
It includes double panel walls for insulation. Buyers confirm how quickly it heats and how well it maintains a consistent temperature.
Easily sync it w/ your phone or laptop to play music or radio. (even better when you use the lighting effects!)
Best 1-2 person sauna for home installation – takes only 1 hour.
Lots of positive reviews w/ affordable price.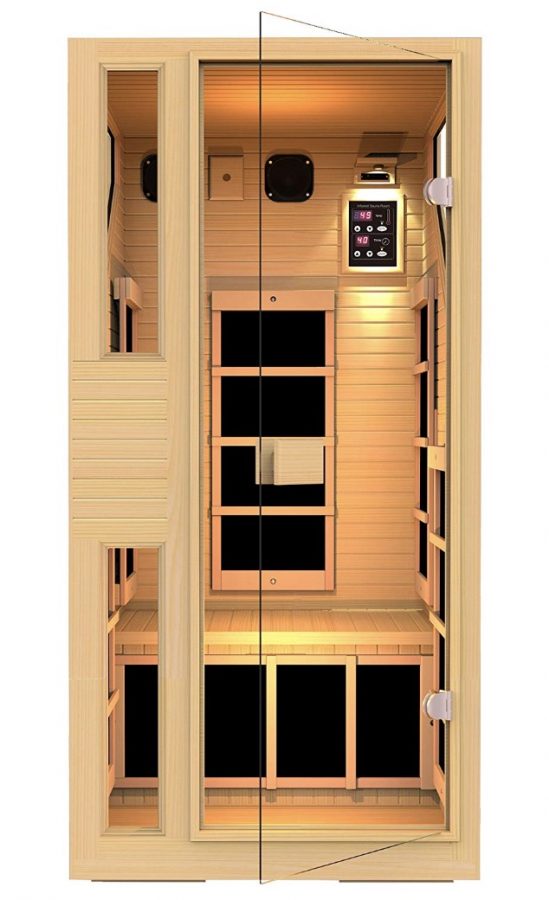 The JNH ENSI is the most expensive sauna on my review.
It offers virtually zero EMF and is the best infrared sauna for low EMF exposure – ideal for daily use.
JNH ENSI is available in multiple sizes:
ENSI 1 person IR sauna

1-2 person sauna (zero EMF)

3 person sauna (far infrared)

4 person sauna (far infrared)
Each sauna is crafted from chemical free, Canadian Hemlock wood. Inside are six carbon infrared heaters – the only of which are Intertek-tested for virtually zero EMF radiation.
Buyers say it has a beautiful aesthetic and one of the best infrared sauna units for home display.
Users also confirm the JNH Ensi sauna is easy to install.
Other features include:
two premium speakers, bluetooth connection, LED light interior, digital controls, safety glass door
Lots of positive buyer reviews, but very expensive.

The JNH 3 person sauna is a spacious, 2-3 person infrared sauna.
It is one of the most popular models on the market because of its affordable price and size — comes in a lighter or darker wood color.
Models: MG301HCB ; MG317HB
Capacity: 2-3 person infrared sauna
Heating: 8 carbon heaters
Very high-quality build, comfortable wood bench and excellent insulation.
Insulation include double layered, Canadian Hemlock wood and is designed with eight carbon fiber heaters inside.
Max temperature is reached within 25-mins.
JNH infrared sauna is bluetooth compatible for syncing music.

The Dynamic Sauna Barcelona is crafted using Canadian Hemlock wood.
It is a low-EMF infrared sauna that is made with Reforested Canadian Hemlock wood. Includes double paneled walls, giving it a thicker material than most 1-2 person sauna models.
Sauna Model: AMZ-DYN-6106-01
Capacity: 1-2 person sauna
Carbon Heaters: 6
Larger 40-inch width and thick, tempered glass door for improved heat insulation.
Barcelona Sauna uses FAR infrared panels allowing it to heat 30-40% faster than similar units — best infrared sauna for morning use!
Includes a LED lights for chromotherapy and two speakers.

The JNH 1-2 person sauna is made of 100% Canadian Hemlock Wood (no plywood, no chemicals).
JNH Model: MG217HB
Capacity: 1-2 person sauna
Heating: 7 carbon fiber heaters
For insulation it has a thick, tempered glass door and dual panel construction. Inside are seven carbon fiber heaters.
Buyers confirm it is fast at heating – takes only 20 mins to heat to 140°F.
Very affordable infrared sauna model.

The Radiant BSA2406 is a FAR infrared sauna – it heats quickly and includes adjustable roof vents for outside air.
Buyers say it is one of the best infrared sauna models for easy installation.
Radiant Model: BSA2406 2-Person
Capacity: 1-2 person sauna
Heating: 5 ceramic IR heaters
It also weighs less than similar size FAR infrared saunas – only 287 pounds.
Includes five strategically placed ceramic heaters — two behind your back, two on the side walls, and one under the bench.
Radiant BSA2406 heats quickly – reaches max 140°F in only 20-mins.
Also enjoy music from two built-in speakers via bluetooth.
Very good buyer reviews and medium price tag.

The Alicante Infrared Sauna is ideal for any makeshift home gym.
Inside are four bio-ceramic heaters, it heats 30% faster than ordinary IR saunas – If you plan on using it after an early morning workout, this might be the one for you!
Sauna Model: Alicante
Capacity: 1-2 person sauna
IR Heaters: 4 carbon heaters
Far Infrared Radiation (FIR) of these heaters promote the growth and health  — helps treat chronic joint pain and and arthritis
Infrared sauna is more compact than others on the market and is well-isolated due to a thick layer of Canadian Hemlock wood walls.
Besides the two stylish side windows and LED lights for chromotherapy.
You can also enjoy music via bluetooth.

The JNH 4 person infrared sauna is expensive and for good reason.
Beautifully crafted from high-grade Canadian Hemlock, this 4 person infrared sauna combines the best insulation methods.
JNH Model: MG417HB
Capacity: 3-4 person infrared sauna
Heating: 9 carbon heaters
Dual-wall and tempered glass sauna door keep it well-insulated.
Inside are nine carbon fiber heaters with an output up to 1980W at 120V — takes only 15 mins for the JNH sauna to hit peak temp of 140°F.
For extra comfort, the sauna is fitted with a built-in AUX control and two speakers.
Best Infrared Sauna Reviews 2019:
Infrared saunas alleviate the symptoms of dementia, depression and arthritis — they also improve the health and general well-being of regular users.
Most IR saunas are offered in terms of person.
1 person infrared sauna (40 ft. width)

1-2 person sauna (45 – 50 ft. width)

2-3 person sauna (55 – 65 ft. width)

3-4 person sauna (70 – 80 ft. width)
IR saunas usually easy to assemble and are extremely durable.
In contrast to ordinary stone-and-water saunas, which heat the air first and then your body, the waves from infrared saunas directly penetrate the skin, raising the body temperature faster. Because of this, they are they more effective option out there.
If you want to eliminate symptoms of chronic pain or you just want to improve your general wellbeing, infrared saunas are the way to go.
Buyers also love having an IR sauna after their morning workouts.
Best Infrared Sauna Reviews:
Best Rowing Machine Review
8 Best Treadmills for Home Workout