Best Humidifier Canada.
Room humidifiers are the ideal option for dry air or allergy season!
Today's options include modern features.
continuous mist, adjustable humidity levels, smart controls
Below is my list for best humidifiers Canada – rankings based on price, daily capacity, features and buyer reviews.
Humidifier prices on my list range, $49 – $159.
Best Humidifiers Canada

The Levoit Ultrasonic is a top humidifier for alleviating colds, allergies or dry skin.
It comes w/ easy touch controls + remote control. The display shows a room's current humidity.
Room size: 750 sq. ft.
Daily output: 6 litres per day
Pricing: Expensive
As a 6 liter (1.5 gallon) humidifier there's multiple mist levels — level 1 provides up to 36 hours of continuous use.
It operates very quietly — perfect for bedrooms!
Also includes aromatherapy feature for adding essential oils scents.
Lots of positive buyer reviews + affordable price.

TaoTronics Cool Mist is super quiet – perfect for the bedroom!
Large water tank and ultrasonic feature lets it operate up to 30 hours continuously.
Room size: 322 sq. ft.
Capacity: 4 litres per day
Pricing: Medium
Includes a built-in hygrostat for real-time moisture measurement.
From the LED control panel you can choose from three different cool mist settings or turn on the nightlight if you have children.
Includes a ceramic air filter that helps purify the mist before dispensing it throughout the room.
Medium price and lots of happy buyer reviews!

Levoit humidifier is a super quiet model, ideal for large rooms.
It offers warm and cool mist – perfect for any weather, especially during allergy season.
Capacity: 5.5 liters
Rooms: 753 sq. ft.
Pricing: Expensive
Buyers say they love it during winter when air is dryer – having a good home humidifier helps reduce dry or itchy skin.
Includes five mist levels and can operate up to 36 hours continuously.
Levoit ultrasonic humidifier comes w/ remote control and humidity sensor – it can detect air moisture levels and let you adjust.
Also features features include 360° nozzles + touch controls.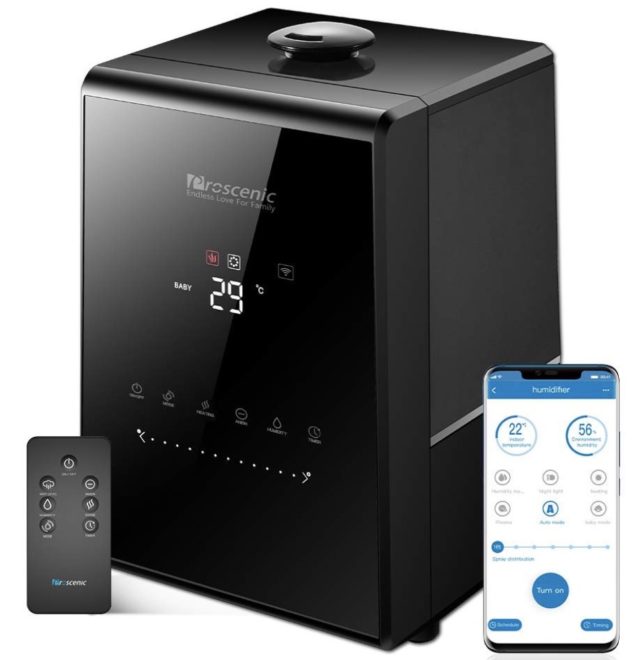 The Proscenic 807C is the best smart humidifier.
Humidifier mobile app lets you adjust temperature, humidity level, and misting.
Capacity: 5.5 litres per day
Pricing: Expensive
Buyers say it is the ideal large room humidifier – it can operate up to 36 hours!
Constant Humidity feature uses sensors for the super accurate humidity adjustments (using the mobile app).
Proscenic 807C humidifier is a favorite for home or business. Quiet humidifier, it can be used in yoga studios, nurseries or bedrooms.
Very good buyer reviews online!

The Boneco Ultrasonic comes w/ built-in fan to quickly distribute air moisture.
It's perfect for larger rooms up to 430 sq. ft. — buyers say it immediately helps relieve allergies, sinus problems, respiratory issues + common colds.
Capacity: 430 sq. ft.
Pricing: Affordable
Includes 1-gallon tank, Boneco added an antibacterial cartridge to sanitize water before it's released.
Many buyers use it as a bedroom humidifier.
Using the digital controls, you can create timers and pre-select power.
Overall, one of the best affordable humidifiers w/ whisper-quiet operation.

The Levoit Cool Mist is a good option for medium to large-size rooms.
Rooms: 430 – 538 sq. ft.
Weight: 4.4 pounds
Pricing: Affordable
Uses a large 4.5 liter tank + can operate up to 40 hours.
Includes 3 mist levels — new "auto" mode lets you select desired humidity level.
Also comes w/ nightlight + compartment to add essential oils for aromatherapy.
Buyers say it is very easy to operate and clean!

The iTvanila humidifier is a quiet, mid-size model – perfect for bedrooms!
As one of the most popular room humidifiers, the iTvanila has a large water tank that allows it to operate continuously throughout the night.
Thanks to its 5 liter water tank, the iTvanila humidifier can work continuously up to 50 hours.
Capacity: 5 liters
Rooms: 376 – 480 sq. ft.
Pricing: Affordable
Buyers also like for versatility – It is used for babies rooms, allergy season and is especially popular during the winter time when air becomes dry.
For its output, it's relatively lightweight at 2.87 pounds (without water).
Affordable home humidifier w/ lots of positive reviews!

The TaoTronics is one of the best humidifier models for medium size rooms.
It can operate up to 40 hours continuously and comes with three mist levels.
Room Size: 107 – 322 sq. ft.
Continuous: 40 hours
For those who use essential oils, the aromatherapy compartment can be used for your favorite scents.
Designed with automatic shut-off gives you peace of mind if water runs out.
Buyers say it is very easy to add water and clean.

** brand names may differ by country
The HumeXL humidifier offers warm + cool mist settings — perfect for winter or summer!
It can operate 20-25 hours and includes a remote control.
HumeXL uses 2 rotating mist nozzles — evenly disperses moisture in rooms of 270 sq. ft.
Includes a built-in humidistat for setting exact humidity levels.
Large tank opening makes it easy to clean + refill.
Best Humidifier Canada
Best Air Purifiers for Home
Top 10 Bidet Seats Canada
Best Robot Vacuum Cleaners
Top Canister Vacuum Canada