10000 BTU Window AC Units. 
Having a dependable window air conditioner makes big difference in peak summer months.
Seeing best sellers this year I've noticed many are 10000 BTU units — perfect size for cooling medium-size rooms.
I reviewed the top 10K BTU window air conditioner units for 2020.
Prices on my list range, $149 to $450.
Frigidaire 10000 BTU Window AC

Midea 10000 BTU Window Air Conditioner

Friedrich CP10G10B Window Air Conditioner

Frigidaire Cool-Connect 5000 BTU

LG 10000 BTU Smart Window AC Unit
---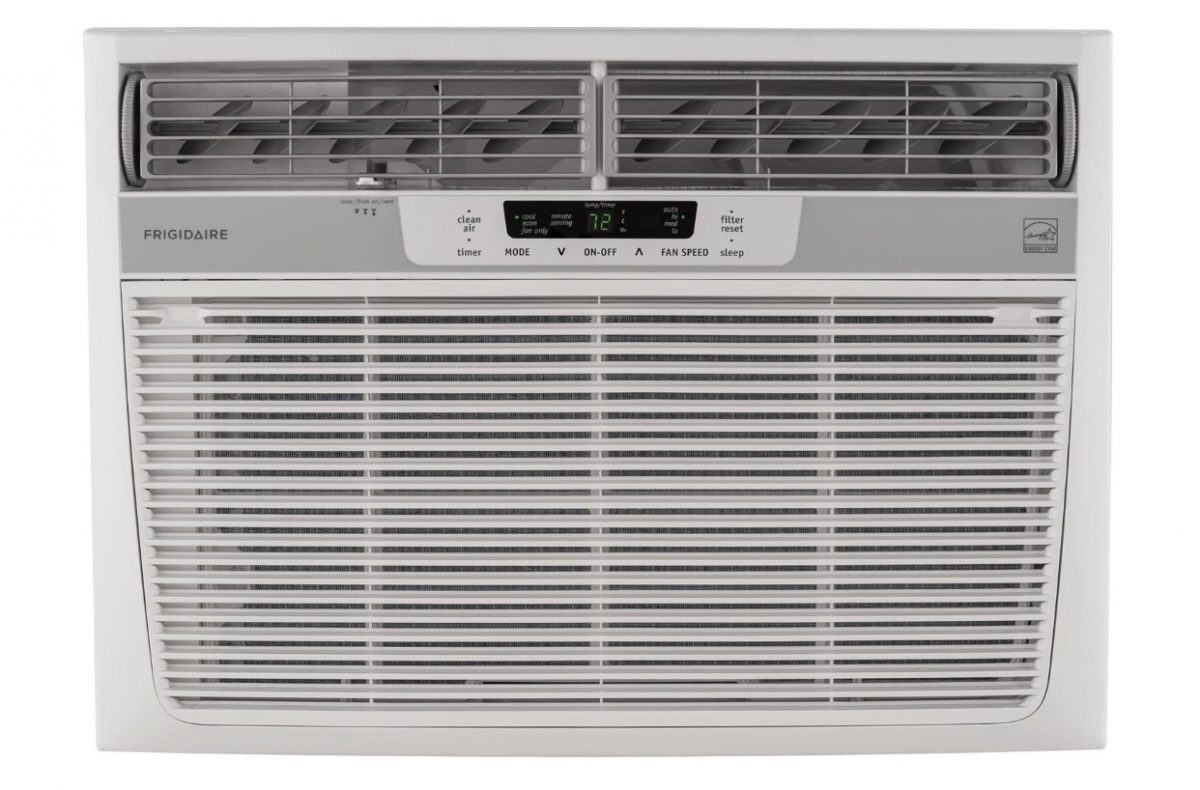 The Frigidaire 10000 BTU 115V window-mounted air conditioner is an affordable, compact ac.
As a Canadian Energy Star model it comes w/ EER of 10.9 (energy efficiency ratio) – higher ratio than other 10000 BTU window ACs.
Model: Frigidaire FFRE1033S1
AC Power: 10000 BTU
Room Size: 250 – 450 sq. ft.
As a high-powered window air conditioner it comes w/ 3 fan speeds and temp control — easily set the temperature you want using the remote control.
For the lower price, the Frigidaire window air conditioner is also fairly quiet.
Noise level: 56 – 60 dB
(quieter that most)
Another thing you'll love is the full-functional remote control.
LCD remote gives you a read-out of the current room temperature — simply set your desired temp and let the machine do the rest!
Buyers confirm it's easy to install too!
Overall it's a solid, affordable window unit with all the basics you want.
---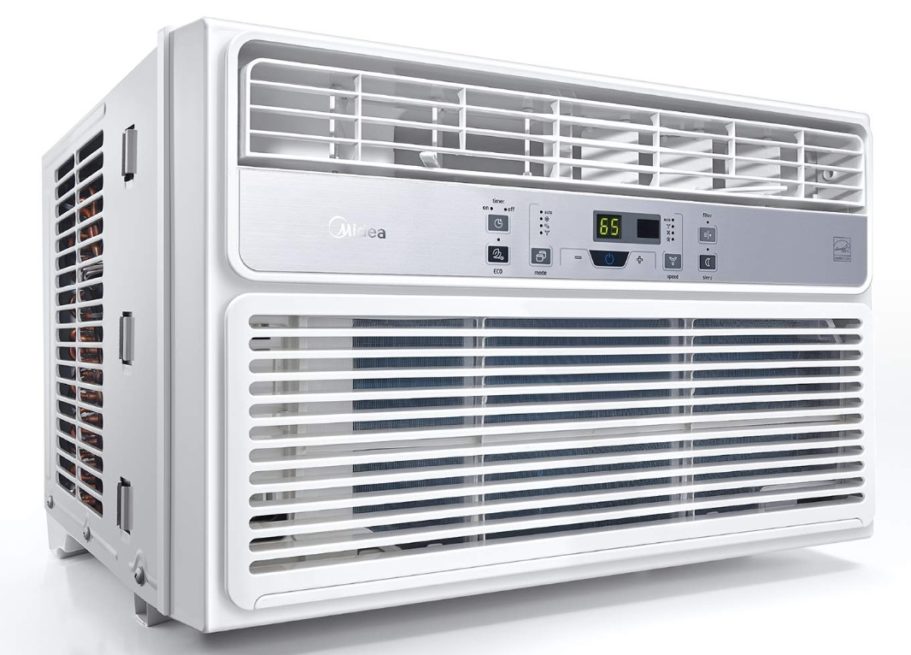 The Midea EasyCool 10000 BTU air conditioner is a 3-in-1 unit.
Reading reviews, many buyers use it as a bedroom AC for their city apartment — it cools rooms up to 450 sq. ft.
Model: Midea MAW10R1BWT
AC Power: 10000 BTU
Room Size: 275 – 450 square feet
It's designed w/ features specifically for bedroom cooling:
#1.) Sleep Mode – automatically adjusts cooling temperatures to align with your body's natural sleep cycle.
#2.) Energy Saver Mode – new EcoSave will automatically turn it off after a set temp is reached.
Other features include:
LED temperature display, 24-hour timer, easy install, fast cooling
I expect the Midea 10000 BTU window AC to be a top seller for city bedrooms.
Good reviews so far!
---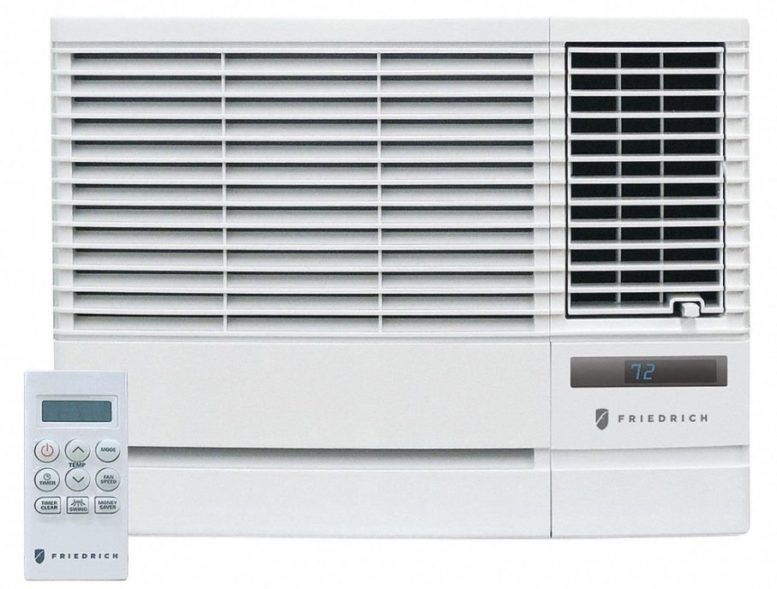 The Friedrich Chill CP10G10B is a super high-end, 10000 BTU window air conditioner.
It's quiet enough for bedrooms and high-powered for cooling large rooms — buyers say its extremely fast at cooling.
If the Friedrich Chill 10000 BTU is not the right size, you can choose from the following:
[table id=45 /]
All Friedrich Chill Series units are Energy Star qualified.
Designed with a "MoneySaver" function — used to decrease energy consumption by running the fan and AC motor simultaneously.
Running both lets the air conditioner run at slower speeds (therefore saving wattage).
Another feature is its quieter operation. Users confirm the Friedrich Chill Series runs 50-70% quieter than their previous window AC.
If you're looking to save on electricity and want quiet operation… this is the one you want!
The Friedrich Chill 10000 BTU is expensive, but a high-powered unit.
---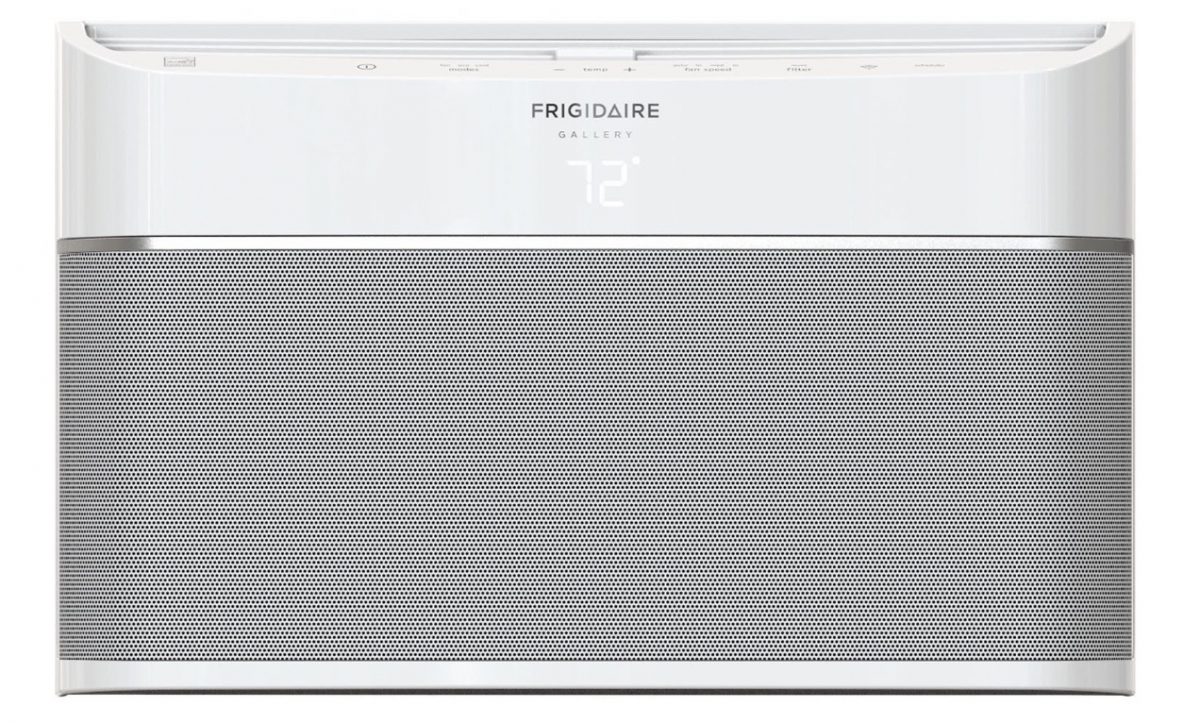 This Frigidaire 10000 BTU window AC is a "smart home" unit.
It comes with WiFi connectivity making it a Smart Window Air Conditioner w/ mobile app control — once set up, you can change all settings and set a desired temp.
Available in multiple sizes — the 10000 BTU is the most popular because of its size versatility.
[table id=39 /]
Each is Energy Star rated.
Users say it's a little loud, but runs quietly when maintaining temperature.
Also comes with a "Sleep Mode" function for even quieter noise levels.
Downside is the higher price tag.
---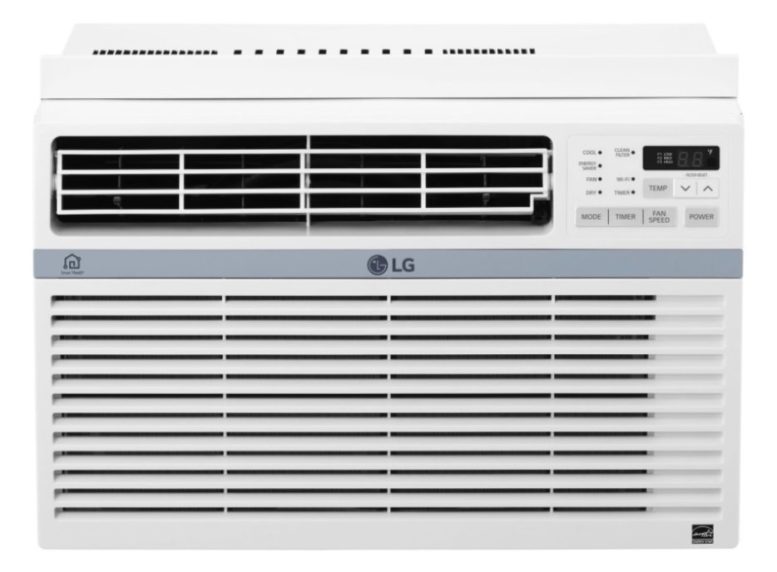 The LG 10000 BTU unit (LW1017ERSM) is a smart window air conditioner — very popular for city apartments!
It's one LG's Energy Star rated models, designed for rooms up to 450 sq. ft.
If the 10000 BTU is not the right size, here's a list of all unit sizes:
[table id=40 /]
As a "smart" WiFi air conditioner you can use your phone to operate it remotely — buyers say it's useful if you forget to turn it off.
Noise Level (dB): ≤ 54 decibels
The mobile app also provides a lot more functionality than you'd get w/ a typical remote control.
Buyers say it's especially useful for turning the AC off (in case you forget).
Mobile features include:
Turn on/off remotely

Set exact room temps

Change modes (air conditioning, dehumidify, and fan)

Switch fan or air conditioner power

Toggle dehumidifier speeds
Personally, the LG LW1017ERSM window AC (10000 BTU) would be my choice — right size for my bedroom and I'm definitely a light sleeper. 
Little more expensive than I'd like, but lower energy usage helps save electricity costs long-term.
The LG 10000 BTU window ac is available with or without WiFi (mobile app) functionality.
---

The Frigidaire FFRE103ZA1 is a compact 10000 BTU window air conditioner.
It was over-priced last year because it was a newer model, but has come down in price this year.
What makes it unique is its ability to maintain consistent room temperatures for long hours. Unlike other window-mounted air conditioners, they it does not constantly switch on/off all night.
For its size it is also one of the most energy efficient window air conditioners with EER rating of 12.2.
The downside is that it is a little louder than others on my list with decibels up to 59.
Personally I think it is one of the best 10000 BTU window air conditioner units for home offices or living rooms.
Additional features:
3 fan speeds, remote control, programmable timer, sleep mode + easy install
Buyers like its affordable price and consistent performance.
10000 BTU Window Air Conditioner in Canada