Ecovacs Deebot Ozmo 930. 
The Deebot Ozmo 930 is a newer release by Ecovacs.
It did not receive a lot of publicity, but don't let that fool you — as a robotic vacuum cleaner it is equipped with all the modern features.
Smart Home Navigation 3.0

Adaptive floor sensors

Upgraded mapping via mobile app

Vacuum + mopping

Advanced suction inlet (for hair)
As part of the latest generation, the Ecovacs Deebot Ozmo 930 is a robot vacuum and mop.
Good option for homes w/ multiple types of flooring!
Highly intuitive, this robot vacuum auto detects floor type:
hardwood, carpeting, vinyl, rugs, or nearing walls or stairs
Both Alexa and Google Assistant compatible, users can easily program and control the Deebot Ozmo 930 using the mobile app or Alexa voice command.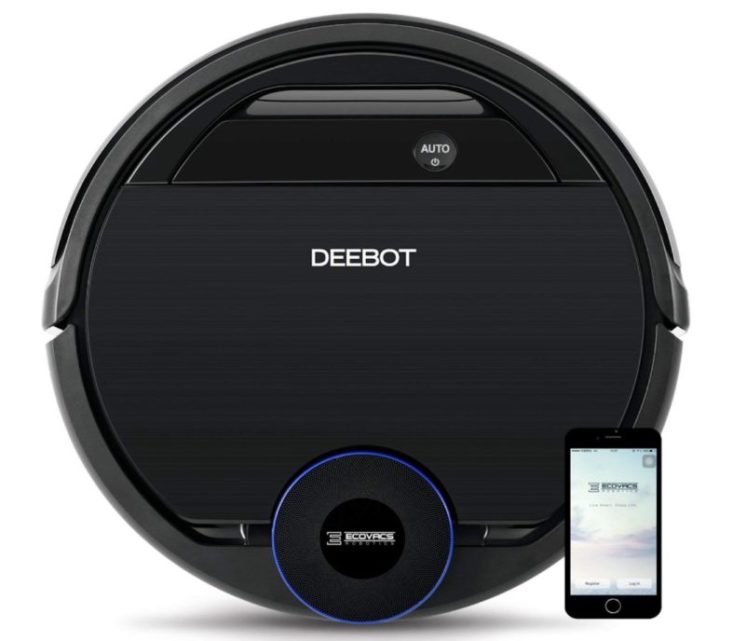 The smart navigation system scans your home's layout, creating a virtual map of cleaning surfaces.
Some robot vacuums bump around in a random pattern, often missing spots, but this model plans a cleaning pattern based on the smart navigation's map of the room – cleaning more efficiently!
Ecovacs offers several Deebot Robotic Vacuums, but their Ozmo 930 is currently the most advanced.
Dual rotating brushes w/ multiple detection sensors make it extremely efficient.
Buyers say it rarely needs to pass over an area multiple times.
Ecovacs Deebot Ozmo 930 Robot Vacuum:
In terms of cleaning efficiency, the Deebot Ozmo 930 robotic vacuum uses a 3-stage cleaning system.
Deebot Ozmo 930 is able to detect the floor types and will automatically increase suction power on carpets or if it senses high-dirt areas.
Battery Power: 110-mins (per charge)
Charge Time: 4-hours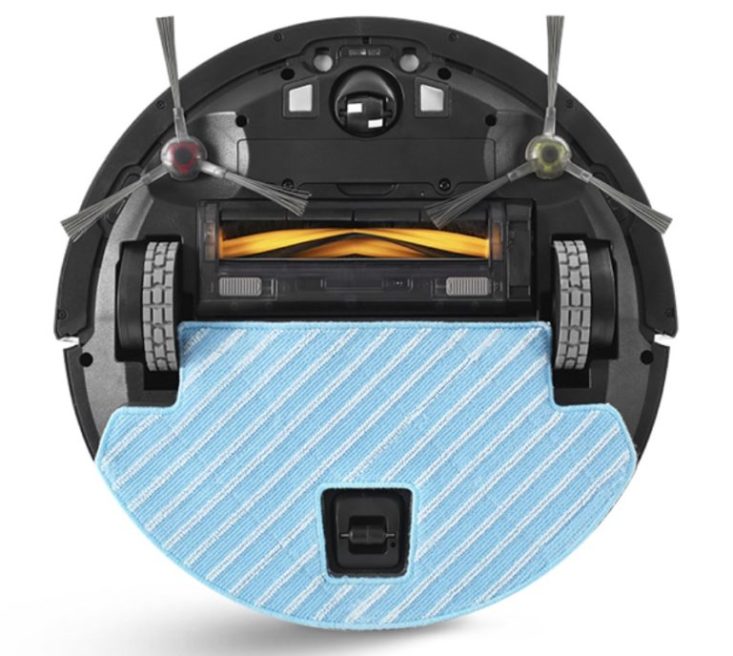 Unlike most varieties, the Deebot Ozmo 930 has both vacuum and mopping capabilities.
Users can easily customize their Deebot's cleaning path by preprogramming settings using the mobile app. Alexa voice commands allow your robot vacuum to be controlled by your voice.
Create virtual boundaries for areas you'd like it to prioritize or target specific rooms using the mobile app.
You can also create a weekly cleaning schedule with a few swipes and clicks of your phone.
Specifications:
At just a fraction of the size and weight of standard vacuum cleaners, this compact robot weighs only 10.6 pounds and measures just over a 1-ft in width.
L x W x H: 13.9″ x 13.9″ x 4″
It is low and flat enough to maneuver under couches and beds, going places a regular vacuum cleaner cannot.
With a battery life of 110 minutes, the Deebot Ozmo 930 is suitable for homes with large floor plans.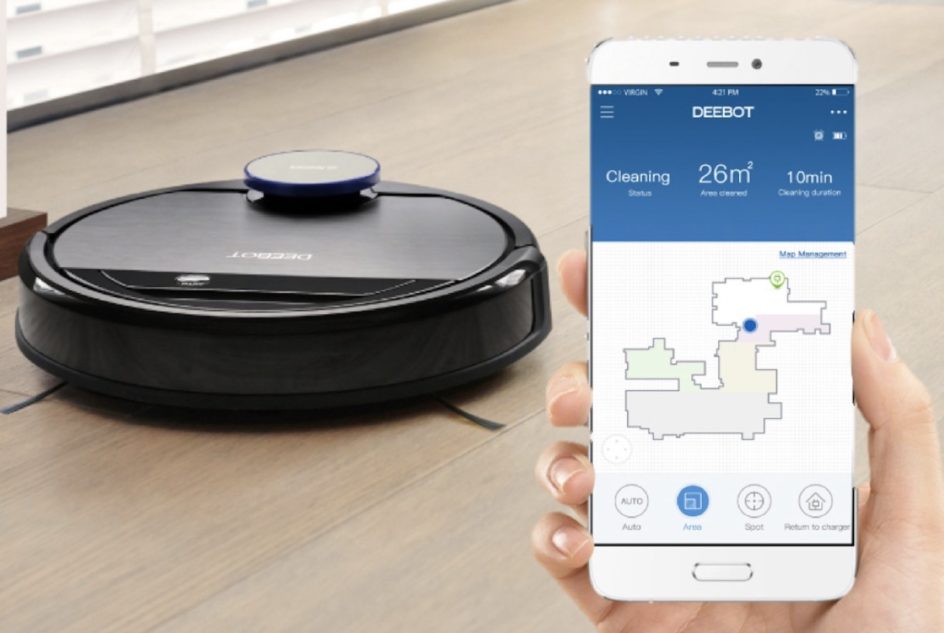 The power suction doubles automatically on carpet when transitioning from vacuuming hardwood floors.
Increased power boost keeps carpets clean — the Ecovacs Deebot Ozmo 930 is very effective in picking up clumps of dog hair or long human hair.
Buyers also love how quietly it operates compared vs. other robot vacuums (or upright vacuums).
Noise level: 69.5 decibels
(similar robotic vacuums run above 80 decibels)
It is quiet enough to run while enjoying TV!
The dust bin and water tank are easy to dump and replace, and a high efficiency filter traps pet hair and dirt.
When mopping, the intelligent water pump precisely controls water flow.
The larger size water tank stores plenty of water for mopping big areas. Some users report one tank will mop up to 1,200 square feet!
Coverage: 1200 sq. ft.
When the power supply runs low, it finds its way back to the docking station and recharges on its own. Automatically resumes its cleaning path once the battery is charged.
Ecovacs Deebot Ozmo 930 Review:
Weight: 10.6 pounds
Run Time: 110 minutes

Vacuums + Mop function

Adaptive Floor Sensing Technology

Smart Navi 3.0 Mapping

Alexa, Google Home, and app enabled

Self docking/charging

Great for hardwood and carpets!

Quiet and efficient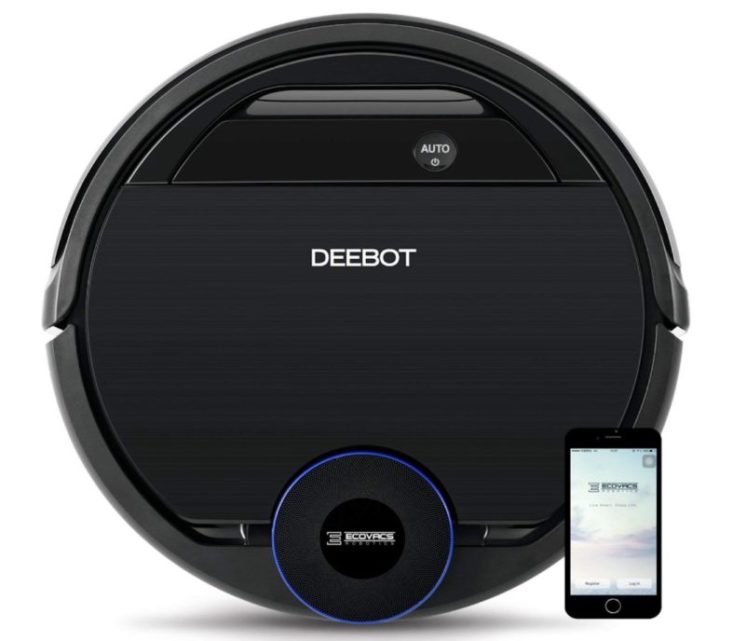 Deebot Ozmo 930 Review:
With all the robot vacuum options on the market today, I believe Ecovacs Deebot Ozmo 930 offers a great value.
I find that it is intuitive and smartly designed. The ability to mop as well as vacuum is a game-changer for many homes, especially for families with pets or kids.
Pairing it with Alexa or Google Smart Home technology makes cleaning your floors a breeze.
The option to set a cleaning schedule or adjust settings even while away from home – via the app – is a helpful advantage for many busy households.
It is more expensive than other robot vacuums, but if you have the budget the Deebot Ozmo 930 is a solid option.
Ecovacs Deebot
Ozmo 930 Review