Best Robotic Pool Cleaner Canada.
Robot pool cleaners are a huge convenience for anyone with an inground or above ground pool — they often do a better job than you could do in 2-3 hours.
Today's models are super advanced, although a bit expensive.
To help you find the right one here's my rankings for the best robot pool cleaner for inground or above ground pools.
Many on my list are "smart" robotic pool cleaners that you can control via smartphone — they scrub, vacuum, and climb walls.
Robotic pool cleaner prices in Canada range, $349 – $1299.
Best Robotic Pool Cleaner Canada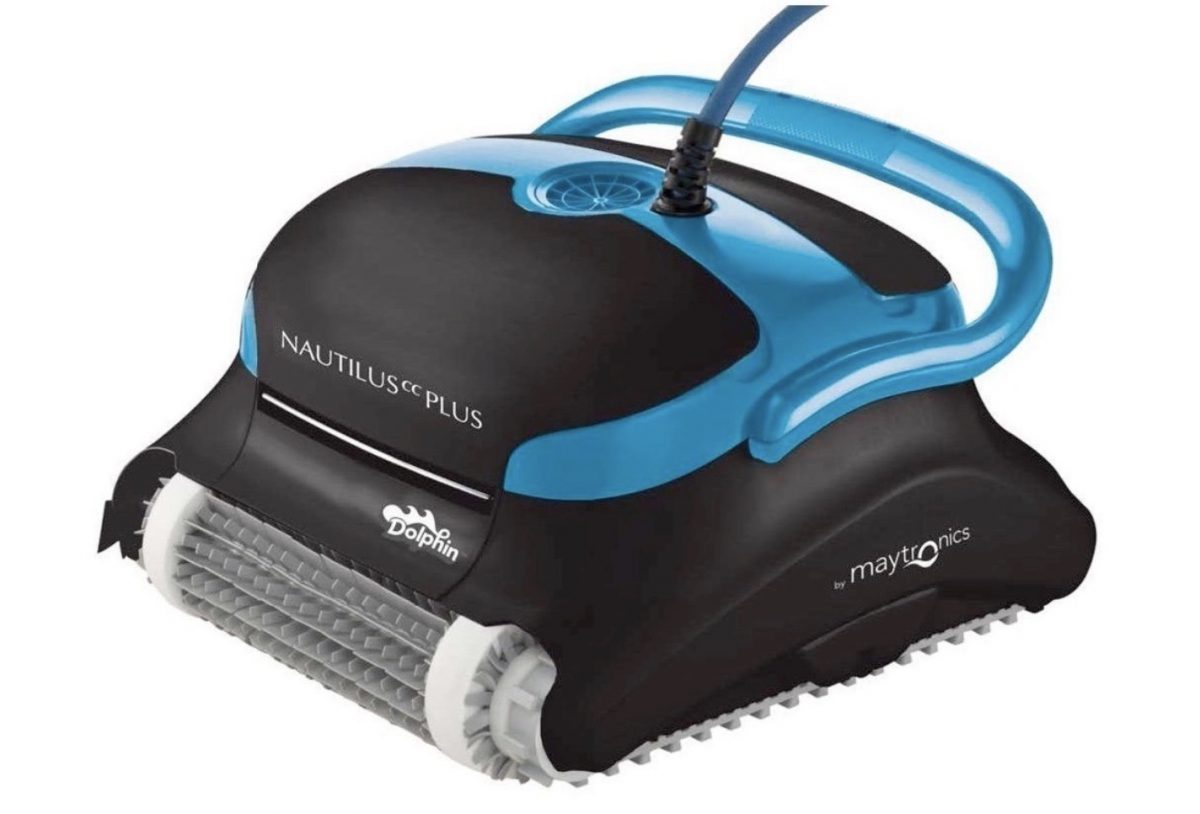 The Maytronics Dolphin Nautilus CC Plus is a top seller online.
It's a high-performance, inground pool cleaner — Instead of a cable, the Nautilus robot uses a rotating brush that's 8X more effective than traditional pool cleaners/vacuums.
Coverage: floors + walls
It's also very quick (compared to other models).
In only 2-hours, it cleans all areas of your pool: walls, floors and cove
Dolphin Robotic Pool Cleaners remove 99% of dirt, debris, and other particles.
Buyers love the 1-button push start, weekly scheduling, easy controls.
Similar models: Quantum, Dolphin Proteus DX4, Dolphin T35 Pool Cleaner, S200, Triton PS
It's an expensive pool cleaner, but lots of positive reviews.

The Polaris F9550 uses 4 wheel drive and remote control.
Comes with a 70 ft. cable — probably the best robotic pool cleaner for large inground pools.
Aqua-Trax tires help keep it attached to the pool (and increases cleaning speed).
Using rear-water propulsion, the Polaris 9550 Sport quickly cleans under stairs and tight corners.
You can even program schedules (i.e. weekly cleaning) or use the remote control.
The Polaris robotic pool cleaner comes in 4 sizes — each is expensive, but the F9550 is the most popular.
Polaris 9650IQ – includes mobile app

Polaris F9550 – with remote control

Polaris F9450 Sport – no remote

Polaris F9350 Sport – shorter, 60 ft. hose
Each comes with vortex vacuum technology (for long-lasting suction) + motion sensors for navigating layouts and detecting debris.
Buyers love the remote control + efficient speed.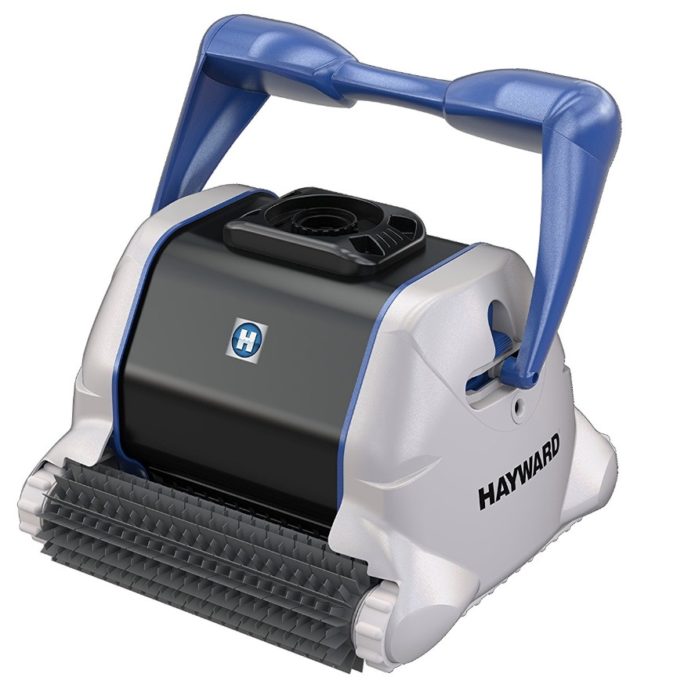 The Hayward TigerShark (RC9990CUB) has the highest buyer ratings.
TigerShark robotic pool cleaner can fully clean the most intricate inground pools — walls, floors, corners and under ladders.
Pool size: 20 x 40 ft.
Cleaning: 60-90 mins
Built for intense vacuum suction, it is able to suck in all types of debris.
thick leaves, sand, bugs + dirt in crevices
Hayward Tiger Shark offers quick and efficient pool cleaning — buyers love how easy maintenance it is.
Multiple models available:
RC9950CUB: No remote control
RC9955CUB: Includes remote control
RC9990CUB: New quick-clean option
Expensive, but very good buyer reviews.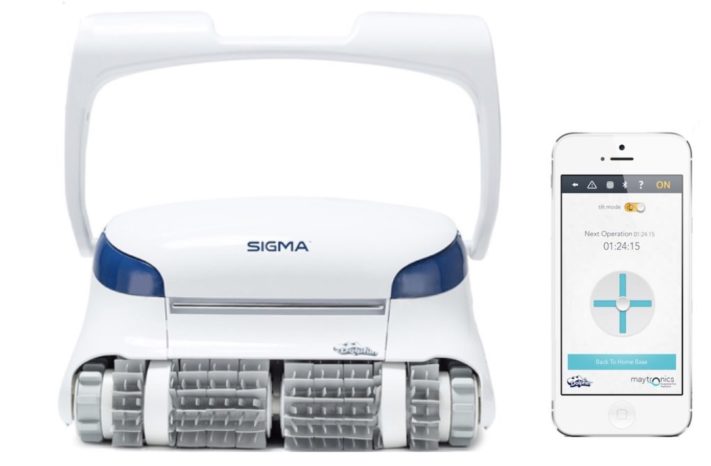 The Dolphin Sigma is a newer model.
It's quickly becoming a top seller on Amazon.
Very similar to the Dolphin Nautilus, but  designed w/ better suction + mobile app functionality — it's a true Smart Robot Pool Cleaner.
schedule pool cleaning, realtime status updates + realtime alerts
Hyper suction is able to suck up ultra-fine dirt and leaves.
Includes dual filtration system which makes sure the Dolphin Sigma never clogs. Excellent pool robot for picking up leaves!
Buyers really love the app function the most — activate at anytime and realtime status updates, make it 100% hands-free pool cleaning.
Downside is price — it's expensive.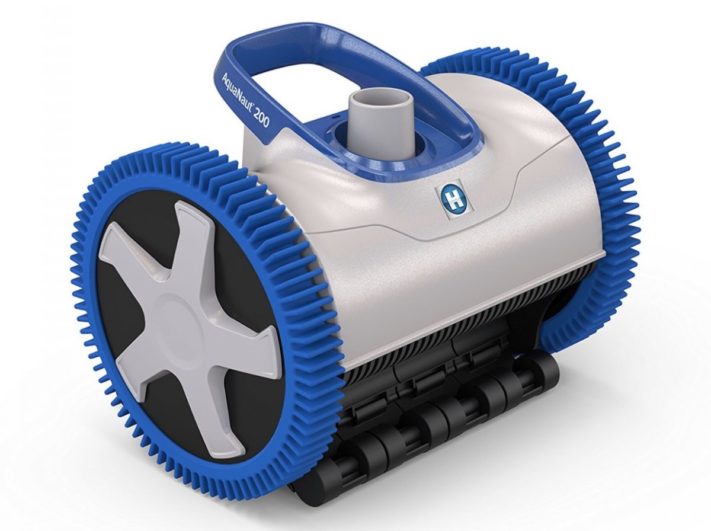 The Hayward AquaNaut robotic pool cleaner is a high-suction pool vacuum.
Offered in 2 models:
PHS21CST and PHS41CST
Hose length from 33 – 40 ft. and weight range of 16 – 19 pounds.
It has a unique design 2 wheel design — each wheel has rubber gripping for traction.
It's faster than most robotic pool cleaners and includes variable speeds (depending on level of debris).
Buyers say it is extremely good at cleaning the deep ends of pool.
Hayward Aquanaut is the best robotic pool cleaner for cleaning medium size pools.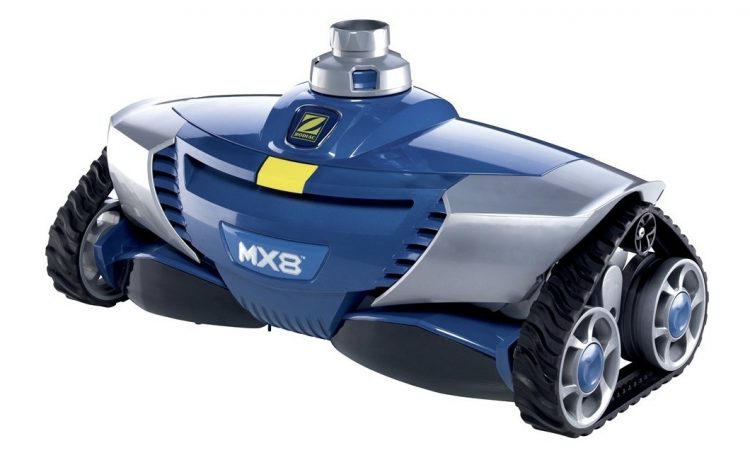 The Zodiac Baracuda MX8 is designed with traction tires and upgraded navigation system.
A versatile robotic pool cleaner, the Zodiac MX8 weighs only 18 pounds and includes special X-Trax tires which allow it to quickly climb pool walls.
Surfaces: concrete, tile, vinyl or fiberglass
For cleaning, the Baracuda has a cyclonic vacuum — using debris sensors MX8 pool cleaner is able to detect particles and increase suction when needed.
The cleaner is connected through a 36 ft. hose. Perfect cleaning medium size pools!
Overall, the Baracuda MX8 is an affordable pool cleaner w/ lots of positive reviews.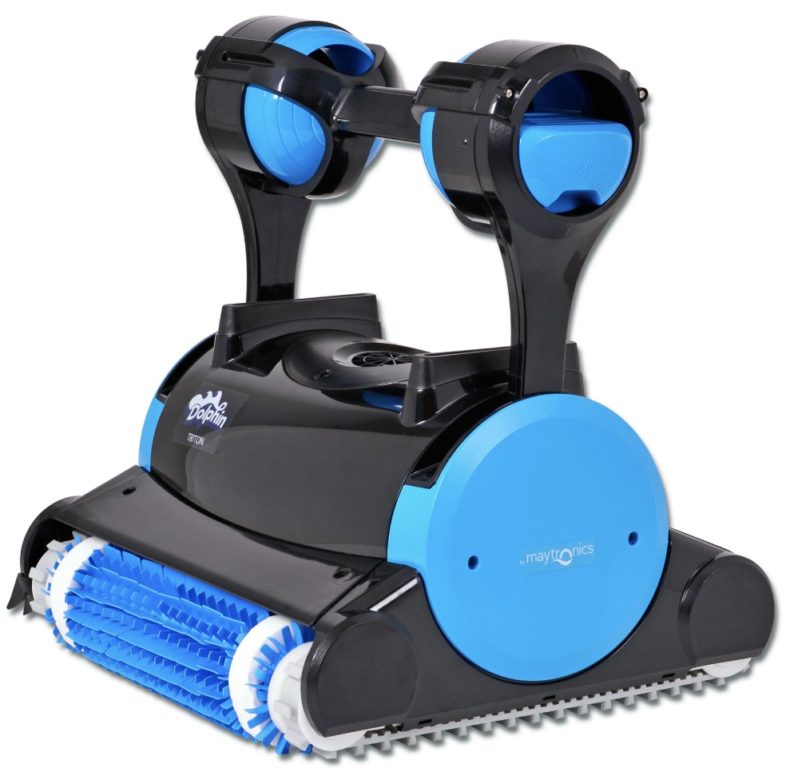 The Dolphin Nautilus is designed for pools up to 50 ft.
It comes equipped w/ 60 ft. cable and high-suction vacuum to scrub pool floors and walls.
Also installed with swivel technology which keeps the cable tangle-free.
Dolphin Triton uses navigation sensors — It determines the shape and length of your pool and efficiently cleans within 3-hours.
Buyers say it is the best robotic pool cleaner for leaves.
Downside is the price – it is very expensive.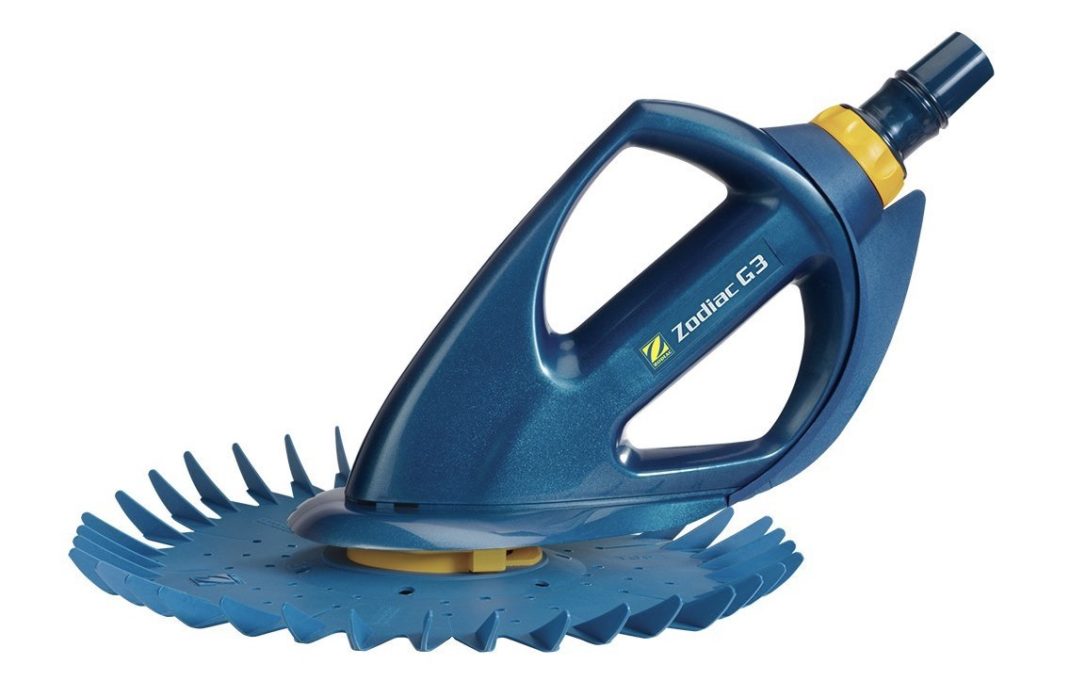 The Zodiac Baracuda G3 is an affordable inground pool cleaning robot.
Unlike others, it uses a fin disc (instead of wheels) for pool-floor suction.
Buyers say the G3 robotic pool cleaner great at cleaning difficult areas — small crevices in older pools, on floor/wall edges, and underneath pool stairs.
Also  includes wheel deflector allowing it to get out of tight areas — you don't have to worry the Baracuda G3 getting stuck under pool stairs.
Baracuda G3 is a bit smaller, but affordable price for medium size pools.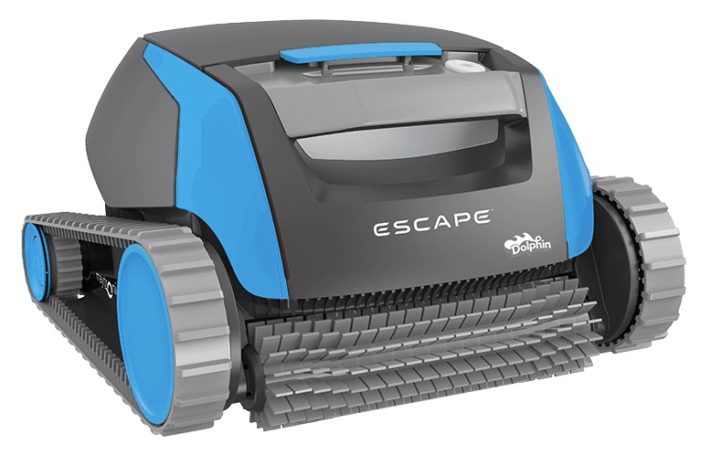 The Dolphin E10 and Dolphin Escape pool cleaners are two of the best robotic pool cleaner models, but are also quiet expensive.
Dolphin E10 is designed for above-ground pools, but can also be used for inground pools.
Includes the newest features:
– Smart Navigation 2.0
– HyperBrush dual scrubbing
– HyperGrip wheels
Dolphin HyperBrush spins 2x as fast as mostly any other robotic pool cleaner.
Coverage: pool flooring
Great option if you have not cleaned your pool recently (or have deep grime).
Using HyperGrip tracks, the Dolphin pool cleaner glides over obstacles (i.e. drains) and easily climbs walls.
Buyers say the Dolphin Escape pool cleaner is very effective in cleaning the smallest crevices of their pool.
Above ground models: Dolphin E10 • Dolphin S50 • Dolphin Triton PS
Dolphin E10 is medium price.

The Zodiac Baracuda MX6 includes 4 wheels for traction.
It is able to navigate your pool effortlessly + comes w/ turbine blade for cleaning the pool floor + scale walls.
Surfaces: concrete, tile, vinyl or fiberglass
For suction it includes cyclonic power which increased 3-4x in difficult or high-particle areas.
pool corners, deep ends (10-14 ft.), or under stairs
Lots of positive buyers reviews.
Many say the Baracuda MX6 is the best robotic pool cleaner for picking up thick leaves.

The Hayward Poolvergnuegen was a best selling inground robotic pool cleaner last year.
It includes 2 wheel drive and treaded tires — perfect for medium size inground pools (16 ft. x 32 ft.)
Nothing too fancy, but it is a durable robot pool cleaner that does all the basics well.
Many buyers who purchased the Poolvergnuegen in 2014 and 2015 — they say it still gets the job done in 2019.
This Hayward pool cleaner is perfect for homes that use it occasionally.
It has an affordable price, but not as high-tech as others on my list.
Best Robotic Pool Cleaner Canada
Top 10 Best Cordless Blowers CA
Best Rated Outdoor Sheds Canada