Best Sewing Machines For Quilting
Over the last few years, quilting gone through quite a change – a cost prohibitive long arm quilting machine is no longer needed to create beautiful quilt designs. This is a major plus, since these machines tend to take up lots of space, in addition to being expensive. Regular sewing machines are gaining popularity because they take up less space, are considerably more affordable, are ideal for quilting in your home, and are super user-friendly.
​With so many high-quality quilting machines to pick from with various features at several different price points, it is impossible to recommend any single model to everyone.
One of the first things you should decide is how much money you can afford to spend, since the best sewing machine for quilting will depend on your budget.
In general you can expect a good quilting sewing machine to cost a minimum of $200.
Below we listed our picks for the best sewing machines for quilting – prices vary quite a bit, but based on the function, features, buyer reviews, we think these are the some of the top options.
Prices range from $349 to $1199.
Brother PQ1500SL Quilting & Sewing Machine

Singer 9960 Quantum Stylist Review

Brother CS6000i Sewing Machine

Janome 2212 Sewing Machine for Quilting

Brother HC1850 Sewing & Quilting Machine
---
The Best Sewing Machines for Quilting 2021
---

When compared to other Brother machines, the Brother PQ1500S is quite an upgrade – the main reason for this is the durability and super quick sewing speed.
It's capable of sewing 1500 stitches per minute (SPM). This is an ideal sewing machine for quilting if you sew as part of your career or you are a serious quilter. This appliance is built to withstand the speed of the motor and is very sturdy, so it can handle the great speeds.
The Brother PQ1500S accomplishes everything you can throw at it and is a real workhorse.
---
Janome is best known for its long history of user friendly sergers and sewing machines. This is especially true with the Janome 2212 sewing machine. Regardless of your age, anyone who is just learning how to quilt will appreciate this basic mechanical sewing machine.
The Janome 2212 is a great choice for quilters because it features width and length adjustment dials as well as a large stitch selection. There is also a needle plate with seam guides etched on both sides of the needle, a front loading bobbin, an on-board accessories case which removes to expose a convenient arm, and a drop feed.
With the bright light to illuminate your work, you can easily see what you are doing. Other features include manual tension adjustment, four step buttonhole, large reverse stitch button, two retractable spool pins, and twelve utility stitches. It also comes with a variety of snap-on presser feet.
When picking out the best quilting machine, the bottom line is that you need to be able to enjoy using it. Fortunately, the Janome 2212 is easy and fun to use. It is a cinch threading and winding the bobbin. There's also no vibrations when using this model, and it produces perfectly formed stitches, including a beautiful straight stitch.
---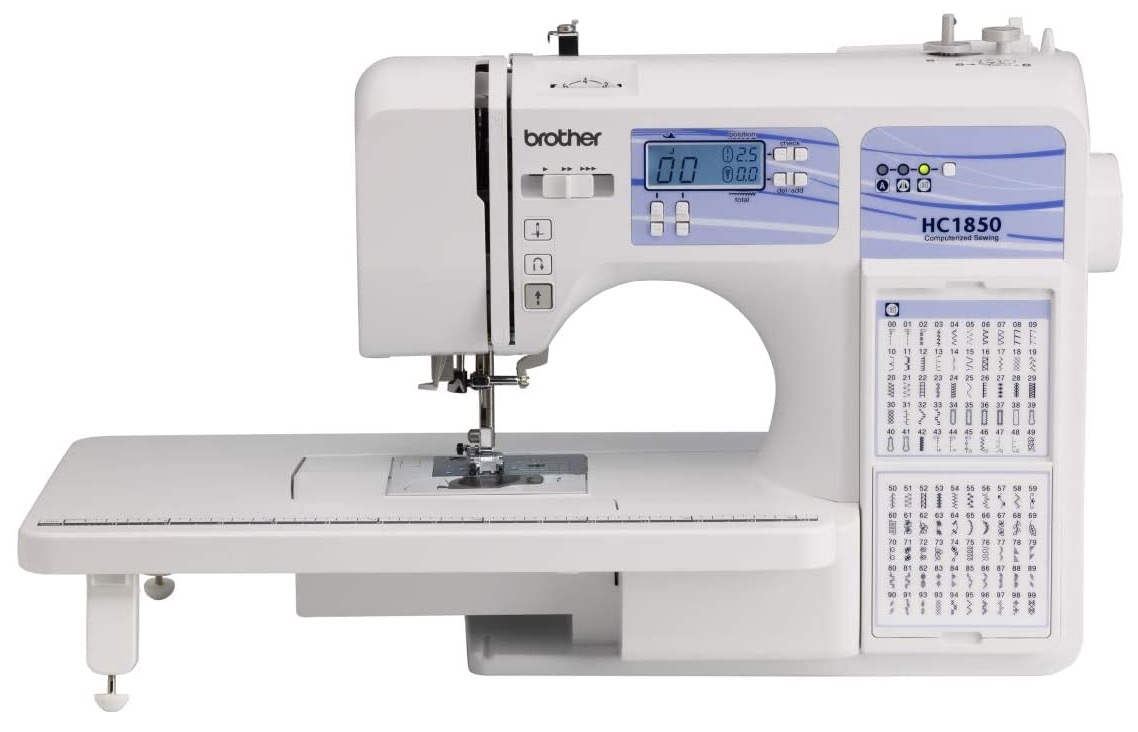 If you want a medium-priced sewing machine for quilting or decorative stitching, the Brother HC1850 is an excellent option.
It's a high-functioning, computerized model that comes with user-friendly features such as adjustable threading, large table, and bright LCD screen. Includes advanced needle threader and a drop-in top bobbin.
Users say it's great for sewing and quilting since the needle easily pushes thread through thick or multiple layers. The sturdy table adds to its ability to handle heavy duty sewing projects.
Another reason I like this model is because of it's lightweight design – weighing only 10 lbs, it's one of the best portable sewing machines. The Brother HC1850 significantly lighter in weight vs. similar quilting machines.
Good option for all levels of sewing experience!
---
Sewing Machine for Quilting Features
When assessing what is the best sewing machine for quilting, there are several things to look for. Some features are more important than other. Here is a list of the features you do not want to live without:​
"Needle-up" & "needle-down" control
This is one of the best features for machine applique, quilting, and piecing. With just the push of a button, you can decide to have the needle stop in either the down or the up position. When you stop with the needle down, it is like you have an extra hand holding the fabric for you.​​
Zigzag & blind hem stitches
You will also want these two stitches if you plan on doing any machine applique. For both of these, the machine should allow you to adjust the tension along with the width and length.​
Easily Viewable Needle
It is tough to be precise when you cannot see where the needle enters the fabric. The needle is positioned further back on some machines. Make sure you choose a quilting machine that allows you to see the needle as you work.
A variety of feet
There are generic feet available for use on numerous machines, but feet specifically engineered for the make and model of your sewing machine are generally better. You will need a walking foot, or even feed foot, for straight line work and ditch quilting; darning or free motion feet for free motion quilting; and an edge stitching foot for piecing. If you cannot get the edge stitching foot, then a quarter inch foot will work for piecing. For any technique where a decorative stitch is used and placement must be exact, such as machine applique, you will also need open toe applique feet.​
​Single stitch or straight stitch throat plate
The needle passes through an oval hole to make a stitch on the regular throat plate that comes with a sewing machine. It is used for zigzag, decorative, and straight stitches. There is a small round hole instead of an oval on a straight stitch throat plate. It is helpful for free motion machine quilting and creates better straight stitches. This is because there is less change of the quilt sandwich being pushed through the hole and messing with your tension. When you are stitching dense or intricate designs, this makes a difference.
​Variable speed motor (for changing SPM)
When the foot pedal is pressed to the ground, you can limit the maximum speed the machine sews with motor speed control. While free motion quilting, this assists you in maintaining the best control.
Durable machine motor
Unlike piecing, which involves stopping to trim, pin, and press, the motor is constantly running when you are machine quilting.​
Good straight stitching
Quilting and piecing require great straight stitching. The best quilting machines will also allow for tension adjustments and fine tuning.​
Pivot Function
When you stop stitching, the presser foot raises up with the needle down in the fabric with this feature. When you are chain piecing, this saves a lot of time.​
Lowering or covering disengages the feed dogs
Feed dogs have a cover on older sewing machines. A button or lever lowers them on newer models. Either way, when you are free motion quilting, you want the feed dogs out of the way.​
---
Best Sewing Machines For Quilting Canada
​An entry level quilter is an adequate alternative i f you are not going to be using your quilting machine very often. These models often run for under $350. However, you may want to consider shopping in the more expensive intermediate to advanced range if you are going to be using your machine for larger projects on a regular basis. In my opinion they are well worth the extra money.