Daikin Mini Split System.
Daikin Ductless Mini Split System
The Daikin 17 Series mini split air conditioners are the best ductless acs for value.
Each is designed w/ a single-zone inverter, making them super energy efficient and whisper-quiet.
AC Power: 24,000 BTU
Coverage: 1,000 – 1,500 sq. ft.
Fairly easy to install, it's a good basic mini split air conditioner and heat pump system.
As a DIY unit, the Daikin mini split systems are super affordable – if the 24000 BTU model isn't the right size, they're offered in a five other sizes.
Cooling: 9000 – 48000 BTU
For simplicity my review will focus on the Daikin 24000 BTU mini split system.
Ductless Mini Split Review
Offered in multiple sizes, the Daikin mini split 17 Series are offered as single-zone, DIY units.
The 24,000 BTU is the most popular online because of its versatility. It is able to quickly cool large rooms, from residential to commercial use.
basements, living rooms, home offices, stores & public areas (restaurants and pubs)
As an energy efficient unit, the Daikin 24,000 BTU mini split will switch from AC to fan after your desired temperature is reached.
Buyers say the Daikin ductless mini split acs can maintain cooler temps throughout the night.
For those who need to cool or heat rooms for 8+ hours, this might be the one for you!
Cooling Temp: 50° – 115°F
Heating Temp: 5° – 65°F

Mini Split Settings
Buyers say that the Daikin ductless mini split units offer a variety of features. Since it is a DIY mini split, they are more affordable for every day consumers.
One feature users like is the mini split control panel which lets you set timers and a daily schedule. It helps save money in the long-run because you are able to operate it more efficiently than a regular HVAC system.
If you have a consistent work schedule, the 24-hour timer or weekly-timer function can be used to automatically turn on/off.
FYI: buyers suggest pre-cooling ahead of time
Another reason the Daikin mini split systems are great is their low noise.
Compared to similar air conditioning and heat pump systems, the Daikin mini split system is relatively very quiet – from reading buyer reviews, users have them installed in bedrooms, offices, businesses & school rooms.
Ductless Mini Split System – Noise Level:
Daikin 17 Series ductless mini split ac and heat pump system also includes a new "Quiet Operation" setting.
Quiet Operation mode = Quietest mini split setting for medium heating or cooling
There is also a "Sleep Mode" that is designed to save on electricity, while staying super quiet. As you can guess, it is ideal for running at night, while maintaining temperatures.
Noise Level (dBA): 37 – 51 decibels
Installation can be difficult if it's your first time installing installing this type of air conditioner.
Buyers say it takes anywhere from 1-3 hours to set up.
Additional features:
auto-restart, draft reduction, econo-mode, dehumidifier (w/ "dry function" for adjustable humidity)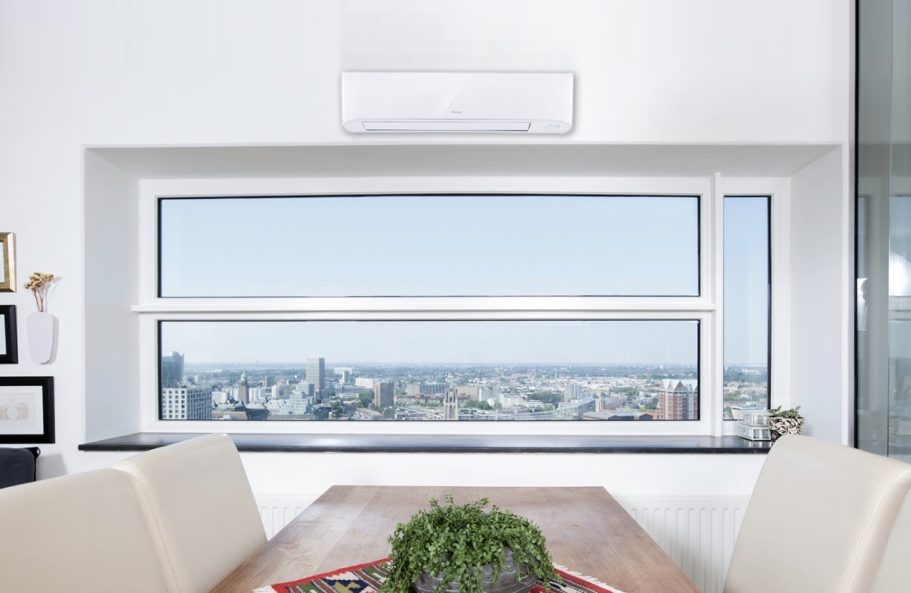 Included:
Daikin ductless mini split unit

Indoor fan coil

Remote Control

Outdoor condensing unit

15-ft installation kit

Wall-mount bracket

Copper wire and connection cords
Daikin Ductless Mini Split System
Model: RXB24AXVJU+ FTXB24AXVJU
Power: 24000 BTU
Cooling: 50° – 115°F
Heating: 5° – 65°F
Room Size: 1,000 – 1,500 sq. ft.
Noise Level: 37 – 51 decibels
Efficiency: 17 SEER

LED remote control

"Quiet Operation" feature

Climate setting controls

Variable inverter+ for energy efficiency

24-hour timer for heating or cooling

Eco-friendly R410A/30 

Conclusion
The Daikin air conditioner and heat pump is a good mini split system for cooling or heating larger residential rooms.
master bedrooms, basements, apartments/flats, home offices, living rooms
Buyers also say it's great for heating/cooling rooms w/ high ceilings or homes with open-layouts.
It doesn't include the newer features such as "Smart" mobile app control, but it's an affordable ductless ac system.
There's lots of reason to choose this ductless mini split systems over others.
Daikin 24000 BTU mini split ac offer quiet operation, energy efficient (17 SEER), and easy-to-use controls.
Overall, the Daikin 17 Series is a high-powered ductless system w/ lots of positive buyer reviews.
---
Compare Daikin Mini Split Systems
[table id=69 /]