Best Ductless Air Conditioners. 
Ductless mini split air conditioners are an affordable luxury for homes or businesses without central heating and cooling.
There's a lot of options, but the best ductless air conditioner systems offer user-friendly functions:
whisper-quiet operation, temperature control, heat pump, mobile app control
To help you find the right one, here's my list of the best ductless air conditioner systems for 2020.
Prices on my list vary from, $799 – $2199.
Senville SENL Mini Split System

Senville SENA Ductless Air Conditioner

Senville Floor Mini Split Reviews

MrCool DIY Mini Split AC System

Senville Ductless Ceiling AC Unit

MrCool DIY Mini Split Canada
---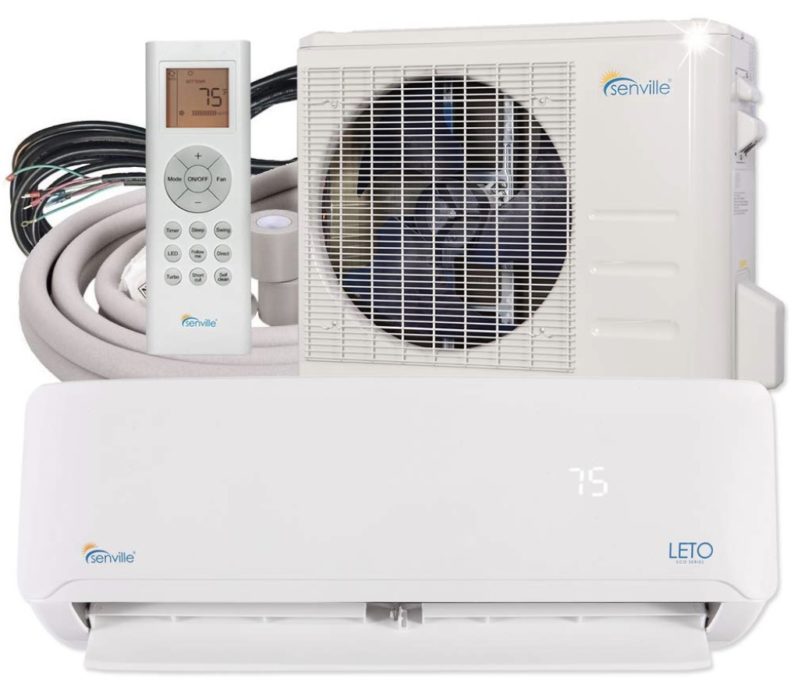 The Senville mini split is the best ductless air conditioner under $2,000.
It's offered in multiple sizes – each is designed to be high output w/ whisper-quiet operation.
Noise level: 25 – 38 decibels
SEER Rating: 19
Pricing: affordable
Compared to other models, the Senville SENL offers whisper-quiet operation ~ it's low noise is similar to a central ac system, but for a reasonable price.
Buyers say it's the best ductless ac for bedrooms.
As a 3-in-1 model, the Senville ductless ac is designed w/ a low ambient system for maintaining a consistent temp for long durations.
Senville SENL is also a true all year-round air system ~ ac, heater, and fan mode.
Includes remote control + DIY installation kit.
Affordable price w/ lots of positive buyer reviews!
---

Senville SENA is the best ductless mini split for energy efficiency.
As an Energy Star Rated model, it comes w/ a DC inverter for ultra-high efficiency and quiet operation.
Sizes: 9000 – 36000 BTU
Rooms: 450 – 1,750 sq. ft.
Price: Medium
Senville ductless air conditioner is offered in 5 sizes sizes.
Senville SENA mini split comes w/ powerful cooling and dual heating ~ it's the perfect option for large rooms such as living rooms, high ceilings, restaurants, salons, or gyms.
Using the remote control you can use the new climate control feature to set exact temps.
Buyers confirm that it cools rooms within 10-mins!
As a DIY mini split it's fairly easy to install (although it'll take 2 people to lift).
Lots of positive reviews w/ medium price.
---

The Senville ductless floor air conditioner and heat pump is the best floor-mounted unit.
It's a bit different than other mini split systems in Canada. It's more affordable, but less powerful and much easier to install.
Sizes: 12000 BTU
Pricing: Medium
It's designed with DC Inverter Technology – this makes it an ultra high-efficient system for cooling and heating.
Inverter compressor will automatically adjust cooling speed to maintain a consistent temperature — lower energy consumption by 10-20%.
Another feature buyers love is the whisper-quiet operation.
In terms of install, the Senville SENA-12HF/IF floor mounted mini split is the easiest unit to install. No heavy lifting or tools required (1-person install unit)
Medium price w/ good ratings so far.
---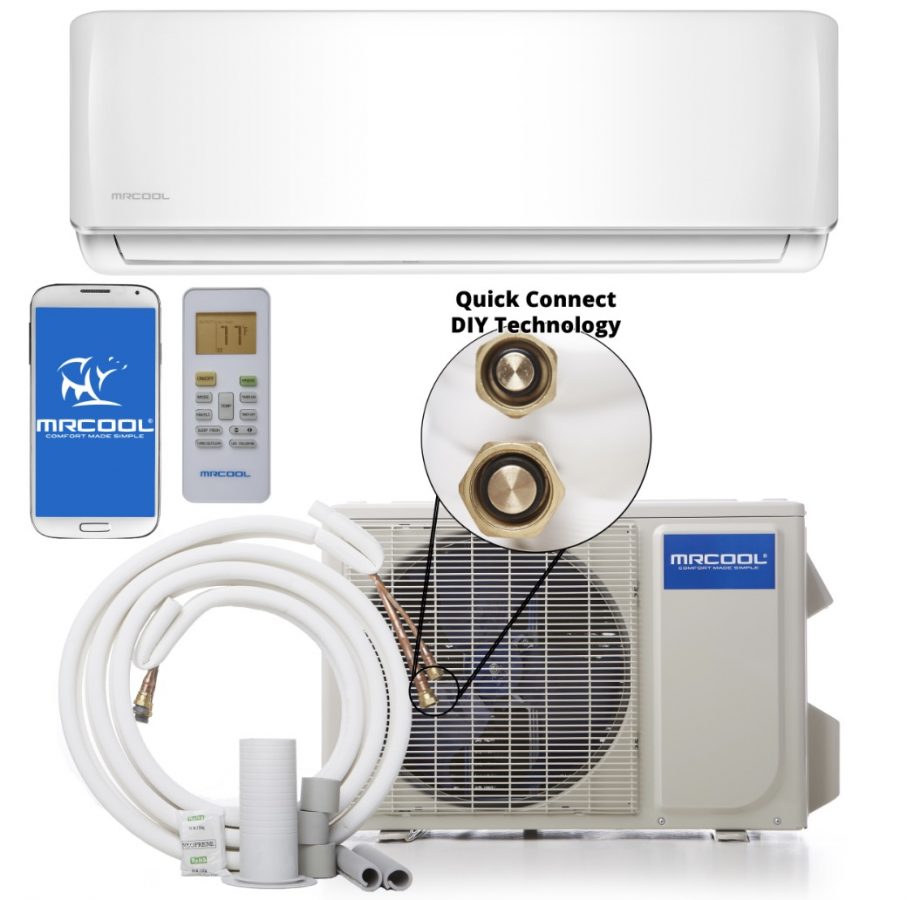 The Mr Cool DIY is the best "smart" mini split air conditioner in Canada.
It syncs with the user-friendly, SmartHVAC mobile app for smartphone control ~ set room temp, switch modes, turn off, etc.
Rooms: up to 1000 sq. ft.
Pricing: Expensive
MrCool DIY ductless system connects to your home WiFi.
Buyers confirm that as long as you have good internet connection – works perfectly!
As a DIY mini split, it's available in a few sizes w/ the 24k BTU being the most popular online. Unlike the other mini-split systems, it requires basic tools to set up.
Included features:
sleep mode, low ambient cooling, leak detection, auto-restart
Very expensive, but the best smart ductless ac system.
---

The Senville ceiling mini split is a durable, high-powered ductless mini split ac.
It's one of the most powerful on the market ~ it can cool (or heat) large rooms within 10-minutes.
Cooling: 9000 – 18000 BTU
Pricing: Expensive
To keep it more affordable, the Senville SENA ceiling air conditioner includes washable filters.
It's suggested that you wash air filters every 6-12 months ~ this helps prevent dust build-up (which decreases its energy efficiency).
Expensive, but that's expected for a ceiling mini split system.
---

The new Mr Cool DIY mini split is a top selling "smart home" mini split ac system.
It's a little different than the original Mr Cool DIY mini split because of the WiFi "smart" connectivity function.
As a smart mini split system, this ductless air conditioner and heat pump lets you change room temp using your smart phone — once set, the unit will auto adjust speed/power to reach your set temperature (within minutes!).
Mr Cool DIY ductless mini split acs:
12k BTU: 350 – 500 sq. ft.
18k BTU: 500 – 750 sq. ft.
24k BTU: 750 – 1,000 sq. ft.
36k BTU: 1,000 – 1,500 sq. ft.
Also comes w/ high-powered motor which offers low ambient cooling — very quick, and fairly quiet.
Includes new Sleep Mode for even quieter operation!
Easy to install, the Mr Cool DIY mini split system doesn't require special tools. Similar to a television wall mounted unit.
Buyers really love the mobile app control.
You can also sync w/ Amazon Alexa or Google Home for voice control.
---
Ductless Air Conditioner Reviews 2021