DeLonghi Pinguino Air Conditioner.
The De'Longhi PACAN120EW-3A Pinguino portable air conditioner is a popular 3-in-1, whisper-quiet model.
Buyers love its affordable price – compared to similar size units, it's 15-20% cheaper and includes a lot of the high-end functions.
AC Power: 5700 BTU
Room Size: 350 – 450 sq. ft.
As a portable air conditioner it's perfect for medium or large rooms.
Buyers confirm that it's extremely fast at cooling and offers quieter operation for home offices or bedrooms.It lets you set a desired temp on the LED screen
For cooling, you'll notice a difference immediately.
Using the LED screen you can set a desired temp (instead of constantly increasing/decreasing).
In medium size rooms you can expect to feel the temp decrease within minutes. The DeLonghi portable air conditioner will reach a desired cooler temp in only 5-15 mins!
As a high end model, the PACAN120EW-3A is also great for maintaining cooler temps too.
Other included:
powerful dehumidifier, 24-hr timer, adjustable temp, quick install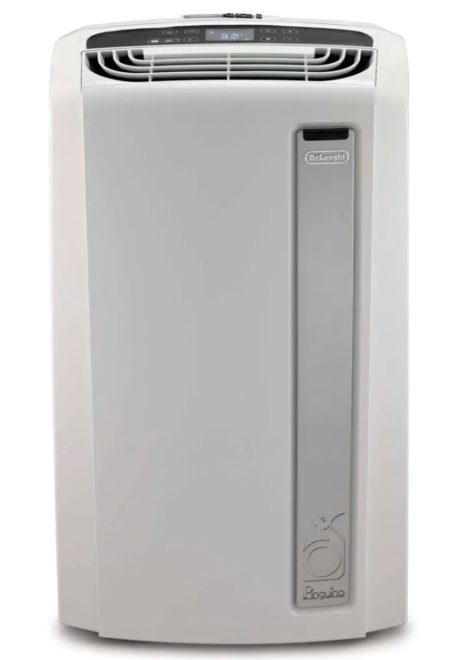 DeLonghi Portable Air Conditioner Canada
DeLonghi Pinguino units are known for being near-silent (especially when maintaining cooler temperatures)
Noise Level: < 56 dB
** FYI — a normal conversation is approx. 60 decibels.
I think one of the reasons they've become popular is their versatility — they have enough power for most residential rooms and quiet enough for bedrooms.
Pro tip: during peak summer months, pre-cooling is useful for bedrooms
A lot of buyers like the Pinguino AC for its energy efficient cooling.
Since they help conserve electricity, it's often used as "supplemental" cooling in homes w/ high ceilings or ductless air conditioning units.
Buyers say they're pleasantly surprised how quietly it operates.
De'Longhi PACAN120EW-3A Review
Using the remote control you can select the operation mode (i.e. air conditioning vs. fan) or set an exact temp.
Pinguino AC will run max speed initially but will lower speed as it reaches your desired temp – buyers suggest pre-cooling w/ the remote control.
Temp: 65 – 86°F
DeLonghi PACAN120EW Pinguino is designed w/ a built-in dehumidifier and "Real Feel" function.
After you set your desired room temp, you can activate the "Real Feel" mode using the remote control — this tells the ac to automatically adjust speed/power for your desired temp and humidity level.
Very few portable air conditioners offer automated functions for temp and humidity.
"Real Feel" feature alone separates the DeLonghi PACAN120EW-3A from other cooling options.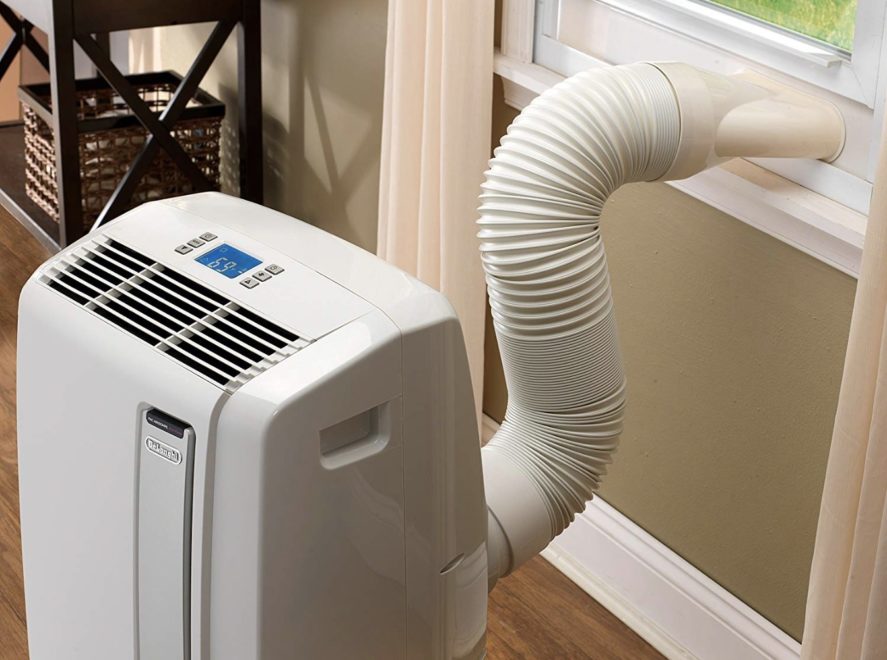 What's included:
With purchase of DeLonghi Air Conditioner, you'll get the following.
De'Longhi

Pinguino

Exhaust hose

Window install kit

Remote Control

User manual
DeLonghi Pinguino Air Conditioner
AC Model: PACAN120EW-3A
Cooling: 5700 BTU
Room Size:

350 – 450 sq. ft.

Cooling temp:

63

°F –

88

°F
Noise level (dB): < 56 decibels

Heating included

Whisper-quiet mode

BioSilver Filter for air quality

Real Feel (automated feature)

Ideal climate/humidity levels

No drip technology

Easy installation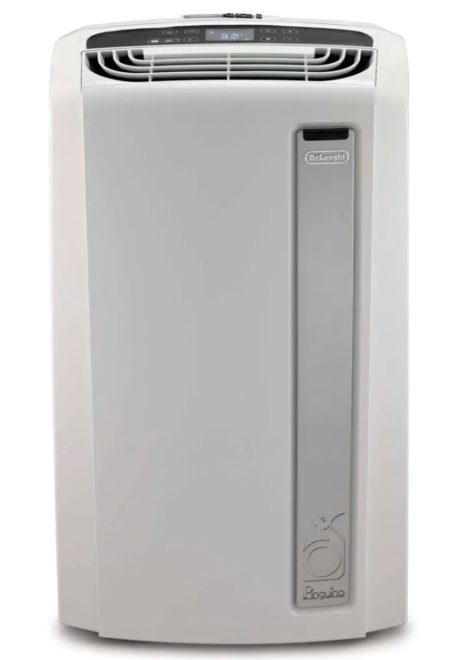 De'Longhi PACAN120EW-3A Pinguino
Overall, the De'Longhi PACAN120EW-3A Pinguino portable ac is one of the best sellers in Canada this year.
It has affordable, yet moderate price tag, but the features like the whisper-quiet operation and "Real Feel" operation make it worth considering.
Very few portable ACs offer automated settings for relative humidity and similar size dehumidifier-only units cost $200-300 alone.
DeLonghi PACAN120EW Pinguino has also received a ton of positive buyer reviews (and good star rating online).
For those seeking a portable AC for apartments or bedrooms, I think the DeLonghi Pinguino units are worth taking a look at.
Let us know what you think in the comments below!
DeLonghi PACAN120EW Pinguino Review