Senville Mini Split System. 
Senville SENA-18 Overview:
As part of the AURA Series, the Senville SENA mini split air conditioner is a top seller (for single zone units).
Designed with a DC inverter the AURA mini split systems offer ultra-high efficiency and "Whisper-Quiet" operation.
Buyers also like that the unit is DIY install, making it more affordable than similar 18000 BTU ductless systems – it may take two people to install, but much cheaper than hiring a contractor.
In my review I go over the basic features and functions the Senville SENA-18HF offers.
** At the bottom I create a Senville Mini Split comparison chart
Senville Ductless Mini Split System
The Senville AURA Series is offered in a variety of sizes w/ the SENA-18HF/Z being the most popular.
Cooling Power: 18000 BTU
Heat Pump: 17000 BTU
Coverage: 750 – 1250 sq. ft.
As an ultra energy-efficient ductless ac, the Senville includes an "automatic switch mode" — this allows it to seamlessly switch between air conditioning and fan mode (without being noticeable).
Using the LED remote you can use the "Climate Control" function to adjust your desired temp — simply set your desired temp and let the AC do the rest!
After achieving your desired temperature the mini split automatically switch to "Fan Mode" for conserving energy.
Power Supply: 208 – 230V
High Efficiency: 20 SEER
Buyers like that the Senville SENA is able to maintain cooler temperatures for very long hours — it can operate consecutive days without issue. (same with the heat pump system in winter)
As a full mini split system, the SENA-18HF is designed for air flow.
You will hear a low-ambient, whisper-quiet operation that's much lower noise than a window or portable unit.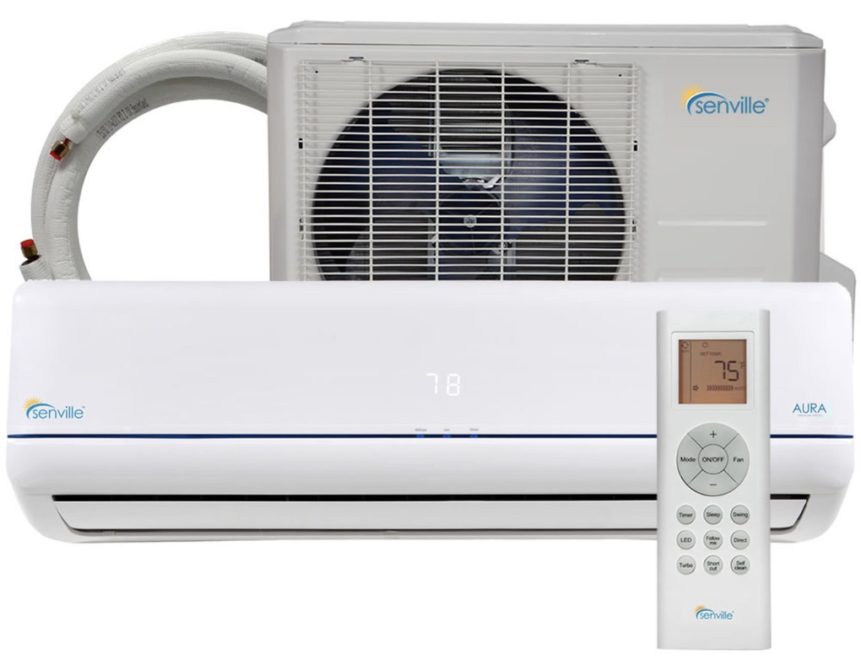 Senville 18000 BTU SENA-18HF/Z Mini Split
Senville SENA ductless systems offer multiple features to make your life easier.
Using the remote control you can use the "Climate Control" feature to set a desired temperature.
Once set, the Senville "Follow Me" feature can be activated — the remote control has a built-in thermostat which relays the temp to the mini split system. The Senville mini split will use the remote control's location temperature to auto adjust its power.
The "Follow Me" remote control is perfect for large rooms where temperature can be different
Remote control can also be used for setting timers or a weekly schedule.
For people with a consistent schedule, the timer can be used to automatically turn on/off the AC or heater — super easy maintenance!
Pro Tip: During peak summer months buyers recommend pre-cooling rooms ahead of 5-10 mins ahead of time.
Another reason it's great for bedrooms is its super quiet operation.
Senville SENA-18HF/Z is designed with "Whisper Technology" that allows it to operate below 40 decibels.
It is significantly lower noise than a window AC or portable unit.
Noise Level (dBA): 26.5 / 36 / 45.5 decibels
Additional features include:
direction-controlled air vents, eco-friendly R410A, refrigerant leak detection, silver ion air filter, self-cleaning mode, dehumidifier
Fairly easy to install, but might will take a few hours.
An experienced electrician can install a single-zone unit in 1-2.5 hours.
From reviews, the Senville SENA-18HF/Z and SENA-24HF/Z are favorites for commercial establishments:
office spaces, bars, restaurants, stores and classrooms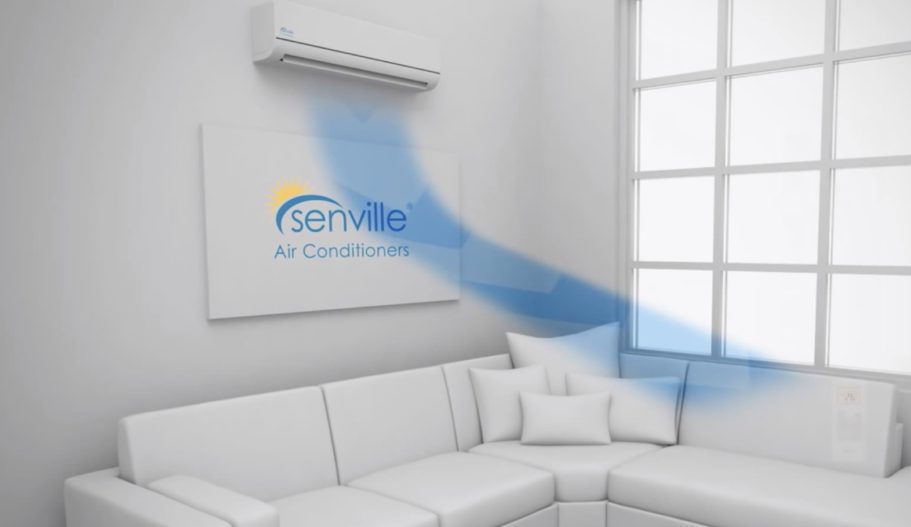 What's Inside the Box?
Senville mini split system

Outdoor Condenser unit

'Follow Me' remote control

Copper wiring for connection

Wall mount and brackets

Full install kit including screws and attachments

User manual
Senville SENA-18MO-209 Review
Senville Mini Split: SENA-18MO-209 ; SENA-18HF/Z
Ductless Series: AURA wall-mounted
Cooling Power: 18000 BTU
Heating Power: 17000 BTU
Room Size: 750 – 1250 sq. ft.
Temp Range: 62°F – 90°F
Efficiency: 20 SEER
Noise Levels: 26.5 / 36 / 45.5 decibels

 ENERGY STAR certified

Senville Whisper quiet tech

Climate control for adjusting room temp

Variable compressor for energy efficiency

Weekly schedule controls

Eco-friendly refrigerant
Read our review for Mini Split Heatpumps.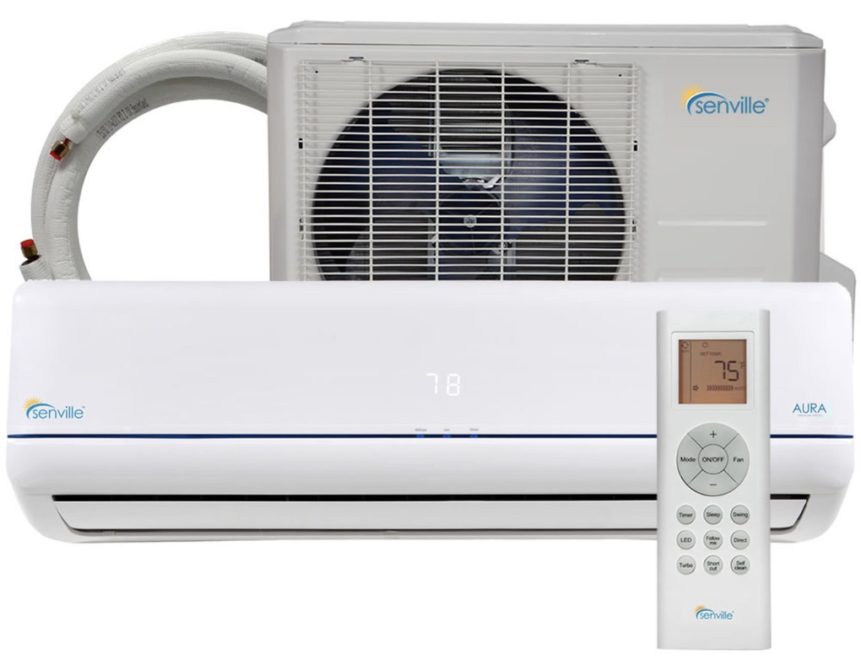 Senville Mini Split Air Conditioner & Heat Pump
Both the Senville SENA-18MO-209 and SENA-18HF/Z models have good online reviews from buyers.
As mini split air conditioner & heat pump systems they offer the most energy efficient, whisper-quiet operation within a reasonable price – you can drop $2500 on a full installation from another brand and professional contractor, but for a DIY mini split this is the one you want.
It does not offer all the frills, but it's more affordable than similar 18000 BTU ductless units.
As a ductless mini split ac, it offers ultra-high efficiency and performance.
There is also a lot of newer features (such as the timer system) which add to its efficiency and save money on your electric bill.
In terms of price, the Senville SENA-18HF/Z mini split is moderately priced. However it has lots of positive buyer reviews.
Overall, the Senville SENA Series is a high-quality mini split system w/ lots of positive reviews.
---
Compare Senville Mini Split Systems
[table id=2 /]
Alternative Mini Split Systems
24000 BTU Mini Split