Senville SENL Mini Split Review. 
The Senville SENL mini split air conditioner is a top seller online.
As part of the LETO Series, it's an affordable solution for ductless heating and cooling.
Designed w/ a variable inverter compressor it's energy efficient and whisper-quiet — perfect for bedrooms or offices!
Fairly easy to install, it's a good basic mini split air conditioner and heat pump system.
In my review I go over the basic features and functions the Senville SENL-24CD offers.
** At the bottom I created a Senville SENL comparison chart w/ all sizes and specs
Senville SENL-24CD 24000 BTU Review:
Senville Series is offered in a multiple sizes, but SENL-24CD is the most popular.
AC Cooling: 24,000 BTU
Room Size: 1000 – 1250 sq. ft.
As an energy efficient unit, the Senville mini split includes an "automatic switch mode" — this allows it to change between air conditioning, heating, dehumidify & fan.
After achieving your desired temperature it auto switches to fan mode, saving on electricity costs.
Power Supply: 220v
SEER Rating: 17
Buyers confirm that the Senville SENL mini splits are great at maintaining cooler temperatures for 8+ hours. Also effective at maintaining warmer temps w/ the built-in heat pump.
As a full mini split system, the SENL-24CD is designed for low-ambient, whisper quiet operation.
Read our review for Ductless ACs,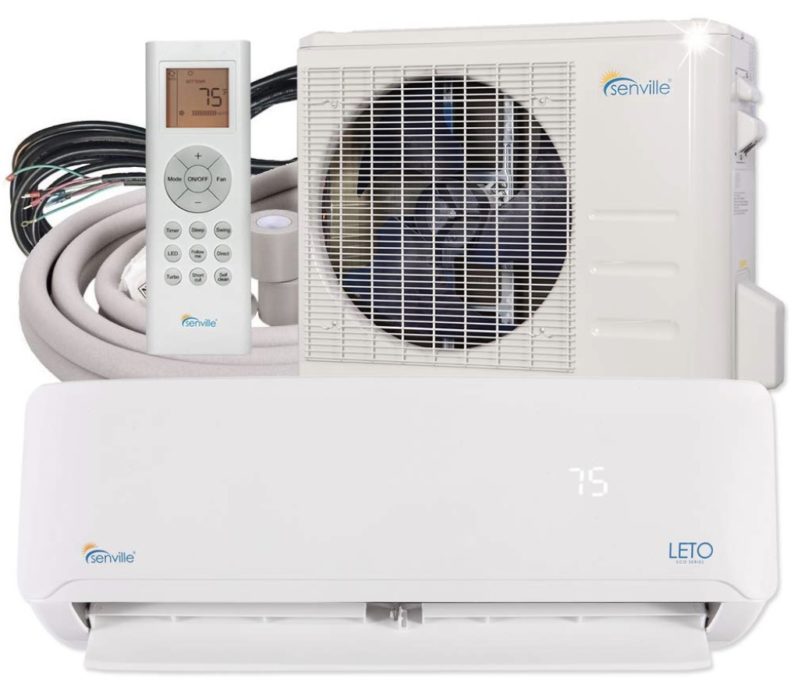 Senville 24000 Mini-Split Air Conditioner:
Senville SENL units offer multiple features that make life easier.
The mini split control panel that lets you set a timer and daily schedule.
For people with a consistent schedule, the timer can be used to automatically turn on/off the AC or heater — super easy maintenance!
During peak summer months buyers suggest pre-cooling rooms a few minutes beforehand (especially if using as a bedroom unit).
Another reason it's great for bedrooms is its super quiet operation.
The Senville SENL mini split air conditioner and heat pump is built w/ new "Whisper Technology" which lets it operate at minimal noise levels.
It's significantly lower noise than a window AC or portable unit.
Noise Levels (dBA): 48 / 42.5 / 34 decibels
Other features include:
multi-directional air vents, eco-friendly refrigerant, remote control, bucket-free dehumidifier
Users say it's fairly easy to install, but might take a few hours if it's your first time installing a mini split system.
** An experienced contractor or electrician can probably install in 1-2 hours.

What's Included:
Senville mini split unit

Installation kit

Remote Control

Control panel

User manual
Senville Mini Split AC & Heat Pump Review:
Model: Senville SENL-24CD
AC Power: 24000 BTU
Room Size: 1000 – 1250 sq. ft.
Temp Range: 62°F – 90°F
Noise Levels: 48 / 42.5 / 34 decibels

Whisper quiet technology

Climate control for adjusting room temp

Variable compressor for energy efficiency

Timer and scheduler controls

Eco-friendly R410A refrigerant

Multi-directional air vents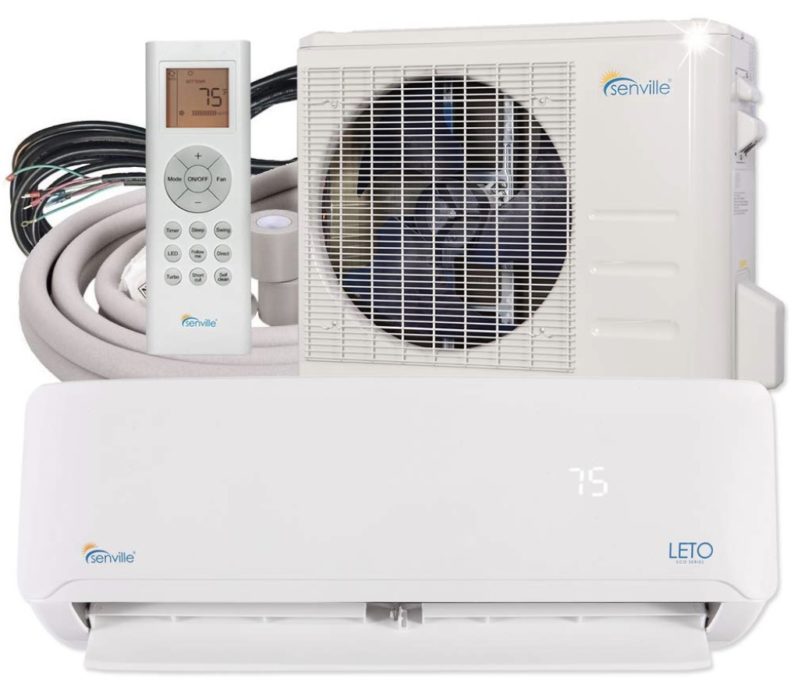 Senville SENL-24CD Review:
The Senville SENL-24CD mini split air conditioner and heat pump is a good, basic unit for residential use.
It doesn't offer all the frills, but it's more affordable than similar 24,000 BTU ductless units.
As a ductless mini split it's super quiet, energy efficient, and easy-to-use. There's also a lot of included features (such as the timer system) that add to its efficiency.
The only big downside is the installation — depending on your experience it can be a little complicated and take time to figure out. However, this DIY design is why it's more affordable than other units.
Overall, the Senville SENL Series is a high-quality mini split system w/ lots of positive reviews.
Senville SENL Mini Split Comparison:
[table id=3 /]
Senville SENL-24CD Mini Split Reviews: