Honeywell Smart Dehumidifier for Home. 
The Honeywell 50 pint dehumidifier is the best smart dehumidifier in Canada for 2020.
Many reasons to like this unit, but the standout feature.
it's energy star rated, super quiet for home, easy maintenance & WiFi controlled via the Honeywell mobile app!
It's super quiet compared to similar models!
As a newer model, the Honeywell TP50AWKN never operates louder than 48 dBs (decibels).
Buyers say it's one of the quietest dehumidifiers for its size – large enough for basements and quiet enough for bedrooms.
Capacity: 50 pints (6 gal.)
Tank Size: 11 pints
Reading online reviews, many buyers love using it as a bedroom or basement dehumidifier.
Includes a large water tank and continuous drainage.
Room Size: up to 3000 sq. ft.
Noise Level: ≤ 48 dB
Pricing: Expensive
If you're looking for a smaller dehumidifier, Honeywell offers it in 3 sizes and 4 versions.
Honeywell TP50AWKN is a Wi-Fi dehumidifier with smart phone control!

Honeywell TP50AWKN Dehumidifier Review
Allowing moisture to build-up in your home can cause a lot of damage – depending on the humidity in your region, here's some of the issues that can occur.
mold, mildew, wood rot, paint peeling, and structural damage
This creates potential health risks if not properly managed.
Having a good, dependable dehumidifier will help reduce most of these problems. And in the long-run save you money.
Fortunately a smart dehumidifier such as the Honeywell 50 pint dehumidifier makes life a lot easier.
The Honeywell TP50AWKN includes a "Smart Digital Humidistat" that lets you set your desired humidity level — based on this setting, the dehumidifier will auto adjust its power to sustain it.
It even comes w/ a full-tank alert so you know when to empty it.
For basement use, you can purchase the Honeywell TP50AWKN dehumidifier which includes a drain pump (for direct-drain or continuous drainage).
Continuous drainage: attach hose and place other end in a drain or sink — This way you won't need to empty the water bin.
Buyers confirm that it's one of the best dehumidifiers for basements.
Super easy, WiFi controlled maintenance and high-performing.
Honeywell smart dehumidifier features:
auto-restart (in case of power outage), defrost controls, low noise, washable air filter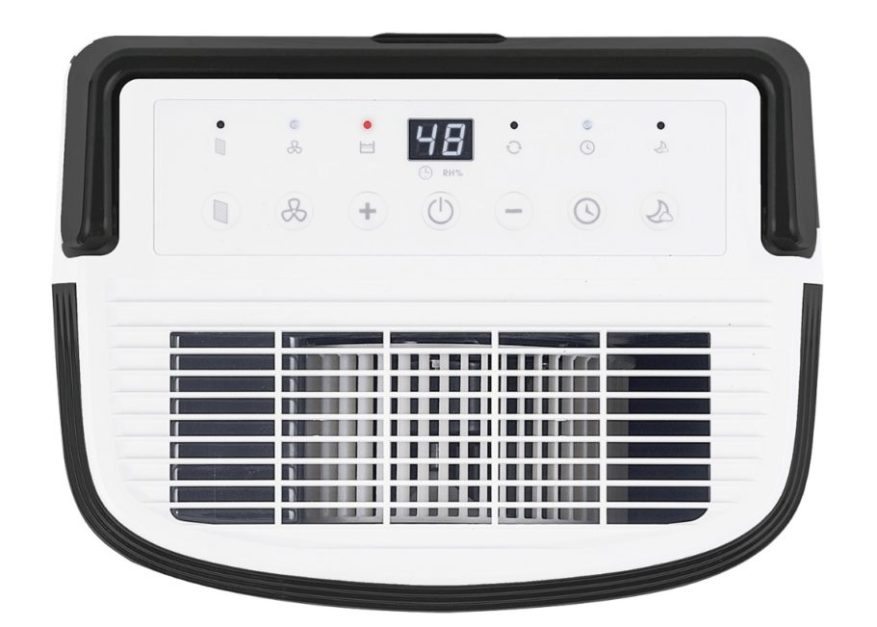 What's Included:
TP50AWKN dehumidifier

14 pint water bin

Washable air filters

Drain tube for continuous drainage

Warranty card
Honeywell Smart Dehumidifier
Model: TP50AWKN / TP70AWKN
Dehumidify:

50 pint (6 gal.)

Tank Size: 11 pints
Rooms:

3000 sq. ft.

Price: Medium
Noise Level (dB): ≤ 48 dB

Dehumidifier w/ continuous drainage

TP70AWKN includes built-in pump

Auto-restart function

Portable dehumidifier model

Energy Star qualified

Honeywell Smart Dehumidifier Reviews
Overall, as a 50 pint dehumidifier the new Honeywell TP50AWKN is a top option.
It's a newer unit, but already has gotten very good reviews from buyers.
For those with smaller areas or basements (lower than 3000 sq. ft.), the Honeywell 50 Pint dehumidifier might be a better fit.
Both are high-powered units and include continuous drainage for basements — hooking them up is super easy (confirmed by buyer).
For the price and performance, it's looking to be one of the best basement dehumidifier units this year.
Let us know what you think in the comments!