Best Garage Heaters Canada. 
With so options, finding the right garage heater (and the right size) can be hard.
There's a few factors to account for — garage size, heating capacity, adjustable temp, price, & install time.
To help you find the right option, here's our list of the best garage heaters in Canada.
Prices on my list range, $329 – $799.
---
The Best Garage Heater Canada
---

Dr. Infrared DR966 is a high-powered, electric heater for almost any residential garage.
This specific model is popular for garages, but because of it's fast heating is used in schools, workshops, warehouse, warehouses, etc.
Weight: 27 lb
Heating: 3000/6000 Watt
Pricing: Affordable
Dr. Infrared DR966 is very lightweight compared to similar electric heaters.
It includes an adjustable thermostat making it one of the most user-friendly garage heaters on the market. Also the 8″ fan provides max air flow w/ minimum turbulence and noise.
Buyers say it's easy to install too!
The DR966 weighs only 27 lbs – includes a fitted bracket so you can mount it on the wall or ceiling.
Affordable price w/ lots of positive reviews online!
---

Fahrenheat FUH54 is a powerful electrical garage heater.
In total it provides 26,250 BTU of heat — perfect for 2-3 car garages, medium sized warehouses, or barns.
Weight: 31.7 lb
Heating: 26,000 BTU
Pricing: Medium
Buyers reported an increase 20°F within 20 mins.
Includes adjustable mounting bracket for ceiling or wall installation — overall installation is fairly easy too.
Also the heater and bracket is corrosion resistant, making it super durable.
Medium price w/ lots of positive buyer reviews!
---

Dr. Infrared Heater DR-975 is a popular model with two stand-out features.
First, it has a delayed fan operation to avoid blasting cold air when you turn it on, and two, it is electrically powered.
Weight: 24 pounds
Heating: 17,065 BTU
Garages: up to 400 sq. ft.
Fan will only start spinning when the heating element is too hot or until the motor cools off – the saved utility costs helps decrease your electricity bill.
You have two modes of operation to choose from: low and high. At 'low', the heater has a power output of 2500W.
Good option for slower, but economical heating.
---

The Mr. Heater Maxx F260550 Big Maxx was the top seller in 2019.
For its price value, the Big Maxx is the best garage heater for large areas – good option for 3-4 car garages!
Weight: 63 lbs
Heating: 50,000 BTU
Coverage: 1250 sq. ft.
High output, 115-volt heater is powerful for multiple scenarios:
2-4 car garages, barns (for weddings) or factory/warehouses.
Heater cabinet is built to last and comes w/ self-diagnostic tool for easier maintenance. You can also increase heating capacity by adding a second propane cylinder.
Lots of good reviews online!
Pros
Spark ignition
Propane/gas conversion kit
Vertical or horizontal venting
Auto safety switches
Quiet heating
Good price online!
Cons
---

Modine Hot Dawg Heater is one of the most popular online.
Super quiet performance and easy installation for home garages – buyers say it quickly heats large 3 car garages.
Heating: 45,000 BTU
Garage Size: 1,000 sq. ft.
Pricing: Expensive
Modine's Hot Dawg heater runs on natural gas (can be adjusted for propane though).
It's certified for commercial or residential use because of it's power heating:
3-car garages, barns, warehouses or high ceilings
Buyers confirm it warms areas up to 1,000 sq. ft. in only 15-20 mins!
---

The King's forced-fan heater quickly increases  garage temp +50% in only 10-mins.
As a 7500 watt heater includes a remote control — with the push of 1-button, you'll activate the heater/fan.
Weight: 33.5 pounds
Garage: up to 800 sq. ft.
Pricing: Expensive
Heating distribution is optimized using a Spiral Steel Fin. The copper brazed w/ spiral fins it circulates warm air throughout large spaces.
Using the new "ECO Mode" the machine uses lower wattage to maintain temp.
Good option for saving energy throughout the year!
Includes a "fan only" mode which is nice for Spring and Fall.
---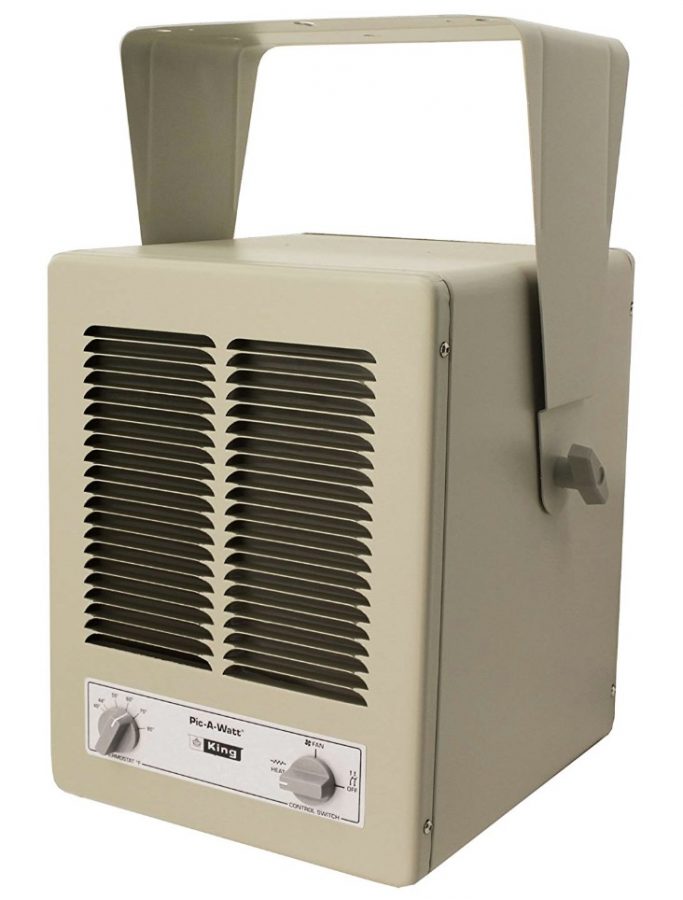 King Electric EKB2450TB garage heater is designed with easy adjustable temp.
It is very similar to a mini split heat pump system – a little louder, but offers the same wattage and heating levels.
Measurement: 11.5 x 10 x 13.5
Unit Weight: 24 pounds
Heat Power: Max 5700W
By simply re-arranging a few wires during installation. What this does is it allows you to choose how fast you want the air in your garage to heat, and at what economy rate.
Lower wattage will heat cubic feet of air slower but will save power in return.
Heater has 2 channels of operation: 'Heat', which will turn the heater on and will spin the fan, and 'Fan', which will just spin the fan.
You can also select the exact temperature you want the heater to maintain via a dial.
---

The Mr. Heater Big Maxx is a heavy-duty, natural gas heater.
Full capacity produces up to 80,000 BTU per hour which can heat up to 2,000 sq. ft. (one of the largest!)
Weight: 70 pounds
Heating: 80,000 BTU
Garages: 1200 – 2,000 sq. ft.
Perfect for heating 2-4 car garages or very large areas:
industrial floors, warehouses, barns, etc
Equipped with a 0.5 inch gas connection, the Big Maxx only requires 115V AC to start and run the fan. 
You can mount it on the ceiling or wall — it's relatively lightweight at 70 pounds. (Similar units are 100+ pounds)
Best of all, it's relatively quiet + very durable.
---
Best Garage Heater Canada