Jackery Explorer 500 Reviews.
Jackery is a newer brand, but already getting positive reviews for their portable generators.
Unlike others, their portable generators are very lightweight — many of their models weigh less than 15 pounds and include an easy-to-carry handle.
It's powered through a rechargeable lithium-ion battery — no fumes or exhaust means you can safely use it indoors.
For this review, I will focus on the Jackery Portable PowerStation 500.
Jackery 500 Power Station:
The Explorer 500 is perfect for powering smaller appliances under 300 watts.
It includes a new Battery Management System (BMS).
BMS is a safety feature used to prevent catastrophic issues:
Short circuiting (power outages)

Influx in voltage

Temperature control
This function makes it a dependable back-up power supply in case of emergency — there's also a built-in LED flashlight w/ SOS mode available.
In terms of power it has the ability to power many types of devices:
| | |
| --- | --- |
| Smartphones | 53 times |
| Tablet | 7 times |
| Camera | 25 times |
| TV | 7.5 hours |
| Mini Cooler | 37 hours |
Buyers also love it for camping, fieldwork, tailgating & road trips.
It's not large a heavy-duty portable generator for multiple days, but is more than enough to charge most devices for a meaningful duration.
10 Best Portable Generators >>

Charging Appliances:
Campers and outdoor enthusiasts love the Jackery 500 Power Station because of its easy portability — it weighs only 13.3 pounds.
Lightest in its class, the Explorer is best portable generator for versatility.
Wall outlet: 8-hour recharge
Car charger: 8-hour recharge
2nd generator: 8-hour recharge
Solar panel: 10-hour recharge

80-150W solar panel not included
Unlike noisy gas-powered generators, the Jackery 500 Explorer operates very quietly + doesn't require gasoline.
Buyers recommend using the Explorer 500 as a back-up power solution for CPAP sleep apnea machines or other medical devices (however, it should not be the primary power source).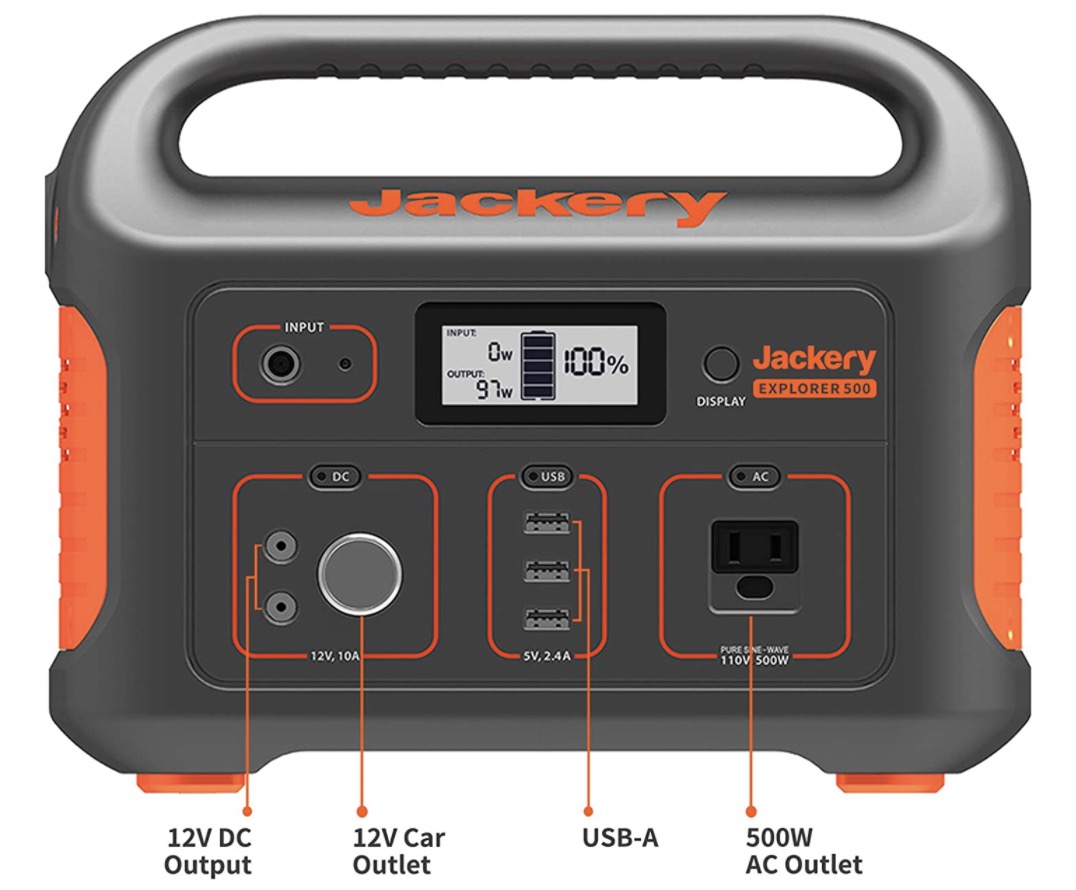 What's Included:
The Jackery Explorer offers multiple ports + adapters for charging.
Jackery Explorer 500

AC Adapter

Wall charger

8mm Car Charger

User guide
Jackery 500 Explorer Review:
Compact and lightweight, the Jackery Explorer 500 is an excellent option for a number of scenarios.
Recharge: 8-10 hours
Since it's battery-powered, buyers love that they can use it indoors — they don't have to worry about exhaust fumes, gasoline leaks, fuel smells, or flammability.
For transparency, the Jackery Explorer includes a backlit LCD screen. You're able to see how much power is left (before needing to recharge) + approximate time left.
Jackery portable power station is offered in 5 total sizes.
If the Explorer 500 is too large, perhaps the Jackery Explorer 240 or 160 is a better fit.
[table id=51 /]
Jackery 500 Power Station:
Capacity: 518Wh
Dimensions: 

11.8 x 7.6 x 9.2 inches

Weight:

13.3 lbs

Recharge: 7.5 – 9.5 hours

Great for outdoors or power outages

AC outlet, car port, & USB outputs

500 Watt backup battery

Solar power compatible

Battery Management System (BMS)
Read our review on Portable Inverter Generators.

Jackery Explorer 500 Power Station Review:
Whether you're doing a 2-3 day camping trip, backpacking, traveling in a RV, tailgating, or need to power outdoor lights/music for a party — the Jackery 500 Explorer is an excellent option.
It's also great for a backup-power source in case of emergency.
What buyers like most though is the easy portability and battery-powered function.
The Jackery Explorer easy to carry, easy to pack and can be used indoors without the hazards of a gas-powered portable generator.
So far it's gotten good online reviews.
If you're looking for an affordable power supply for small appliances, outdoor usage, or backup-energy, the Jackery Explorer 500 power station is worth considering.