Best Humidifier Reviews. 
For allergies or dry air, a good humidifier can make a big difference (especially in winter!).
Today's models are super high-end compared to only a few years ago. Many include a cool and warm mist, top-fill access, and can operate 12-36 hours or all-night.
With so many options I created a list of what I think are the best humidifiers available on Amazon UK.
Prices on my list range, £29 – £119.
---
The Best Humidifier UK 2021
---

The Elechomes Ultrasonic Humidifier is the best 5.5L humidifier for home use.
As a top-fill humidifier it's super easy to empty or fill – the large tank lets you use continuously for up to 40 hours, and can be set on warm or cool mist.
Great for allergy season, winter dryness, or common sickness!
Areas: 40 – 70 m2
Operation: 12 – 40 hours
Pricing: Expensive
Super quiet, the Elechomes humidifier is arguably the best model for bedrooms and home offices.

New auto humidity feature makes it good for running all-night long.
As a large room humidifier it lets you set your desired humidity level. Use the remote control or let the machine auto adjust to maintain your ideal relative humidity.
Bit expensive, but it's good, dependable model for when you need it the most.
---

The Philips HU4803 is the best humidifier, air purifier in the UK.
Voted the best humidifier air purifier model – it comes with auto controls, and smart evaporation for precise humidity control.
Capacity: 25 m2
Water Tank: 2L
Pricing: Expensive
An an air humidifier it includes a new evaporation process. It pulls-in dry air, adds water molecules, and re-release into the air.
Includes a "silent humidify" feature for all-night operation.
Philips HU4803 humidifier offers a 360-degree mist feature – perfect for bedrooms, nurseries, or apartments.
High-end air filters effectively remove most types of pollutants:
dust, allergens, pet dander, mould, etc.
Expensive, but with lots of good buyer reviews!
---
TaoTronics 4L is a long-lasting, whisper quiet humidifier designed for bedrooms.
Super-quiet it's a top "no noise" model – keeps noise level under 26 decibels (on silent mode).
Room Size: 30 m2
Operation: 12 – 30 hours 
Pricing: Affordable
Buyers love the user-friendly digital controls and pre-set humidity function.
Taotronics cool mist humidifier includes adjustable fog levels, 360° mist nozzle, and large water tank – super easy maintenance for 24-hour operation.
Personally I think it's the best humidifier under £50.
---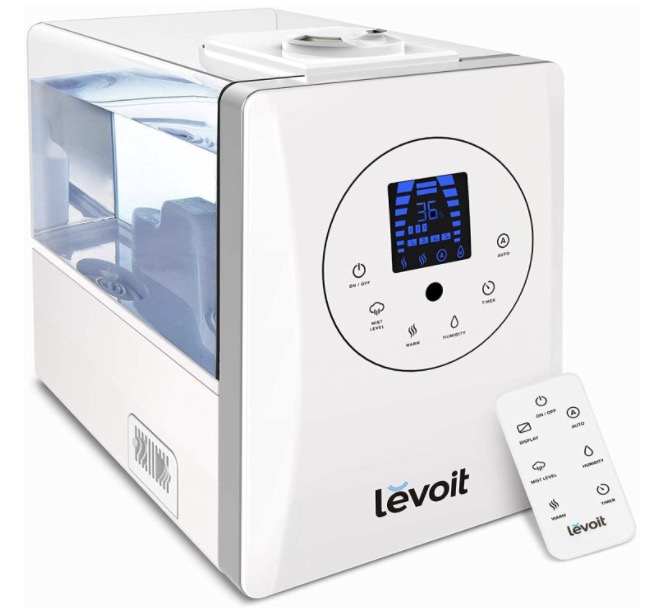 The Levoit 6L is the best humidifier for bedrooms.
As a high-end, hybrid humidifier it comes with climate adjust feature and remote control – super user-friendly model for large rooms.
Room size: 70m2
Operation: 20 – 36 hours
Pricing: Medium
Along with its high-output, the cool mist humidifier also offer warm mist. As a larger model it increases room humidity 25% faster than other models.
New auto humidity feature is perfect for bedroom use!
As a large room humidifier it lets you set your desired humidity level. Once ready, it will auto adjust speed to maintain your RH all night.
Levoit humidifier is also whisper-quiet for night use.
Pros
360° mist nozzle
Adjustable humidity
Essential oil diffuser
Best UK humidifier for large room
Can run up to 36 hours
Whisper quiet
Cons
Bit expensive
Not the most portable
---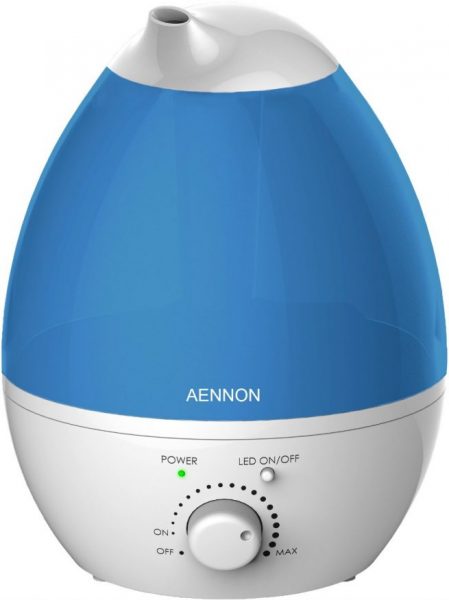 The Aennon Cool Mist Humidifier can run for 20+ hours at full capacity!
Perfect home humidifier for small or mid-size rooms.
Weight: 1.4 kilograms
Tank: 2.8L
Pricing: Affordable
Also ideal for those with a sore throat or itchy, dry skin (especially useful during the colder months).
Buyers love it for the soothing, mist sound.
Very quiet and subtle humidifier
Aennon humidifier has a 2.8 liter water tank – little smaller, but it lasts nearly a full day.
Perfect humidifier for children and toddlers with difficulty breathing at night.
Also when the water level is low, the Aennon will turn-off automatically. (good safety feature for children!)
---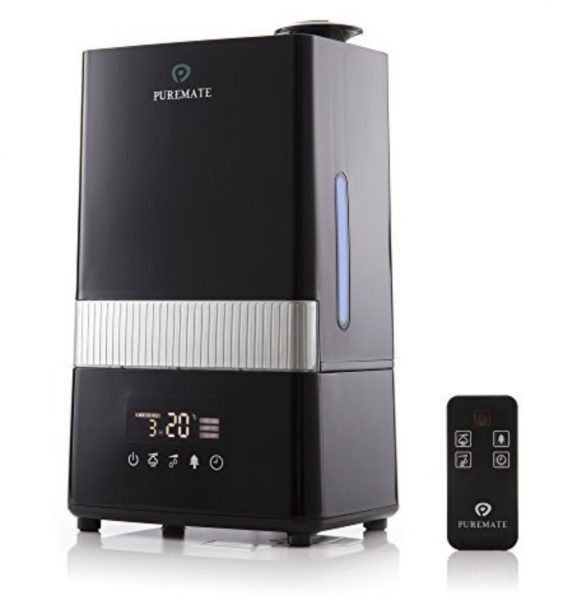 The Puremate Ultrasonic Humidifier is top seller on Amazon UK. 
It's bigger than most at 4.5L and can run for 40+ hours on a single tank.
Includes an automatic hygrostat sensor – allows you to control the relative humidity of the room).
Room size: 40 sq. metres
Daily output: 4.5 litres per day
Pricing: Medium
Another cool feature is Puremate's "Water Tank Illumination" — lets you easily view the water level.
For convenience, it includes a remote control.
Buyers say it has fast-reaching humidity levels, auto shut-off (1-12 hours), and water-check notifications.
Suitable for small and medium sized rooms. Microfine water makes this device ideal for those with allergies and skin problems.
Easy to maintain and lightweight, it's a favorite among senior citizens.
---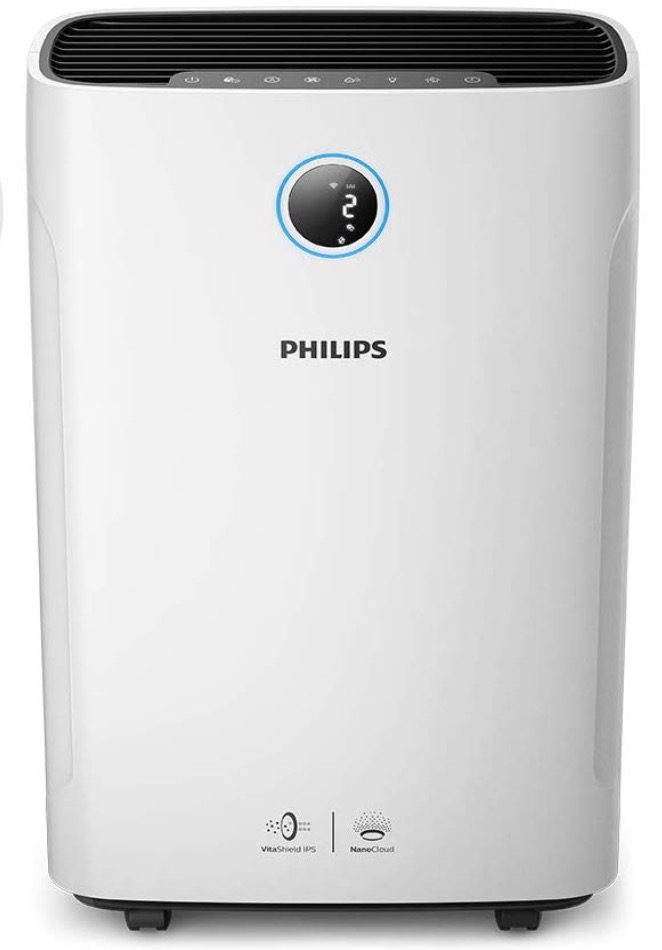 The Philips 3000i is a 2-in-1 air purifier and humidifier.
Includes activated carbon filter for removing the smallest air particles – odors, smoke, and gases.
Capacity: 80 sq. metres
Pricing: Expensive
As an air purifier and humidifier, the Philips 3000i removes 99.9% of air pollutants and humidifies up to 600 ml per hour.
Using the mobile app you can easily switch mode and speed.
The humidifier offers four humidity levels w/ the lowest being silent. Buyers love it as a bedroom humidifier.
Expensive, but lots of positive buyer reviews.
---

The BONECO Ultrasonic humidifier comes w/ built-in fan to evenly distribute moisture.
Perfect for large rooms up to 50 sq. metres, it's quickly fixes dry air.
Room size: 50 square metres
Daily output: 3.5 litres per day
Pricing: Expensive
Buyers love it during allergy season.
Boneco humidifier acts quickly and users say they feel the effects immediately!
It can maintain consistent moisture levels throughout, making it easy maintenance. Also includes LCD digital control panel which makes it easy to read at night.
Buyers love its whisper-quiet operation + affordable price.
---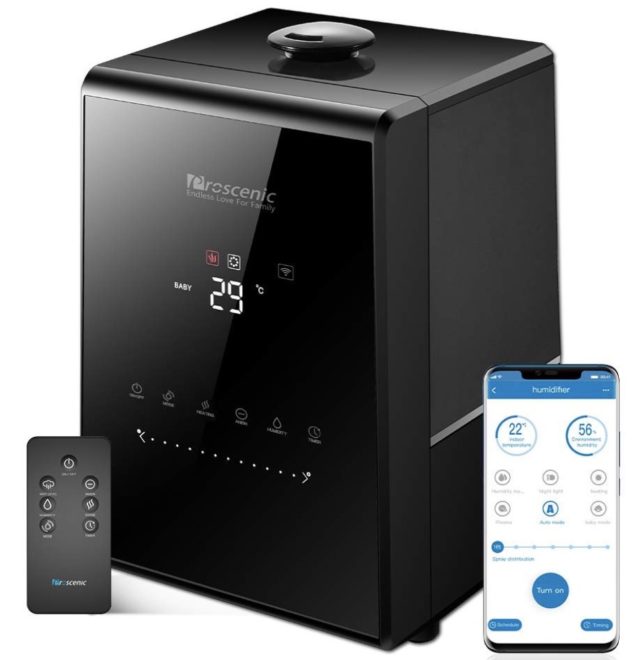 The Proscenic ultrasonic is the best smart humidifier in the UK.
Humidifier mobile app lets you adjust temperature, humidity level, and misting.
Capacity: 5.5 litres per day
Pricing: Expensive
Buyers say it is the ideal large room humidifier – it can operate up to 36 hours!
Constant Humidity feature uses sensors for the super accurate humidity adjustments (using the mobile app).
Proscenic 807C humidifier is a favorite for home or business. Quiet humidifier, it can be used in yoga studios, nurseries or bedrooms.
Very good buyer reviews online!
---

Boneco S250 humidifier is a user-friendly, affordable humidifier for home.
Humidifier provides a controlled humidification w/ daily capacity of 6.8 litres per day — perfect for medium size rooms.
Room size: 40 square metres
Daily output: 6.8 litres per day
Pricing: Expensive
Built-in cooling fan — helps distribute moisture evenly throughout the room.
Includes a special compartment on the humidifier where you can add your essential oil or fragrance.
Overall the Boneco digital humidifier is a great mid-range option.
Good, home humidifier for children!
---

The TaoTronics humidifier is best at dispersing moisture with 360° nozzle.
It's smaller, but one one of the most effective humidifiers on the market – especially for the price.
Not only is it a good humidifier, but it helps with air quality as well. Equipped with ultra-fine ceramic filters to remove impurities, harmful bacteria and bad odors.
Great humidifier for families with pets.
The 3.5 litre tank can provide continuous mist for 9-10 hours straight and the 360-degree nozzle lets you control the humidity distribution.
Also if the water level is too low, you will hear a slight beeping noise.
Good, medium size humidifier w/ an affordable price.
---
Best Humidifier UK 2021
When it comes to home humidity, the UK is somewhat unique – the air can be dryer than many places around the world. For people living in the northern parts of the country, dry air during the colder months makes it more difficult to breath.
And during the warmer months, the humidity in the house can be uncomfortably dry. With so many options in the market-place we wanted to give a concise review of the top ones we found.
Hopefully one of these will be ideal for your situation. Please let us know if you have questions!