Best Electric Bike UK.
Today's new electric bikes offer top speeds and long distance travel range (up to 80 kilometers).
Below are my rankings for the best eBikes in the UK for commuting.
Electric bike prices on my list range from, £599 – £849.
Best Electric Bike UK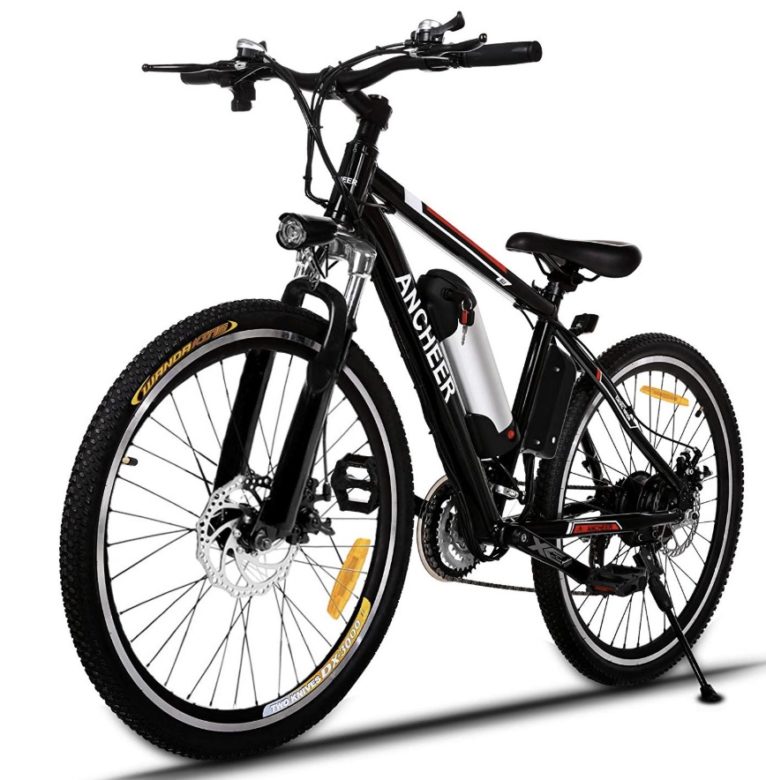 The Ancheer Power Plus Mountain Bike is a top rated electric bike worldwide.
It comes equipped with a 36V 8Ah removable battery and 250W motor.
Travel Range: 24 – 48 km
Max Speed: 24 kph
Pricing: Affordable
There are 2 working modes — full electric operation or "assisted" which lets you operate the battery while pedaling. This significantly increases the speed and extends the battery life.
Includes 21-speed Shimano transmission system + LED headlamp and horn (for night riding).
Using the handle meter, you can increase or decrease bike speed with the press of a button — gear controls are located on the handlebar for easy access.
Affordable price and tons of positive buyer reviews online.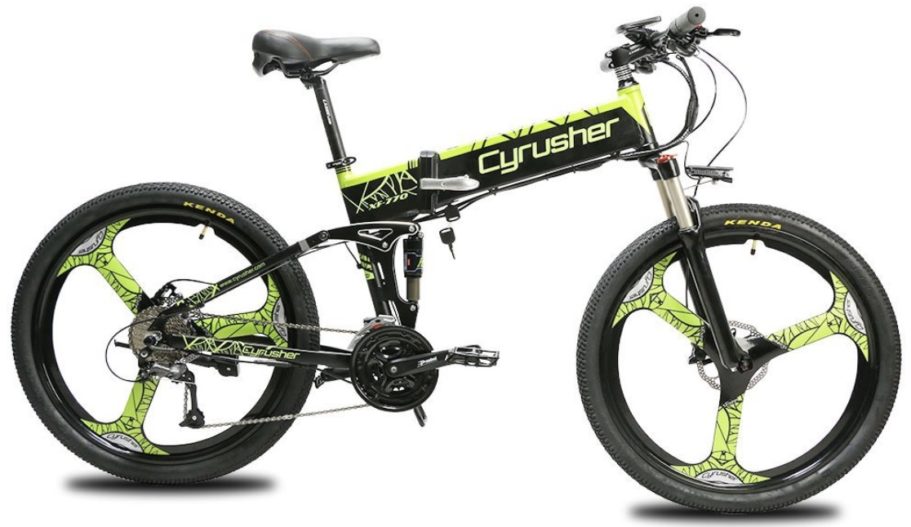 The Cyrusher XF770 electric bike is built for high-speed users.
It's expensive, but includes top features such as 27 speeds, full suspension fork and 3 levels of pedal assistance.
Distance: 55 – 88 km
Speed: 40 kph
Weight: 23 kg
The 7-speed Shimano M370 transmission system makes it easy to shift speeds.
Includes 3 modes of operation:
power-throttle, pedal assisted & push cycling pedal
It's one of the newer ebikes available and has already received stellar reviews from buyers.
Buyers love the battery life indicator located on the handlebar –– shows you the remaining battery as your riding.
Very expensive, but has excellent buyer reviews.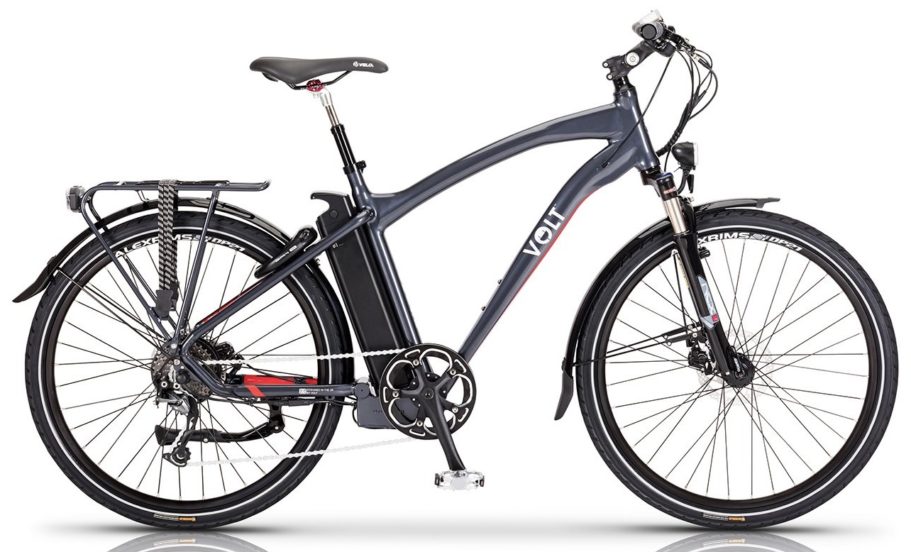 The Volt electric bike is a true long-distance E-Bike, perfect for road or country trails.
As you can see, it has a modern, stylish design — it appears like a typical bicycle because the battery sits behind the seat frame, near the back-wheel.
Distance: 95 – 130 km
Max Speed: 25 kph (15.5 mph)
Bike Motor: 250W
For its size, the Volt Pulse Electric Bike comes equipped with a 36v Panasonic Lithium Polymer Battery that is ideal for long distance travel.
It is also super lightweight, especially for an ebike — the frame weighs only 21.6 kg.
The pedal assistance can easily be set using the controls located on the handle bar —  Also includes LCD monitor showing you all the vital info:
distance traveled, speed, journey time, and battery life 
Volt Pulse Electric Bike has very positive buyer reviews so from buyers.

Ancheer Electric Mountain Bike is a super lightweight, folding bike that's made to be portable.
Designed with 26-inch tires and 6 magnesium alloy spokes, it's the favorite EBike for off-road  use — buyers say it is the best for outdoor camping.
Distance: 20 – 50 km
Shimano: 21 speed shifter
Speed: 25 km
Weight: 25 kg
Tires are also anti-slip resistant, built for any surface:
city streets, gravel or dirt roads, sand, city streets, etc.
For power it is equipped with a 250W motor and 36V 8Ah rechargeable battery.
The only downside is that it takes 4-6 hours to recharge.
Lots of positive buyer reviews.


The Cyrusher Electric Bike is the most popular "fat tire" electric bike online.
What makes it unique are the tires — 26-inches in diameter and 4-inches thick tires.
Travel Range: 40 – 88 km
Ebike Speed: 37 kph
Charging: 5 – 7 hours
Cyrusher EBike is designed as a mountain bike (dirt or gravel roads), but can be used on any surface.
Buyers love the anti-skid tires — they provide extra traction on un-stable surfaces (such as snow or sand). Buyers say it's a huge benefit when riding in wet/slippery conditions.
Includes new Shimano 7-gear shifting system with 21-speeds.
For power it includes a 1000W motor and 48V 12Ah removable battery.
Tons of positive buyer reviews and medium price tag.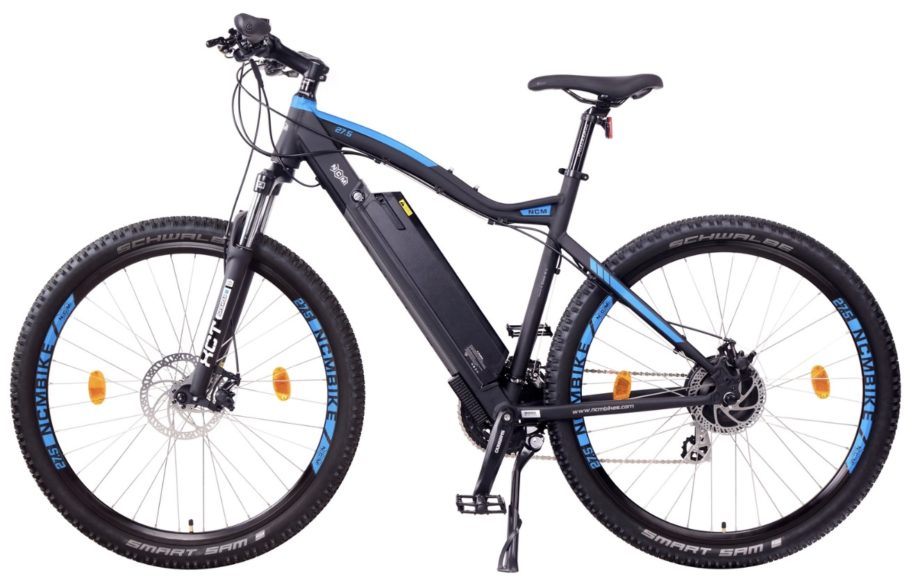 The NCM Moscow is a German engineered, 250W electric bike w/ a 48V battery.
It offers smooth-shifting and noiseless operation.
Ebike Speed: 25 kph
Distance: 50 – 120 km
Weight: 28 kilograms
The 7-gear Shimano transmission offers 21-speeds w/ top speed of 25 kilometers per hour.
Power assisted travel allows up to 120 km on a single battery charge — for battery only operation, buyers have traveled 50-70 km.
The NCM Moscow is larger than others on my list, but is fairly lightweight due to its aluminum frame — in total weighs 28 kilograms.
Positive buyer ratings make it one of the best electric mountain bikes available.
Best Electric Bike UK