Best Portable Air Conditioner UK.
Dependable cooling during peak summer months is an affordable luxury.
For older homes, a portable air conditioner can be a good solution for primary or supplemental cooling — they are quiet, energy efficient, portable around the home, and easy to install.
To help you find the right one, I created a list of the best portable air conditioners based on performance, price and buyer reviews.
Looking online, portable ac unit prices range from, £229 – £649.
Best Portable Air Conditioner UK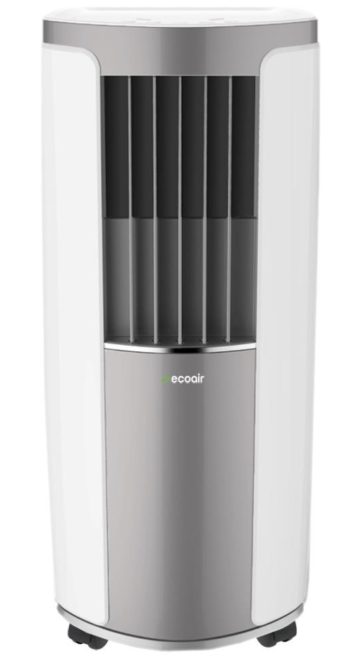 The new UK EcoAir Artica is a top rated, 3-in-1 portable air conditioning unit.
FYI: very similar to Ecoair Gelo and EcoAir Apollo
Bit more expensive than others, but has better efficiency and WiFi capability (using the mobile app).
The 8000 BTU EcoAir Artica covers 16-20 sq. metres. and allows you to adjust the temp.
Best of all it comes with mobile app capability:
turn on/off (from anywhere!), switch to dehumidifier, select fan speed, or set room temperature.
Using the mobile app or remote control, you set the room temp, 16°C – 35°C
What makes the Artica MK different is how quietly it operates:
Noise Level (dB): 47 – 51 decibels
As a 8000 BTU air conditioner, it is the perfect size + noise level for a basement unit.
Also includes a powerful dehumidifier (which is useful in peak summer months).
Ecoair Artica is a little more expensive than others on my list, but has lots of positive buyer reviews + mobile app functionality.

DeLonghi PAC N82 ECO Real Feel comes with quiet "silent" technology for minimal noise levels.
Even on max power, ac noise levels remain below 52 decibels. Great for light sleepers!
AC Model: PAC N82 ECO
Room size: 80 sq. metres
Noise (dBs): 50 – 52 decibels
Buyers say it is quiet for sleeping, yet powerful enough for larger offices or bedrooms. For a medium strength mobile air conditioner, users were surprised how quickly it cools a room.
Like most DeLonghi PAC models, the N82 is a quick install and low maintenance.
Install: 10-15 minutes
DeLonghi PAC N82 ECO includes a dehumidifier that can remove 32L litres per day.
Very good buyer ratings online.

The Pifco P40013 portable air conditioner is gaining popularity because of its affordable price and cooling power.
It is a newer unit, but already has very good reviews from buyers.
Cooling: 9000 BTU
Rooms: 24 – 30 sq.m.
As a portable air conditioner it is designed w/ a powerful ac motor that quickly cools small or medium-size rooms.
It is quiet and very energy efficient — Using the remote control, you can select the energy-saving "Sleep" mode. 
Buyers say it is much quieter than their previous unit.
The ac motor will work to maintain cooler temps at lower energy consumption and also operate a much quieter noise level.
If using as a home office or bedroom mobile air conditioner, the Sleep Mode will be very useful feature.
Good price and lots of happy buyer reviews!

The DeLonghi PAC AN112 is the most popular, high-end air conditioner.
It is the favorite among the Pinguino Air-to-Air series and received A+ class ratings for energy efficiency.
Buyers love how quietly it operates (compared to similar BTU AC units).
AC Power: 11.000 BTU
Rooms: 24 sq. metres
Noise level: 47 – 50 decibels
Perfect for medium sized areas, it includes a built-in thermostat — using the remote control you can adjust room temperature.
DeLonghi PAC AN112 also includes a dehumidifier that can remove 26 liters of air moisture daily.
Buyers love the new "Real Feel" function.
Real Feel: AC will auto adjust speed/power to create a perfect balance of room temp + humidity level.
Also includes 3 fan speeds and 12-hr digital timer.
DeLonghi PAC AN112 is expensive, but offers unique features.
Very good buyer reviews.

The Inventor Chilly 9.000BTU is a top selling portable air conditioner in the UK.
Buyers love its low noise and powerful performance.
Multiple speed options + new "sleep mode" for even quieter operation. Great for bedrooms (especially light sleepers!).
Despite its quieter sound, the Inventor Chilly is powerful enough to cool large rooms quickly.
Room size: 25 – 29 sq. metres
Noise level (dB): 47 – 52 decibels
It also includes a powerful dehumidifier — At max speed, it removes 2.12L of air moisture (per hour).
Dehumidifier: 50 litres daily
Buyers confirm Inventor Chilly is also easy to install.
One reviewer says it takes only 15-mins to set up.
For its affordable price and performance, it's quickly becoming a top seller in 2019.
Lots of happy buyer reviews!

The DeLonghi AN 97 is designed for large rooms.
Power: 10000 BTU
Rooms: 55.7 sq. metres
Comes with DeLonghi's patented Bio Silver Air Filter that cycles air and filters for mildew, mold, and odors.
Little heavier at 30 kgs, but still very portable w/ easy-spin wheels. Also has "No Drip" technology which recycles condensation (meaning it will not leak)
User friendly controls come w/ adjustable thermostat + 3 different fan speeds.
You can also adjust temperature w/ the remote control and it is very quiet.
Noise level: 47-50 dBs
For bedrooms + light sleepers, the DeLonghi AN 97 is worth considering.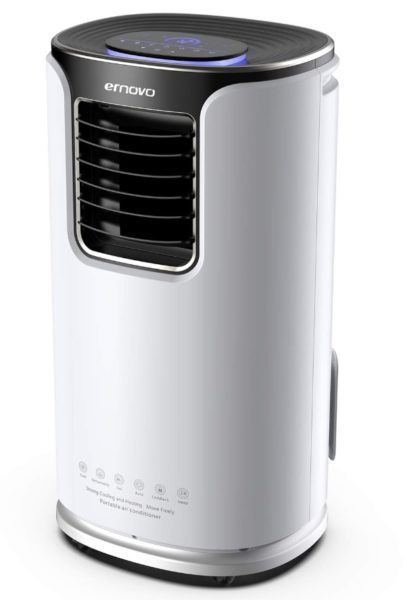 The Ernovo 14000 BTU portable ac is expected to be a top seller in 2019.
Positive buyer reviews so far — also, an identical model is very popular in the US.
Compared to other AC units, the Ernovo is high-powered.
Cooling: 14,000 BTU
Rooms: up to 30 sq. metres
Buyers love how quietly it operates + its fast cooling ability.
In only 5-mins you will feel a drop in temperature and within 10-20 mins it will reach your desired temp.
Adjustable Temp: 17°C – 30°C
There is also a powerful dehumidifier which removes 75L of air moisture per day.
Little expensive, but I expect it to be a top 3 seller this summer.

Trotec PAC 2000 E local is a top rated + affordable portable air conditioner.
The lower price-point has made it popular among millennials — especially those living in university dormitories.
Power: 7000 BTU
Rooms: 20-25 sq. metres
Trotec PAC 2000 fits nicely anywhere in a room.
Many buyers like setting it in a corner or another unobtrusive area — the Trotec has a modern look too, so it should look fine with any decor.
Using the remote control, you can adjust room temp from a distance.
Temp: 16°C – 35°C
As a 7000 BTU mobile air conditioner it is very energy efficient. It also uses an eco-friendly R410a refrigerant for cooling.
Martha's Top 10 UK Portable AC Units >>
Noise level can range from 50-65 decibels, depending on distance and speed.
Additional features include:
powerful dehumidifier (18 liters/day), low power consumption, functional remote control
Very good buyer reviews w/ affordable price.

The Amcor 12000 BTU portable air conditioning unit is one of the newer models — already it has very strong UK customer reviews.
In terms of power it is middle of the road and can cool areas of 32 sq. metres (330 sq. ft.).
Power: 12000 BTU
Rooms: 30 sq. metres
It runs quietly under 54 decibels making it perfect for bedrooms, city apartments or home offices.
Like most Amcor ACs it is ready for use straight away – No installation necessary.
Additional features:
Dehumidifier: 50 litres per day

Multiple fan speeds

Fast cooling

Remote control
Overall I think the Amcor portable air conditioner has a solid price value.
Good, basic features and a fair price.

As one of the better-known appliance brands, Igenix has some of the best sellers in the mobile AC space.
The 3-in-1 includes air conditioning, fan, & heating functionality.
Igenix IG9902 air conditioner has power of 9000 BTU capacity.
Temp range: 18°C – 32°C
Dehumidifier: 26.4L per day
Buyers also like the sleep mode — as a portable ac unit it is a little louder than others, but "sleep mode" helps soften it.
Other features include:
carbon air filter, heating mode, continuous drainage (for dehumidifier) + 24-hour timers
However, for the price I think the Igenix IG9902 is a top option.

The electriQ 18000 BTU portable air conditioner is for very large rooms.
It installs easily and quickly cools areas up to 46 sq. metres — it uses an evaporation booster to help make it energy efficient.
Power: 18.000 BTU
Coverage: up to 46 sq. metres
As an all-year unit, the electriQ includes a heater and dehumidifier.
Each mode runs air through a specialized P18HP filter which helps keep air cleaner — it will remove most large particles such as dust and pet dander.
I personally think it is the best portable air conditioner UK for large spaces.
Also includes 3 fan speeds, temp setting, and digital controls.
Expensive, but for large rooms the electriQ 18000 BTU air conditioner is a solid option.

The newest addition to Inventor's family of Portable ACs is their light-weight, 8.000 BTU unit. 
Affordable price has made it a favorite in the UK.
Power: 8.000 BTU
Noise level: 54 dBs
Weighing just 24 kilograms, it is one of the lightest portable air conditioners on my list.
Another great feature is that it is super quiet ac motor which makes it good for bedrooms.
Noise level is marked at 54 dBs — Even running at full power, it is not as loud as many of the other portable air conditioners on the market.
Similar design and function as the Inventor Chilly 9.000BTU AC unit.
One of the best portable air conditioners for humid areas (especially near water)

Electricity bills increase during summer — air conditioning units can really fluctuate on efficiency.
The VonHaus is one of the best for saving energy. It quickly cools and earned an A+ Class rating for energy efficiency.
Power: 9.000 BTU
Weight: 27 kgs
For efficiency it lets you control air flow, cooling power, and air current direction.
The 24-hour timer allows you to set the settings up-front, while the remote control allows you to set the settings from a distance.
You can set the air conditioner on low or high speed according to your preferences and needs with the push of a button.

Another alternative with superb buyer reviews is the Pinguino EX100 Silent.
It uses a different R410A refrigerant gas that is more eco-friendly (fewer greenhouse emissions)
The remote control also appears to have more button options: swing oscillation, timer button, and silent mode.
Some mixed reviews, but most are positive.

Only a few reviews, but the DeLonghi PACEX120 has some upgraded features I really like.
It uses a propane R290 refrigerant which doesn't produce greenhouse emissions and has high cooling power at 12.000 BTU.
DeLonghi PACEX120 is relatively quiet too!
Power: 12000 BTU
Noise level: 49-53 dBs
Also the advanced heater pump for heat mode is unique to air conditioners – especially unique for Delonghi ACs.
It is 1.5X more powerful than many other units in the UK.
Best Portable Air Conditioner UK 2019
DeLonghi PAC AN97 Pinguino
electriQ Portable Air Conditioner
Pifco Portable Air Conditioner UK
UK Ernovo Portable Air Conditioner
DeLonghi PAC EX100 Pinguino
EcoAir Gelo Mobile Air Conditioning Unit
DeLonghi PAC AN112 Air Conditioner