EcoAir Artica MK2 Review.
The EcoAir brand continues to be a producer of high-end portable air conditioners.
Some of the best sellers include:
EcoAir Apollo AC

Crystal Air Conditioner

EcoAir Gelo
Introducing the new EcoAir MK2Artica Wi-Fi portable air conditioner.
It's a 8000 BTU portable air conditioner w/ built-in dehumidifier.
As you can see it has a similar design and functionality as the EcoAir Gelo and Apollo units.
Power: 8000 BTU
Rooms: 16 – 20 sq.m.
The biggest difference is that the EcoAir Artica is a Wi-Fi portable air conditioner (or smart portable ac unit), comes with mobile app control.
Primary app functions:
turn on/off, switch to fan or dehumidifier, adjustable room temp, or change speeds
Additional functions:
24-hour timer, sleep mode, or activate louvers for directing air flow
EcoAir Artica MK2 Review:
The EcoAir Artica includes new features such as no-drip design, water-full notification (for the dehumidifier) and auto-evaporation.
It weighs 24 kg and comes on wheels, making it portable around the house.
EcoAir Artica also includes a built-in dehumidifier.
Dehumidifier: 30 litres (1.43/hour)
The dehumidifier includes a full-water alert which notifies if you when the water tank needs to be emptied — helps avoid leaks.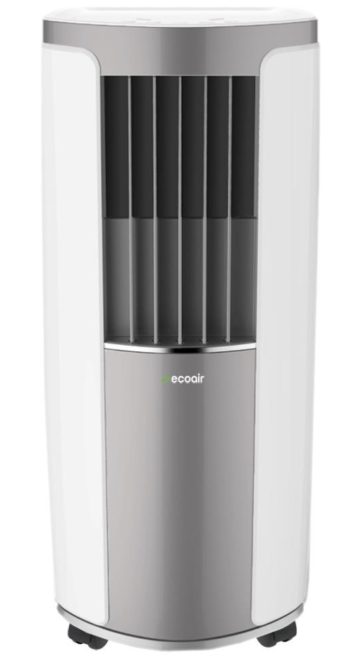 EcoAir Artica Portable Air Conditioner Review
As a Wi-Fi portable air conditioner, the LED controls and Mobile App functionality make it easy for anyone to adjust.
turn on/off, set a timer, switch modes, activate sleep mode, change speed/power
If using as a bedroom air conditioner, the sleep mode is a nice added feature — this will keeps the ac noise between 49-53 decibels. 
Noise Level: 47 – 51 decibels
Temp Range: 16 – 35°C
Buyers like the 24-timer too — you can set the EcoAir Artica to turn-off after you leave in the morning. (in case you forget!)
As a portable air conditioner, the EcoAir Artica arrives mostly preassembled.
Installation: 10-15 minutes
Most Wi-Fi enabled portable air conditioning units are super expensive, but the EcoAir Artica is surprisingly affordable.
For the price and control functionality, it's one of the best options on the market.
The downside is that it's often sold out.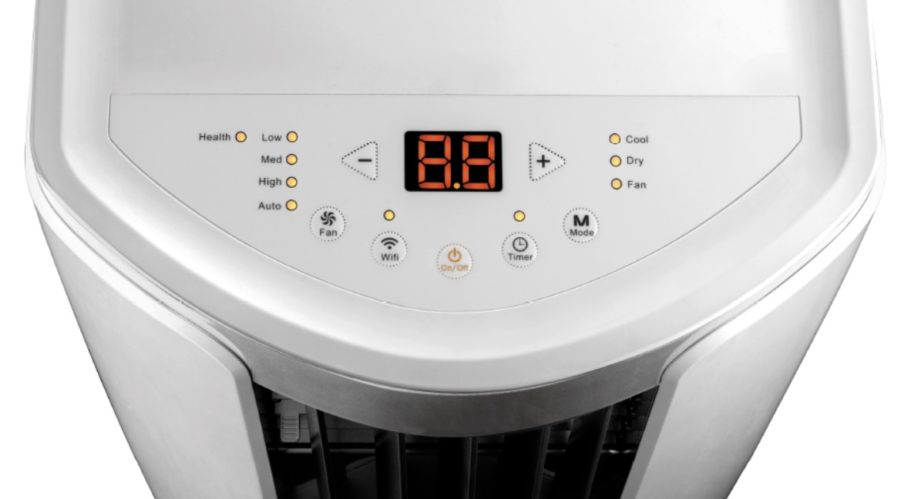 What's Included:
EcoAir Artica Unit (24 kg)

Remote control

Window install kit

Exhaust hose assembly

Castor wheels
EcoAir Artica Review:
AC Power: 8000 BTU
Rooms: 16 – 20 m2
Temperature: 16 – 35°C
Noise level: 47 – 51 decibels
Dehumidifier: 24 litres daily

Energy Class A

Self evaporating system

Washable dust filters

Sleep function

Multiple fan speeds

Sleep mode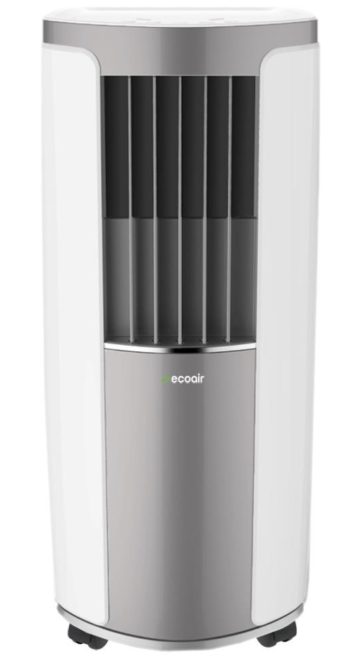 EcoAir Artica Portable Air Conditioner
The EcoAir Artica MK2 8000 BTU is one of the first WiFi portable air conditioner units to hit the market.
Lots of positive buyer reviews from buyers — they love its affordable price and high-end functionality. 
EcoAir Artica MK2 air conditioner syncs directly with the mobile app.
Buyers say it's super easy to set up and adjust the settings.
Similar 8000 BTU portable air conditioners with WiFi capability can cost 20-40% more.
And with EcoAir's reputation for producing some of the UK's top selling portable ac units, I think the EcoAir Artica is definitely worth considering.