Best Roomba Vacuum 2019.
The iRobot brand is the dominant producer of robot vacuums.
Since the first model in 2002, iRobot has developed dozens of Roomba robot vacuum cleaners. Today's offer the latest in technology – from mobile app controls to super suction power.
Below is my list for the best Roomba vacuum w/ prices, $279 to $1049.
Best Roomba Vacuum Cleaners

As the latest model, the S9 is the best Roomba vacuum w/ smartphone control.
Super easy controls – simply press "CLEAN" to begin or use the map to send it to a specific room!
Battery: 75 mins
Pricing: Expensive
Super powerful robot vacuum, the Roomba S9 delivers up to 40X the suction power.
Equipped w/ multiple sensors it automatically knows when to increase or decrease power – for carpets, it seamlessly switches to max power, allowing it to lift and suck-in pet hair and dirt.
Buyers also love the newest Smart Mapping function. Now you can tell the Roomba S9 to clean a specific room or area!
User-friendly mobile app and excellent buyer reviews!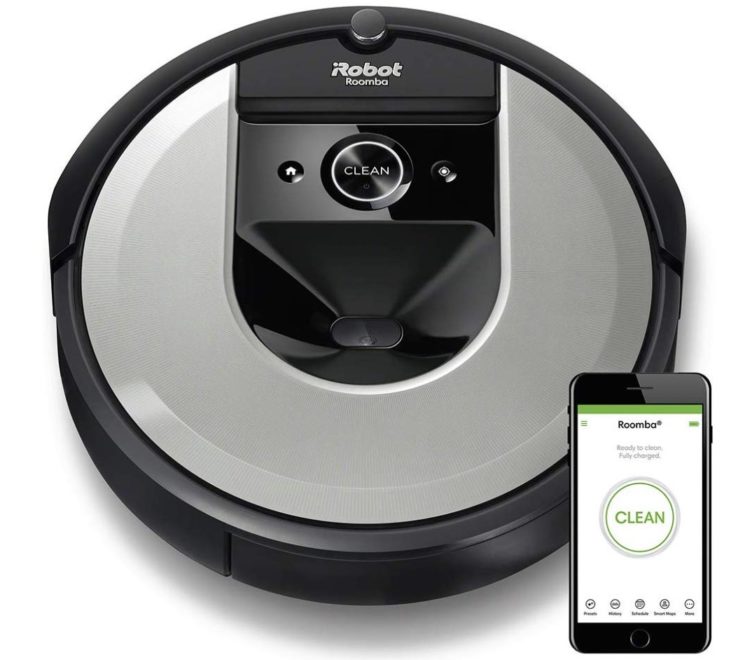 Roomba i7 is the best Roomba vacuum for large homes.
It comes w/ an extra-large base that allows it to hold 30X the debris.
Battery: 90-120 mins
Pricing: Expensive
Lots of upgraded features, but buyers love it because it for picking up dog hair – even clumps of dog hair!
Power-Lift Suction is great for homes w/ large carpeted areas. It will increase to 10X suction power, picking up dog hair and embedded dirt.
You can also direct it to clean specific areas using the mobile app.
Lots of positive reviews!

Roomba 980/985 is the best Roomba vacuum in terms of value.
Technically a 2018 model, it includes many of the newest software and mobile app updates.
Battery: 120 mins
Pricing: Medium
As a WiFi enabled robot vacuum you can command it using the mobile app or voice control.
Voted the best Roomba vacuum in 2018, it is designed for larger homes – extra power suction is automatically detects carpeting and is effective for pet hair or long human hair.
The downside is that the dustbin is a little smaller.
Additional features include:
dual brushes, edge cleaning mode, realtime status updates
Fair price and lots of positive buyer reviews!

The Roomba 960 is very similar to the new 985 model — but more affordable.
It is designed with increased suction power + mobile app controls.
Battery: 75 mins
Pricing: Medium
Battery is a little shorter at 75-mins per charge, but should be enough – if not, it returns where it left off once charged.
Also comes w/ new AeroForce that increases 5X power suction for carpets, rugs and dirtier areas. 
It is fairly low maintenance – dust bin should be emptied every 2-4 cleans.
Buyers love the mobile app + (more) medium price.
The Roomba 890 is perfect for pet owners — it loosens, lifts + picks up 99% of particles (and hair)
It comes w/ surface-detection and will boost to 5X power for carpeting or high-dirt areas.
If want to clean specific areas, Roomba 890 includes "barriers" which create virtual boundaries.
Another unique feature are the tangle-free brushes — they're specific for edge cleaning and give a more thorough clean.
(prior models had difficulty w/ corners)
You can also control remotely using iHome mobile app.
** Also read Top 10 Robot Vacuum (2 of 10 are Roomba vacuums!)

The Roomba 877 is a more affordable model for medium size homes.
It comes all the basic features you'd want:
tangle-free brushes, scheduler + mobile app functionality
It includes floor-detection sensors — can increase to 5X suction for carpets or high-dirt areas.
Roomba 877 was the first to use edge-sweeping feature for corners + borders.
Buyers love its moderate price + mobile app controls.

The Roomba 870 moves your home using iRobot's most updated nav mapping.
It is not as popular as the 890, but I think it's because not many retailers sell it. Amazon does though!
Reading the description + buyer reviews it has 95% the same functionality for a much more affordable price.
Buyers say that it's very efficient and doesn't require multiple passes. Many users are dog owners too.
The vacuum is good at detecting walls and obstructions — it's careful not to crash or scrape walls or furniture.
Also includes a tangle-free extractor preventing hair + debris from clogging suction.
No mobile app function, but you can easily schedule cleaning sessions. (confirmed by buyers)

The Roomba 860 thorough cleaning capabilities are due to its use of the AeroForce Cleaning System.
Produces up to 5x more air suction power and is very low maintenance.
There isn't a mobile app, but it does use WiFi for mapping + navigating your layout.
You can also setup your weekly schedule.

Equipped w/ Roomba's first HEPA filter, the Roomba 761 series is an affordable model for mid-size homes.
The filter will captures 97% of dust or particles — it doesn't have the crazy suction power of the newest models, but for basic usage it'll do the trick.
Buyers say it's excellent for hardwood floors. It won't scratch and is pretty quick.
Battery lasts 2-hours which should be enough for most homes — if not it'll return to the docking station and resume where it left off when charged. 
Personally I think the Roomba 761 is the best intro robot vacuum (for first time buyers).

Equipped w/ WiFi the Roomba 690 is one of the first models to have app compatibility.
While researching I noticed that it's one of the most popular models being sold — even though it was released 2-3 years ago.
Buyers write that the price-point is perfect for their budget and is a solid model for first time robovac users.
For performance, it uses a 3-stage cleaning system — better on hard floors and somewhat reliable on carpets.
It doesn't have the increased suction of the top Roombas, but that's expected given it's affordable price — costs a fraction of the Roomba 985 or 960.
For those on a medium budget it's a nice intro robot vacuum.

The Roomba 652 is the most affordable on my list.
In terms of performance it's not much different than the 690 model, but is a little louder when operating.
Like the 690 it has a 3-stage cleaning system which you can schedule daily/weekly.
If noise isn't a problem, I think it's a good starter robot vacuum. You can always schedule vacuum runs while you're at work to avoid the noise too!
Good price for basic cleaning features.
Best Roomba Vacuum 2019
Top 10 Best Robot Vacuum Cleaners
Roborock S5 Robot Vacuum
Ecovacs Deebot 900/901 Vacuum
Best Robotic Pool Cleaners
Ecovacs Deebot Ozmo 930