Best Robot Vacuum Cleaner // Robotic Vacuum Cleaner
Here are my picks for the best robot vacuums.
#1.) ILIFE V8s Robotic Vacuum + Mop
#2.) eufy BoostIQ RoboVac 30 (upgraded)
#3.) ILIFE A8 Robotic Vacuum Cleaner
#4.) eufy BoostIQ RoboVac 11s
#5.) iRobot Roomba 890 Robot Vacuum
#6.) Ecovacs Deebot N79S Robot Vacuum
#7.) Roomba 690 Robot Vacuum
#8.) iRobot Roomba 960 Robot Vacuum
#9.) Roborock S5 Robotic Vacuum
#10.) Shark ION Robot Vacuum
** FYI — vacuum links go to Amazon (had the lowest prices)

ILIFE V8s is an affordable option for houses w/ lots of hard flooring.
Includes 6 cleaning modes — regular vacuuming + new mopping function (rare for robot vacuums!)
The I-Move Mopping function is what separates it from others — mops in blocks (23 ft. x 23 ft.) making it efficient + thorough.
Like most others on my list it comes w/ super-suction mode for carpets + dog hair.
Easily switch cleaning modes using the ILIFE remote control.
Also comes w/ large .75L dustbin – only need to empty every 1-2 weeks.
V8s doesn't have a mobile app, but you can easily schedule cleaning times (mopping or vacuuming).
Lots of positive buyer reviews + affordable price!
Highlights
Brand: ILIFE Vacuums (V-Series)
Affordable: Yes
Dustbin size: 0.75 liter

Mechanical keys + LCD display

Multi-task scheduling

6 cleaning modes including:

Gentle on hardwood
Potential Flaws

Eufy BoostIQ is a triple-filter robot vacuum.
With its various 1500Pa suction + upgraded battery and affordable price, the BoostIQ 30 is great option!
The BoostIQ offers a "Quiet Clean" mode that lasts up to 100 minutes; according to the description the volume is no louder than a microwave.
⭐⭐ Best Robot Vacuum Cleaner for Quiet Cleaning ⭐⭐
Robot vacuums can be quite loud which is why the BoostIQ has strong buyer reviews.
Triple-filter system combines a dual-layer filter + a high-performance filter for the smallest of particles. Its medium size 0.6L dustbin can last 7-10 days before needing to be emptied (depending on frequency and home size).
Overall the eufy BoostIQ 30 is an affordable robot vacuum that operates very quietly around the home.
Highlights
Brand: eufy (via Anker Innovations)
Affordable: Yes
Suction power: 1500Pa
Dustbin size: 0.65L
Vacuum battery: 100 minutes (1.7 hours)

Drop-sensing technology

BoostIQ technology = 

Stronger suction

Triple-filter system
Potential Flaws
Doesn't return to the charger on its own

Replacements are hard to find

ILIFE has made 5 versions of their A-Vacuum series:
A40 All-Terrain Vacuum
A4s Deep Clean Robot Vacuum

A6 Robotic Vacuum

(2nd popular ILIFE vacuum!)
A7 Vacuum + Mobile App
As their most recent version – the ILIFE A8 Vacuum – is an upgraded version for an affordable price.
What's unique about the A8 is the advanced suction which ILIFE has dubbed Gen 3 CyclonePower' cleaning:
vacuuming dog hair

large carpeted areas

scrubbing and lifting dirt on hardwood flooring

very quiet = 64 decibels
Upgraded I-Voice Navigation can be synced w/ your phone, giving you realtime updates.
Very affordable price, I think it's one of the better robot vacuum for convenience.
Highlights
Brand: ILIFE Vacuums (A-Series)
Affordable: Yes
Vacuum battery: 130 minutes
Cleaning modes: 5

Very quiet = 

Under 64 db

Mobile App + 

Realtime updates

Best robot vacuum for dog hair

Extra-power suction
Potential Flaws

The eufy RoboVac 11S is one of the slimmest robot vacuums – only 2.85 inches tall.
Slim height is what makes it unique — can get under furniture that other robot vacuums can't: coffee tables, couches, dressers, etc
Relatively strong battery strength — operates for 100-mins (on standard vacuuming) or 60-mins (with increased suction).
BoostIQ allows eufy to sense flooring type and choose the appropriate suction power.
For areas requiring higher suction, the RoboVac 11S will auto increase suction.
In terms of price, the eufy BoostIQ 11S is very affordable + has very positive buyer reviews.
Highlights
Brand: eufy (via Anker Innovations)
Affordable: Yes
Battery: 100 mins on standard vacuuming

60 mins w/ BoostIQ suction

Dustbin capacity: 0.6L
Suction power: 1300Pa

BoostIQ technology = extra suction

Anti-collision infrared sensor

Triple-filter system
Potential Flaws
Not suitable for high-pile carpet or very dark-colored floors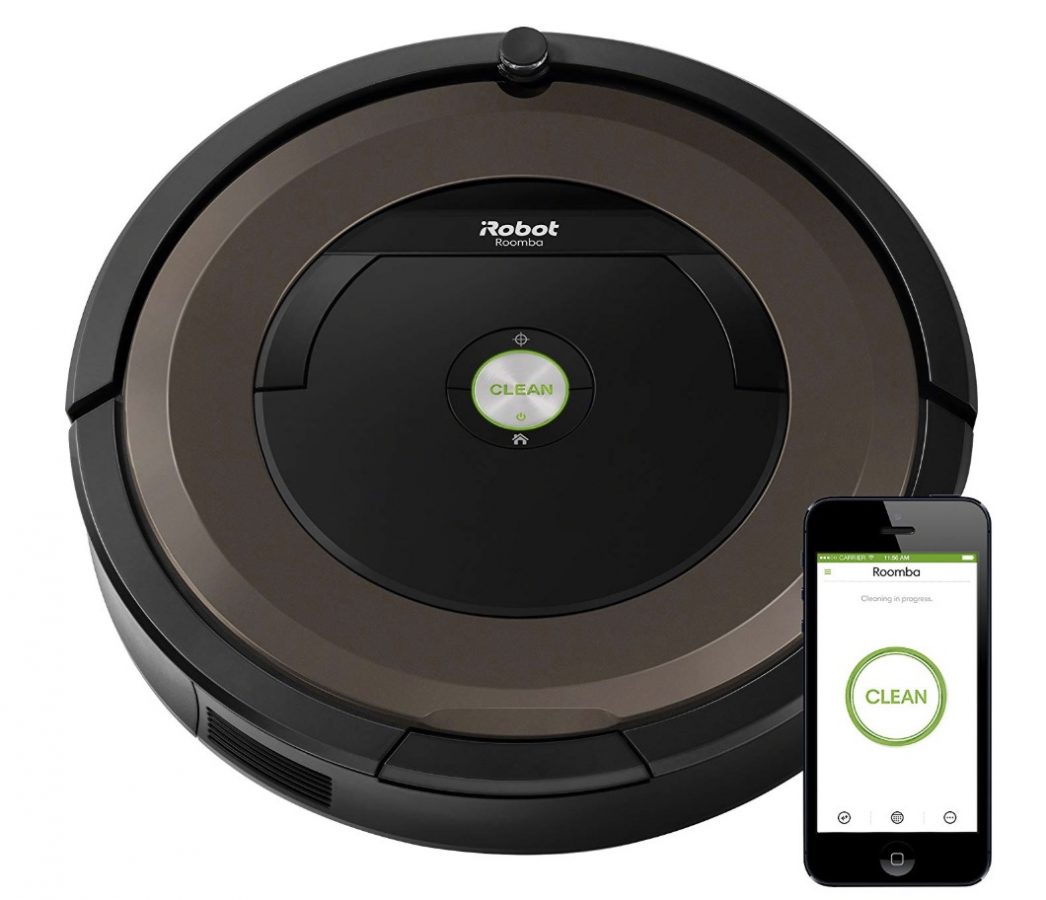 Top-of-the-line for Roomba's 800 series, the iRobot Roomba 890 vacuum cleaner is moderately priced and offers amazing suction power.
Comes w/ WiFi connection, works using Amazon Alexa and Google Assistant technology, and uses Roomba's advanced navigation technology to skillfully map its route on your floors.
Multi-surface brushes automatically adjust for different flooring types — this allows the Roomba 890 to go from carpet to hardwood almost seamlessly.
While all models have dirt detection sensors, this model is equipped w/ advanced acoustic sensors. There's also Spot cleaning mode — this allows particularly dirty areas to get more attention.
Strong battery power up to 90 minutes per battery charge.
Highlights
Brand: iRobot
Affordable: Fair
Vacuum battery: 90 minutes

WiFi Connectivity

90 min of cleaning time

Spot cleaning mode
Potential Flaws

Fancy a robot vacuum w/ mobile app control + upgraded suction power?
Newly upgraded DEEBOT N79 comes w/ auto-clean mode, smart motion navigation + 3-tier cleaning system:
1/ Direct vacuuming
2/ Helix brush-roll
3/ Dual-sided brushes
Helix brush design is one of the unique features — reaches deeper into the carpet and is extra-wide, allowing it to vacuum border + corners.
Deebot N79 comes w/ 3 cleaning modes:
1/ Smart Motion – guided auto-cleaning
2/ Spot Mode – for specific areas
3/ Edge Mode – for edges and corners
ECOVACS Mobile App lets you control + get status updates (i.e. "Living Room Completed")
Highlights
Brand: ECOVACS Robotics
Affordable: Yes
Vacuum battery: 120 mins (2 hours)

Smart app control

Multiple cleaning modes

Smart motion ; 

Spot mode ; 

Edge mode

Upgraded suction power for carpets

Specialized helix brush
Potential Flaws

With its chic design + versatile features that have made it one of the most popular Roomba vacuums online.
What does this model offer? Using iRobot's patented 3-stage cleaning system the Roomba 690 uses multi-surface brushes, an edge brush, and enhanced suction power.
⭐⭐ Best Robot Vacuum for Medium Size Homes  ⭐⭐
Dirt Detect sensors auto alert the 690 to increase power when stumbling upon extremely dusty or dirty areas — Paired w/ 3-stage cleaning system, it is ready for any type of floor surface.
What's made it popular is its affordable price and mobile app compatibility. (I believe it was one of the first to have iHome App controls.)
Highlights
Brand: iRobot Roomba

Dual-mode virtual wall barrier

3-stage cleaning systems

Loosen ; 

Lift ; 

Suction

Multi-surfaced brushes

Dirt detect technology

Cliff detect sensors

iHome App + voice-control
Potential Flaws
Little slower at charging


A robot vacuum that works efficiently on any flooring?
Yes, please!
The new Roborock S5 Robotic Vacuum is a super quiet, smart cleaner with advanced mopping and sweeping systems. All of its functions can be controlled using the mobile app – Mi Home App.
What I really like is how easily the S5 auto navigates your home – and using the mobile app you can plan + schedule cleaning sessions from anywhere.
⭐⭐ Best Robot Vacuum for Large Homes ⭐⭐
Roborock S5 comes w/ variable-speed side brush which runs between 130 RPM and 330 RPM (strong suction)
Built-in sweeping system enables maximum absorption of dust while the mopping mechanism is designed to avoid drip marks and water streaks.
S5 Vacuum has 2000Pa suction power — enables it to conform w/ different floor types (high suction is ideal for carpeting).
Battery capacity enables 150-mins of vacuuming.
RoboRock S5 is a little expensive, but very strong buyer reviews and mopping function make it one my favorite robot vacuums.
Highlights
Brand: Xiaomi Electronics
Affordable: Fairly expensive
Mopping function: Yes
Vacuum battery: 150 mins (2.5 hours)
Sweeping + Mopping

Smart App control

Very strong buyer reviews
Potential Flaws
Too expensive for most households

If you want an affordable + highly-rated robovac, I recommend the WiFi connected Shark ION robot vacuum.
As the newest robotic vacuum to the Shark family, the ION vacuum comes w/ 2 spinning side brushes to suck-in debris from corners and edges.
Very solid at picking up hair – especially dog hair — one of the best robot vacuums for dog hair + dust. (if you're allergic to dog or cat dander, this might be the robovac for you!)
⭐⭐ Best Robot Vacuum for Price Value ⭐⭐
Self-cleaning Brushroll is picks up long hair — sometimes gets tangled in other vacuums.
Similar to Roborock S5, this model, too, has smart navigation sensors that adapt to various surfaces and surrounding furniture.
Lithium Battery lets it operate 60-90 mins.
* FYI – the Shark ION is not available in some countries.
Highlights
Brand: Shark Vacuums
Affordable: Yes
Vacuum battery: 60-90 minutes (1.0-1.5 hours)

WiFi enabled w/ mobile app

Cleaning + scheduling w/ Amazon Alexa

Self-cleaning, Performance brush roll

Easy-empty dustbin
Potential Flaws
Not the best robot vacuum for large carpeted areas

Slightly earlier version of the 980, the Roomba 960 comes w/ 90% of the functionality + more affordable.
Roomba 960 comes w/ powerful suction — it'll auto detects type of flooring and can deliver 5X the suction power (mostly for carpets)
980 model includes 3-stage vacuuming system:
1. loosens debris
2. lifts using the suction/brushes
3. pulls debris up from the floor
What I like most about the Roomba 960 and 980 is the mobile app control – the iRobot Home App lets you schedule cleaning, clean specific rooms + receive realtime updates.
** FYI — Roomba 960 has 5x power suction; the Roomba 980 has 10x power suction.
For homes w/ lots of carpeting (or dogs!), I suggest the 980 model. You can read more here >>
Highlights
Brand: iRobot Roomba
Affordable: Fair (expensive for my list)
Mobile App: Yes
Vacuum battery: 75 minutes (1.25 hours)
Vacuum filter: picks up 99% of dirt and dust
Suction power: up to 5x the air power

robot vacuum for dog hair & carpets

Dual multi-surface rubber brushes

3-stage cleaning system

Loosening ; 

Lifting ; 

Suction
Potential Flaws
Not the largest battery

Dust bin could be larger
Best Robot Vacuum Cleaner Review, Related Posts
Top 8 Upright Vacuums
Best Robotic Vacuum Cleaners
ILIFE A8 Robotic Vacuum Cleaner Review
ILIFE V8s Robot Vacuum Review
Roomba 980 Robot Vacuum Review
Top 8 Best Robotic Mops
Ecovacs Deebot Ozmo 601 Vacuum
Top 10 Best Inflatable Hot Tub Pools