The Best Type of Portable Generators.
Since a portable generator has so many uses, there's a lot of factors to consider when sizing one for a specific need.
First, examine what applications the portable generator will be used for, including all appliances and length of activity. A portable generator's running time is usually measured at 50% output. To help you determine how much wattage you'll need a wattage chart (preferably a wattage calculator).
For powering multiple devices you may need an extra fuel tank.
For construction and other industrial settings, the same concept applies in measuring what needs to be powered and for how long. If you want a portable generator for home use you'll probably want to check the decibel level for each.
---
Small Portable Generator (1,000 – 4,000 watts)

Generators this size will get you up and running in case of an emergency and are great to use out on the trail. You can also install them on your RV, or truck camper.
You can expect a compact recreational generator to produce about 1,000 watts of power which is enough to power one or two appliances at the same time.
As you move up in wattage you'll be able to power the basics in your home such as:
smart phones

laptop

camera

mini refrigerator

microwave

small tv
Most RV generators (recreational vehicles) are put into the small portable generator category. Many of these types of generators can be mounted onto your truck or RV for convenient use out on the road or in a national park. There are a bunch of online forums that talk about using and installing RV generators.
Other small generators include solar-powered models. There used to be very few of them on the market, but with the increase in technology prices have come down and they're very high functioning. In the U.S. the most popular brand of solar portable generators is Jackery.
Small portable generators priced from $400 – $1,000.
---
Medium Portable Generators (4,500 – 8,000 watts)

You can power everything that the small size powers with the medium size plus a portable heater or a window air conditioner unit depending on the season. You can also add in a computer using an inverter generator to keep it from getting damaged.
If you use a transfer switch with this size generator you can also use your water pump and furnace. On average you'll get 10-12 hours of power with a 7 gallon tank of gas.
Medium sized portable generators generally run $800 – $1,500.
---
Top 10 Best Portable Generators >>
---
Large Portable Generators (8,500 – 15,000 watts)

You can power mostly any large household appliance, or multiple devices.
central air conditioner

hot water heater

range oven

washer and dryer
These larger generators are usually very heavy; anywhere from 85 – 200 lbs. The good news is that some of them are designed to be stationary on a RV, and the more portable models are on wheels.
Another downside is that they're gas-powered generators, and usually have a rip-cord start.
Large portable generators cost, $900 – $4,000.
---
Standby Generators (10,000 – 45,000 watts)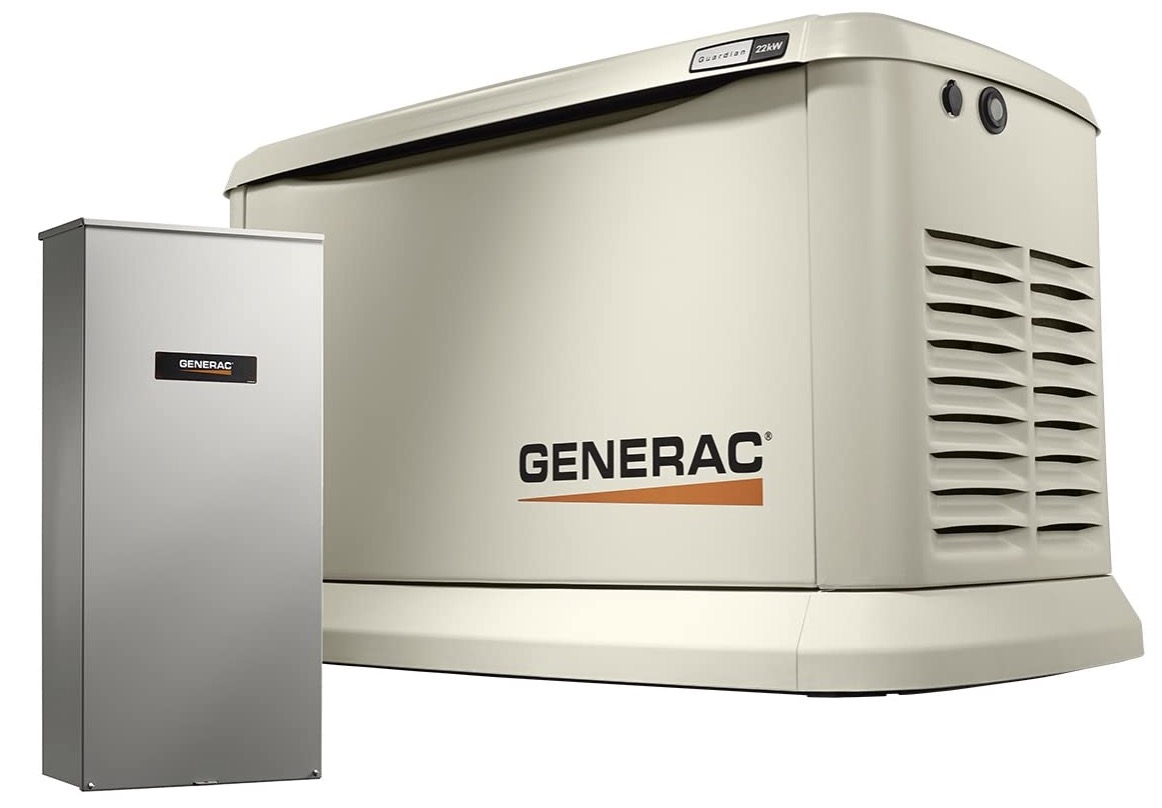 These systems are fueled by propane, natural gas, or diesel and operate with very little interaction on your part. You can even connect them to your existing natural gas line so you don't have to fill up any fuel tanks. They'll usually turn on automatically in about 15 to 20 seconds after the power goes out.
Standby units are stationary, and will generally power most of the major items you use frequently in your home including the washer and dryer. Many will power your entire home.
I don't focus on standby generators much because there's a lot more intricacies to them. You also need professional installation which is usually an electrician or someone certified by the generator brand (i.e. Generac-approved contractor).
** To learn more I suggest you contact an electrician in your area.
Also make sure you have them come to your home, and personally inspect your house and your electric system to get an exact quote – power needs can vary greatly from house to house.
Stationary generators will cost you $3,000 – $25,000 (or more, and not including installation costs).
---
Portability
Most portable generators weigh between 30-70 lbs although some may go as high as 100 pounds. At 70 lbs many people will have a hard time picking the unit up.
Look for comfortable grips where two people can move it; or wheels where one person can push it around no problem. Units with pneumatic tires are even easier to roll around.
---
Sound Level (dB)
The noise level of your portable generator is an important factor to look at. You're going to using it outside so you want to keep the peace with your neighbors as best you can and that means low noise levels. If you plan on using the portable generator in a national park, there are specific requirements on keeping sound levels below 60 decibels at a distance of 50 ft..
Look for generators that have a quiet mode and check the sound levels in normal mode as well.
Most portable generators have sound readings of 45 – 80 dB, with an average of 75.
Decibel Examples
90 decibels – very loud, like a truck without a muffler.
80 decibels – also loud, like cars running at high speed.
70 decibels – normal street noise or your radio at an average noise level.
60 decibels – considered moderate, like the level of a normal conversation.
50 decibels – moderate as well, about what you would hear in an office.
40 decibels – is faint, and what you'd hear in a neighborhood without any cars.
---
Additional Features:
Electric Push Button Starter: Sometimes pull start engines can be a pain to get started so it's best to have a push button battery powered starter for your generator.
Spark arrester: This is very important if you plan on camping or traveling with your generator. It can help prevent fires. Look for an arrester that is approved by the US Forest Service or Department of Agriculture.
Number of Outlets: If you're not using a transfer switch, then you are going to want four or more AC outlets for powering most of your home appliances and one DC outlet so you can power certain small electronic devices. Multiple outlets spread the load on the generator and give you more options to plug things in. Look for ground fault circuit interrupter lock-on outlets on the generator as these are the safest and OSHA approved.
Fuel Gauge: This is a nice feature to have, especially when the power is out for a long period of time. You can quickly just look at the gauge and see if you need to refill the tank or not with whichever fuel type your generator requires.
Idle control: You can reduce noise, fuel usage, and engine wear by using a generator with idle control. The idle control matches the amount of power that is needed so when there is a minimal amount of power being drawn from the alternator the engine will automatically throttle down.
Large fuel tank: You want something to match your needs, but larger fuel tanks certainly make things a little bit easier for you. A full 5 gallon tank will typically keep a generator running about 7 to 10 hours.
CARB Compliant: CARB stands for California Air Resources Board and products that do not meet this standard cannot be sold in California. Most manufacturers that offer this feature will promote it as a means to lower emissions which make this type of generator a more environmentally friendly product. If you live California you have to have a CARB compliant generator, if you live in one of the other 49 states in the US or outside of the country then you don't have to have it but it's still a very good feature to look for.
---
Transfer Switches
To run some of the larger items that are hardwired to your home power grid, like the furnace or heat pump and wall outlets, you'll need a larger generator and a transfer switch. A transfer switch can be permanently attached to your electrical box by a certified electrician.
After it's hooked up, there'll be just one plug and one cord going from the generator to the transfer switch. With this setup you don't have to worry about running a bunch of extension cords in and out of your home from the generator to each appliance you want to run.
You can choose a manual or automatic transfer switch
Manual switch – requires you need to go out and turn on the generator when the power goes out.
Automatic switch – kicks in on its own during a blackout even if you're not home.
Automatic switches will also perform self-tests periodically and start the generator up to make sure it'll be ready to go during an emergency.
Manual switches cost around $500 (including install), and automatic switches run about $1,000.
---
Best Type of Portable Generators
The majority of portable generators on the market today come with circuit breakers, fuel efficient engines, and automatic regulation of the voltage. Engines are typically four-cycle overhead valve types, and are much more eco-friendly than the old two-cycle engines that required you to mix oil with the gas.
Overhead valve engines are also easier to start, produce less harmful emissions, last longer, and run quieter.