Finding the best ultra quiet window ac can be difficult. Most models don't list their decibel range (aka: noise level) and there's a wide ranges of prices from $150 to $500 (or even more!)
Depending on the power/speed setting, noise levels can reach 60+ decibels which is noticeably loud.
Average noise is 54-58 dBs.
Since many of the ultra quiet window air conditioners are not affordable, I created a shortlist of the best quiet window ac units available online.
Prices on my list range, $179 – $429.
---
Ultra Quiet Window Air Conditioners
---

The LG Dual Inverter window AC is not your typical window ac unit.
It's designed w/ twin rotors and designed w/ a specialized compressor to reduce noise — basically two air conditioners in one model.
LG Model: LW1019IVSM
AC Power: 9,500 BTU
Coverage: 350 – 450 sq. ft.
New ultra-quiet, "LoDecibel" operation using a brushless DC electric motor — naturally quieter and requires less energy (compared to other 9,500 BTU units).
Energy efficient window ac operates 25% lower energy consumption.
Sound (dBA): 44 decibels
LG Dual Inverter window unit is meant for larger rooms, but  versatile enough for bedrooms or home offices.
Also available in three other models:
[table id=31 /]
It's a little new, but it's whisper quiet w/ good buyer reviews!
---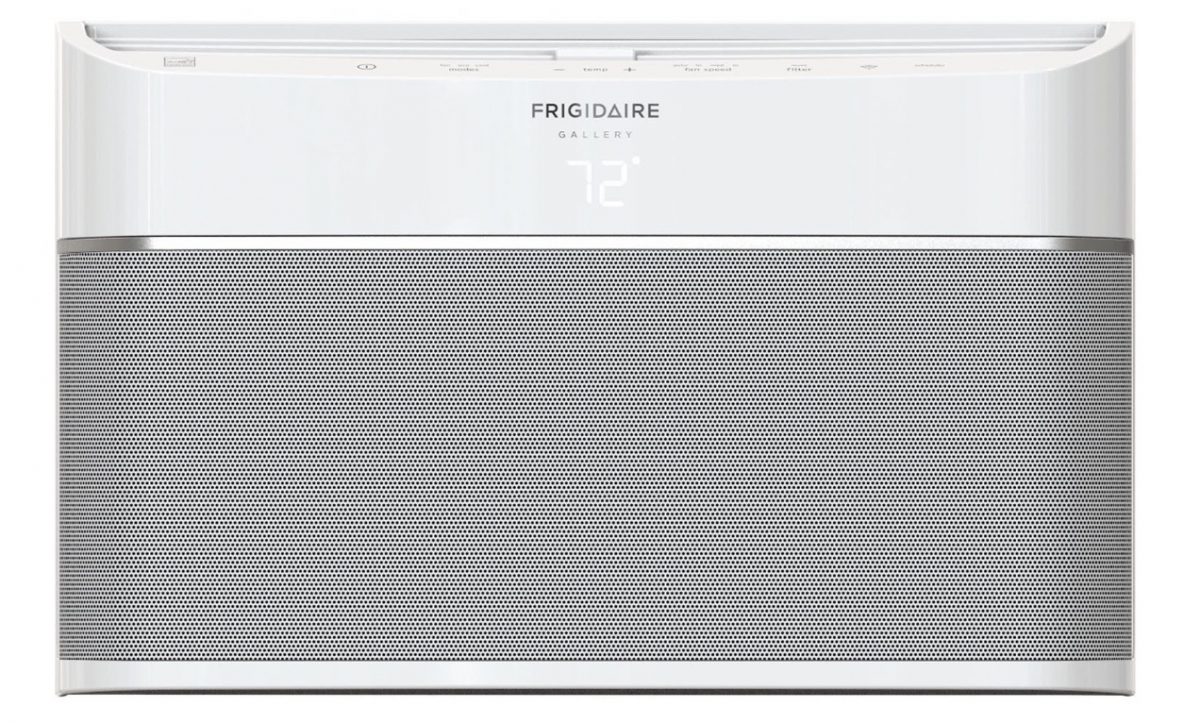 The Frigidaire Cool Connect is a WiFi connected, smart window AC.
Easily connect directly to your home Wi-Fi — once ready, you can Switch all settings and set a desired temp.
AC Cooling: 10000 BTU
Coverage: up to 450 sq. ft.
Sound (dBA): 52 – 58 decibels
Frigidaire window AC units are Energy Star rated for efficiency and will save you money longterm — energy efficiency also helps reduce noise when maintaining cooler temperatures.
Cool Connect includes a "sleep mode" for quieter, ambient noise.
Bit pricey, but the smart function and low-noise make it worth considering.
Good buyer reviews too!
---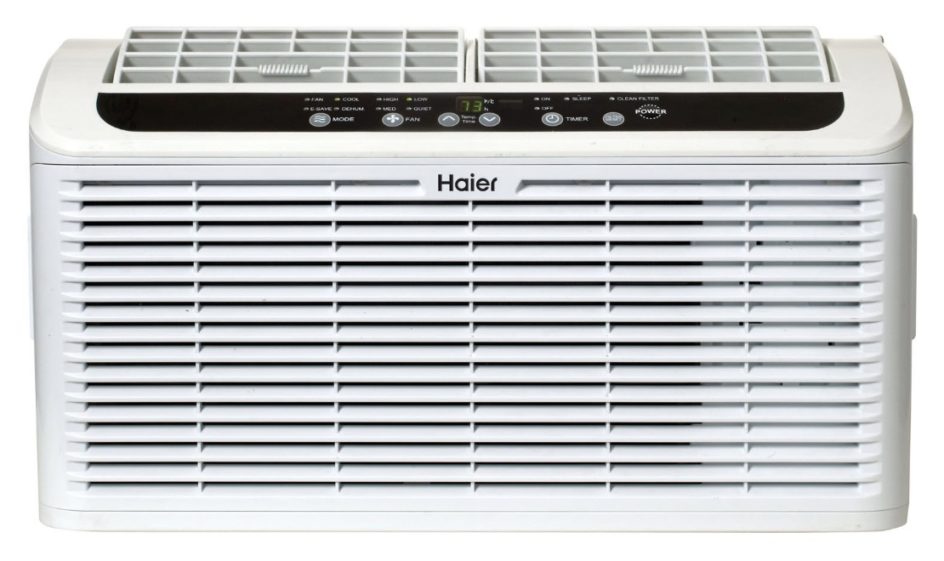 Haier Serenity Series window-mounted ACs are catching on because of their library quiet performance.
It's 9-10 decibels quieter than other window-mounted units — great as a bedroom air conditioner!
If you're a light sleeper, this is the one for you!
AC Cooling: 6000 BTU
Sound Range: 42 – 53 decibels
Coverage: up to 250 sq. ft.
To reduce noise, the Haier Serenity window AC is designed w/ a compressor blanket — it uses different mechanisms to control air flow, making it quieter and energy efficient.
Cooling power is only 6,000 BTU, but it includes a dual motor for fast, energy efficient cooling.
Haier ESAQ406P window air conditioner also features a built-in dehumidifier and LED remote control.
[table id=71 /]
It's pricey for a 6,000 BTU unit, but I think it's the best quiet window AC that's somewhat affordable.
Lots of happy buyer reviews too.
---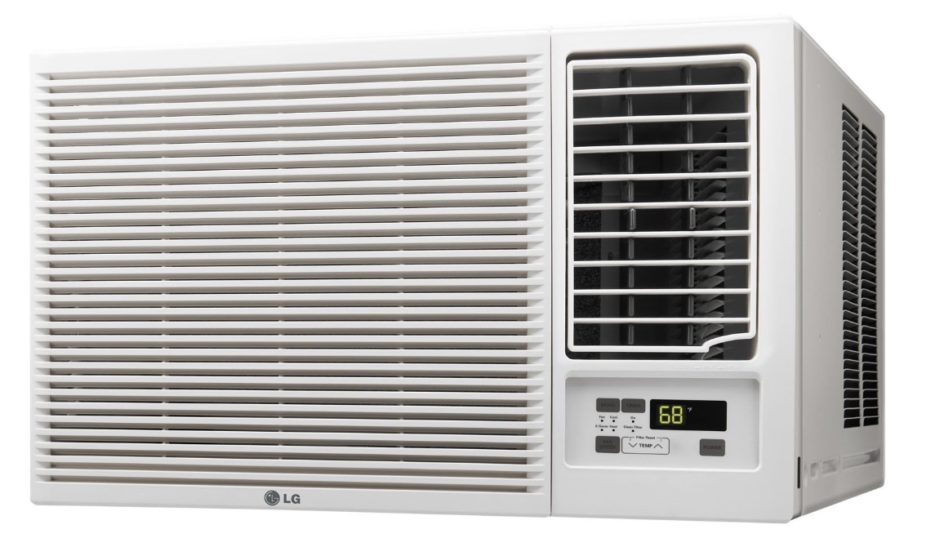 LG 7,500 BTU is a favorite for bedroom cooling and heating.
It's one of LG's whisper-quiet window air conditioner units — operates at low noise and offers heat functionality for winter months.
Comes in a few sizes — all significantly quieter in operation compared to similar-sized units.
[table id=32 /]
The LG 7500 BTU window AC (LW8016HR) is the most popular for bedrooms.
Users say it cools bedrooms super fast — some like to pre-cool rooms 10-15 mins beforehand.
Cooling: 7,500 BTU
Coverage: up to 320 sq. ft.
It also has a good energy efficiency ratio (EER) of 11.2.
Reviews say heating is nice in the summer, but mostly love its ability to run quietly at night.
Very good buyer ratings online.
---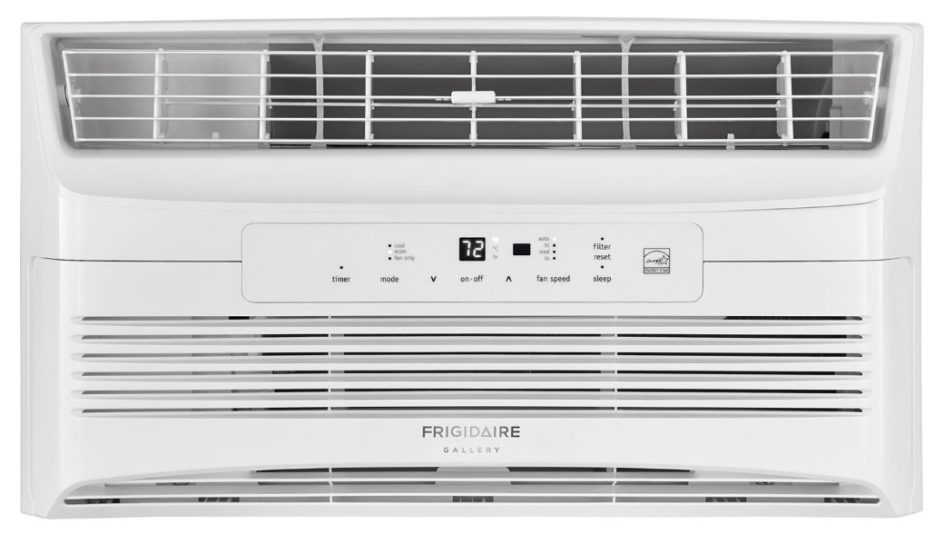 The Frigidaire Energy Star is a medium-priced, library quiet window AC.
It has some mixed reviews online, but the majority of Users say it's very quiet and good at maintaining cooler temperatures for long hours.
Users love the modern design + quiet operation.
AC Cooling: 8000 BTU
Sound (dBA): 41 – 51 decibels
You can also run the Frigidaire window AC on "Sleep Mode" for even lower noise levels.
Frigidaire Energy Star window acs operate at lower voltage than similar size models.
Frigidaire 115v window ACs:
[table id=44 /]
Dependable, quiet window AC that's affordable.
---

The LG Energy Star window ac is an affordable model with multiple cooling speeds.
As a window unit, it's extremely basic — it doesn't include the newest tech or high-end features, but it's energy efficient and appeals to your wallet
AC Power: 6,000 BTU
Room Size: up to 260 sq. ft.
Noise Level: < 52 decibels
Because of its lower price, it's very popular among students and recent graduates.
Reviews also skew towards city dwellers — many buyers say it performs exactly as stated and quickly cools their apartment or studio
They specifically like how quietly it operates. At max power it'll run 50-52 decibels and down to 40-44 decibels on fan mode.
Overall it's a good, budget-friendly option for consumers who need a quiet window air conditioner.
---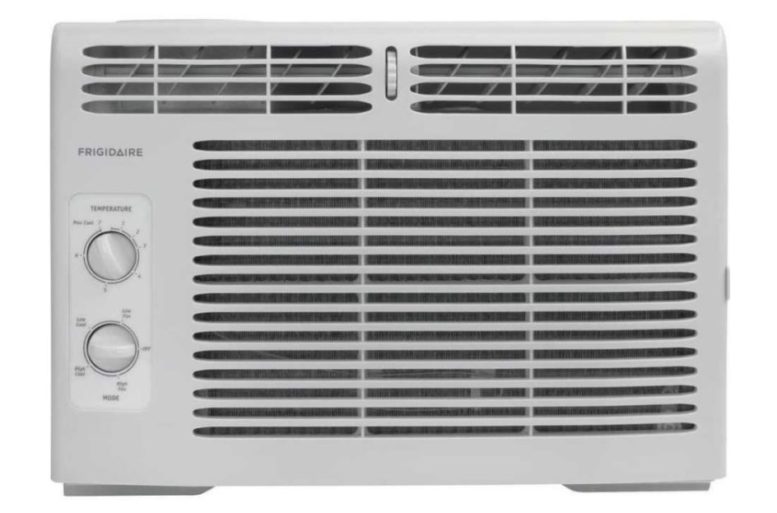 The Frigidaire FFRA0511R1 is a smaller air conditioner, but offers a new "Sleep Mode" and is affordably priced.
Designed for rooms up to 150 sq. ft., it's good for bedrooms — many Users appear to be city dwellers.
Cooling: 5000 BTU
Coverage: up to 150 sq. ft.
Sound Range: 51.3 – 56.5 decibels
For night you can select the "Sleep Mode" on the remote control.
It's overall fairly quiet, but by selecting this setting it will operate below 50 decibels lets you select "Sleep Mode" 
They also offer 3 fan speeds and multi-directional air — the remote control lets you toggle the air flow direction using rotating louvers at the top of the air conditioner.
Lots of positive reviews and affordable price.
---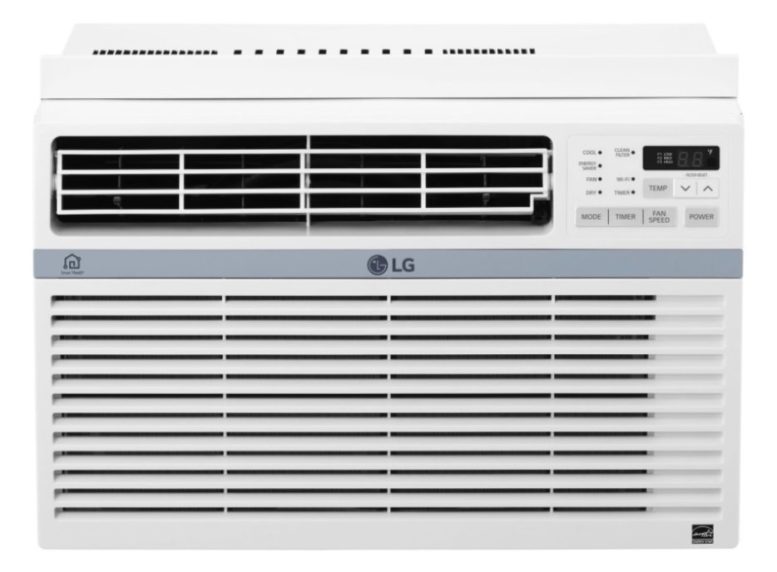 The LG Energy Star unit is the perfect combination for energy efficiency and quiet operation.
Multiple options available w/ Wi-Fi or non-Wi-Fi.
[table id=40 /]
Users love the Wi-Fi window ACs — they're not much more pricey and they let you control all settings using your smart phone.
As bedroom units, the mobile app is a nice luxury in peak summer months.
Mobile app functions:
Turn on/off (remotely)

Set desired room temperatures

Change mode: air conditioner, fan, or dehumidify

Control speed/power settings
LG Energy Star would be my personal choice.
They're more pricey, but the Wi-Fi "smart" functionality and quiet operation make it worth the money.
---

The Danby window AC w/ silencer tech is a newer AC Unit — very few reviews online.
It should be more popular than it is given its affordable price and super quiet operation.
Available in 2 models:
DAC080BHUWDB: 350 sq. ft. (8,000 BTU)
DAC060BHUWDB: 250 sq. ft. (6,000 BTU)
Built with Danby Silencer tech, it's designed for better air-flow and anti-vibration components.
Sound Range (dBA): 41 – 43 decibels
It's also an energy efficient window AC unit — it's Energy Star rated and includes an "Energy Saver" mode.
Energy Saver will auto switch from ac mode to fan (while holding your desired temperature).
Also includes "Sleep Mode" for even quieter operation.
Not many reviews yet, but def one of the quietest window AC units available this year.
---

The Frigidaire FFRA0611U1 is an affordable, mini compact window ac unit.
It's one of the most popular in 2020 because of its price and super quiet operation — many buyers use to cool smaller, city apartments (specifically bedrooms).
AC Power: 6,000 BTU
Room Size: 150- 250 sq. ft.
Noise Level: < 52 decibels
As a newer unit, it's optimized for air-flow and creates less friction between parts. It's less likely to rattle or whistle than similar 6,000 BTU window air conditioners.
Other features include:
8-way air direction controls, easy-washable filters, good energy efficiency, and high air flow
Lots of positive reviews and affordable price tag.
---
Best Ultra Quiet Window Air Conditioners:
LG Smart Wi-Fi Window Air Conditioners
Top 10 Best Window Air Conditioners
LG Dual Inverter Window AC Unit
Quiet Window Air Conditioners for Bedrooms
LG LW1019IVSM Window AC Review