Best Window Air Conditioners // Window AC Review
Here are my picks for best window air conditioners.
** FYI — window air conditioner links go to Amazon (which typically has the best prices)


Frigidaire Window Mounted Air Conditioner is powerful at 15,100 BTU.
It can cool large rooms up to 850 sq. ft. and Ready Select controls let you set the actual room temperature you want. Super durable for summers to come, it includes 3 fan speeds (for late summer/early fall when it's very warm still).
** What I love about it is the low noise level of 52-56 db noise level (depending on how you set the low/medium/high cooling setting)
⭐⭐ Best Large Room Window Air Conditioner ⭐⭐
It also cycles the air and filters out pollen, dust, and small airborne particles – not the best air purifier, but it's certainly a nice-to-have!
Warning — It's very expensive, especially for a window AC unit, but has all the features you'd want.
Highlights
Power: 15,100 BTU
Room Size: cool up to 850 square ft.

Energy Star Rated

Ready Select — lets you set the temperature you want!

Includes 3 fan speeds

** low noise level (52-56 dbs)

Ideal for light sleepers
Potential Flaws
Super expensive, but efficient for large rooms (or bedrooms)

LG brand is known for producing the best window air conditioners on the market — and the 12,000 BTU (model # LW1216ER) might be its finest.
Offering 3 Cooling and Fan Speeds you'll have complete control of the coolness of your room. Ideally you'll use it in a bedroom or living room up to 550 square ft.
** Depending how big your space is, you may want a ductless AC. You can read Angela's list of the Top 10 Ductless Air Conditioners
With high energy efficiency ratio of 12:1, you can also save on electricity costs during the summer months.  (If you live in a large city you know how much a benefit this is!)
Personally I love the fact that it comes with a remote control – if you're using it in your bedroom, controlling the temp without having to get up is super convenient! 

Anti-corrosion kit is also included in the delivery, so your window air conditioner will be protected and safe from the elements and last longer than other window air conditioners.
As mentioned can cool master bedrooms and large rooms sizing 550 sq. ft. (the remote control is also a useful feature)
** FYI it's a little more expensive than you'd think. However, LG offers a 2nd-tier version with 8,000 BTUs which is a slightly cheaper window AC unit View Online Here >>
Highlights
Power: 12,000 BTU 
Room Size: Can cool 550 sq. ft.

3 cooling and fan speeds

12.1 energy efficiency ratio

4-way air direction

An anti-corrosion shield

Remote control
Potential Flaws
May be difficult to set up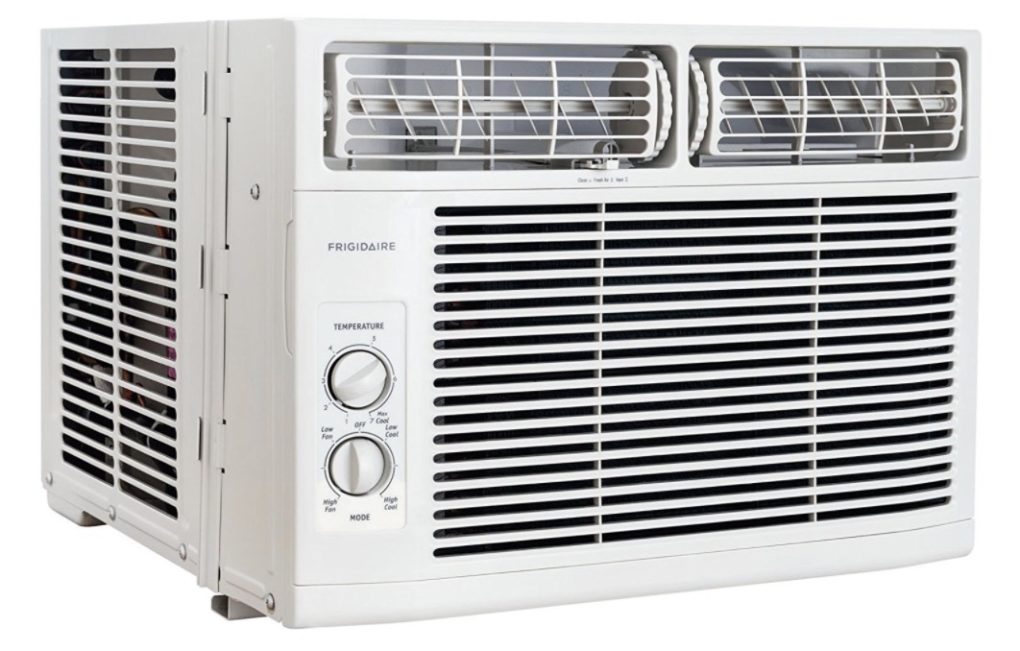 If you want to cool your home, but your windows are small, Frigidaire is a mini air conditioner suitable for any medium size space.
3 fan speeds and multi air directions will give you a greater control of the air flow, which helps you reduce the electricity spent, and with it, save money.
With the LG you're able to easily cool room sizes measure 450 sq. ft. 
⭐⭐ Best Medium-Size Room, Window Air Conditioner ⭐⭐
An easily-accessible and washable filter at the front reduces the bacteria being emitted into the air for a cleaner and healthier living environment for yourself and your family.
Highlights
Power:10,000 BTU cooling capacity
Size: 450 sq. ft.
AC Fan: 3 fan speeds

8-way air direction control

Reusable filter

Auto-restart
Potential Flaws
Not best option for exact temperatures

Sleeping in the heat has been proven to reduce the quality of the rest. But, having a loud air conditioner can interrupt your normal sleep pattern and make you feel tired and agitated through the day.
That's why one of the biggest assets of the Emerson window air conditioner is the minimal sound it makes when it's turned on — This is what makes it the top choice for offices where a quiet atmosphere is required. (i.e. bedrooms and child/baby rooms) 
⭐⭐ Best Window Air Conditioner for Quiet Noise Level ⭐⭐
Auto restart mode is another useful feature that saves you the effort of having to set up the settings every time you turn the air conditioning on. It just resumes working with the previous settings when the window air conditioner power is restored.
** If you're a light sleeper, then this is probably one of the best window air conditioners for you!
Highlights
Power: 10,0000 BTU
Room Size: cools 450 sq. ft.

** Ideal window air conditioner for quiet areas

Home office

Master bedroom

Baby room

Includes 3 fan speeds

A cool, dry and Fan window air conditioner

Auto-restart AC function
Potential Flaws
More expensive than other window air conditioners

While window air conditioners are a more economical choice than central air conditioning, the energy these devices spend is still on the higher end of the scale.
This is why the 12.1 energy efficiency rate is an important feature of the LG window air conditioner. It gives you control over the energy you spend and help you convert the energy into cooling more efficiently, without spending extra money on more powerful air conditioners.
Also being 8,000 BTUs of capacity (opposed to it's larger 12,000 BTU AC here), it's a fantastic AC for smaller or mid-size bedrooms
Anti-corrosion coating provides a safety shield helping you preserve the air conditioner, so it stays in its top condition and lasts longer.
** Having a remote control also makes it one of the best window air conditioners for the bedroom
Highlights
Power: 8,000 BTU
Room size: up to 340 sq. ft.

Dehumidification of 2.2 pints per hour

3 fan speeds

12.1 energy efficient ratio

Reusable filter

Remote control

Anti-corrosion coating
Potential Flaws
Can be a little loud if you're a light sleeper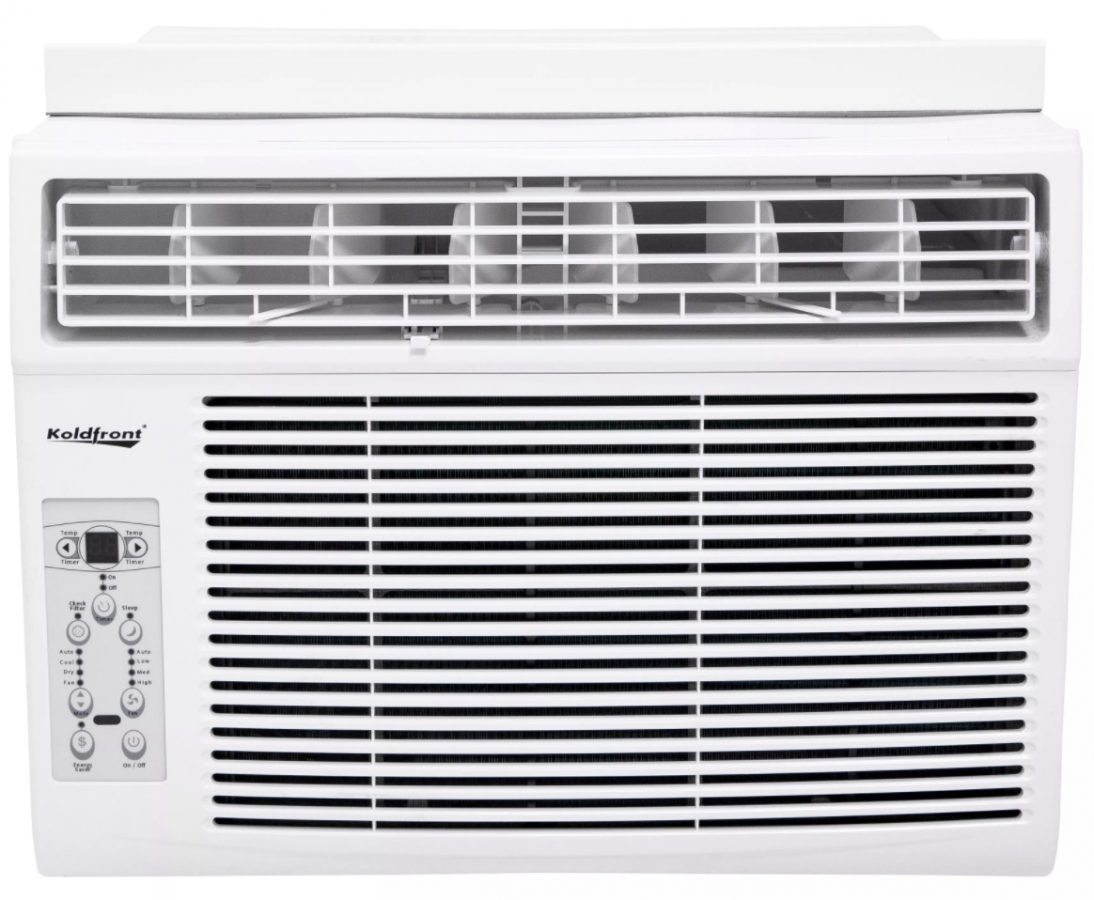 Spending thousands of dollars on electricity is something not everyone can afford, so you should look for the right window air conditioner that is of top quality, but also energy efficient to avoid unnecessary costs.
⭐⭐ Best Window Air Conditioner for Energy Efficient Cooling ⭐⭐
Koldfront has a few energy saving-options to reduce the unnecessary energy spending and a 24-hour timer to provide you with complete control over the time and power you use.
Comes with a remote control, so you can adjust the air cooling and adjust the temperature settings from a distance up to 16 feet.
Highlights
Power: 8,000 BTU

Can cool a 350 square room

3 fan speeds

Energy saving mode

24-hour timer

LED filter alert
Potential Flaws
Small control panel modes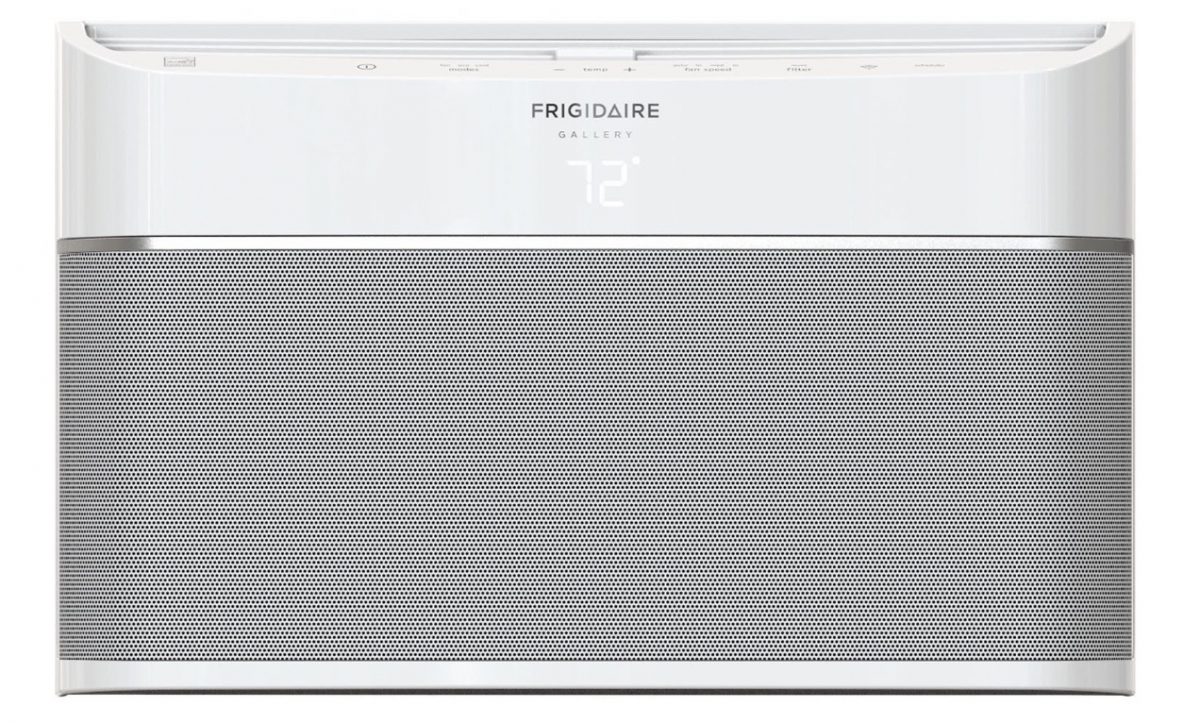 With a 12000 BTU power and a 12.0 EER, Frigidaire's Cool Connect is one of the most cost-efficient units you can buy today.
It can cool medium and large sized rooms as well as remove harmful humidity with ease.  (up to 550 square feet)
⭐⭐ Best Window AC with Mobile App Control ⭐⭐
But what makes Frigidaire different from any other air conditioner is the Frigidaire mobile app. With it, you can turn the unit on and off wherever you are or set up the settings according to your preferences — plus, you'll get tips on how to properly clean your filters: when to change parts, when to wash filter, and other useful info
You can even schedule the start time, so you can arrive at a perfectly cooled room every time you enter your home.
Highlights
Power: 12,0000 BTU
Room Size: up to 550 sq. ft.

12.0 EER

Removes humidity of 3.8 pints per hour

Mobile phone application

Clean Air Ionizer
Potential Flaws
More expensive than other similar units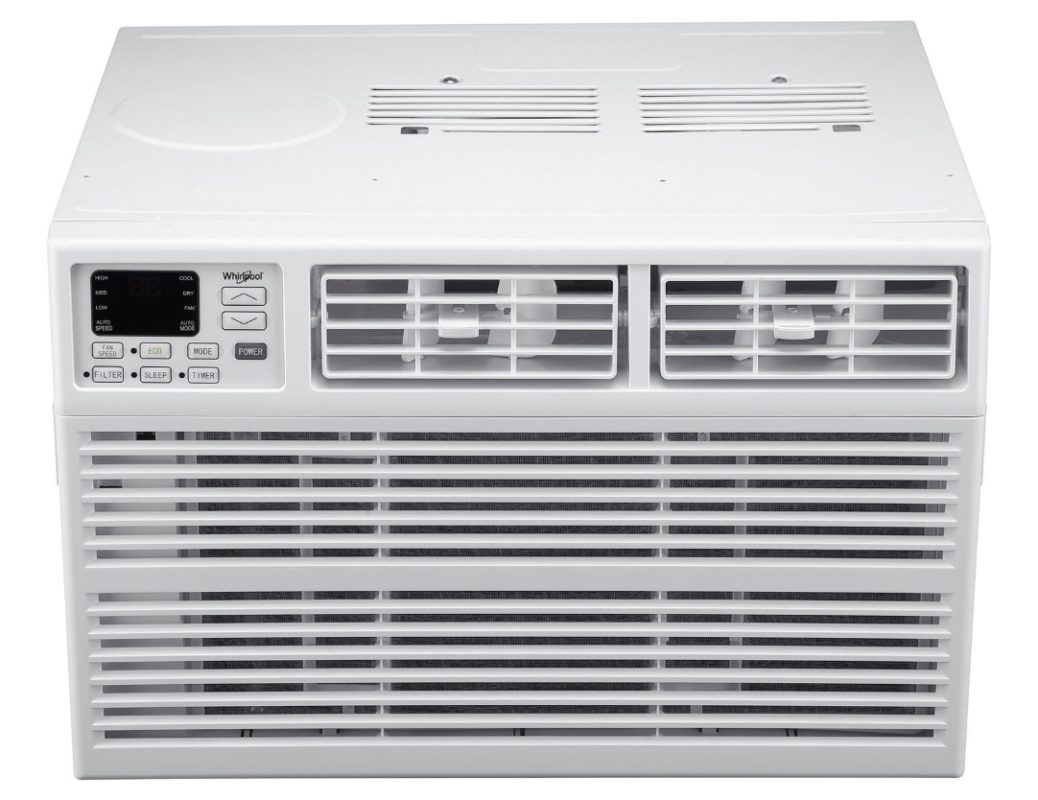 Air conditioners tend to increase the electricity bills — that's why it's important to get a unit that's powerful enough to efficiently cool large rooms while keeping it low on the budget. The Whirlpool Energy Star Window AC does exactly that!
15000 BTU powered engine can cool rooms up to 700 square feet without struggles, but it won't spend as much as other high-powered units.
⭐⭐ Best Window Air Conditioner for Large Master Bedrooms ⭐⭐
Includes 3 cooling fans speed up the cooling process, while the eco mode additionally saves the energy. It also has a sleep mode, which will bring the noise level down to provide you with a calm, quiet night rest.
Highlights
Power: 15,0000 BTU
Room Size: up to 700 sq. ft.

11.9 EER

3-cooling speeds

Includes: eco mode + sleep mode

8-way directional air louvers

Washable filters

24-hour

ON

/

OFF

timer

Remote control with LCD display
Potential Flaws
Lower humidity removing capacity

Also very expensive!

By purchasing this window air conditioner, you get the full set of accessories that will help you set up and use it daily with ease.
The accompanied instructional manual provides a detailed walkthrough of the installation, so you won't have any difficulties with setting it up.
While is perfect to use in smaller rooms, the Home window air conditioner has 7 different fan speeds, making it powerful enough to cool larger rooms too. Also having a reusable filter, it increases the life of the window air conditioner and reduces the time you spend on regular maintenance.
** In terms of energy efficient, this is probably the best window air conditioner available
Highlights
5000 BTU cooling capacity

Can cool a 150 sq. ft. room

10-minute cool time

7 fan speeds

11.1 energy efficiency ratio

2-way air flow

Adjustable fan settings

Reusable filter

Full set of accessories included
Potential Flaws
The vent is not multi-directional

Heavier than other air conditioners
** I'll be adding #10 best Window Air Conditioners this summer. Stay tuned!
Conclusion
Buying the right unit is not just picking the right size and the right power. Keeping an eye out for the additional features is also important and can reduce the cooling time and costs.
Having a remote control or a LED display indicating the cooling mode are just some of the features that can make your life easier. So, before getting yourself a window air conditioner, do a good research and find out what your needs are.
End of the year is approaching and temperatures are dropping, but depending where you live – some areas can still be wicked hot!
Window ACs are becoming a popular item this year w/ many new features rolled out – auto cooling, 5+ fan speeds, remote controls, temperature setting, etc.
If you're still looking to buy one this year you're going to buy one that's durable and can last this summer and beyond. Window ACs are known to be durable lasting 3+ years.
I have owned my Frigidaire AC for 5-years and even though I need to clean the filter each summer it ran like a champ this entire summer (and it gets extremely hot in Brooklyn, New York)
Window AC units are also much cheaper than investing in a full HVAC system or spending hundreds on ductless AC (like the ones you see in bars and restaurants).
** Looking for portable air conditioners? Check out Lily's list of Top 10 Portable Air Conditioners
Best Window Air Conditioners, Relevant Posts:
10 Best Portable Air Conditioners
Honeywell Compact Air Conditioner
Black and Decker Portable AC Review
Top Hunter Ceiling Fans
Favorite Home Tower Fans
Top Home Air Purifiers