Whynter Portable AC Review.
There's many reasons to like portable air conditioners.
1.) They're very powerful – some have similar cooling power as a mini split ac system
2.) Less noise than most window air conditioners
3.) Easy to set up – being on wheels, they're quite portable
Introducing the Whynter Portable AC unit which is offered in 2 versions.
Whynter ARC-14S (heat not included)

Whynter ARC-14SH (heater included)
For this review I'll focus on the ARC-14S — it includes 5 modes of operation.
air conditioner, fan, dehumidifier, and heater
Some mixed reviews online, but overall it's a top seller with high-power capability.
Buyers say it's fast to set up and very effective in medium and large rooms — excellent for bedrooms because of its low noise.
Whynter ARC-14S Review:
In terms of power, it's one of the best portable air conditioners for large rooms.
Room Size: 450 ~ 500 sq. ft.
Temp Range: 61°F ~ 89°F
Buyers say that it's very good at cooling rooms with high ceiling very quickly and efficiently — many use it as their bedroom ac unit or in the main room of their house.
The Whynter portable ac is also great for homes with open layouts.
Ex: homes where the living room and kitchen are one large room
With 14,000 BTU cooling power, it can cools areas by quickly circulating air evenly throughout the room.
Another benefit of the Whynter ARC-14S is the dehumidifier — it can remove 100 pints of air moisture each day. (much more than similar ac units).
Buyers say it's very efficient and using the remote control, can easily select the operation mode.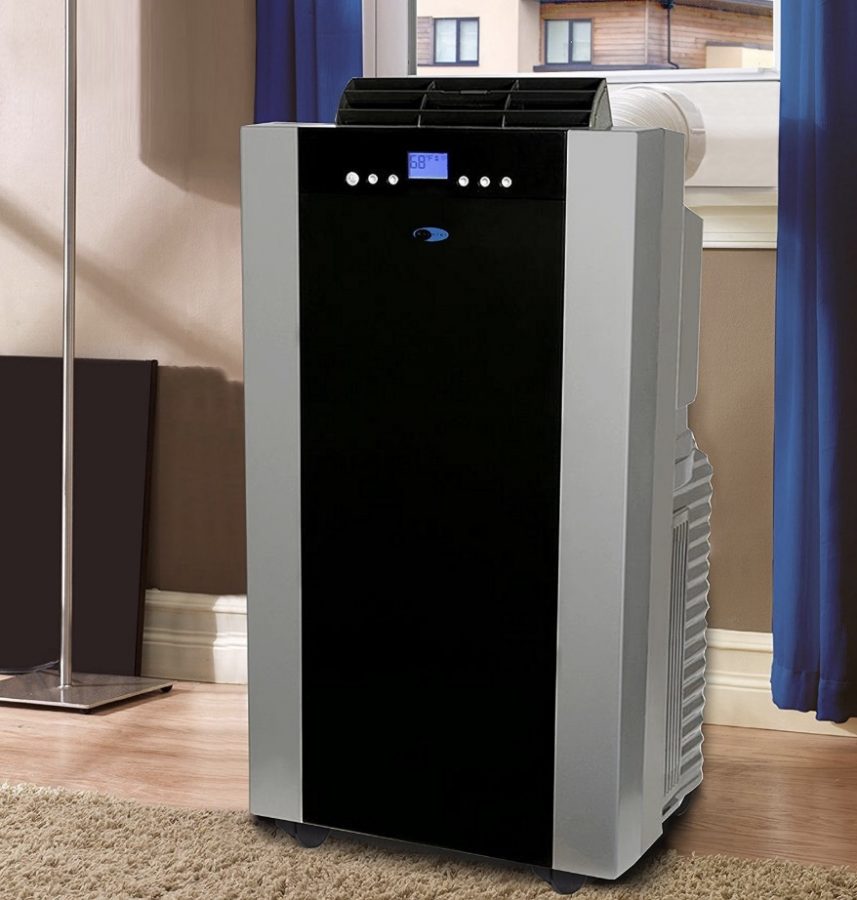 Whynter Portable Air Conditioner Review:
The Whynter portable air conditioner comes with 2 types of air filters:
1.) Carbon air filter – when circulating air, this ac filter removes air contaminants, pollutants and dust.
2.) Reusable pre-filter – helps provide a secondary level of protection. It traps smaller airborne particles such as allergens (pollen, ragweed, and pet dander)
The Whynter portable air conditioner even includes a thermostat controller which lets your desired temperature.
On the LED screen you'll see the current temp — you can set the new temp on the machine or using the remote control.
Also comes with 3 fan speeds.
Whynter AC – Noise Level:
Buyers love that it's a fairly quiet portable air conditioner.
On max power, the sound level will never go above 56 decibels — comparable ac units are well above 60 (even on low settings).
Because of its low noise, many buyers use it as their bedroom ac unit. Some even use it as a secondary ac unit.
Whynter Portable AC – Features:
Power: 14,000 BTU
Modes: air conditioner, fan or dehumidifier. 
Cooling: 61°F ~ 89°F
Heating: 61°F ~  77°F  (Whynter ARC-14SH) 

Thermostatic controller with digital readout

Energy-efficiency rate of 8.9 BTU/Wh

Built-in dehumidifier removes 100 pints per day

Low noise air conditioner

Carbon + washable pre-filters

3-fan speeds

24-hr timer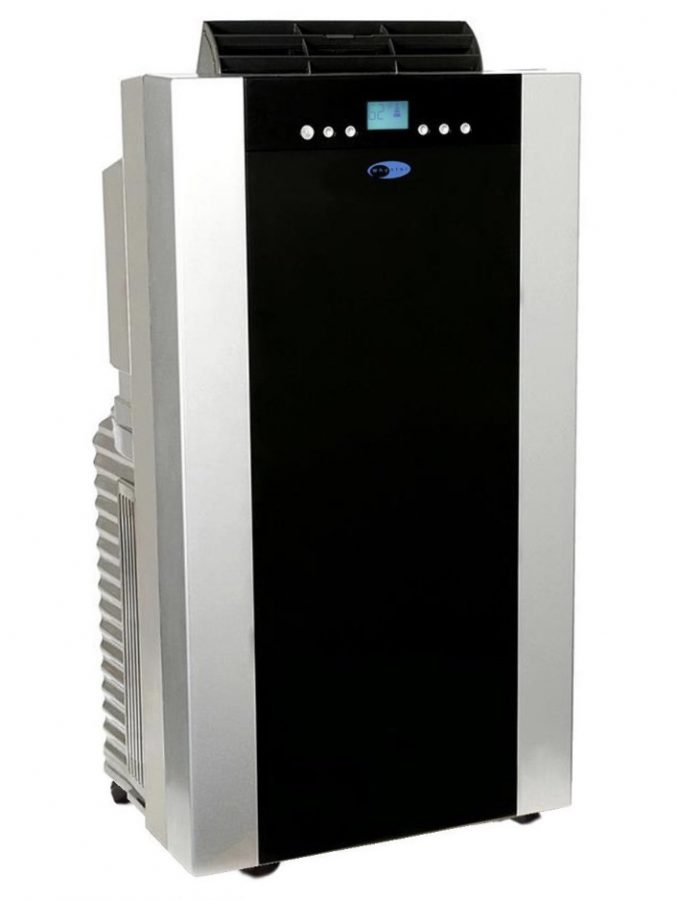 What's Included:
Whynter portable air conditioner

Installation parts

Extendable exhaust hose

Window kit and insulation parts

Remote control with batteries

Smooth glide wheels = portable ac
Conclusion:
Overall the Whynter portable ac is looking to be one of the best sellers this year.
The powerful cooling system makes it a high end ac  unit — even at 14,000 BTU, many air conditioners have difficulty cooling areas larger than 400 sq. ft. (and very few do it quietly).
Having a built-in dehumidifier is nice added value too.
If you're looking for a powerful air conditioner to cool a large area, I think the Whynter ARC-14SH is worth taking a look at.
It was sold out for a couple weeks last year which is usually a good sign.
Whynter Portable AC Review
 – Related:
Top 10 Portable Air Conditioning list
Danby Portable AC Unit Review
Honeywell Contempo Portable AC Review
Shinco Portable AC Review
Quilo Portable Air Conditioner
Honeywell Compact Portable AC Review
Costway Portable Air Conditioner Unit
Koldfront Portable ACs