Best Serger Machine.    
For finishing edges and decorative hems, nothing can beat a good serger sewing machine.
Often called an overlocker machine, sergers offer more than a regular sewing machine – loopers for colorized threads, faster speeds, and differential feeds for stretch or thin fabrics.
With so many serger sewing machine options, here is my list of best serger machine models.
Prices range, $179 – $949.
Brother Coverstich Serger

Juki MO654DE Thread Serger

Singer Finishing Touch Review

Singer Professional 5 Serger

Brother Designio Serger Machine

Juki MO-1000 Serger Machine

Brother 1034D Serger Reviews

Juki Coverstitch Sewing Machine

Janome 8933 Serger Machine

Singer Serger Machine Review
---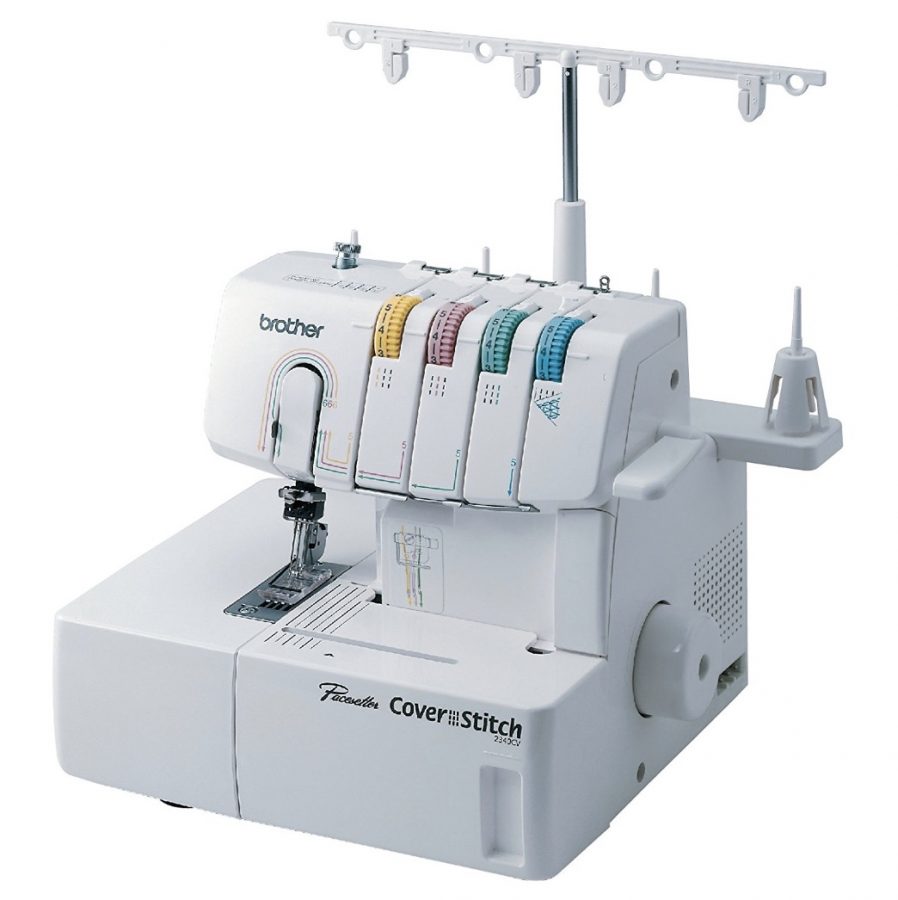 The Brother Coverstitch 2340V is the best serger with looper threading.
Excellent model for sewing professional hems, detailed decorative stitches (such as dress necklines), and chain stitching embroidery projects.
Speed: 1100 SPM
Weight: 16.75 pounds
Pricing: Affordable
Color dials make it easy to adjust stitch length and speed.
Brother 2340CV includes a four looper thread system (for multiple colors) — If you are using multiple thread colors, this is the serger for you!
Integrated looper threading system: ensures you get the best-sown designs w/ minimal mistakes.
Buyers also confirm that the Brother 2340V serger is super quick for the most basic sewing projects – whether you're fixing a pants pocket, mending a pillowcase, or hemming a bag, this serger offers all the versatility you need.
Good price w/ lots of positive reviews.
---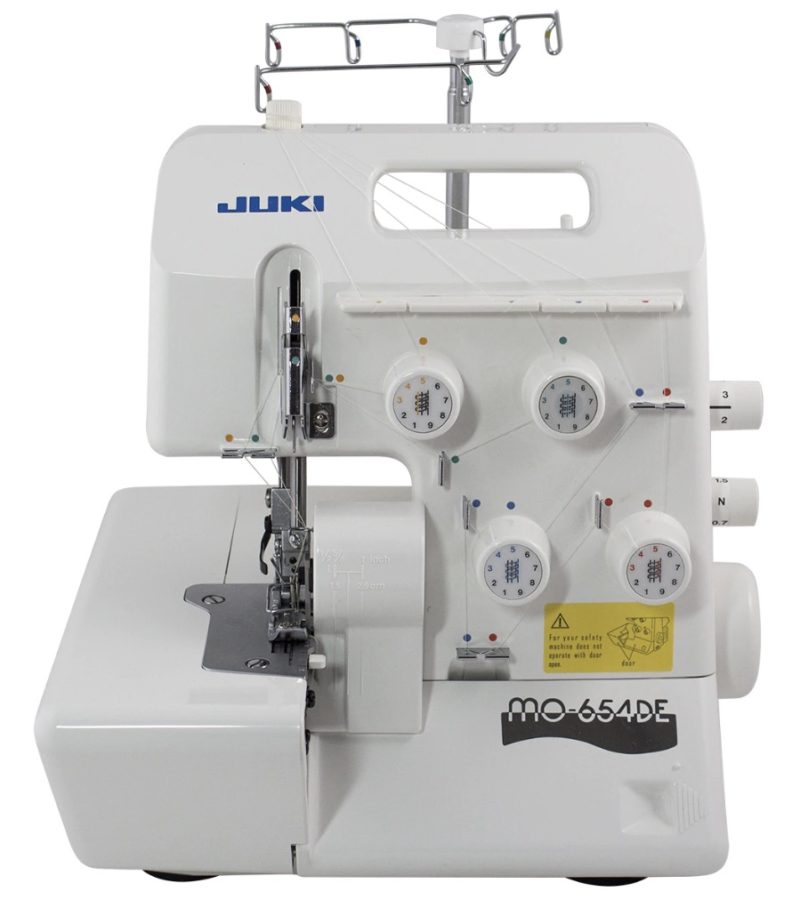 The Juki MO-654DE is the best serger machine for rolled hem projects.
Buyers say it's super versatile and can handle any type of fabric – good option for detailed work, or if you have to sew through multiple layers at once!
Perfect for fashion or decorative projects.
Speed: 1500 SPM
Weight: 20.1 pounds
Pricing: Medium
It comes with a built-in rolled hem presser foot that's easy to customize and can be applied to mostly any fabric..
User-friendly design makes it a versatile serger for beginners or experts.
As you can see, the breakaway looper (at the top) helps coordinate you coordinate colors – choose up to four colors.
Maybe the best serger for beginners?
---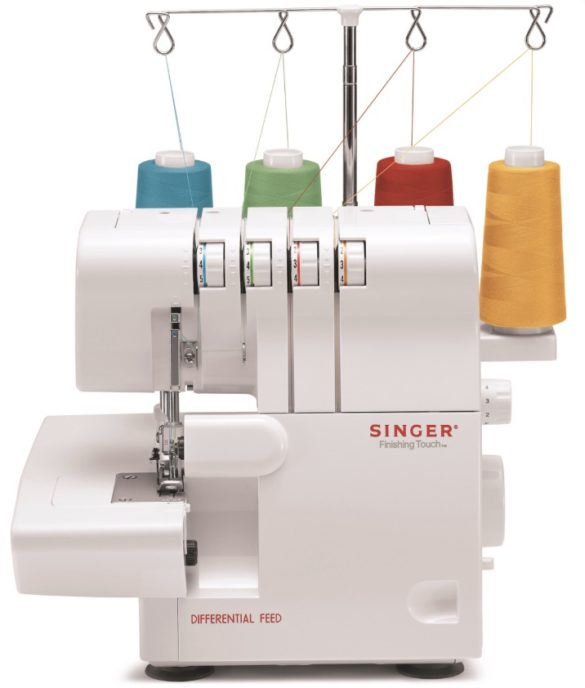 Singer Finishing Touch serger is great for beginners.
It is a differential-feed serger sewing machine and includes a color-coded lay-in threading system — great for multi color projects!
Speed (SPM): 1300
Built-in Stitches: 5
Pricing: Medium
Singer Finishing Touch comes w/ 2-3-4 thread capability which makes it a good machine for basic or decorative sewing:
seam finishes, hem finishes, decorative edges
Heavy-duty metal frame provides a lot of stability.
Medium price serger sewing machine w/ lots of happy buyer reviews.
---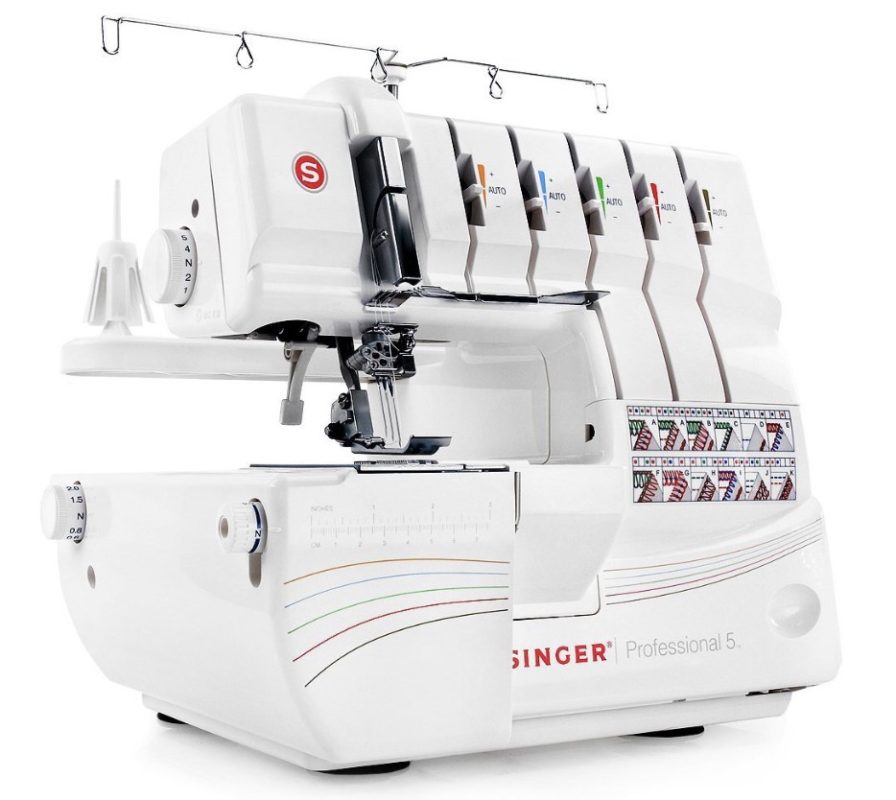 The Singer 14T968DC is a professional coverstitch serger sewing machine.
It comes with 2-3-4-5 thread capability and offers a wide selection of stitch functions — sewing seams, rolled hems, seam finishes, or decorative edges.
Stitching Speed: 1300 SPM
Built-in Hems: 4
Pricing: Expensive
Singer Professional 5 includes easy adjustable stitching for length and width.
The turn dial on the front lets you adjust the tension and side levers help with speed.
You will also love the removable trimmings tray ~ makes clean up much easier after large projects (especially decorative sewing).
Singer 14T968DC is the best professional serger w/ a medium price.
---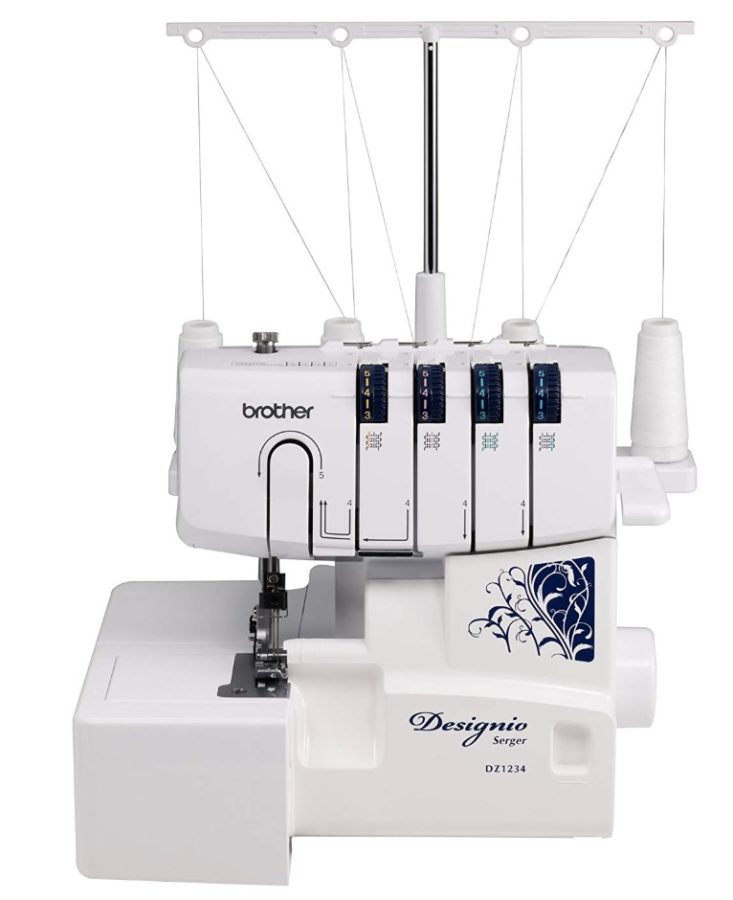 The Brother Designio is a top rated serger online.
Max speed of 1,300 stitches per min + ability to create high-end designs (hence the "Designio" name).
Speed: 1300 SPM
Weight: 18.15 pounds
Pricing: Affordable
A unique feature is its differential fabric feed — you are able to sew mostly any type of fabric:
denim, lightweight knits or color-coded threading
It is also great for a professional finish (precision sewing) — this includes hemming jeans, neckline on a dress, or stretchy fabrics. (lots of versatility!)
Brother Designio has excellent buyer reviews and affordable price.
---

This Juki Serger machine is designed for advanced sewers.
It comes with a push-button jet air looper thread — one of the best Juki Air Thread Serger machines with lots of positive reviews.
Speed (SPM): 1500
Weight: 20 pounds
Pricing: Very expensive
The jet-air controlled threading system eliminates threading mistakes + faster operation for big projects.
Buyers love its lightweight design which makes it very portable (only 23.8 pounds).
Automated rolled hemming makes decorative stitching super easy!
Expensive, but for advanced sewers (or serious learners).
---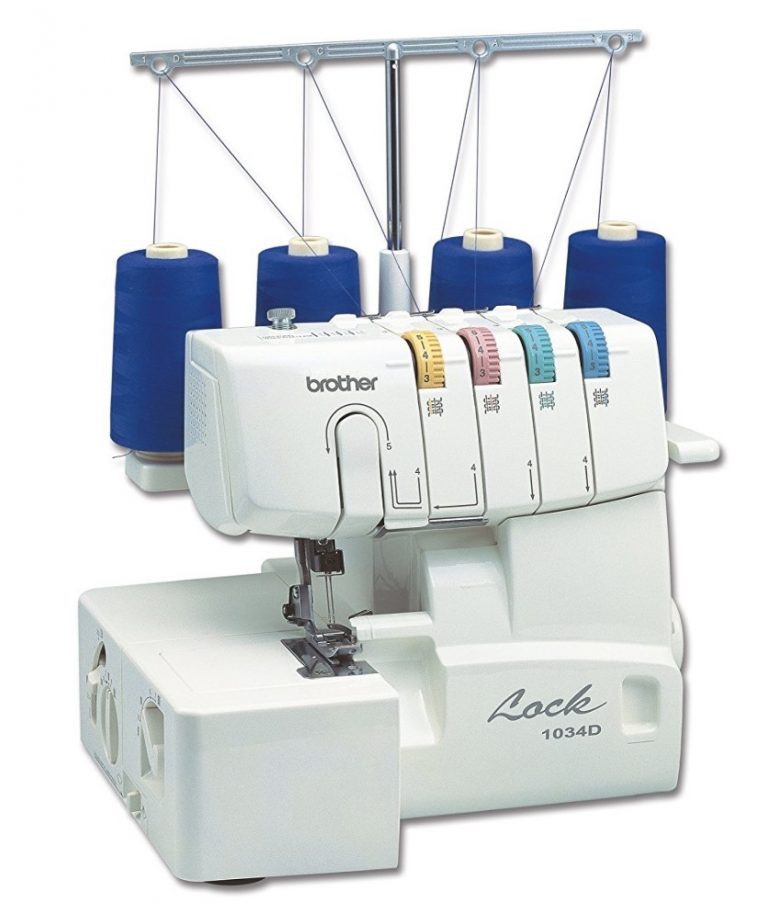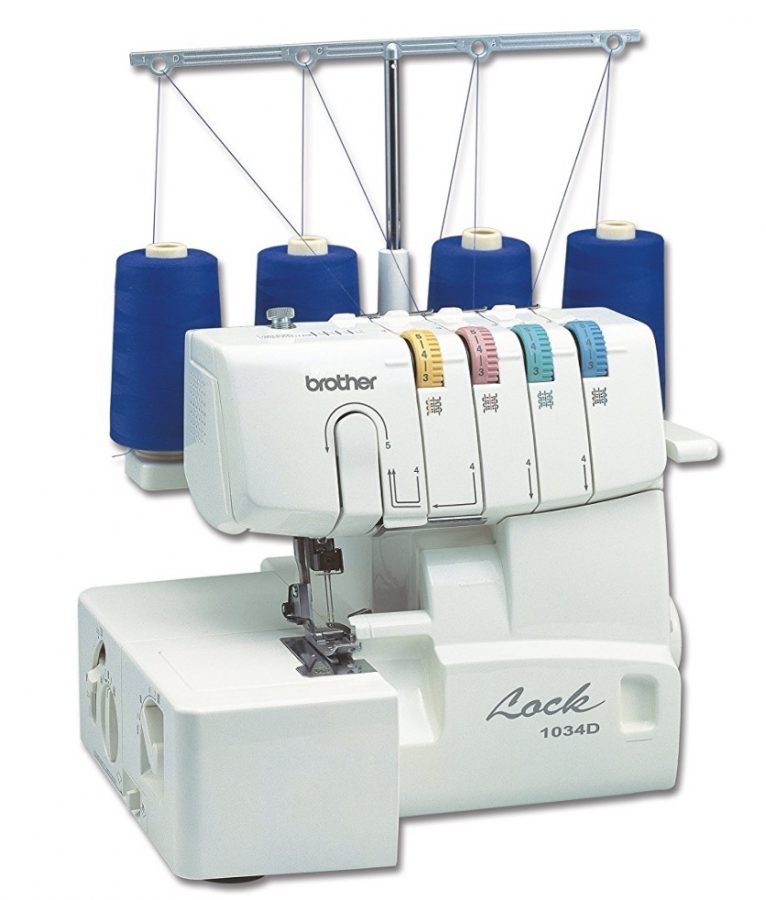 The Brother 1034d is an intermediate sewing machine and serger.
It can be used for a wide variety of things from finishing stitches on a dress to making a beaded curtain ~ also comes w/ instructional DVDs and online videos.
Buyers say it works on a variety of projects: 
linens, decorative knits, laces, formal wear, spaghettis straps, etc.
It comes w/ 22 built-in stitches and professional edge finish – great for fragile or design projects!
Users say the Brother Serger machine is super user-friendly ~ easily adjust the stitch type and width using the needle-dial on the side.
Brother 1034d serger has a color-coded lay-in that is easy to set up too!
Lastly, it doesn't cost half as others on my list.
Highlights
Built-in Stitches: 22
Speed: 1,300 SPM

Perfect for decorative projects

Removable free arm

Easy color-coded lay-in

Differential fabric feed = better stitch quality
Potential Flaws
Some issues oiling the machine
---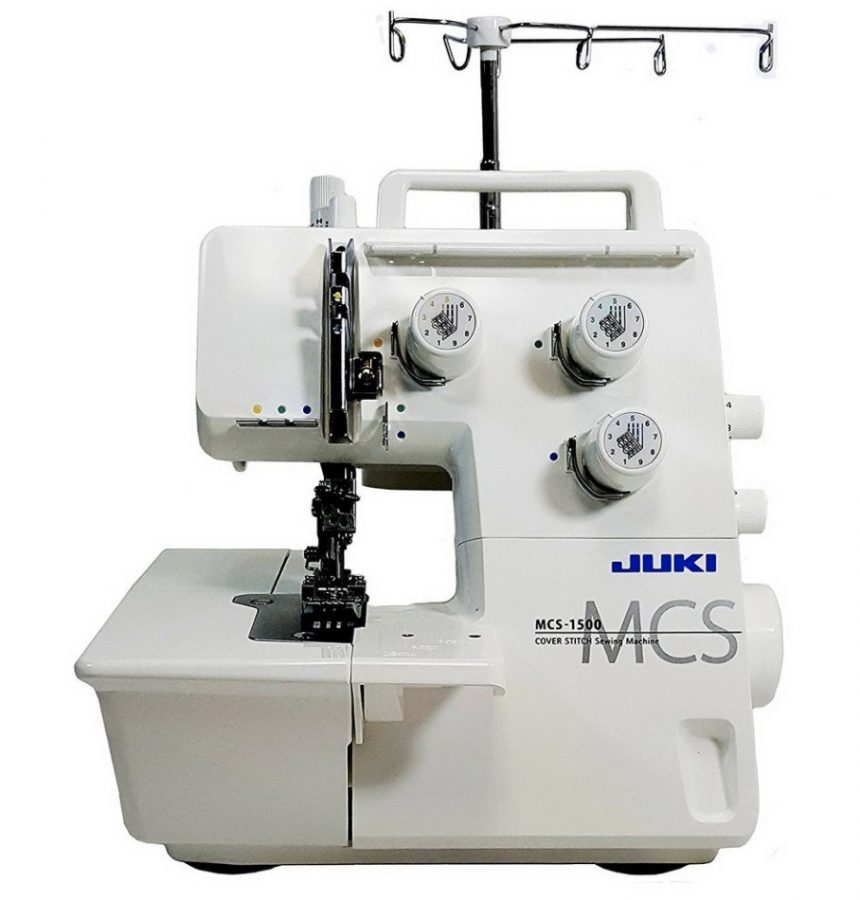 The Juki Coverstitch serger is ideal for anyone who needs a decorative stitch serger.
It includes two stitch types – cover stitch and chain stitch
The cover stitch can stretch and is perfect for sleeve cuffs or stitching necklines
Multiple built-in features help with basic tasks — presser foot lifter, looper threader, exterior thread cutter and an extension plate.
Like Juki sewing machines, buyers say the Juki Coverstitch serger is durable and can be used for every-day use.
Some reviews say it's the best serger with coverstitch.
Highlights
Speed: 1350 SPM 

2 stitch options: 

Cover + 

Chain stitch

Adjustable differential fabric feeder

Looper threading

Extension plate w/ seam guidelines

Adjustable presser foot pressure

Exterior thread cutter
Potential Flaws
Serger instruction manual not included
---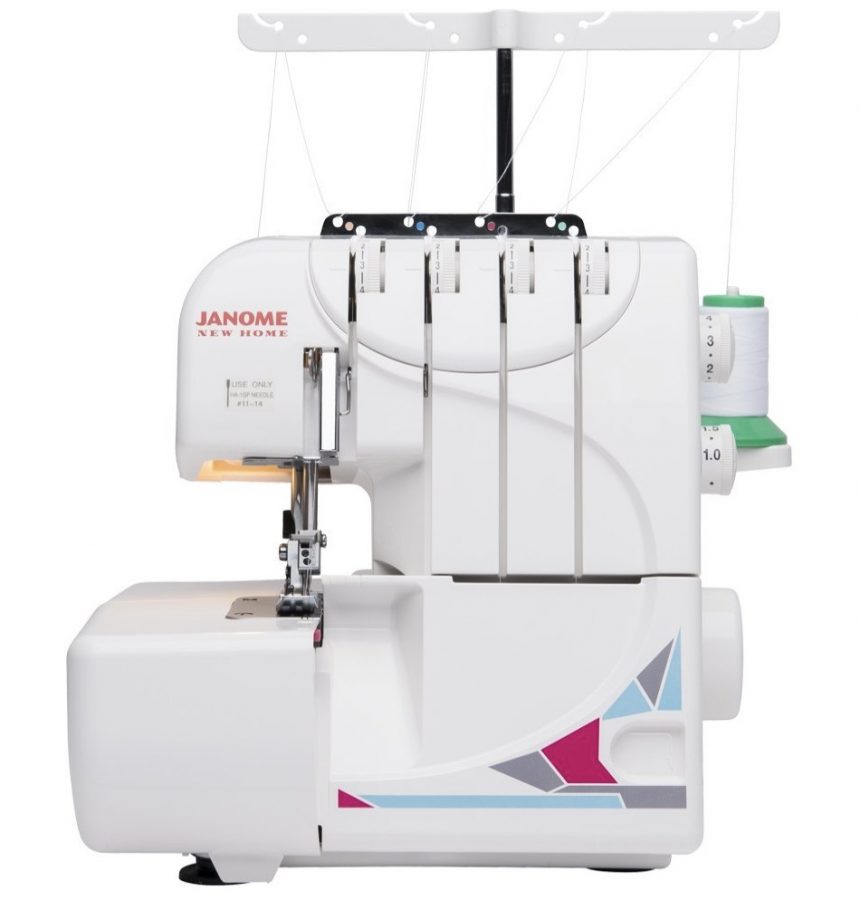 The Janome Serger machine is built for speed and ease.
It is one of the fastest sergers with a speed of 1,350 SPM which can take care of your projects in the blink of an eye.
Quick change rolled-hem feature, you can stitch both sides of the material with high precision and accuracy.
Good option for precise stitching jobs!
Highlights
Speed: 1,350 SPM

Color-Coded Thread Guide

Tension Release Lever

Adjustable stitch & length width

Quick Change Rolled Hem
Potential Flaws
---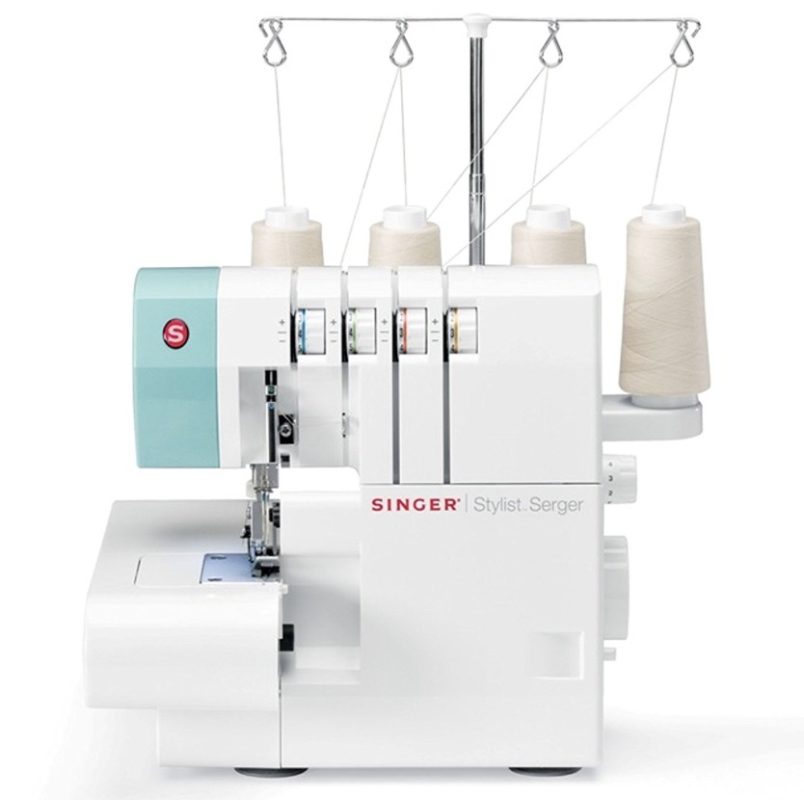 The Singer Stylist Serger is a versatile, easy-to-use serger.
It comes equipped w/ multiple functions for sewing and threading including a 2-3-4 stitch capacity.
Speed (SPM): 1300
Built-in Stitches: 17
Also includes an adjustable knife — prevents you from accidentally cutting fabrics while working.
The metal frame which makes it more sturdy and durable than other machines too.
Good reviews w/ fair price.
---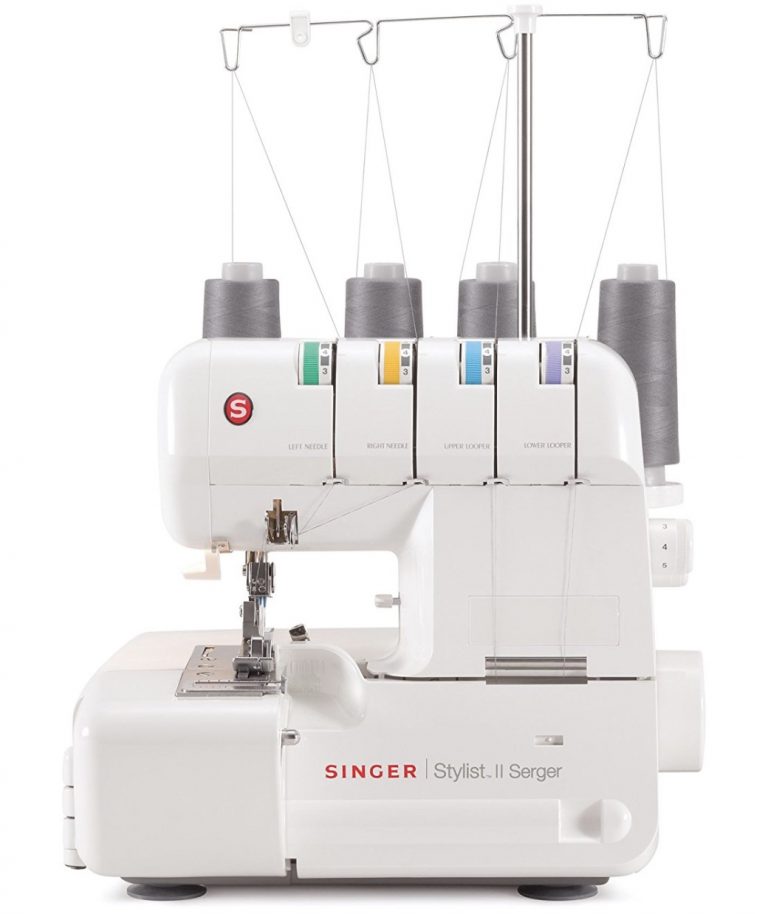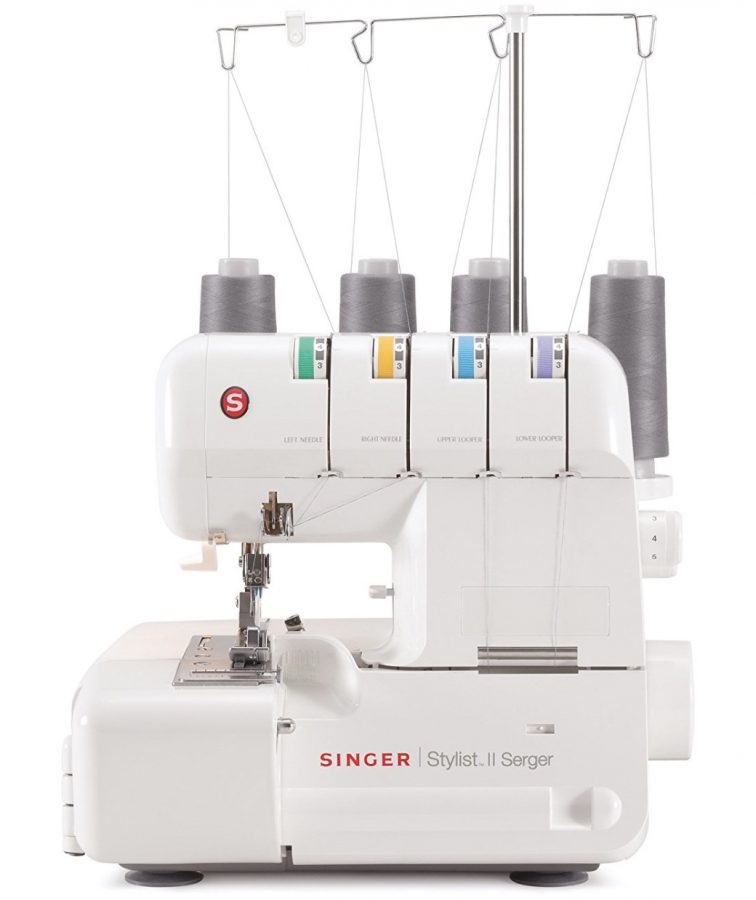 If you are looking for a high-powered serger with fast capability, the Singer Serger Overlock is an ideal model.
You can begin completing seam and hems very quickly using the needle threader, accessible and color-coded threading, 2-3-4 thread functions and changeable stitching length furnishes more stitch selection for customizing creations.
Speed: 1300 SPM
Pricing: Medium
The differential feed does away with stretching and puckering on virtually all material types. Sewing at thirteen hundred stitches a minute, this particular serger assures high quality results in no time.
It includes a speed controller (for consistent speeds) and top speed of 1,300 SPM.
Buyers love the simple 2-3-4 system which makes it easy to sew multiple color threads. Perfect for clothes!
What I really like is the differential fabric feeder which straights any rough or frayed edges of the materials, making it easier to work on.
Also very easy to operate and lightweight, so it is easy to carry around to class or your friends' house.