Brother Sewing Machines. 
Since 1954 Brother has been producing some of the most popular embroidery and sewing machines.
What attracts most people to Brother sewing machines is that they are high quality machines but they are also affordable.
Below are our picks for best Brother sewing machine in 2020.
Prices range $149 – $599.
---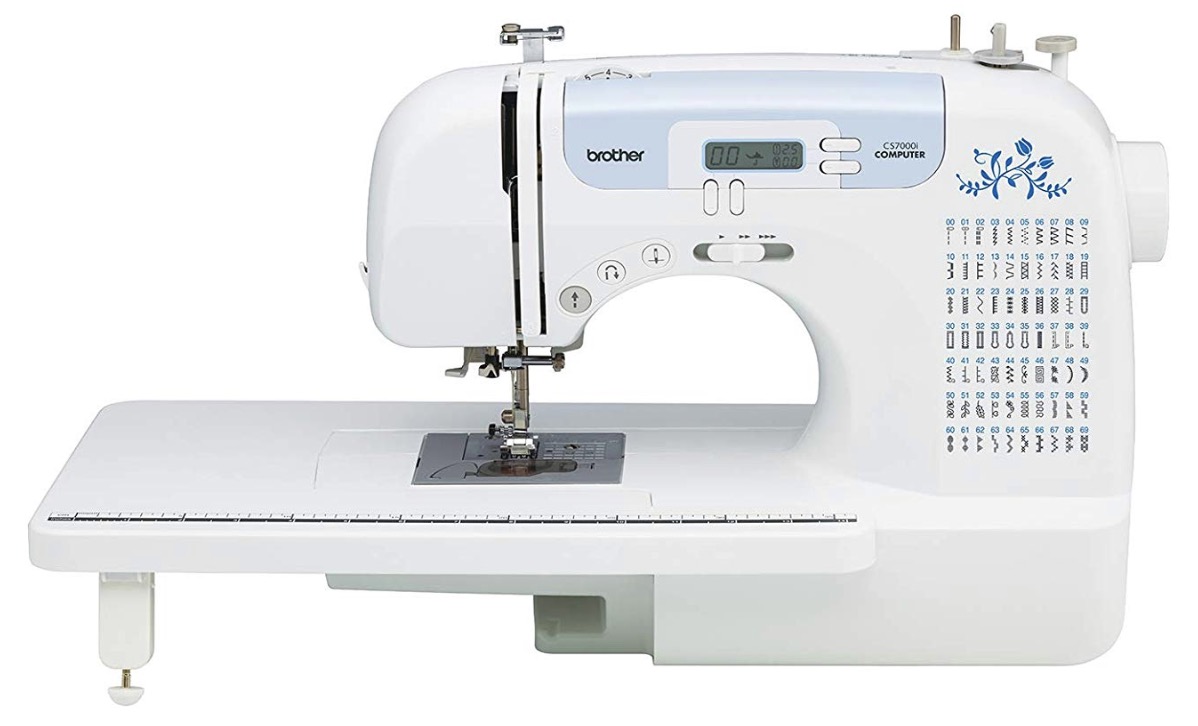 The Brother CS7000i is one of the newer models in 2020.
As one of the best computerized sewing machines it offers user-friendly controls, making it ideal for beginners or intermediate sewers.
Sewing Speed: 850 SPM
Built-In Stitches: 70
Pricing: Affordable
It includes 70 built-in stitches and plenty of stitch options w/ automatic needle threader.
Easily adjust your speed w/ the turn-dial on the side.
Buyers say the density of the stitches is nice and tight, which means no gaps in-between. Stitches are evenly spaced throughout.
Brother CS7000i sewing machine also has a USB port – super easy to upload new designs!
Affordable price w/ lots of positive buyer reviews.
---

The Brother ST150HDH is one of the most popular computerized sewing machines released in 2020.
Advanced needle threader and bright LCD screen make this Brother sewing machine user-friendly. On the screen you can select your stitches or view your settings at all times.
Automatic bobbin winding system gives you an evenly wound bobbin ~ you can also see when the bobbin is running low on thread.
For ease you can sew with or without a foot pedal.
Includes #14 heavy duty needles for thicker fabrics:
denim jeans, leather, canvas work, etc.
Rare to see a heavy-duty computerized sewing machine that's portable, but the Brother ST150HDH hits the mark.
Good price w/ good buyer rating online!
---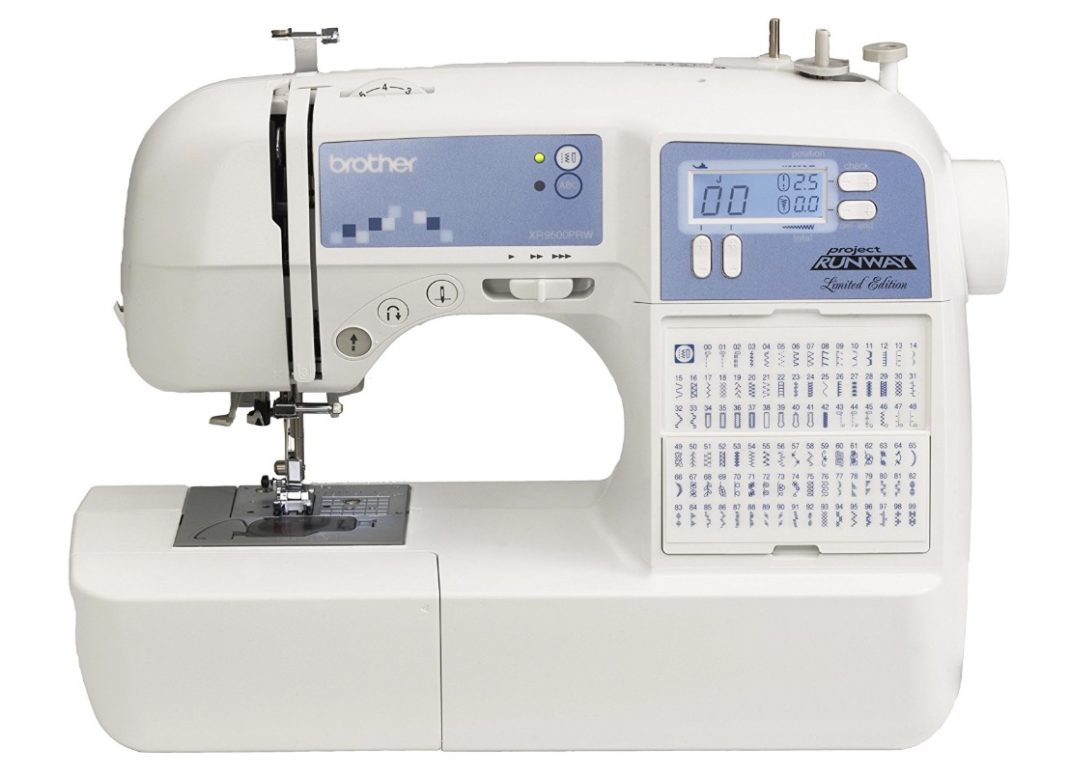 The Brother Project Runway is one of the most affordable computerized sewing machines for beginners and intermediate sewers.
Even with its lower price, it can do a variety of sewing or quilting projects.
Sewing Speed: 850 SPM
Built-In Stitches: 100
Pricing: Medium
Buyers love the extra-wide table which adds more stability for heavier fabrics or bigger projects.
For beginners, the drop-in bobbin and adjustable stitching speed makes it easier to learn new techniques. It is a much easier machine to use than earlier models.
Monogramming feature is a nice feature as well – great for clothes!
Even beginners say they are able complete advanced techniques within a few weeks.
Brother Project Runway is a budget-friendly sewing machine with lots of positive reviews!
---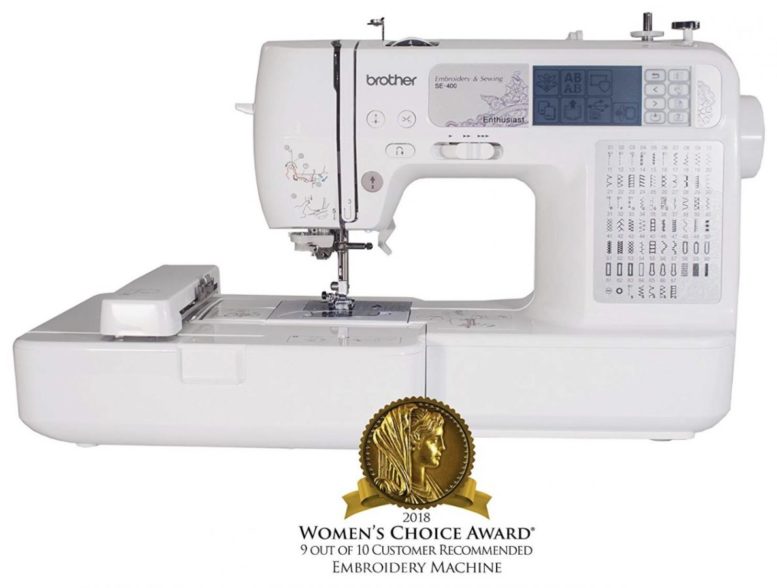 The Brother SE600 computerized sewing machine is combination, embroidery machine + sewing machine.
What makes it different is the high precision for detailed projects – it's a favorite among aspiring fashion designers.
Sewing Speed: 710 SPM
Built-In Stitches: 67
Pricing: Medium
Brother SE400 sewing machine features a large LED touchscreen – super easy to access designs, monograms, and advanced features.
Users also love the auto threader and fabric selector.
Buyers say the Brother SE600 is great for high precision projects. The wider base provides more stability for any type of sewing.
Also makes it easy to import thousands of designs online!
Good price and lots of positive reviews!
---

The Brother PQ1500SL Sewing Machine is one of the fastest on the market.
Buyers love its versatility – you're to do sew everything from large bedroom curtains to quilted bedding.
Sewing Speed: 1500 SPM
Built-In Stitches: 67
Pricing: Expensive
Brother PQ1500SL  is not just fast, but it has a bunch of super cool features too!
Extra long sewing table adds to it's stability and precision — do everything from small tasks to big items:
quilts, bags/totes, dresses, drapes, etc
Overall, it's the best Brother sewing machine for larger projects.
---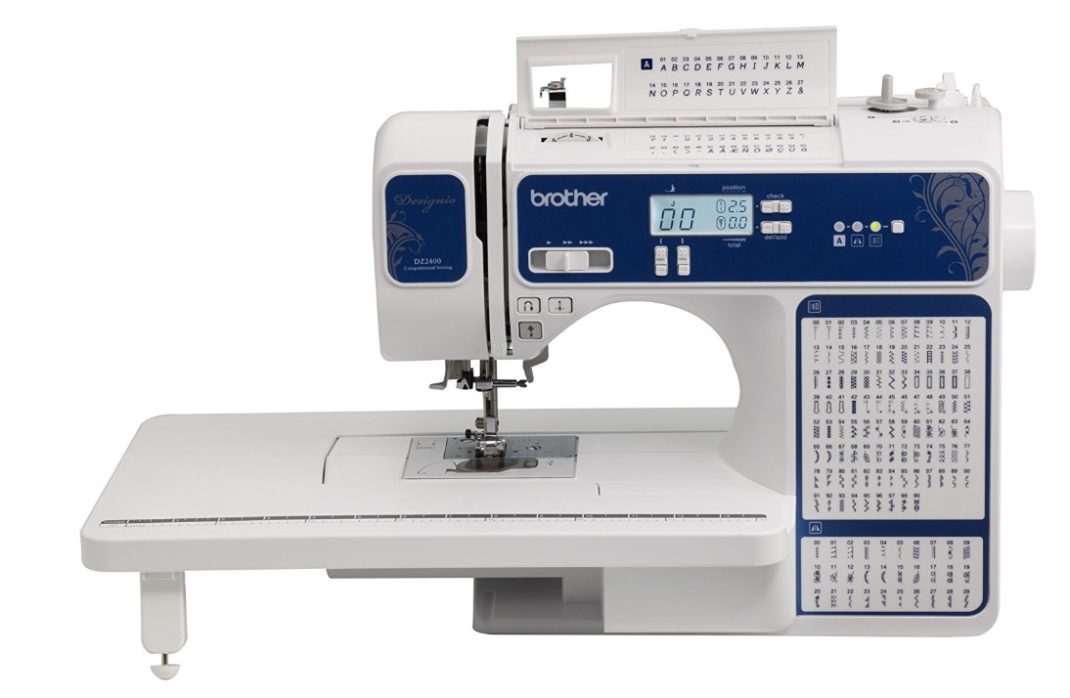 The Brother Designio is one of the most popular sewing and quilting machines.
As a computerized sewing machine it comes w/ 185 built-in stitches and 8 built-in one step buttonholes.
Sewing Speed: 850 SPM
Built-In Stitches: 185
Some of the key features include variable speed controls and LED workspace.
For those who want to take their designs to the next level, check out the Brother Designio (model # DZ2400) – personally I think it's the best value sewing machine on my list.
Only downside is the sewing table size. It's a little smaller than some buyers prefer.
I think it's the best Brother sewing machine for quilting and sewing.
---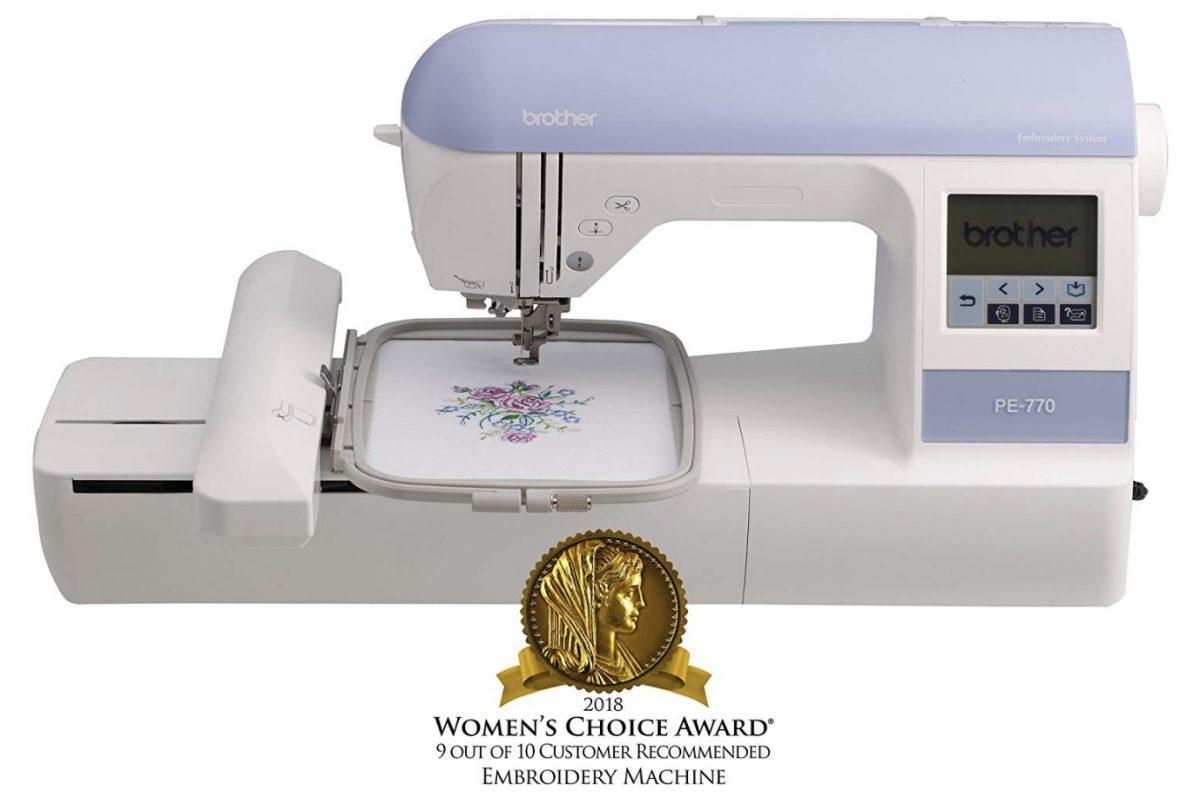 This Brother PE770 embroidery machine is a super popular computerized model.
It comes with 136 built-in decorative patterns, 6 lettering fonts, 10 frame shapes and 12 border styles. The best feature about this machine is that it compatible with a USB so that you can actually upload new software and designs to your machine very easily. Use the USB port to upload patterns or designs from the Brother website.
You can truly use this embroidery machine to decorate just about anything you can think of from clothes to pillows for your home.
Even though it does so much, it is very user-friendly and easy to learn. Another nice feature is that it has a memory function that can easily save you tons of time on your projects.
The Brother PE770 is an affordable embroidery machine that can be used by professionals or simply by someone who likes to make crafts, clothes, and other projects.
Includes a design editing feature – customize your designs by resizing or rotating your image using the LCD screen.
Good sewing machine for larger, decorative projects!
---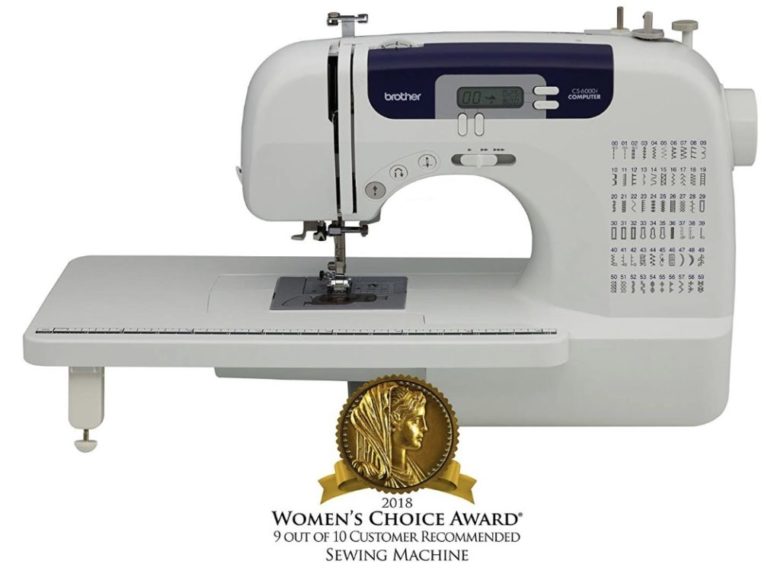 The Brother CS6000i sewing machine has user-friendly controls for beginner or intermediate sewers!
It includes 60 built-in stitches with plenty of stitch options and automatic needle threader.
Sewing Speed: 850 SPM
Built-In Stitches: 60
Pricing: Affordable
Easily change settings on the fly using the turn dial — choose stitch type or speed (up to 850 stitches per min)
Buyers say it's a top machine for basic alterations.
Brother CS6000i includes general sewing lessons for new fabrics, styles, stitch lengths and adjusting speeds!
Affordable price and lots of positive buyer reviews.
---

The Brother limited edition CX155LA was produced through a partnership w/ Laura Ashley.
With more focus on home interior + home improvement redecorating: tapestry, rugs, blankets and quilts
Sewing Speed: 850 SPM
Built-In Stitches: 155
Variable speed controls for any type of project you have – especially handy if you're working on clothes or need something exact.
Comes w/ affordable price which makes it great for beginners or mid-skill sewers.
The large sewing area adds a little more structure for heavier fabrics.
Good for beginners or intermediate sewers — perfect machine for learning and medium size projects:
tote bags, monogramming, clothing repair
Lots of great features at a reasonable price!
---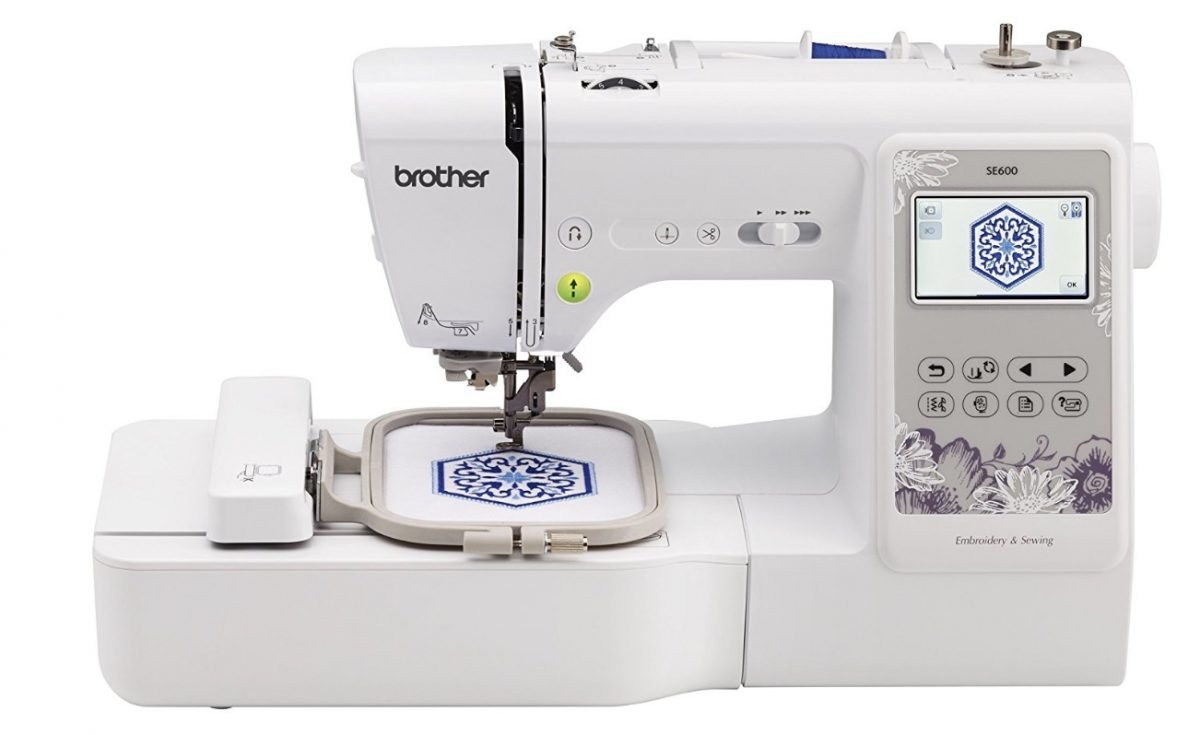 The Brother SE600 Sewing Machine is an upgrade from the Brother SE400. 
It features a large 4"x 4" embroidery machine — now you can use to import embroidery designs from your PC.
You can even import directly using a USB drive.
Sewing Speed: 710 SPM
Built-In Stitches: 103
Computerized sewing machines can be intimidating, but no need to worry with this one.
The LCD screen is a huge benefit – it helps you perfectly align the fabric so your design will be sewn exactly how like the one you imported.
And if you want to get more advanced, you can add lettering to your design using 1 of 6 built-in letter fonts.
Brother SE600 is the best embroidery sewing machine on my list.
Also read our review on Janome Sewing Machines.
---

The Brother HC1850 is a user-friendly, lightweight sewing machine (only 10 pounds) and comes w/ plenty of the features for quilting.
Includes a large sewing table which is great for monogramming!
Brother HC1850 comes w/ a large LCD screen, auto threader, drop-in bobbin, and easy feed-system simplify sewing for novices and experts alike.
Sewing Speed: 850 SPM
Built-In Stitches: 130
Depending on your experience, you can easily adjust sewing speeds using the speed slide control on the machine.
Quilters will enjoy the detachable wide table, the spring-action quilting foot, built-in quilting stitches, and the option for free-motion quilting.
I like that this model has 55 letter/number stitches to allow for basic monogramming (a feature not often found on standard machines.)
Buyers like how lightweight (very portable!) this machine is — great for carrying to classes or workshops!
---
Brother Sewing Machine Reviews
It's no longer a case of grabbing an old fashioned pattern to make budget clothes. Fashionistas can get creative and design your own clothes with the help of the latest machines.
An economic crisis and some technology later – sewing machines are back and they are back with a bang! Tech has revolutionized many things and wow the sewing machines has certainly benefited and changed a lot.
Read our review on Juki Sewing Machines.
Sewing machines just did full-turn — they're what cool kids (and smart moms) use and they're much easier to configure today. Computerized sewing machines have revolutionized the industry.
Pro Tip – if you're new to sewing watching video tutorials will help you make the most of your sewing machine. You can check out some guides about sewing as a hobby, making clothes for your family, and online and local sewing classes.
---
Brother Sewing Machine Bobbins
Like any model it is a smart idea to have extra sewing machine bobbins on hand so you don't constantly have to unwind them when you change the color of the thread on your sewing machine. A lot of people tend to have specific bobbins for their main colors, such as white, black, tan, and navy. Then they will have a few extra bobbins for other colors that they can use as well.
When you buy Brother sewing machine bobbins you definitely want to make sure you are buying the correct ones for the model of the machine you have. There are a few different Brother bobbins and if you buy the wrong ones they won't fit correctly in your machine and you could potentially ruin your sewing machine if you use them.
The most popular model of Brother sewing machine bobbins is SA156. These bobbins fit the models Brother CS6000i, Brother SE600, Brother SE350, Brother XL2600i, and the PE 700. These are just some of the models that are compatible with the Brother SA156 bobbins as there are plenty more.
If you are unsure what type of bobbin your Brother sewing machine takes you can always look in your manual or even ask the customer service line and they should be able to help you as well.
You should not buy the generic sewing machine bobbins. They likely will not fit exactly right. Even if the diameter is off slightly it can affect your stitches and may even hurt your machine. It is not worth it as the Brother bobbins can be bought for a few dollars for a pack of 10.
If you plan on buying a Brother sewing machine or you already have one, spend a few extra dollars and purchase a few more Brother bobbins. It is the worst being in the middle of a sewing project and having to unwind the bobbin and then reload it because you need to change thread colors and you don't have any bobbins left. Much better to have some extra bobbins on hand just in case.
I hope you enjoyed my review of the best Brother Sewing Machines. If there's anything I missed be sure to let me know in the comments!
---
Best Brother Sewing Machine Review