Brother CS7000i Sewing Machine
The Brother CS7000i is one of the best sewing machines when you consider the price and functionality. It is the updated model of the original Brother CS6000i sewing machine.
Best thing about this computerized sewing machine is that it works well for beginners or anyone just starting to learn how to use a computerized sewing machine. It also has enough functions so that advanced or intermediate sewers can learn new skills.
Computerized sewing machines like the Brother CS7000i are definitely becoming more popular than the old fashioned sewing machines – super user-friendly and are built for speed. This particular model allows you to download different patterns and stitches from the Brother website onto the machine!
Along with the online function, the Brother CS7000i sewing machine offers lots of other features.
70 built-in stitches

Up to 850 stitches per minute

Includes quilting and decorative stitches

Automatic needle threading

7 styles of 1-step buttonholes

One touch start and stop

Easy to read LCD display screen

Includes a hard storage case

Accessories: seam ripper, needle set, cleaning brush
Here is a closer look at what you can expect from the Brother CS7000i sewing machine.
Brother CS7000i Sewing Machine Review
As a computerized sewing machine it comes with 70 different stitches, which is quite a lot for a sewing machine at this price point. The amount of stitches that come with the BrotherCS7000i is more than what most people will ever need from a sewing machine.
The types of stitches include utility stitches which are commonly used in basic sewing such as hemming, decorative stitches, heirloom stitches, appliqués, and even quilting. It also has 7 one-step buttonhole stitches to choose from as well.
For convenience there is a print of the various stitches included w/ the Brother CS7000i. You can also program the machine with your favorites so that you have them with a touch of a button.
The density of the stitches is nice and tight, which is important with a sewing machine. The stitches are closed with no gaps in between and are evenly spaced.
A Look at the Brother CS7000i Presser Feet
Most sewing machines come with a generic presser foot and maybe one or two special ones, but the Brother CS7000i goes up and above the normal standards and includes 9 different presser feet.
Quilting Foot

Button Fitting

Monogramming

Zigzag/General Purpose

Buttonhole

Walking Foot

Overcastting

Zipper

Blind Stitch
** Read our Best Serger Machine Review.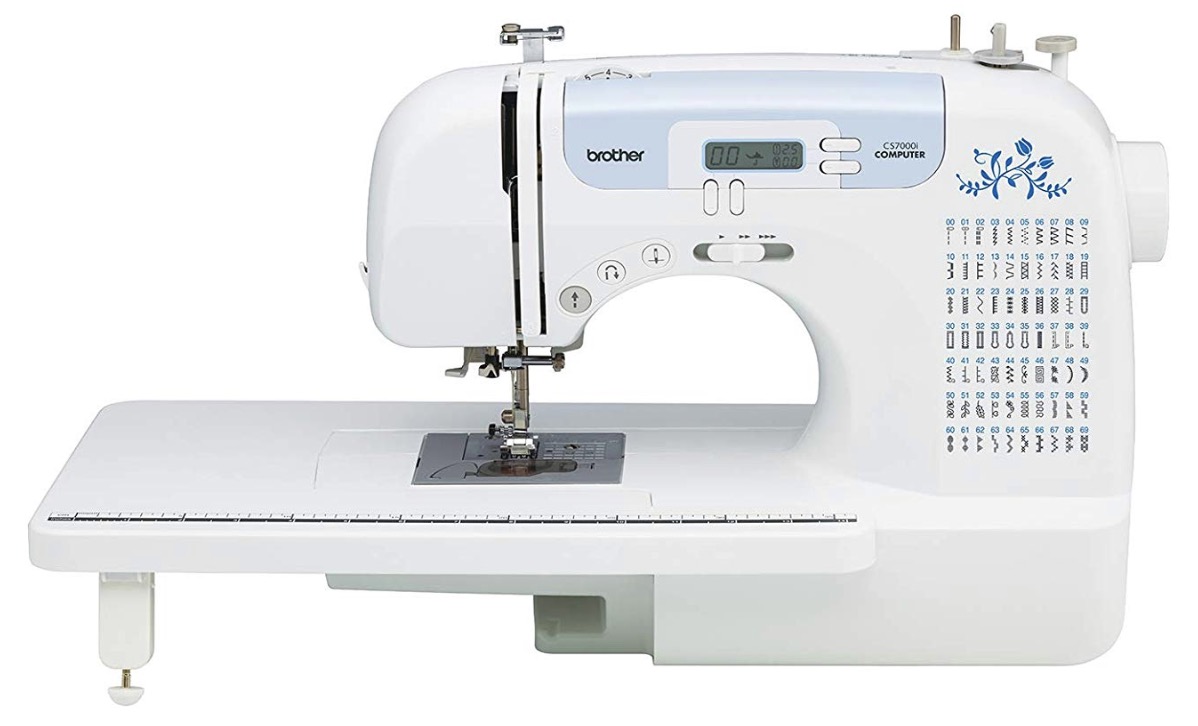 Brother CS7000i Review
The presser feet on the Brother CS7000i are easy to attach – simply snap them into place (rather than having to screw them on like traditional machines).
With the 9 different feet included, the Brother CS7000i sewing machine certainly sweetens the deal. Additional presser feet can cost anywhere from $10-$50.
Some people don't realize what a nice feature this is until they actually start using the machine. With the Brother CS7000i you don't need a foot pedal to work the machine. This means that this machine is awesome for people who may have trouble working a foot pedal due to a disability or old age or for someone like a child who may not be coordinated enough yet to operate the sewing machine along with the foot pedal at the same time.
Instead of the foot pedal you simply use the Start/Stop button that is conveniently located right on the machine.
Brother CS7000i Price
Most people assume that the Brother CS7000i is going to cost them a lot of money since the machine comes with so many features and is a computerized sewing machine. This is absolutely not the case when you compare what you get with the machine and compare it to other sewing machines were you get a lot less features but they cost a lot more.
In my opinion the Brother CS7000i is the best sewing machine under $200.
Brother Computerize Sewing Machine Review
The Brother CS7000i has tons of positive reviews!
Some owners are beginners – they appreciate how easy it was to use as well as veteran sewers who love all the functions that the sewing machine has to offer.
For a sewing machine it also fairly lightweight, which makes it a good option for those planning to take it with them for sewing lessons. The manual that comes along with the sewing machine lets you know how to use every function that comes with the machine and explains in detail so that just about anyone can understand.
The nice thing about this sewing machine is that it's affordable vs. similar sewing machines that cost 2X as much! Brother sewing machines are known for their quality products and the Brother CS7000i definitely lives up to that reputation.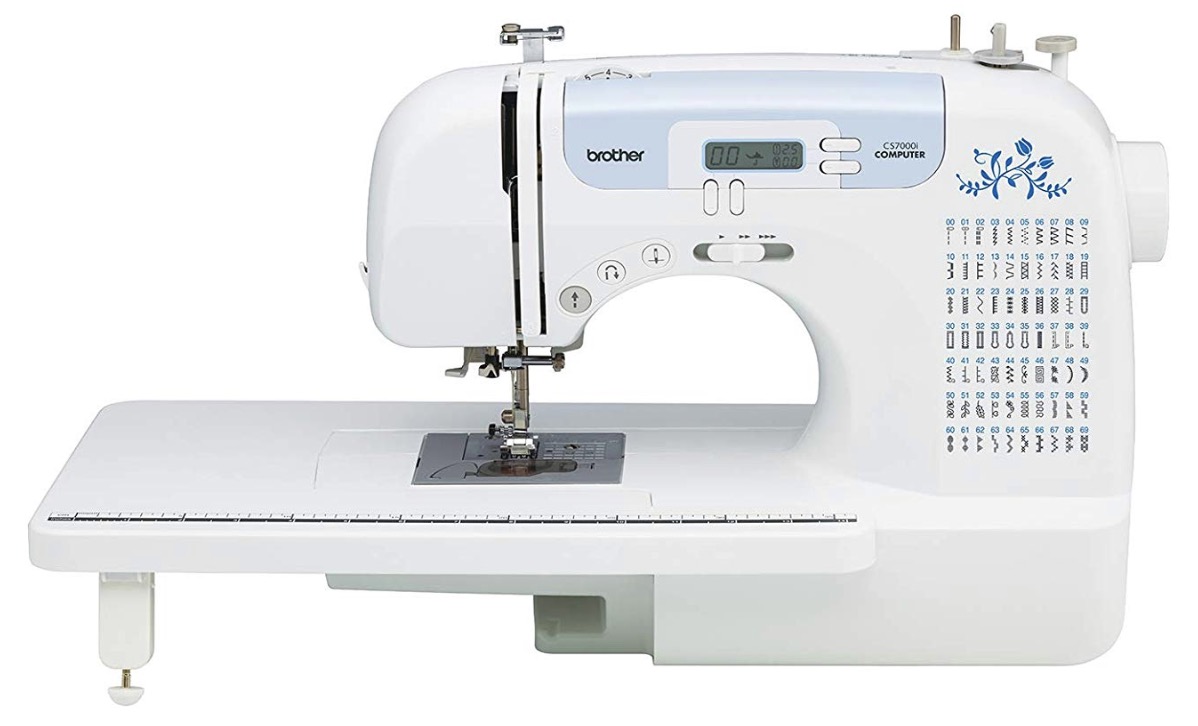 Brother CS7000i Assessment
Just like any sewing machine there are pros and cons to the Brother CS7000i.
Sewing Machine Pros:
The best thing about this sewing machine is the low price. There are not a lot of quality made sewing machines that you can buy at this price point and come with as many features as the Brother CS7000i does.
No need to use a foot pedal to sew with the Brother CS7000i. This makes it easier to sew and also makes it a great machine for older individuals, people with disabilities or for younger children.
It comes with 9 presser feet, which would normally retail from anywhere from $50 -$150. These basically come free when considering the Brother CS7000i costs less than $200. Computerized sewing machine that produces dense stitches with no gaps. It also comes with 60 different stitches to work with.
The drop in bobbin is very easy to use when compared to a front loading bobbin. This machine can easily be used by a beginner sewer but is advanced enough for an old pro as well.
Read our review on Juki Sewing Machines.
Sewing Machine Cons:
The storage for the accessories on the sewing machine is not that big. It is a small opening inside the flatbed attachment and may not be enough room for all of them. You may be better off storing the accessories in a different sewing basket or pouch.
For some people the LCD screen is not light up enough. Some people have complained that the backlight is not enough. You can use a small lamp by the machine to counteract that if needed.
Some people have also complained about thread jamming with this machine. You do really have to look at the machine as this is a machine that cost less than $200. Most machines at this price point may have some problems with thread jamming and usually only industrial machines eliminate this completely. Be sure to follow the exact directions that come with the Brother CS7000i manual to help prevent the thread jamming. Never use different size threads for the bobbin and sewing thread as this is a major cause of jams.
You'll love using this sewing machine for all your sewing needs from quilting to making costumes or drapes for your home. There are endless possibilities with this sewing machine.
---
Brother CS7000i Sewing Machine Review