Best Intermediate Sewing Machine. 
Updated: November 2020 
For those with 2-4 years of sewing experience, it can be a little overwhelming finding the right machine.
With so many to choose from here is my list of the best intermediate sewing machines available.
Prices range, $249 – $729.
#1.) Brother PQ1500SL Review
#2.) Juki HZL-DX7 Sewing Machine
#3.) Janome 8077 Sewing Machine
#4.) Singer Quantum Stylist 9960
#5.) Brother PE770 Embroidery Machine
* FYI: links go to Amazon (had the best prices for sewing machines)
---
Best Intermediate Sewing Machines 2020
---

Brother PQ1500SL is built for speed.
Popular among enthusiasts and hobbyists — it's basically an industrial machine for regular consumers.
Threading is straight forward and includes an extra-large extension table for support.
Sewing Speed: 1500 SPM
Embroidery: 4″ x 4″ area
Price: Expensive
Buyers love the longer extension table for sewing larger items, especially quilts and blankets — many users are of intermediate skill level, but some are beginners.
As a Brother sewing machine the PQ1500SL offers intuitive controls for reverse stitch and adjusting stitches.
Very good reviews from intermediate sewers and beginners.
---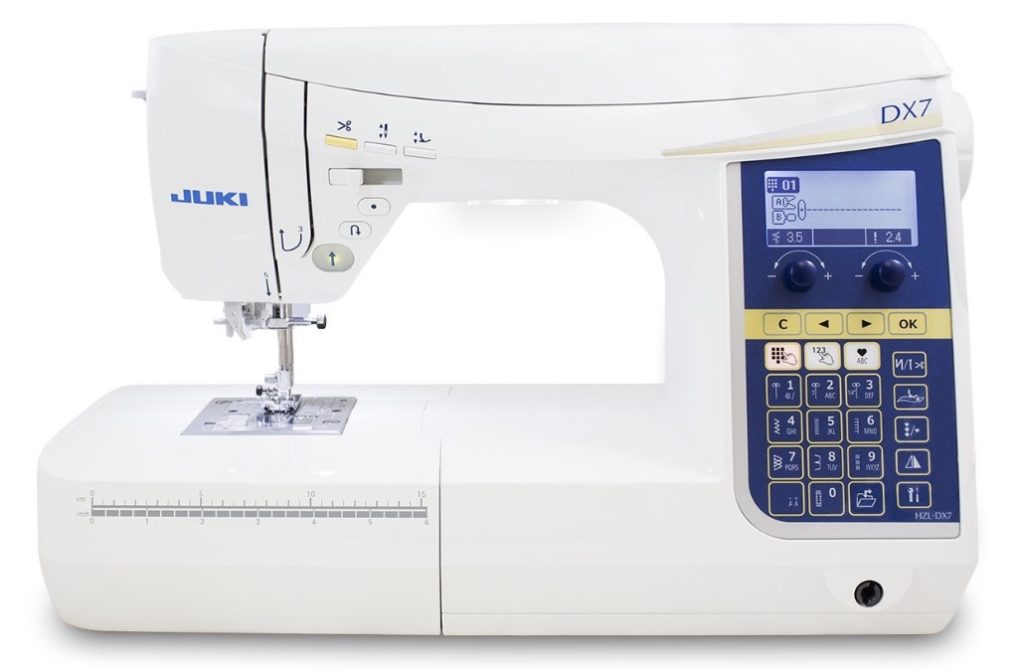 Juki HZL-DX7 is a high-end, high-precision sewing machine.
It's a popular sewing machine among expert and intermediate sewers.
Speed: 1,050 SPM
Weight: 35.9 pounds
Price: Expensive
Presser foot goes higher than most and can float above the fabric while sewing — this makes it less likely to crumple or cause line marks.
You're able to hem through denim or other heavier fabrics.
Buyers also love its super quiet operation.
User-friendly Juki sewing machine includes LED screen for easily selecting stitch, speed, and style.
Expensive model, but will be durable for years and has lots of good buyer reviews.
---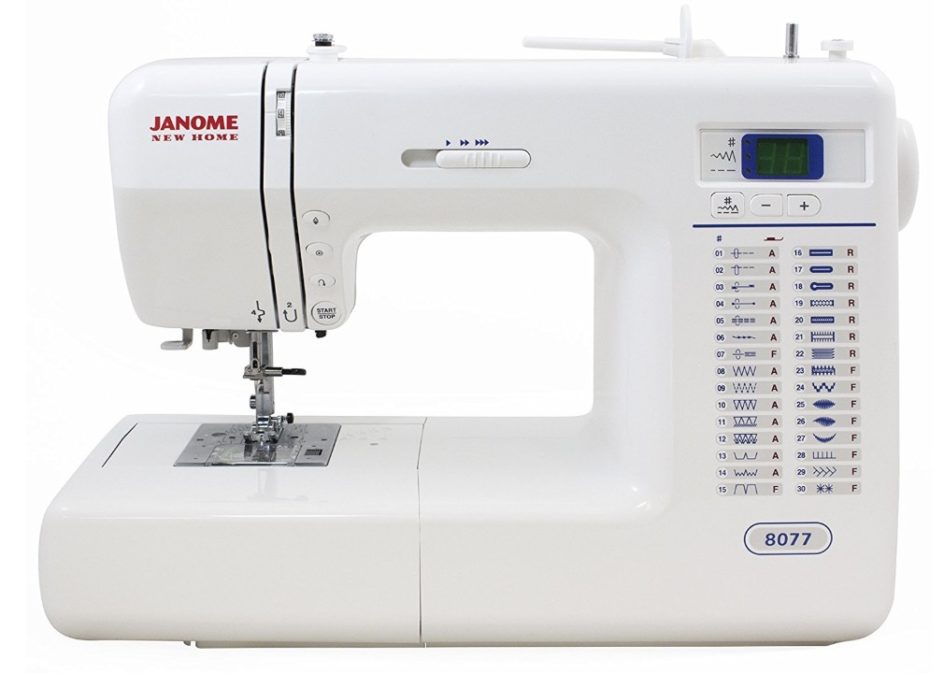 The Janome 8077 is a high-end sewing machine that's super easy to operate.
It offers 30 built-in stitches, automatic needle threader, a large LED screen, and easy start/stop button.
Built-in Stitches: 30
Weight: 20 pounds
Price: Medium
You also have the option of sewing with or without foot control. (good feature for beginning sewers!)
Includes a superior feeding system exclusive to Janome sewing machines w/ drop-in bobbin, and Free-Arm feature (for sewing sleeves and pant legs).
Lots of strong customer reviews who mention how smoothly it runs.
Good machine for intermediate sewers (or beginners) because it rarely jams — it's also capable of sewing over multiple layers of fabrics.
Read our Top 10 Best Sewing Machines
---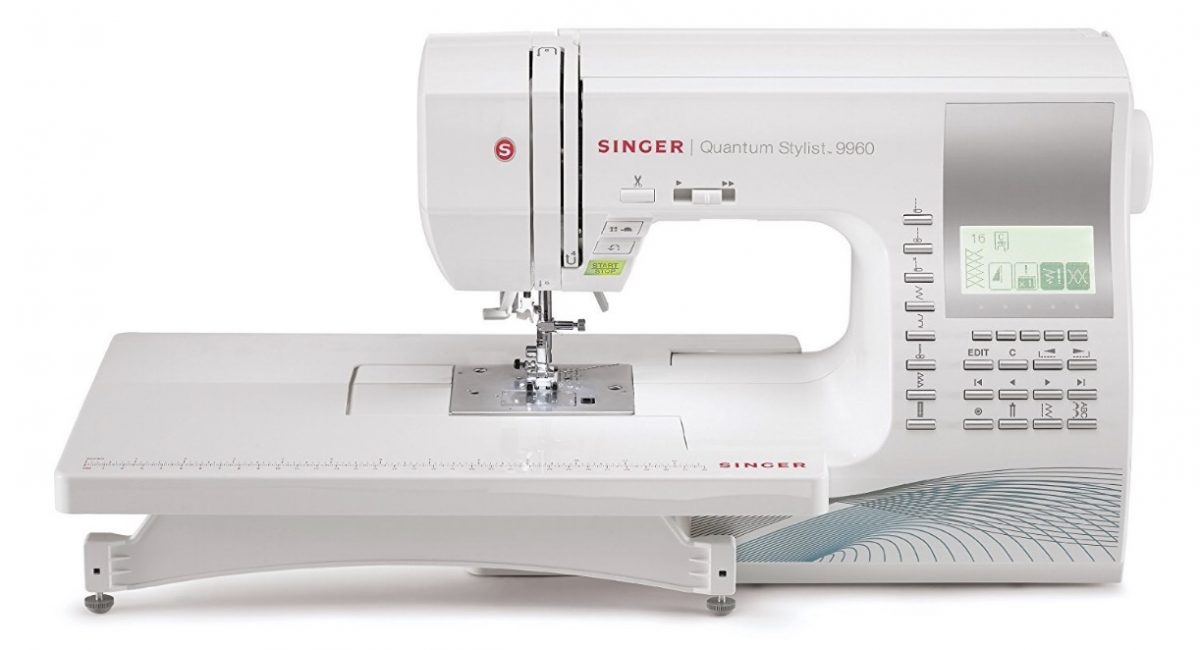 The Quantum Stylist 9960 is a popular, mid-priced Singer sewing machine for intermediate sewers.
Sturdy, heavy duty frame makes it great for decorative projects and includes 5 fonts for monogramming.
Speed: 850 stitches per min.
Built-In Stitches: 600
Price: Affordable
Like a serger machine, you can select mirror imaging or elongation modes for symmetrical items.
The Quantum Stylist 9960 includes an extension table for heavier fabrics.
Additional features include:
drop-in bobbin system, twin needle settings, computerized screen, variety of presser feet
As an intermediate sewing machine, it's has a medium price tag and tons of positive buyer reviews!
---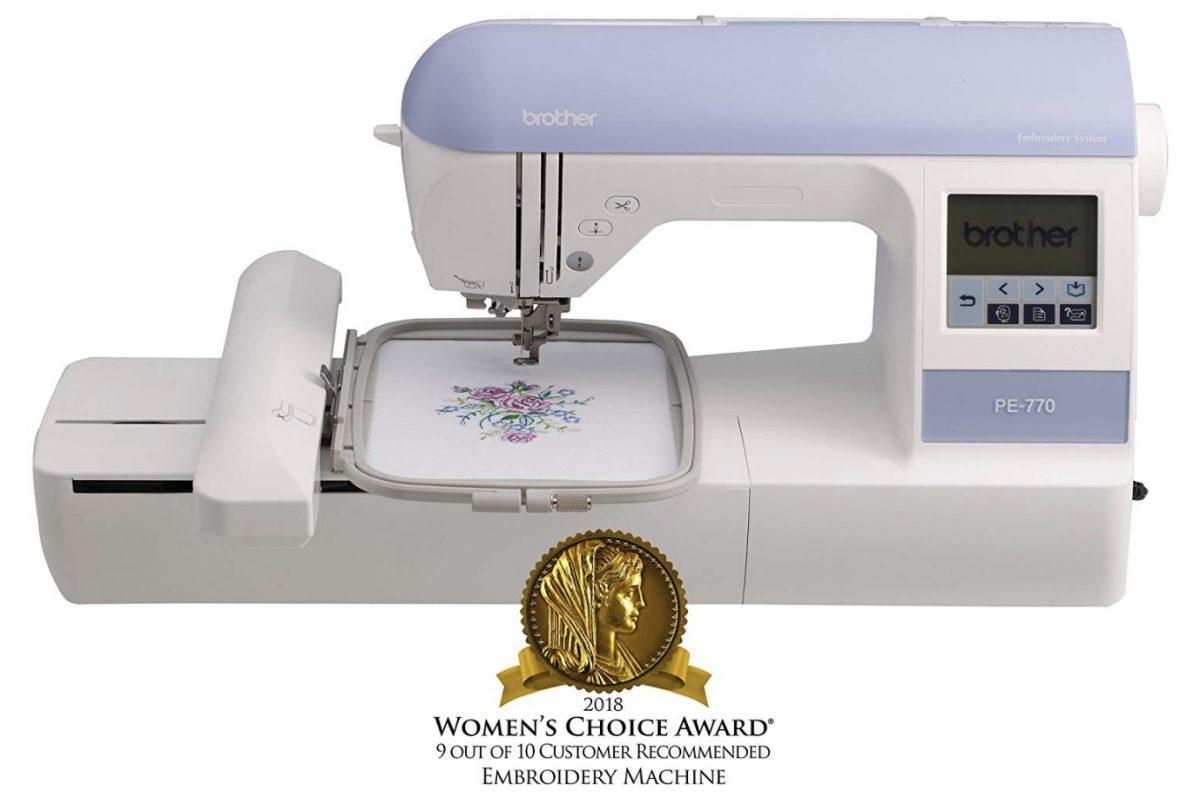 For those looking for an intermediate embroidery machine, the Brother PE770 is an easy-to-use, computerized model.
As you can see, it has a large embroidery area that measures 5″ x 7″.
Sewing Speed: 650 SPM
Built-In Stitches: 136
Price: Expensive
Includes a Design Editing feature – customize designs w/ resizing and rotating images on the LCD screen.
iBroidery compatible, you can choose from thousands of online designs and download them straight to the PE770 machine!
Like the Brother CS7000i, the PE770 is ideal for decorative sewing projects.
bags, blankets, quilts and clothing repairs
Buyers say it's the best embroidery machine they've owned.
As an intermediate sewer you'll learn more about ideal needle positioning, thread tensions and spacing.
Expensive, but lots of positive buyer reviews.
Best Intermediate Sewing Machine