Best Computerized Sewing Machine.
Choosing a computerized sewing machine can be a challenge – there's a ton of new features and each machine caters to a certain type of project.
Today's models are designed for user-friendly, convenient sewing. The LCD screens makes it simple to choose your stitch or adjust speed/length.
Some models even connect to the internet for importing online designs!
Here's our list of the best computerized sewing machines ~ good for beginners, but higher price tags might appeal to advanced or intermediate sewers.
Prices range from, $249 to $749.
---

If you're looking for a new, reliable sewing machine the Janome DC1050 computerized sewing machine is a solid option.
It's great for design or clothing work.
Many of the reviewers online use it for dressmaking, soft furnishings, and even curtains.
The Janome DC1050 offers a wide variety of functions and stitches, making it one of the most versatile intermediate sewing machines. It can work through all types of projects and powerful enough for thicker fabrics.
There are 50 built-in stitches and easy locking stitch button.
Janome LCD display screen makes it super easy to adjust stitch type, stitch length and width. Reverse stitch lets you easily backstitch and lock seams.
Very user-friendly computerized sewing machine!
---

The Singer 7258 computerized sewing machine is one of the few that is usually sold out online.
As an intermediate machine, it is one of the most user-friendly models. It offers advanced sewing features with simple controls. It includes are 100 built in stitches and mid-range speed.
Buyers say it is perfect for crafting quilts, or clothing garments. Threading the needle is easy peasy w/ the automatic threader. And using the auto pilot feature, the Singer 7258 sewing machine makes larger projects easier – this sets the speed, stitch size and type.
For beginners and intermediate sewers, the easy-to-load drop-in bobbin system makes getting started easy. Users also love the LED light on the sewing surface.
Weighing only 18 pounds, the Singer 7258 is very portable. In my opinion it is the best computerized sewing machine for sewing classes.
---

If Janome MOD-50 computerized machine is the best sewing option for beginners.
When choosing a sewing machine, pay attention to the built-in functions. The Janome MOD-50 comes with 50 built-in stitches and 3 one-step buttonholes.
Super easy threading with the one-hand needle threader and drop feed.
The heavy-duty metal frame provides a lot of stability for heavier fabrics too. 
As a computerized sewing machine, buyers are surprised how smoothly and quietly it operates. They also say it's very user-friendly. Beautiful backlit LCD screen lets you navigate stitch type or adjust length/width.
Janome MOD-50 also comes with reverse stitching and locking stitch for larger projects.
Very affordable computerized model!
---

The Janome 7360 combines computerized features and the upgraded precision. Perfect for completing heavy duty sewing projects, it can sew through thick, or multiple fabrics.
Spice up your interior with self made curtains or other window fixings, quilts, embroidery on towels and sheets, bed spreads, and fancy napkins. Creating your own wardrobe is a dream many women want to believe in. Janome 7360 has all the qualities you are looking for when you are purchasing a sewing machine.
User-friendly features, it is popular among intermediate sewers. You will have a large selection of decorative stitches as well. Lots of automated functions and LED screen that makes it easy to adjust your settings.
The Janome 7360 is a reasonably priced computerized sewing machine w/ good buyer reviews!
---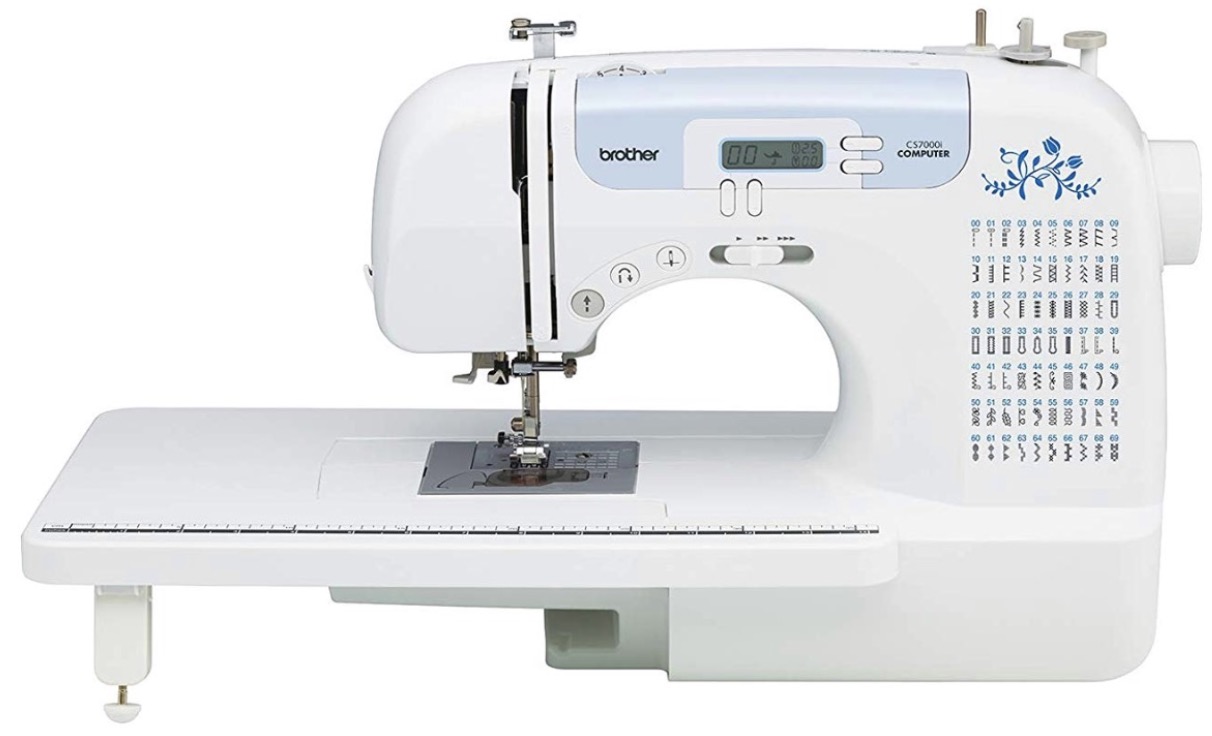 The Brother CS7000i computerized sewing machine is the top seller in 2020.
As one of the best computerized sewing machines the Brother CS7000i is user-friendly for all experience levels.
It includes 70 built-in stitches and plenty of stitch options w/ automatic needle threader. Easily adjust speed up to 850 SPM by turning the dial on the side. The nine presser feet is another nice add-on/
The Brother computerized sewing machine gives you a good amount of sewing variety as well. Among the stitch types to choose from: utility stitch, quilting, hemming, decorative stitch, etc.
For a sewing machine it compact and portable. Good for classes or carrying to friends house – a few buyer reviews say they are freelance sewers who use it for patch work.
As a computerized sewing machine there's a USB port for uploading new designs!
---

The Singer 7470 Confidence  is a high quality, computerized sewing machine. It comes equipped w/ lots of easy-to-use features that appeal to novice or expert sewers alike.
For starters it includes 150 built-in stitches that are optimized and programmed right into the sewing machine. The LCD controls make it easy to adjust per your needs. Singer 7470 Confidence automatically threads the sewing needle for you and includes a Sew and Drop bobbin feature – this allows for precise bobbin placement every time.
Singer 7470 Confidence also features 20 character memory storage, mirror imaging capability, stitch elongation, continuous sew mode, dual needle function, numerous needle positions, LCD display, and more!
With an abundance of electronic features, the Singer 7470 is one of the nicer computerized sewing machines on the market.
---
Related Sewing Machine Posts