Singer Sewing Machines. 
Singer has been manufacturing sewing machines since 1851.
Today they produce many of the world's top models – from mechanical to computerized sewing machines.
Below are my picks for best Singer sewing machine.
Prices on my list range, $149 – $399.
Singer Heavy Duty Sewing Machines

Singer 9960 Sewing Machine

Singer Quantum Stylist 9985

Singer One Sewing Machine Review

Singer 8500q Modern Quilter

Singer Featherweight Sewing Machine
---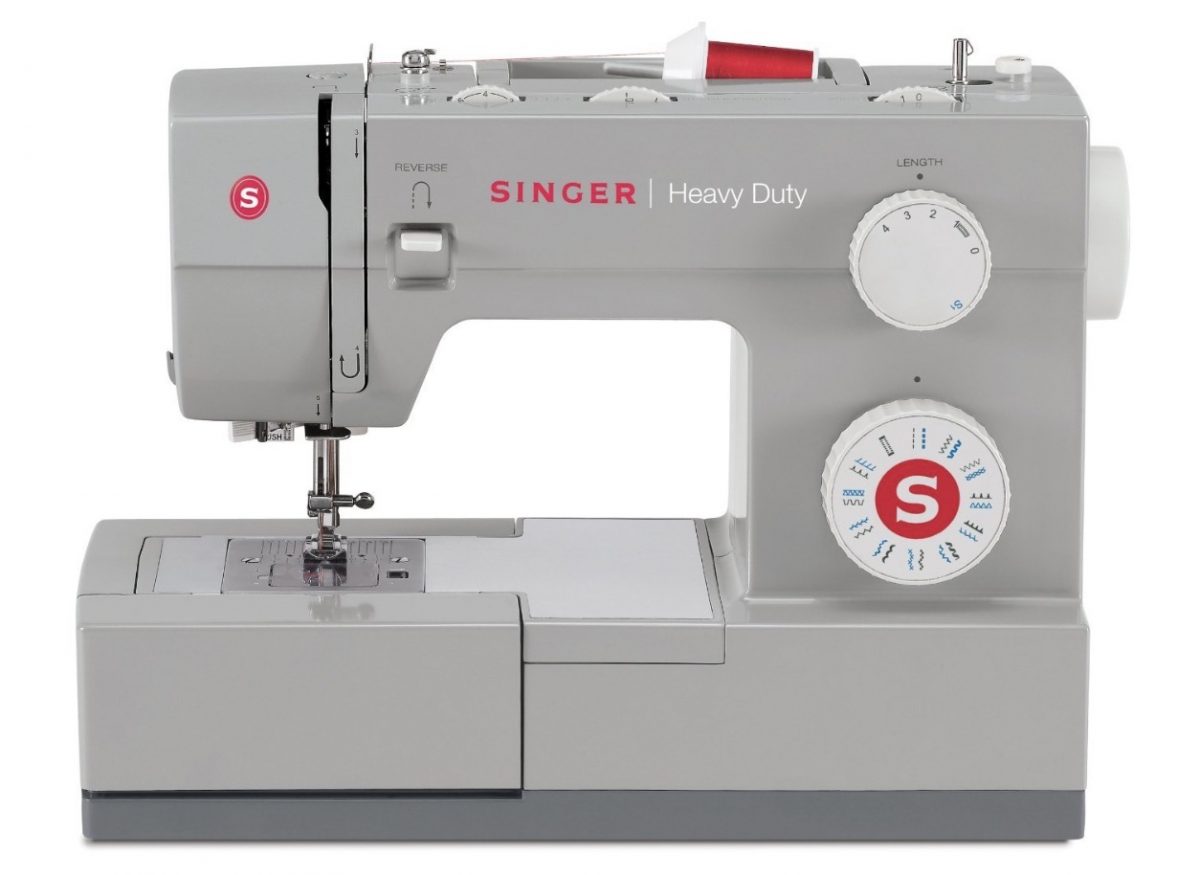 The Singer 4423 sewing machine is an affordable machine designed for heavy duty projects.
Designed for heavy duty projects, the frame provides stability for sewing difficult fabrics – leather, denim, drapes, and multiple layers.
Speed: 1,100 stitches per min (STM)
Weight: 17 pounds
Pricing: Affordable
Very easy threading system with built-in needle threader.
For beginners, setting it up is super easy! It takes only a few seconds to have it threaded, from spool to the needle's eye.
Designed with a high-out motor and 23 built-in stitches.
Also includes automatic needle threader and customized settings for decorative items:
hems, quilting, clothing, bag design
Affordable model with good buyer reviews.
---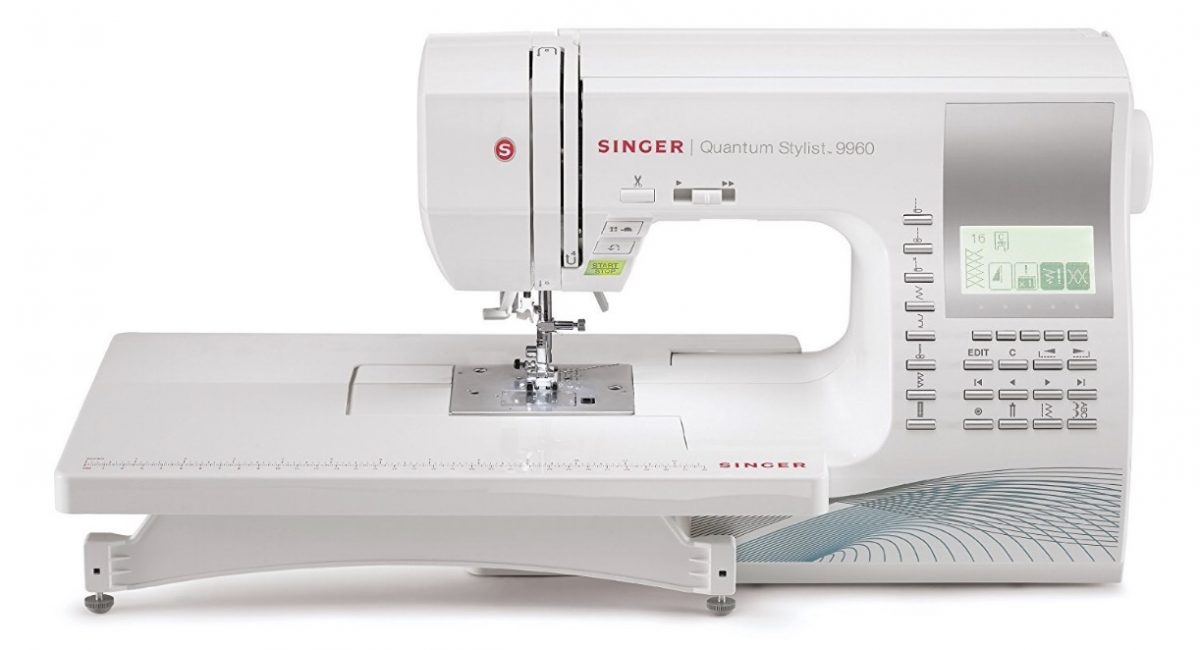 Singer Quantum 9960 is a popular, mid-priced machine.
Perfect for budding designers, it includes 600 built-in stitches and 5 monogram fonts.
Speed: 850 stitches per min.
Built-In Stitches: 600
Pricing: Medium
Using the digital controls, you can select mirror imaging or elongation modes for symmetrical items.
The Quantum Stylist 9960 includes an extension table to give you more room if needed. 
Also includes a speed toggle feature which makes it easy to adjust faster/slower — a nice add-on for large projects that might be tedious (such as drapes or large quilts).
Medium price, but very good online reviews.
---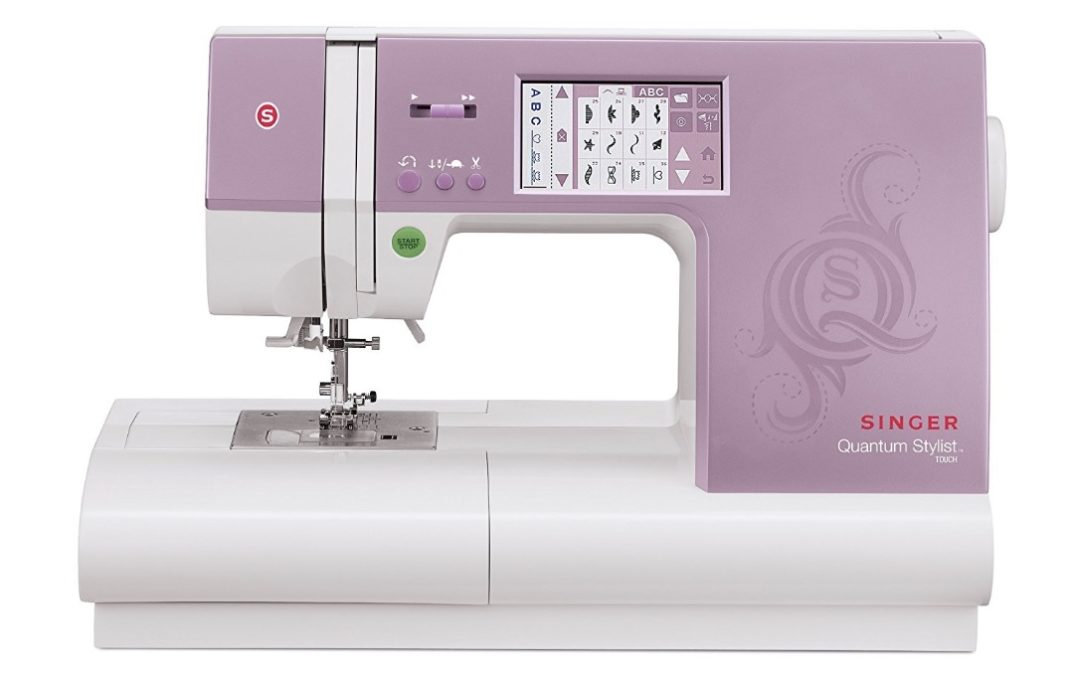 The Singer Quantum Stylist 9985 comes w/ 960 built-in stitches + 6 letter fonts (for monogramming).
A neat feature is the stitch-selection dial which you can see on the side.
It's also very user friendly — easily change speed or adjust stitch length/width using the touchscreen.
Speed: 850 STM
Built-In Stitches: 960
Pricing: Expensive
Buyers love how precise it is for decorative projects + clothing.
You'll be able to monogram small letters + shapes within fractions of an inch!
Example: stitch a cute, personal note on the back of a shirt or loved someone's initials on a cuff.
(If you're a romantic, I think this is the one for you!)
Downside is the price – it's pretty expensive.
---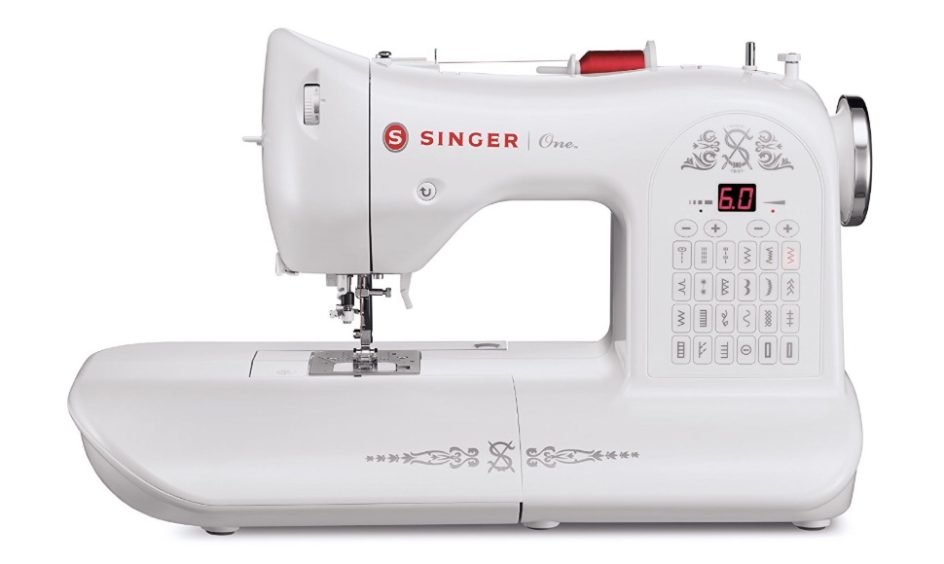 The Singer ONE is the best sewing machine for beginners.
It offers user-friendly control for an affordable price – also one of the favorites for sewers w/ 1-2 years experience.
Speed: 750 STM
Built-in Stitches: 24
It includes an automatic needle threading function that's standard with all Singer machines.
Also includes high presser foot lifter for thick fabrics — this makes for easy positioning and control.Auto reverse function lets you reinforce stitching by operating backward.
Singer ONE extra large workspace helps adds to its sturdiness.
---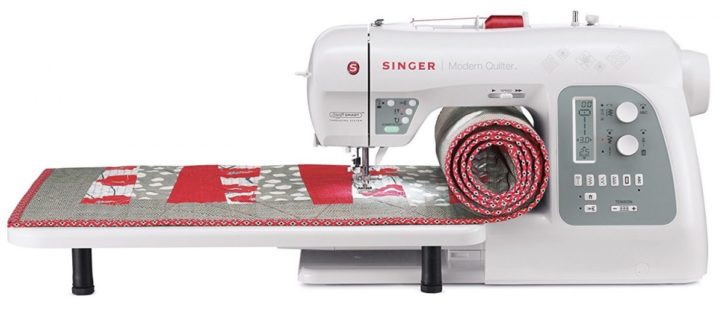 This Singer 8500q Modern Quilter is a good a sewing machine for quilters.
Buyers enjoy the extra long extension table, quilting guide, and the wide range of feet and other quilting accessories.
Built-in stitches: 215
Speed: 37.6 pounds
One of the more hefty machines, it is designed like a serger overlocker machine w/ a heavy-duty frame.
Users say it is great for sewing thick or multi-layered fabrics.
Computerized with an LCD screen, 8500q offers a ton of automatic, time-saving features — electronic autopilot mode, thread-trimmer, stitch-memory, and even automatic twin needle mode.
Good option for hobbyists or beginners w/ 1-2 years experience.
---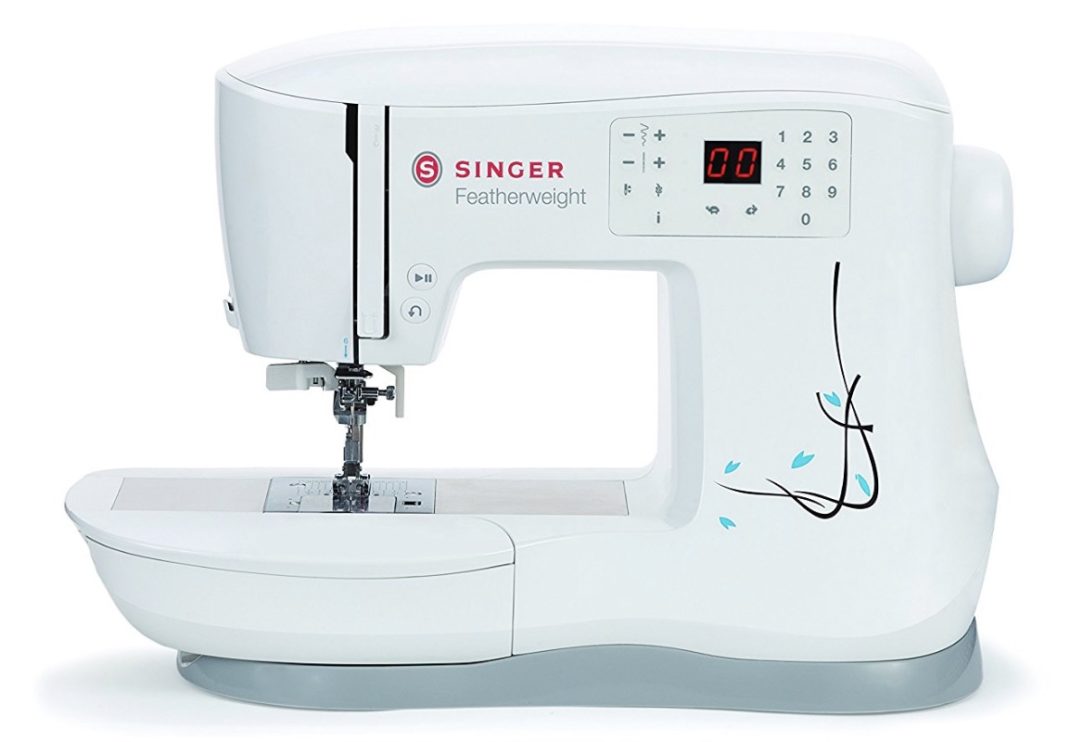 The Singer C240 portable sewing machine weighs less than 15 pounds which making it very portable.
It's perfect for taking with you to a friends home to help out with alterations or to take with you to class.
Speed: 700 STM
Built-in Stitches: 70
Weight: 15 pounds (very portable!)
If you earn money from making, designing or altering clothes – the Singer Featherweight is a perfect machine to take to client's homes.
The SINGER Integrated Even Feed System (IEF) is advanced technology lets sew any fabric through several layers without having to match up every seam.
Good buyer reviews!
---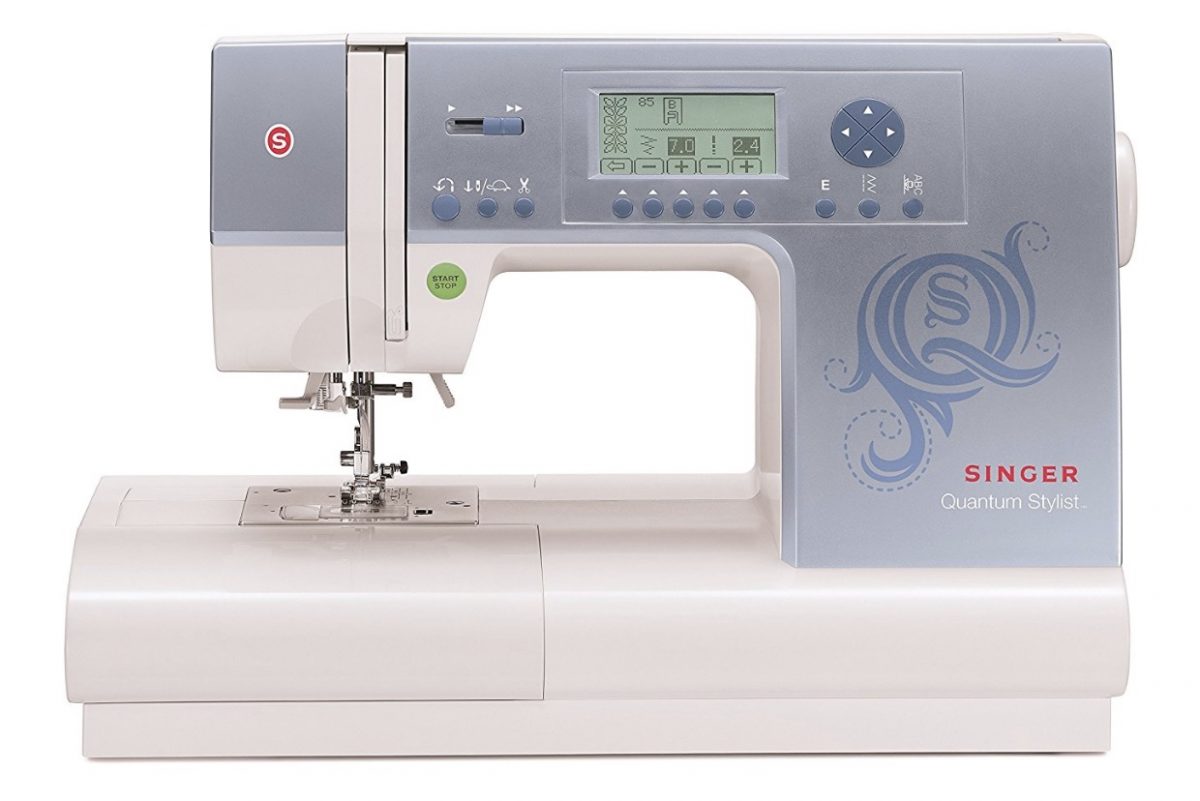 Singer 9980 Quantum is similar to a Janome computerized sewing machine.
It comes w/ a host of additional features such as the "Needle up" and "Needle down" for quilting.
Speed: 850 STM
Built-in Stitches: 820
Quantum is a high-speed computerized sewing machine that can do up to 850 stitches per min.
Using the LCD screen you have full control of functions and features:
mirror imaging, view stitch length/width, mode of operation (embroidery, hemming, monograms, etc.).
Personally I like the speed control – easy to set toggle speeds for larger projects.
Singer 9980 is one of the most popular computerized sewing machines avail.
---

The Singer 7469q Confidence Quilter is a portable sewing machine that's affordable for most consumers.
As you can see, the extra large sewing table helps for thicker fabrics (or large projects)
Speed: 750 STM
Built-in Stitches: 98
Multiple stitching options include basic sewing, decorative, embroidering, and more.
Something that is unique is reverse sewing button – as you can guess, you're able to sew in reverse — easily patch seams from any point and reinforce seams.
FYI: reverse stitch is great for uneven fabric areas!
As you can see in the image, it includes a big sewing table area – ideal making quilts or any big/heavy fabrics: drapes, bags, and heavy garments.
Lots of good buyer reviews.
---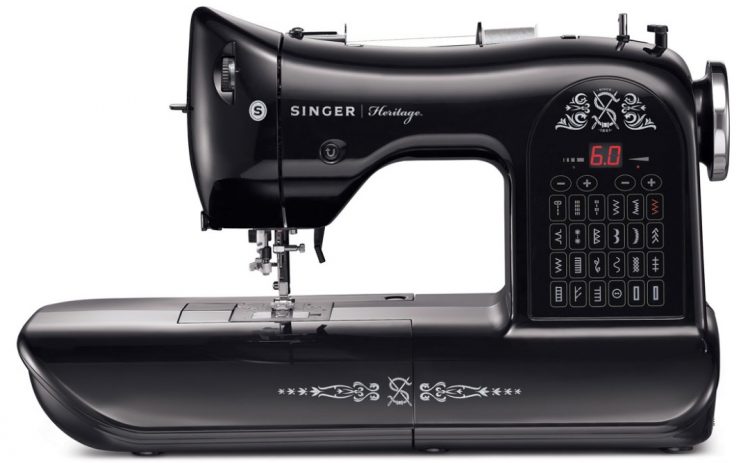 Singer Heritage sewing machine is one one of the most popular.
Using the small LCD display can always know which mode you're using and have everything you need at the reach of a hand and clearly displayed.
Built-in Stitches: 24
Weight: 27 pounds
You can pick any of these just by pressing one button with the OneTouch Stitch Selector, so choosing a mode that best suits your project will be a breeze.
Lightweight at only 26 pounds, making it somewhat portable.
What I love most is the classical Singer Heritage design – it looks like a machine from the early 1900s, yet modern enough to be computerized.
The sleek look and beautiful decals on black paint has made it a favorite among sewing community.
---

One of the things that the Singer Simple Sewing Machine (#3232) is known for its basic, user-friendly controls.
It's made so anyone can use it with only a little sewing experience and knowledge.
Speed: 750 STM
Built-in Stitches: 32
Very lightweight at 12.25 pounds, it's perfect for beginners who need a portable machine for classes
Also includes automatic needle threader and reverse sewing.
Perhaps the best Singer sewing machine for beginners — it has tons of happy buyer reviews.
Also one of the most affordable sewing machines available.
---
Best Singer Sewing Machines
Top Rated Juki Sewing Machines
How to Choose a Sewing Machine