Best Integrated Bidet Toilet Reviews.
Integrated toilet bidets are becoming super popular.
Designed for luxury they offer a 100% hands-free bathroom experience.
Today's bidet toilet combos offer the latest features:
custom bidet washes (no toilet paper!), tankless hot water, heated seat, warm air dryer
Below are my picks for best integrated bidet toilet models – some being very expensive.
Toilet bidet combos range, $799 – $4,999.
Best Integrated Bidet Toilet Reviews

Toto G500 toilet is a dual-max flushing toilet with option 1.28 or 0.9 GPF (gallons per flush).
It comes w/ built-in sensors which automatically flush + close the lid when you finish.
G500 toilet includes a full-feature remote control:
– select type of wash
– heated toilet seat
– water pressure + water temp
– new air deodorizer
– warm air dryer = no toilet paper
Best of all, the it automatically self-sanitizes the toilet bowl and bidet nozzles. Buyers love that it is super easy maintenance!
Affordable price and very good buyer reviews.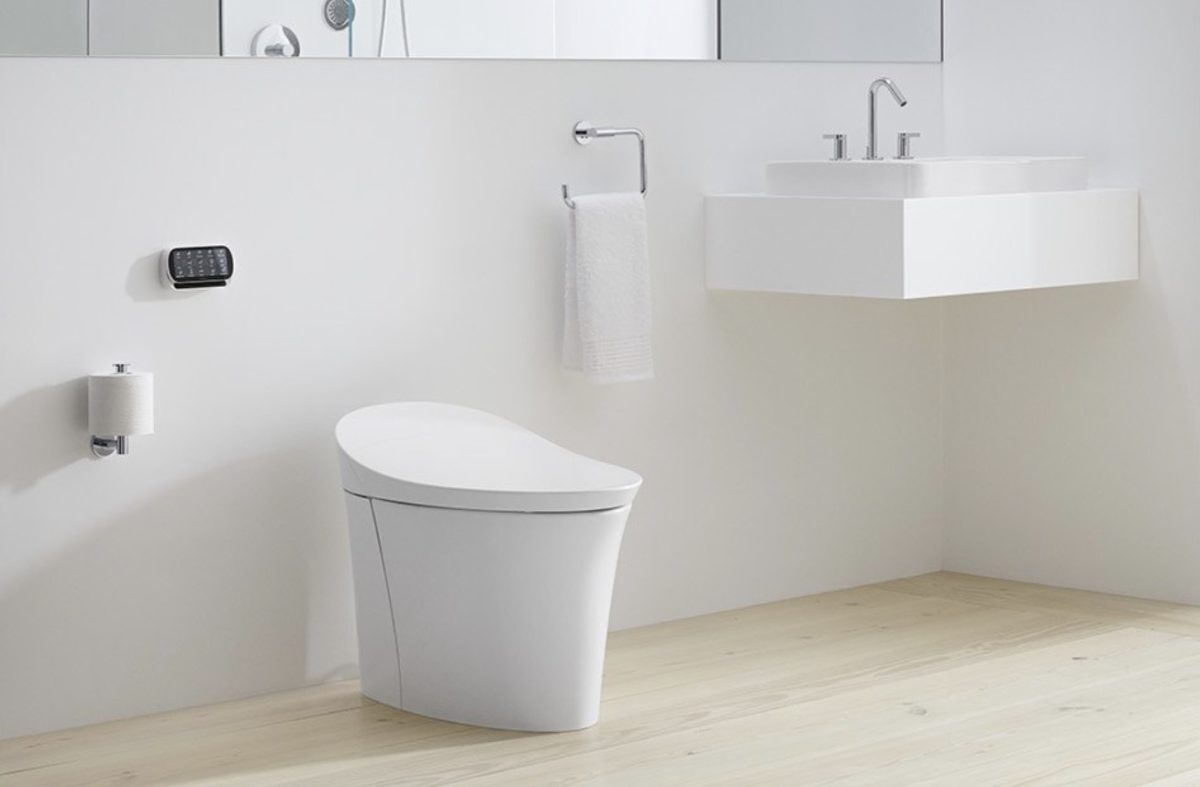 The Kohler Veil Skirted is a modern, dual-flush toilet.
It's a true tankless bidet that provides you unlimited warm water for washes.
Toilet System: Dual flush
Efficiency: 1.28 gpf
Pricing: Expensive
Kohler Veil's stainless steel nozzles provide a steady water stream for frontal or rear wash – they are also self cleaning!
Buyers love its 100% hands-free design and powerful flush.
The luxury bidet seat allows you to control:
water temperature, heated seat, water pressure + warm air dryer
As an integrated bidet toilet, the Kohler Veil is very expensive.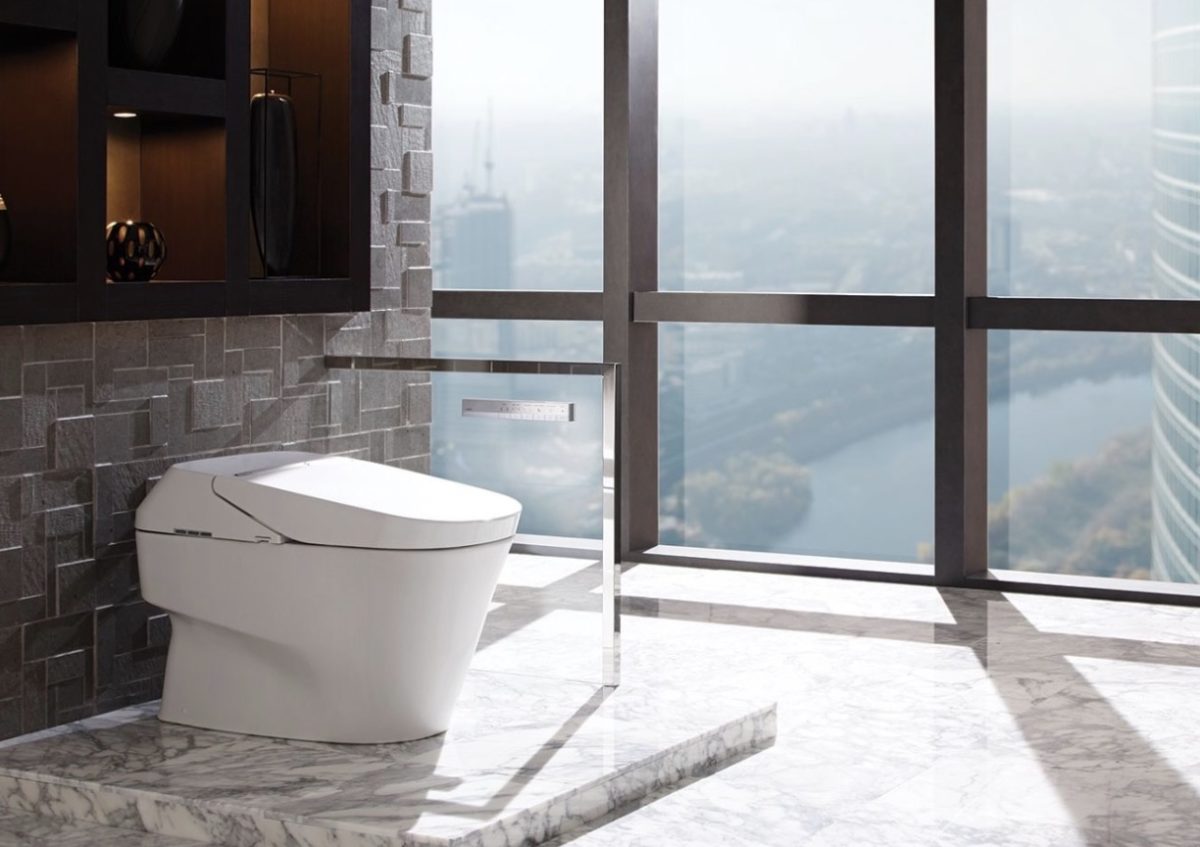 The Neorest is a very expensive bidet toilet.
It's unique design makes it easy to clean + simple installation.
Toilet System: Double Cyclone
Efficiency: 1.0 gpf
Double cyclone flushing system is specialized for keeping your toilet bowl clean. (No skids or water residue!)
Also comes w/ SoftClose seat + automatic flushing, making it 100% hands-free.
Toto washlet bidet offers 5 wash types:
rear cleanse, soft-rear, frontal, oscillating massage + pulsating spray
Buyers love its automated sensors + automatic soft-close lid. 

The Ove Decors Smart Toilet is an efficient, 1.28 gallons (per flush) toilet.
It lets you pre-program settings for up to 2 users — water temperature, type of wash + water pressure.
With a heated seat + built-in warm air dryer, it's a nice luxury in the winter.
Smart Toilet is a larger toilet: 31″ x 17″ x 24″ deep — the extra width and height appeal to taller users above 6 ft. tall
Buyers love its comfortability, remote control functions + self-cleaning feature.
Ove Decors Smart Toilet is another very expensive model.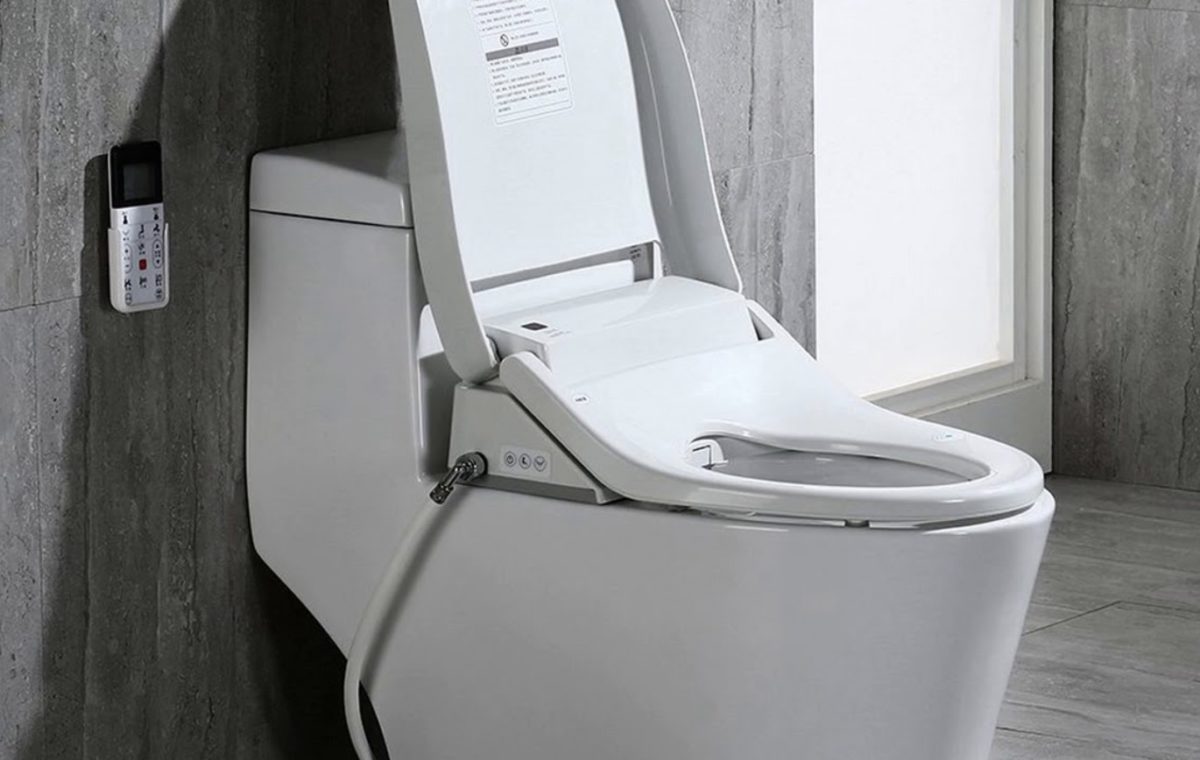 The WoodBridge T-0008 is a luxury bidet toilet that's affordable.
What makes it special — as a  luxury bidet toilet, it offers several wash types:
feminine wash, posterior stream, oscillating pressure (frontal or back) + gentle massage wash
The stainless steel nozzle is self-cleaning which reduces maintenance.
Additional features include heated seat (5 heating levels), LED light circling the bowl, and warm air dryer.
Lots of positive buyer reviews + affordable price make it one of the most popular online.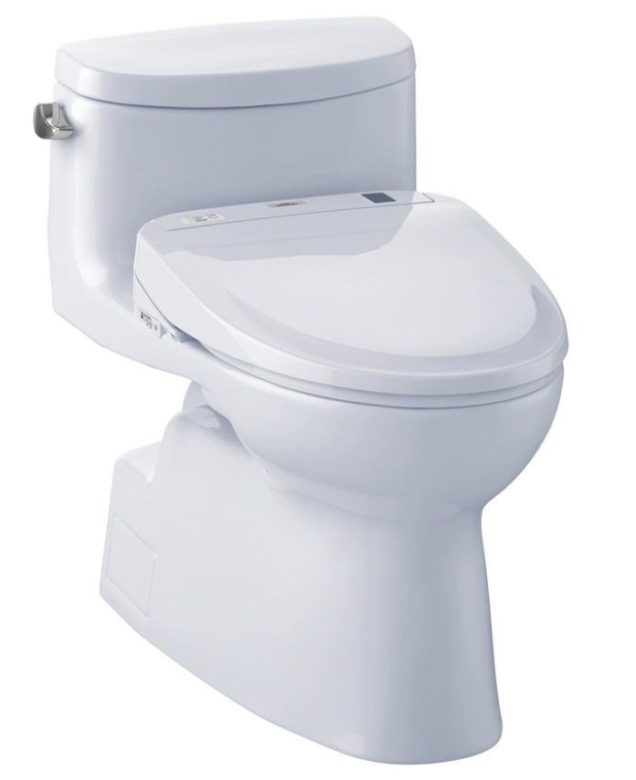 This bidet toilet combines Toto Carolina 1.28 GPF toilet + luxury Toto S350e washlet.
A powerful flushing toilet, it utilizes Toto's advanced 'Tornado Flushing System'– includes sanitation spray around the bowl, avoiding build-up.
You can adjust the temperature + pressure settings to get just the right clean every time. The seat is heated and there's a built-in nightlight for user convenience.
Warm air dryer will ensure that you are both clean and dry after every use.
There's also a built-in deodorizer to keep your bathroom smelling fresh.
Buyers mention how comfortable + easy to install it was.

Toto G400 Washlet Toilet has an oval base design making it easy to clean.
This model is one of the moderately priced options on this list.
G400 is WaterSense Certified, which also makes it an environmentally friendly w/ less water waste.
Premist feature and special Toto bowl glaze helps keep it easy maintenance.
As a toilet it also includes a heated seat, warm air dryer & remote control.

The Bio Bidet IB835 is fully operational w/ the remote control or wall panel.
Includes a massage feature, a warm air dryer and a built-in deodorizer (which keeps it smelling fresh)
Buyers love the heated seat and the self-cleaning bidet.
There's also a power save setting, making this an environmentally friendly option designed to reduce the use of electricity.
Fair price w/ good buyer reviews.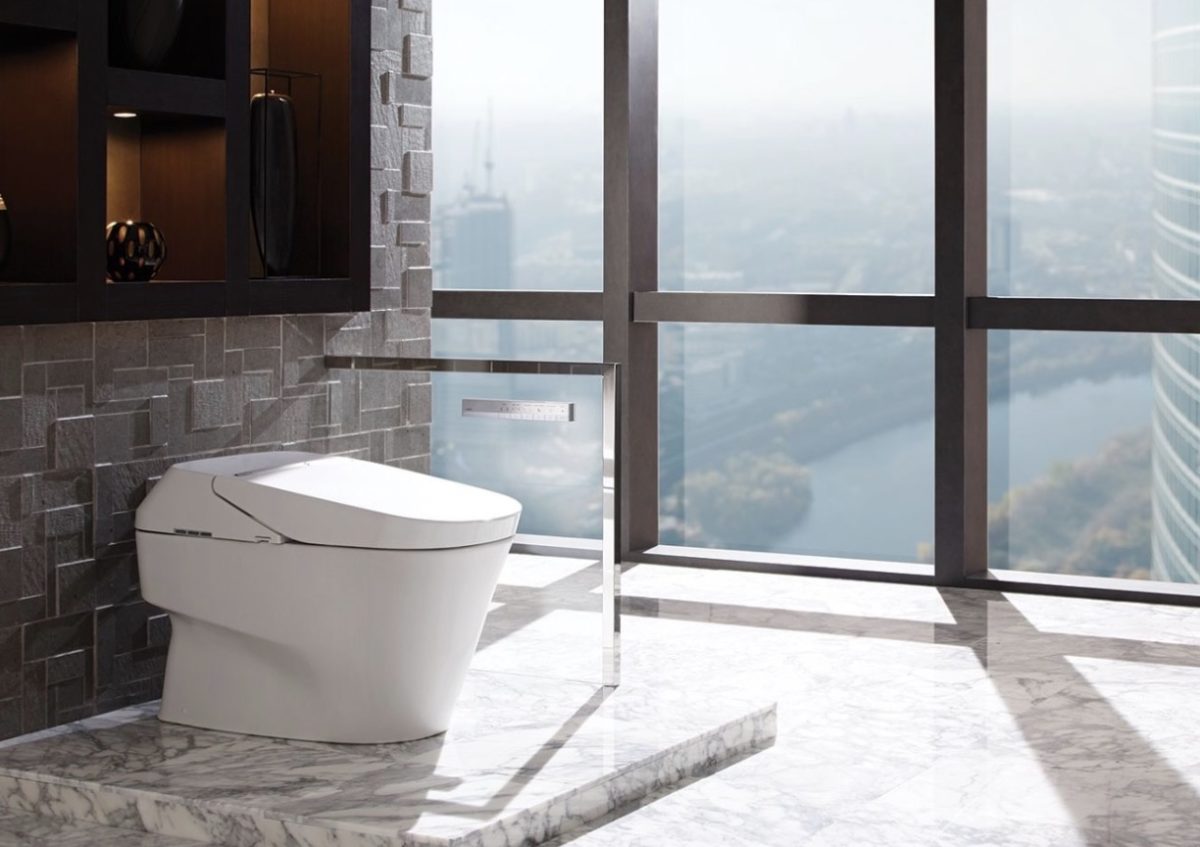 The TOTO Neorest 550H is one of the most expensive bidet toilet combos available.
As a washlet seat, the Neorest 550H comes with 3 wash options:
front, rear & soft massage
Its unique oval design helps eliminate areas where grime builds-up and using the SanaGloss bowl glaze, it makes sure waste is remove effectively.
Neorest 550H toilet also comes w/ automatic flush system making it a hands-free experience.
Expensive price tag, but lots of positive buyer reviews.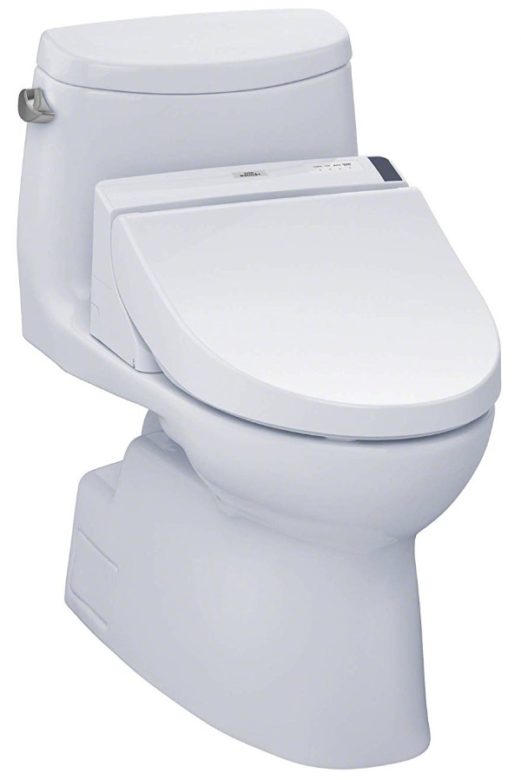 For this model, Toto paired the Carolina toilet w/ Toto C200 washlet.
Powered via remote control, you can change the heated seat temp + activate the built-in air dryer (5 settings).
Toto ceramic glaze inside ensures your toilet bowl stays clean. Also Tornado flushing system will rinse to help keep it clean. (good for consecutive users)
Model also has a premist feature, providing extra assurance that all waste will be removed with every flush.
Buyers were happy w/ its easy install + affordable price.
Best Integrated Bidet Toilet Reviews