Best Honda Generator 2021. 
Honda is known for cars, but have applied their engine technology into producing portable generators.
Today they produce some of the most popular portable generators for home, camping and RVs – they are more affordable, have better safety features, and are more fuel efficient than most generators on the market.
They're also a top option for building and construction sites.
With so many portable generators on the market, I think these are the best Honda generators for home.
Prices for each range, $700 – $5500.
---
The Best Honda Generator Reviews
---

This model is by far the most sold Honda EU2200iTAG and for all the right reasons!
At 2200 Watts, the Honda Companion Generator contraption provides over 8 hours of continuous power for TVs, computers, satellites, fridges and coffee pots.
Power: 2,200 Watts
Type: Gasoline
Tank: 1.1 gallons
It can even power a CPAP machine for those affected with Sleep Apnea in case of power surges.
Whether you want back-up power at home, RV, or need it for camping your family can enjoy the comforts of civilization without direct electricity. The Honda Companion generator is the favorite for quick camping trips.
Honda generator reviews confirm that is lightweight compared to other 2200W generators – only 45 pounds, making it very portable.
---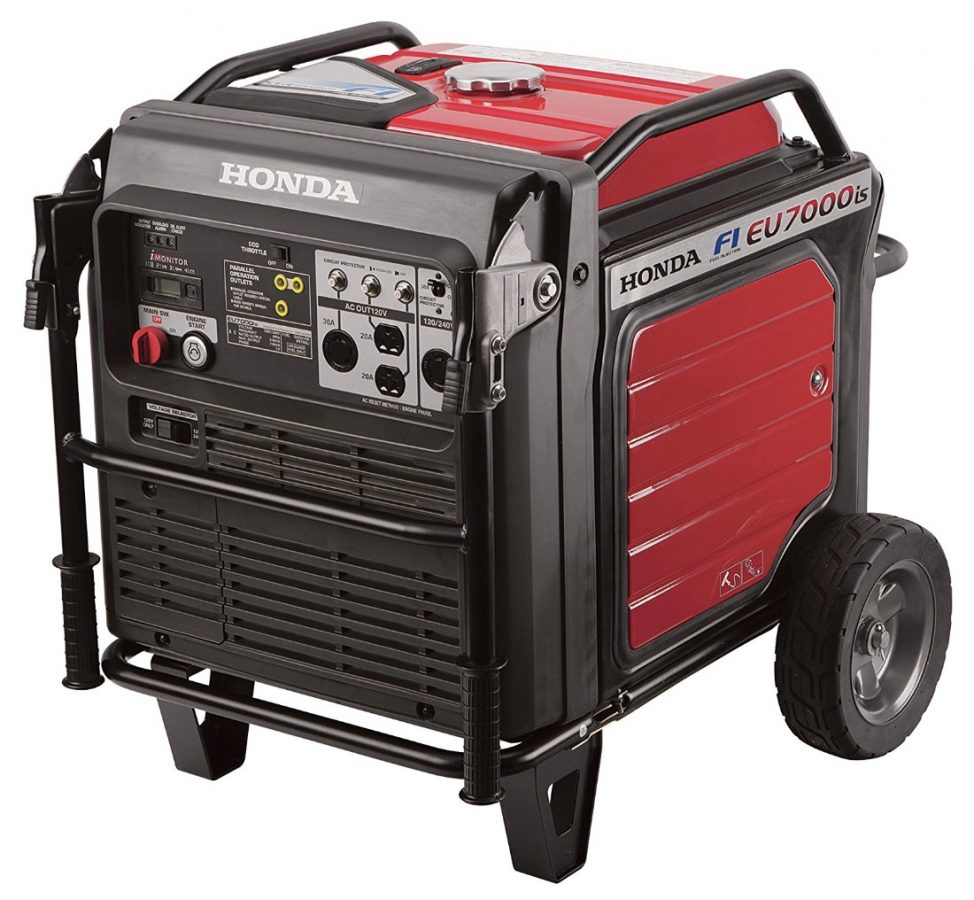 The Honda 7000 portable generators are popular for their high capacity and easy, electric start.
Available in a couple models, the 7000W generator offers enough power for a full-size refrigerator, AC unit, several light bulbs, TV / DVD, satellite, camping kitchen and small boiler.
You can practically power an entire house for hours during a power outage or storm!
Type: Gasoline
Power: 7000 Watts
Length: 6-18 hours
The Honda 7000W is ideal for homes in areas that are prone to power outages.
Depending on the power level, it ranges from 52-60 decibels – Even on the highest power setting, the Honda Eu7000iat1 and EU7000is have a lower noise level than a small air conditioner.
Buyers are surprised how quietly it operates, even on max output.
Popular for homes, but also one of the best generators for RVs.
Many building sites use the Honda 7000W to power equipment and lighting too.
---

Powered by an improved 121cc four-stroke engine, the Honda 2000 generator (model EU2200i) produces 2200 watts.
A little bigger than the EU2000i, it generates 200 watts more – designed to run long durations and lower capacity.
In addition to the improved power, Honda generator is designed with better cooling. It significantly extends the life of the components and decreases the risk of malfunctioning.
Power: 2,000 Watts
Length: 7 – 10 hours
Type: Gasoline
What I love is that it can be easily connected to another Honda generator for additional power. This is a super practical function during storms or prolonged power outages.
Can run up to 8.1 hours on a full tank that has a capacity of 0.95 gallons.
Top 6 Portable Inverter Generators >>
The ecological throttle button is easily visible on the back of the machine. However, I would prefer to have it in its 'ON' position, since it saves a considerable amount of fuel.
Very positive buyer reviews and high ratings on Amazon.
---

The EU3000is is a 3000W high-powered Honda generator – perfect for RV, camping, or power washers.
Weighing around 80 pounds, the Honda 3000 generator sits on two wheels for portability.
Power: 3,000 Watts
Length: 10 – 50 hours
Type: Gasoline
Among all 3000W portable generators, the Honda EU3000is is one of the most popular gas-powered portable generators on the market.
Operating at full capacity, the Honda 3000 portable generator can provide up to 10 hours of continuous power and up to 50 hours with refueling.
Efficient and extremely silent operation.
The noise level is below 65 decibels and is very quiet for a 3000W portable generator. It can drop to 44 decibels if operated at medium or lower power levels.
The Honda EU3000is and EU3000i are the ideal size for RVs and cabins.
---

The Honda 2000 generator (EB2000i) runs on gasoline and has a 0.95 gallon capacity tank.
It is able to operate 9.5 hours on a single tank, depending on the intensity of use.
With a maximum power of 2000 watts, you can connect a small refrigerator, TV, satellite, several light bulbs and other useful appliances and make sure they work overnight.
Type: Gasoline
Power: 2,000 Watts
Length: up to 9.5 hours
Being one of the quietest generators on the market, the EB2000IT1A is ideal as a backup solution at home or at construction sites near residential areas.
Top 10 Generac Portable Generators >>
As one of the quietest models, the Honda 2000 generator is unlikely to be heard from a distance and is relatively quiet during normal hours.
I think it is a the best Honda generator for families or apartments.
---

The Honda EU1000i is the perfect portable generator for camping.
Offering 1000W of power, the EU1000i can easily charge all "small" appliances and equipment – from cell phones to electric smokers. It can power larger appliances or RVs, but  lasts for a few hours.
If you need a generator for RV I suggest the Honda EU7000IAT1 or EU3000is.
Power: 1,000 Watts
Type: Gasoline
At under 29 lbs it is light enough to take camping or anywhere else where quiet operation is desirable.
Fuel efficiency is very good with this model using only 0.6 of a gallon in over 8 hours on light loads. Also, with the right connector you can join 2 units to produce for a combined 2KW. Separate cable connector required.
For safety the engine will auto shut off if the oil is low.
In my opinion the EU1000i is the best Honda generator for camping or medium tools (such as drills).
---
Honda Generator Reviews:
Portable generators are a luxury most people should have – whether camping, fishing or just working in a remote location, owning a Honda portable generators is one of the best ways to ensure a stable source of electricity.
Most Honda generators range from 1000 watts to 10,000 watts and are designed for residential, outdoor, or commercial purposes. They are especially useful during a power outage and have been a life-saver in some events.
The Honda portable generators are among the most popular. They are fairly lightweight (compared to similar watt generators), can be used to power multiple appliances, and are relatively affordable.
Designed with the same obsession with details that made Japan's world leaders in the electronics industry, Honda portable generators stand out with excellent fuel efficiency, peace of mind and durability.
** I'll be adding #7-8 best Honda Generator reviews later this year! Stay tuned!
---
Honda Portable Generator for Home