Best Large Storage Sheds. 
For large yards, having a durable shed is a huge convenience.
The best outdoor sheds are built w/ heavy duty, steel-reinforced frames ~ they're designed to withstand all weather:
summer heat, snow storms, powerful winds, heavy rain, high humidity
Best of all they require zero maintenance – keep them outside all year-round!
To help you find the right model for your home, here's our list of the best storage sheds.
Prices on my list range, $249 – $1299.
---
The Best Outdoor Storage Sheds
---

The Keter Newton Shed is built for design and super durability for any weather.
It is constructed using recycled wood and plastic resin – it looks nice and won't decay or corrode.
Type: Wood and resin
Pricing: Expensive
The roof is made of reinforced steel making it perfect for winter ~ especially heavy snow. Shed walls are equally reinforced for harsh winds (and debris).
For summer it includes inside ventilation to reduce mold or mildew from forming.
Includes a skylight and 2 windows for ventilation.
Expensive, but it's trending to be the top seller this year.
---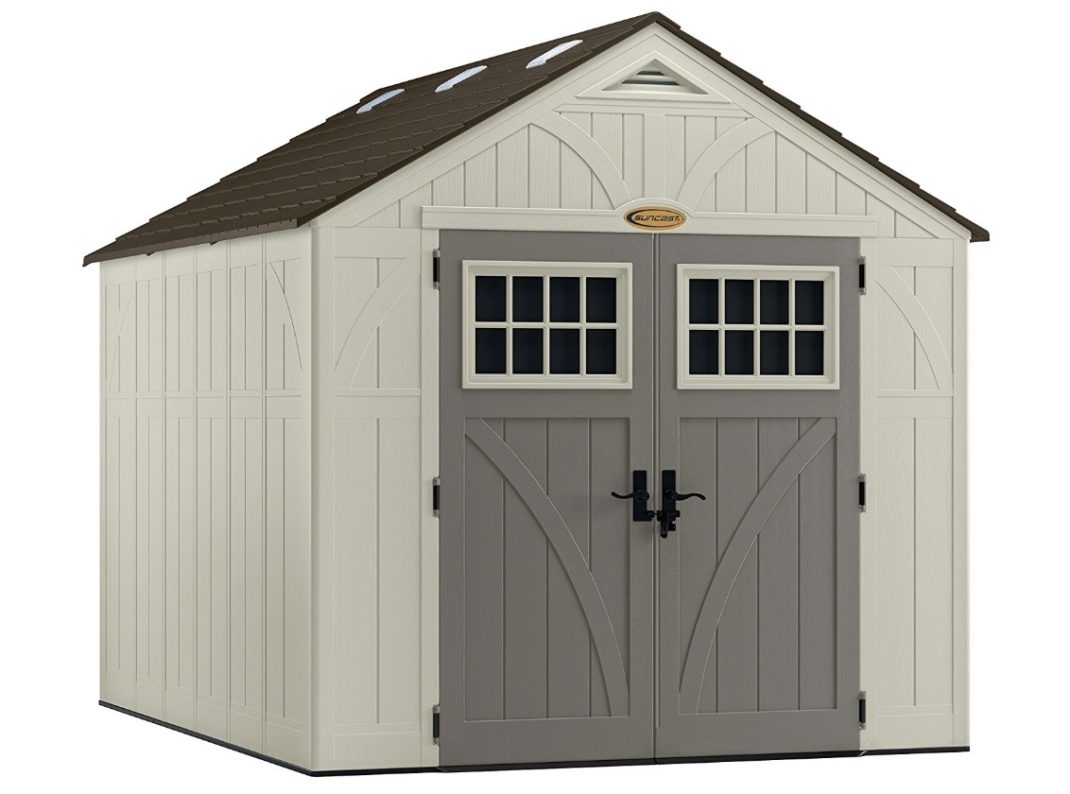 The Suncast Tremont is the best storage shed for winter storage.
Super durable, it comes with steel-reinforced walls that are coated in all-weather resin for extreme durability.
Sizing: 5 options
Pricing: Medium
Buyers confirm that the Tremont shed easily withstands powerful winds and storms ~ as a heavy duty model it's very unlikely to get tipped over.
The shed floor is also reinforced and can support heavier yard equipment:
lawn mowers, tractors, snow blowers, lawn aerators, or pool equipment
Suncast Tremont includes six skylights and windows which helps w/ inside ventilation.
Easy to customize the inside layout w/ hooks, shelves. and supports.
Expensive shed, but lots of positive reviews.
---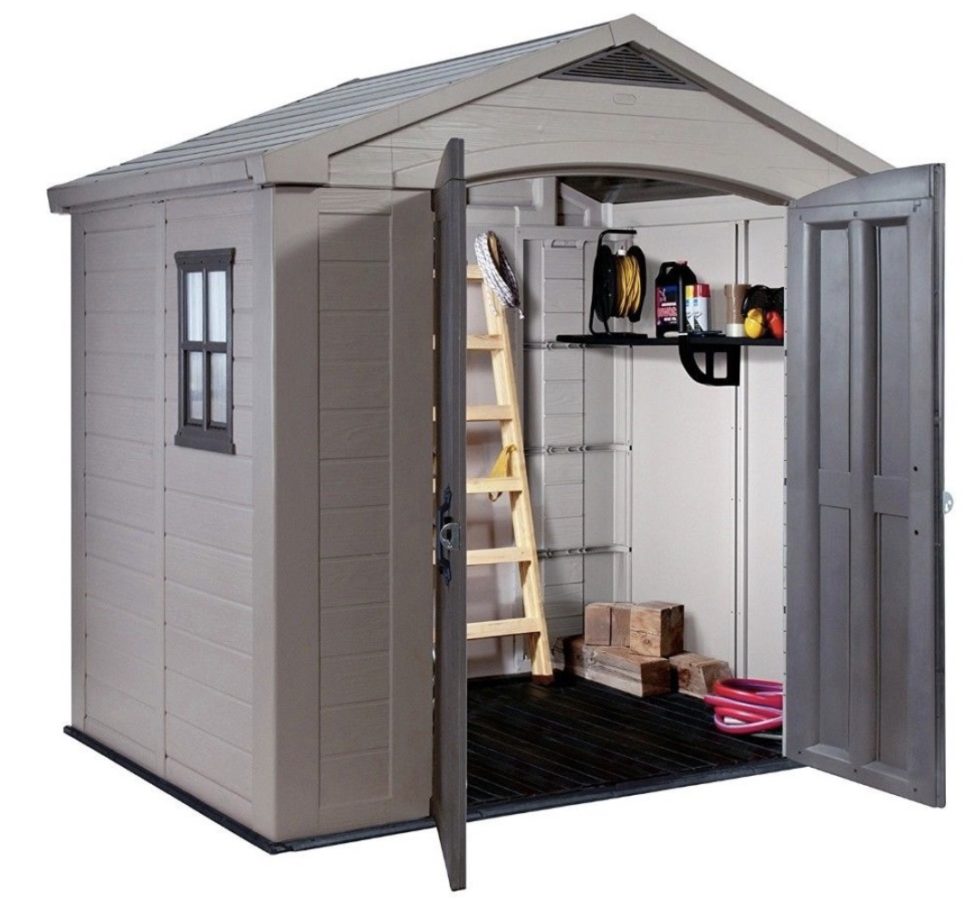 The Keter Factor is the best storage shed for price value.
It comes in four sizes – 8×6 ft. shed appears to be the most popular. Buyers love Keter Factor's high ceiling and customizable interior.
Type: Resin shed
Pricing: Affordable
Inside capacity of 285 cu. ft. + 2 large shelves is perfect for seasonal storage:
garden tools, bikes, wood chippers, furniture, and yard equipment.
Keter Factor is 100% weatherproof — built w/ specialized resin plastic and steel reinforced walls/roof.
It won't peel, crack or dent from weather.
Includes inside ventilation and wide double-doors that can be locked.
---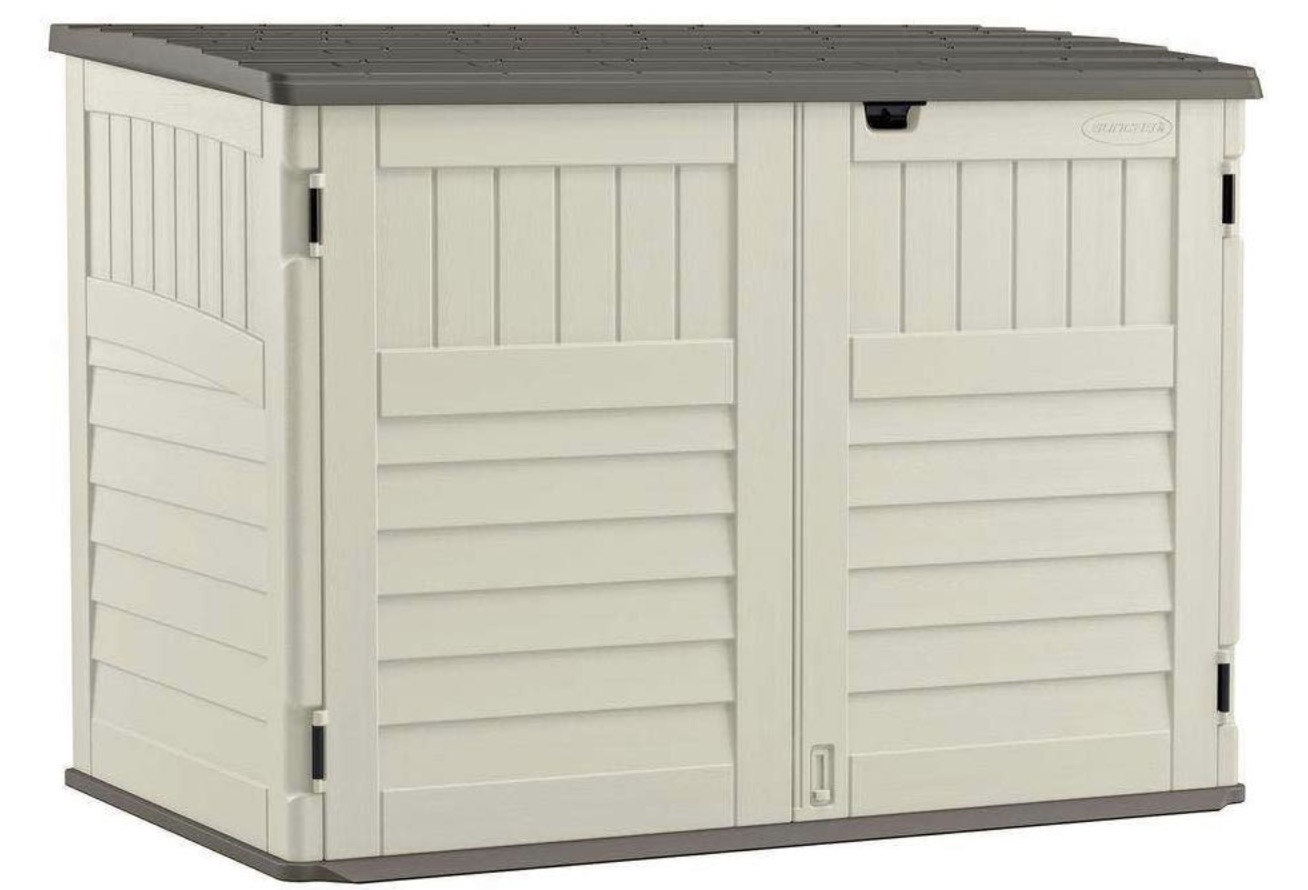 The Suncast Stow Away is the best storage shed for the side of the house.
Looks great for smaller yards or patios, where a large outdoor shed might look out of place.
Type: Deck Storage
Pricing: Affordable
Offers 70 cubic feet of space w/ enough space for bikes, garbages, pressure washers, or garden tools.
Designed with a double resin walls and UV-protection, the Suncast Stow Away can withstand any type of weather.
Buyers say it is the best storage shed for the backyard.
Tons of positive buyer reviews w/ affordable price.
---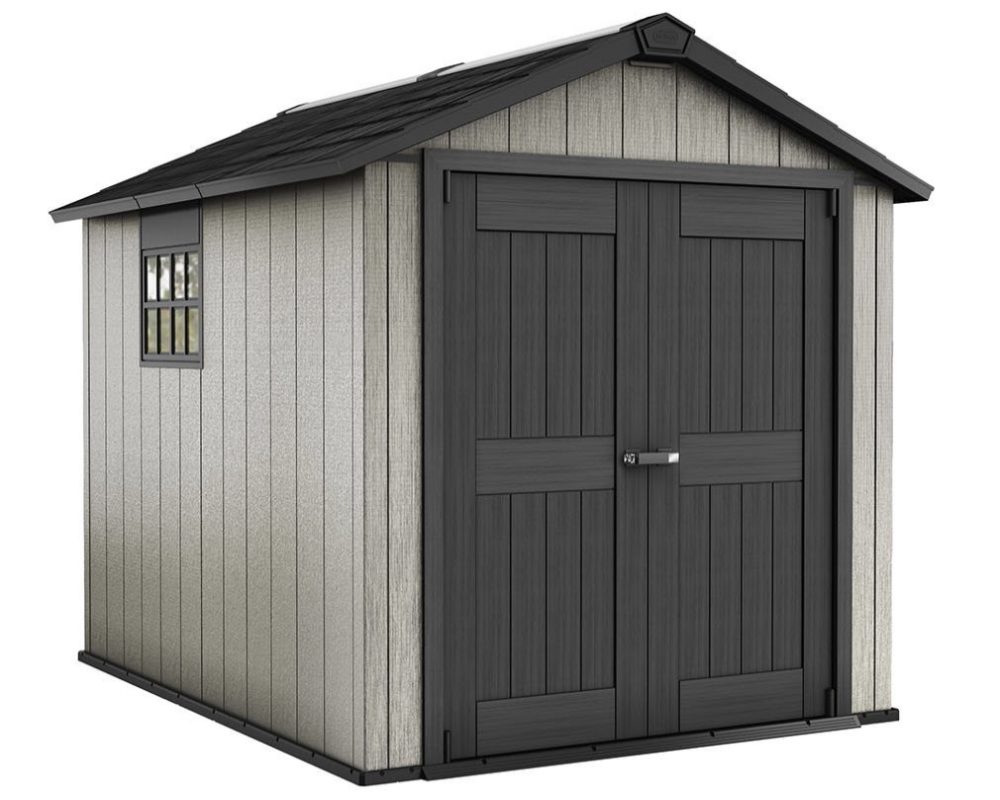 With the Keter Oakland you can have a beautiful looking shed and save room in your home/garage.
Buyers say the Keter Oakland is perfect for winter weather ~ the roof is reinforced to withstand 200+ pounds of snow.
Type: Heavy Duty Shed
Pricing: Expensive
Biggest feature is that the shed is super easy to assemble. It's composed of DuoTech parts that are very easy to put together.
You just click the parts one next to the other like you would with Legos and you're good to go!
Keter shed walls are made of resin and 3.2 inches thick. Storage shed roof is also reinforced to help guard against mother nature!
You'll also notice the strong flooring for cordless lawn mowers or ATVs.
Good reviews, but expensive price.
---

The Rubbermaid Roughneck shed features double-wall construction and impact-resistant floor.
Perfect for extreme types of weather, it is designed with a plastic resin that is weatherproof which will not rust or grow mold.
Popular Size: 7 x 7 ft.
Shed Type: Weatherproof resin
Pricing: Expensive
One buyer said it was able to withstand 60+ mph winds and a variety of precipitation, from hail to heavy rain.
Designed w/ impact-resistant floor, it is the best storage shed for storing heavy-duty items:
lawn mowers, pressure washers, wood chippers, bikes, leaf blowers
Inside are two windows, rear vent (for air circulation), and multiple hooks and racks.
Rubbermaid outdoor shed also features lockable doors for added security.
It comes in six sizes and two colors, all with lots of positive reviews.
---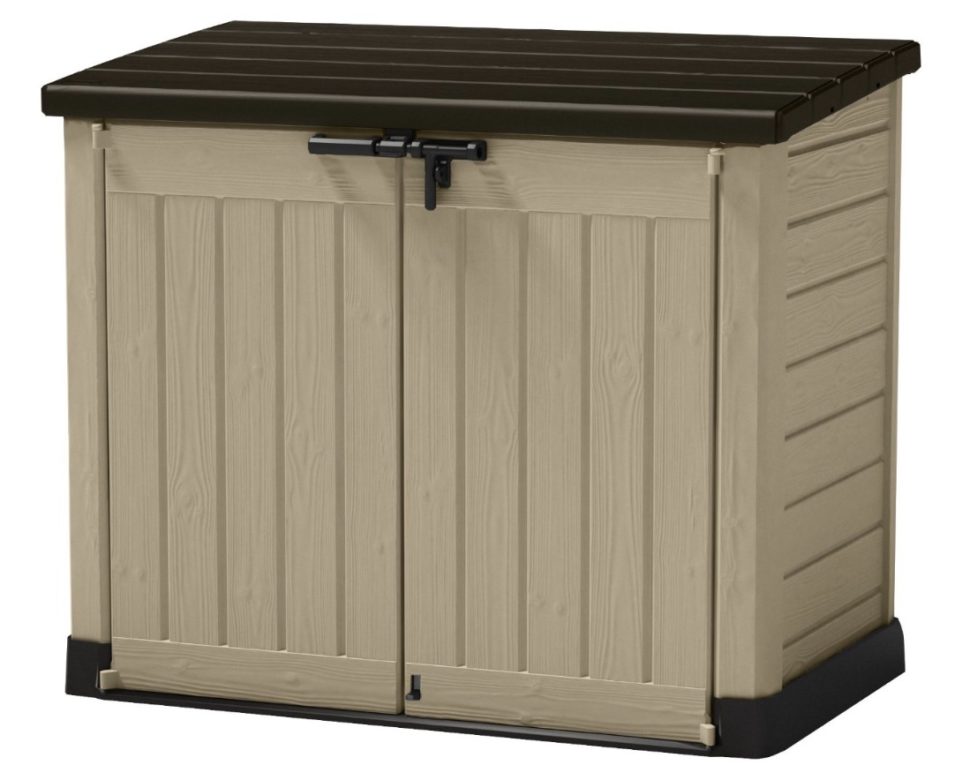 The Keter Midi is a smaller, affordable storage unit.
Dimensions measure 57 x 32 x 49 inches w/ storage capacity of 39 cubic feet.
Type: Deck Storage
Pricing: Affordable
Keter Midi shed walls are made of polypropylene resin plastic w/ steel reinforcement making it very durable! 
Personally I think it's great for storing pool cleaning supplies and other seasonal equipment – perfect for decks or in the garden!
Its size is good for lawn tools, pool equipment, gardening tools, or garbage bins. 
One of the best mini storage sheds.
---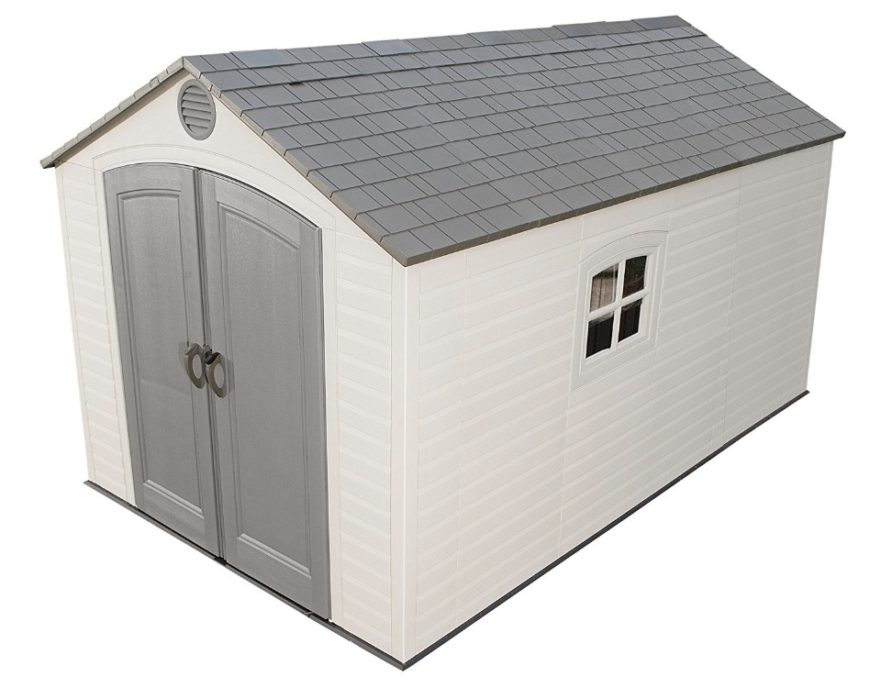 With the attractive design, you can place this storage shed anywhere in your yard and it will fit right in with the surrounding.
Main focus of this storage shed is providing max safety — it comes w/ lockable steel door and exterior is UV protected (which guards against extreme heats)
Type: Heavy Duty Shed
Pricing: Expensive
High-pitched roof helps ensure quick drainage during long rainy and snowy seasons.
Also an inside vent at the top will ensure a steady air flow that will prevent odors or moisture from forming.
Includes two windows for natural light and flexible shelving.
Very good buyer reviews online.
---

The Keter Manor Shed has 3D tiled roof and inside ventilation.
It has storage capacity of 291 cubic ft.
Buyers say it's perfect for medium size tools — bikes, lawn mowers, pool equipment, tools & furniture.
Wood and plastic construction is rot + decay-resistant, meaning that it won't be affected by bad weather conditions or extreme heat.
The gray color also blends in w/ mostly any color arrangement.
Also comes in 3 different sizes, all of which are easy to assemble out of the box.
---

One of the greatest advantages Suncast Glidetop Shed is its smaller size – it never looks out of place.
Looks great for smaller yards where a large outdoor shed might look out of place.
Type: Deck Storage
Pricing: Affordable
Inside 98 cubic feet of space is enough to hold your important gardening tools and machines.
Constructed with a double resin walls the Suncast Glidetop — durable enough to withstand any type of weather conditions.
Many positive buyer reviews mention that they use for anything.
From bicycle storage to gardening tools — it is the most versatile shed on my list. It can even be placed on a patio or deck for pool item storage.
Easy to install and affordable price.
---

The Lifetime large storage shed is most popular carport sized shed.
It's made of High-Density Polyethylene and steel frame, it's strong enough for any harsh weather.
My favorite thing about it is the beautiful exterior design — it looks like a small cottage in your yard (opposed to a metal shack).
Includes external windows which provide light for plants or shrubs. For security the Lifetime shed includes a safety lock.
Also includes:
2 screen vents, 2 large shelves, 4 corner shelves, 2 decorative shutters, 6 small skylights, high pitch roof (for fast drainage)
Excellent option for seasonal storage: mowers, bikes, gardening tools or landscaping machinery.
Downside – it's expensive.