Best Rated Chainsaw Review 2019.
Chainsaw ratings:
#1.) Husqvarna Rancher Chainsaw Review
#2.) DeWalt Flexvolt Cordless Chainsaw
#3.) Greenworks Cordless Chainsaw
#4.) Husqvarna X-Torq Chainsaw
#5.) Milwaukee Tool Electric Chainsaw
#6.) VonHaus Cordless Chainsaw
#7.) Worx Cordless Chainsaw
#8.) Black+Decker Cordless Chainsaw
#9-10.) Coming soon!
** FYI: links go to Amazon (had lowest saw prices)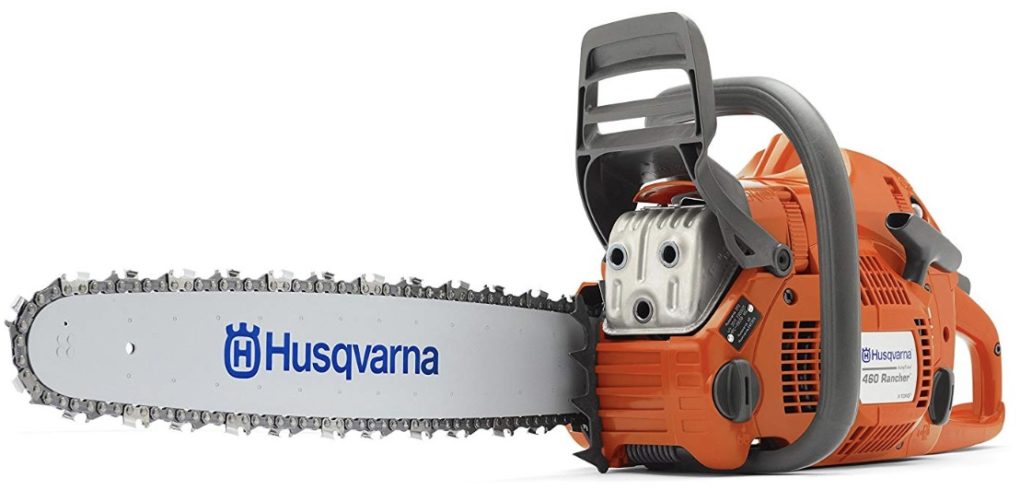 The Husqvarna 455 Rancher is a top seller online.
It comes w/ a powerful 2-cycle gas engine and is 20-inches long — furthest reaching chainsaw on my list.
For its size and power, the Husqvarna Rancher is extremely lightweight (only 10.2 pounds).
It's also very easy to start and designed to reduce vibrations during heavy jobs.
Buyers found the controls easy to use + includes quick-stop safety w/ TrioBrake near the handle (immediately stops when pulled)
The Husqvarna Rancher is very expensive, but has lots of positive buyer reviews.


The DeWalt FlexVolt is medium priced chainsaw that's very lightweight.
Weighing only 12.2 pounds, it reaches 16-inches and comes w/ multiple safety features:
chain stop-brake, kick-back protection + auto-oiling (for continuous lubrication)
FlexVolt uses a rechargeable battery that lasts 70 cuts per charge — not the longest battery, but should be enough for most yards.
Overall a high-quality brushless chainsaws w/ lots of happy buyers.

The is Greenworks Cordless Chainsaw is a top seller this year.
It has a medium weigh of 10.8 pounds, but a longer 18-inch reach.
It's one of the lighter models included on my list — excellent for smaller trees or shrubbery!
Very easy to start, you can turn on w/ 1-button. It's also very quiet compared to others.
For safety, it's designed to reduce kickback + comes w/ rapid-charge battery.  Full charge lasts 150 cuts, although it'll be much less w/ thicker trees.
Buyers love its moderate price + performance.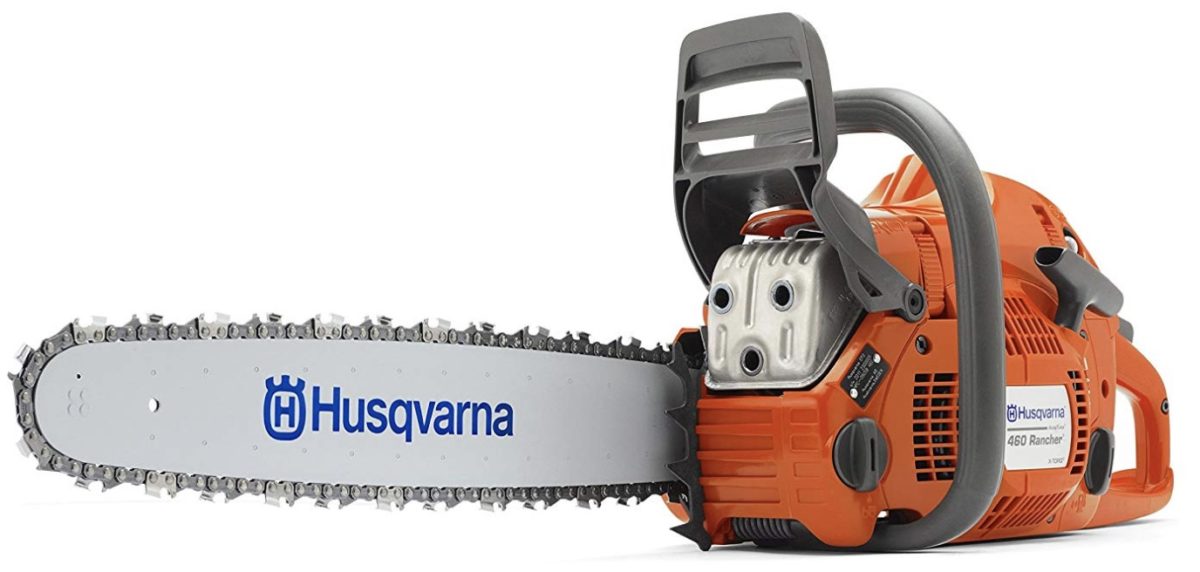 The Husqvarna 460 Rancher chainsaw is the most expensive on my list.
It comes w/ 24-inch reach + gas powered engine.
Despite a 3.62 horsepower motor, it's relatively lightweight (12.79 pounds) + keeps emissions to a minimum (making it eco-friendly)
This model weighs 12.79 pounds, which puts it in the middle of my list.
Rancher Chainsaw also includes ergonomic handles to decrease vibration — and comes w/ chain-brake stop + choke/stop control (no engine flooding!).
It's a newer model, but so far has excellent buyer reviews.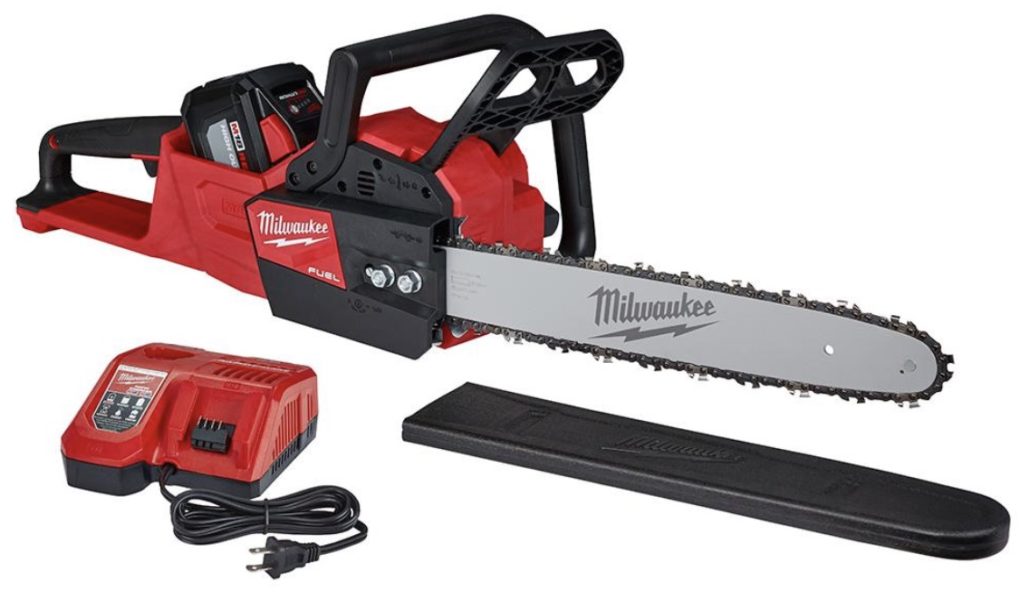 The Milwaukee 2727 Chainsaw has a 16-inch reach + meant for heavy-duty jobs.
Weighing 21 pounds, it's designed to tackle larger trees — it comes w/ overload protection that protects against over-heating.
Very strong power, nearly 2X better than similar gas chainsaws.
Also easy to start + battery lasts 150 cuts per charge.
FYI: It's the most expensive model on my list — ideal for professional landscapers or large yards.

The VonHaus Chainsaw is one of the newer chainsaws — it's also one of the most affordable.
One of the notable differences is the 14-inch blade length.
It's a compact model that's best for smaller jobs: bushes, small trees, pruning, etc.
Includes a kickback brake handle for safety.
You can easily change the tension for more efficient operation.
Downside is that the battery lasts 30-40 mins.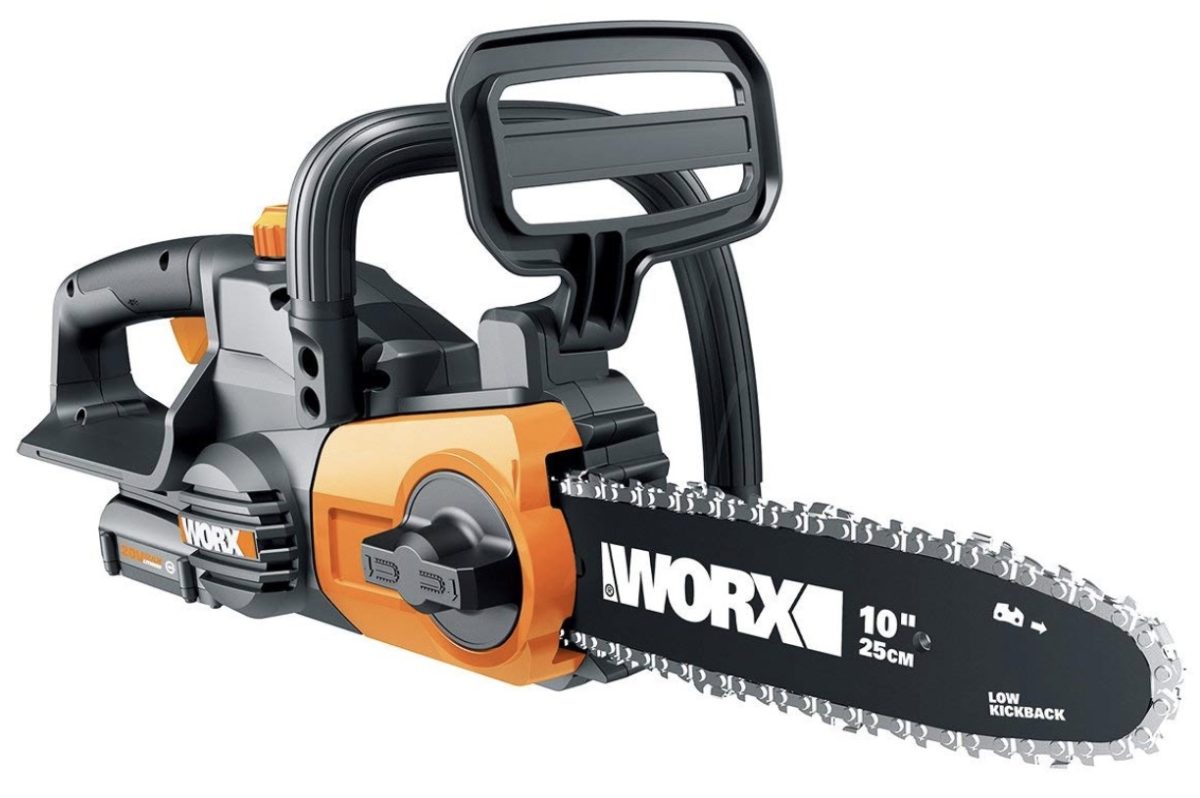 At just 6.91 pounds, the Worx 20V Chainsaw is the lightest chainsaw on my list.
It includes a tool-free tension adjuster — ensures the chain won't skip or create imbalance while rotating.
For power it uses a rechargeable battery + includes an alert indicator (telling you when it's low)
For less vibration it comes w/ ergonomic grips.
If you're looking for an above-average chainsaw for medium tasks, I suggest the Worx Cordless! It's very affordable chainsaws + has excellent reviews.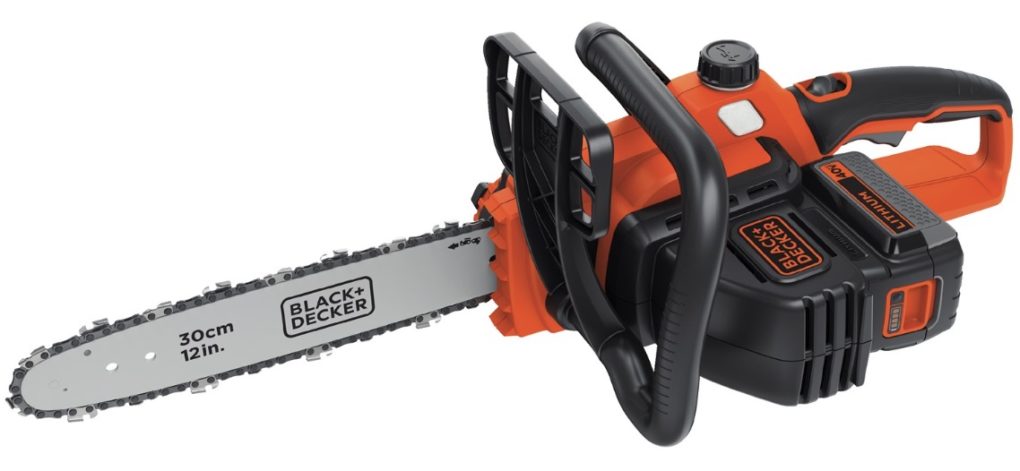 The Black+Decker Cordless Chainsaw reaches 12-inches and weighs 10.4 pounds.
It's durable enough to handle smaller trees + lightweight design helps eliminate user fatigue.
One of the nice features is that you're able to adjust the chain tension — very easy to modify between cuts.
Buyer reviews say battery lasts 1-hour or 60 cuts.
It's ideal for smaller tasks, but can be used for larger jobs (but less battery life)
A big selling point is the price – it's very affordable and strong enough for most yard jobs.
Best Chainsaw Review – Related:
Best Pressure Washers Review
Top 10 Wood Chippers
Top 10 Best Patio Heaters
10 Best Lawn Mowers
Best 10 Power Washers