Best Backpack Blowers Review.
Backpack leaf blowers, whether residential or for commercial use are perfect for long-duration jobs.
The newest models include top features such as increased torque, lightweight feel, and lower emissions (more eco-friendly).
They're also super powerful with air volume up to 800 CFM and speeds of 250 MPH.
Below is my list of the top backpack leaf blowers available.
#1.) Husqvarna 350BT Leaf Blower
#2.) Poulan PR48BT Leaf Blower
#3.) Makita EB7660WH Review
#4.) Echo PB-755ST Backpack Blower
#5.) Husqvarna 130BT Review
** FYI: backpack blower links go to Amazon (had the lowest price)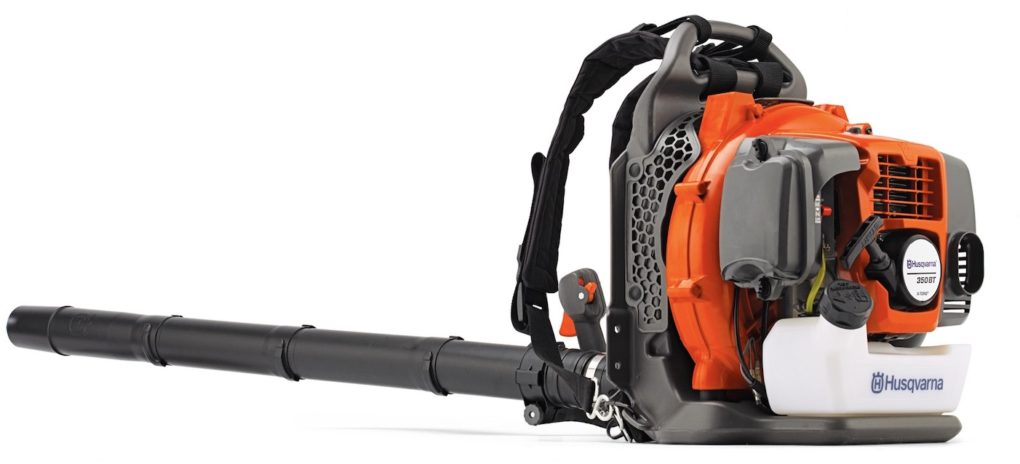 The Husqvarna backpack leaf blower 350BT is the most popular commercial backpack blower online.
FYI: Husqvarna 130BT and 150BT models are best for homeowners
It's a high-powered backpack leaf blower with good air speed + velocity.
Max Air Volume: 495 CFM
Max Air Velocity: 180 MPH
The 350BT model has X-Torq engine design — drastically reduces harmful exhaust emission and increases fuel efficiency 20%.
Husqvarna backpack blower weighs 22.5 pounds, which is normal for professional leaf blowers of this size.
Buyers say it's easy to carry, especially with the integrated harness and new hip belt.
Overall, the best backpack leaf blower for professionals.

The Poulan PR48BT blows right through wet or heavy leaves.
It comes with a powerful 48cc 2-stroke engine.
Max Air Volume: 475 CFM
Max Air Velocity: 200 MPH
Speed: 200 MPH
Velocity: 475 CFM
You can even use it for removing clumps of grass, clearing mulch, or blasting sand off hard surfaces.
Features include cruise control, easy speed throttle, and back/shoulder adjustable harness.
Lots of positive buyer reviews — many say they're shocked how much wind speed the Poulan backpack blower generates.
Downside is the expensive price tag.

The Makita backpack blower (model #EB7660WH) is a true commercial leaf blower
It's an upgrade from discontinued backpack blowers — EB7660WH and EB7650TH.
Max Air Volume: 706 CFM
Max Air Velocity: 206 MPH
Extremely powerful, it generates air speed 206 MPH and volume of 706 CFM — also includes an automatic engine decompression, making it very easy to start.
Makita backpack leaf blower is powered by a 75.6cc (3.8 HP)  engine.
Other features include anti-vibration mount + muffler which keeps the noise below 76 dBA.
Downside is the expensive price tag.

The Echo backpack leaf blower PB-755ST generates the strongest wind speed on my list.
It comes with 63.3cc 2-stroke engine.
Max Air Volume: 756 CFM
Max Air Velocity: 234 MPH
Weights 30 pounds, but buyers say it's very comfortable to carry.
Vented padding on the backrest and shoulder straps make it the best backpack blower for summer.
Multiple buyers say the Echo backpack blower engine starts on the first pull
Expensive, but it also the highest ratings from buyers.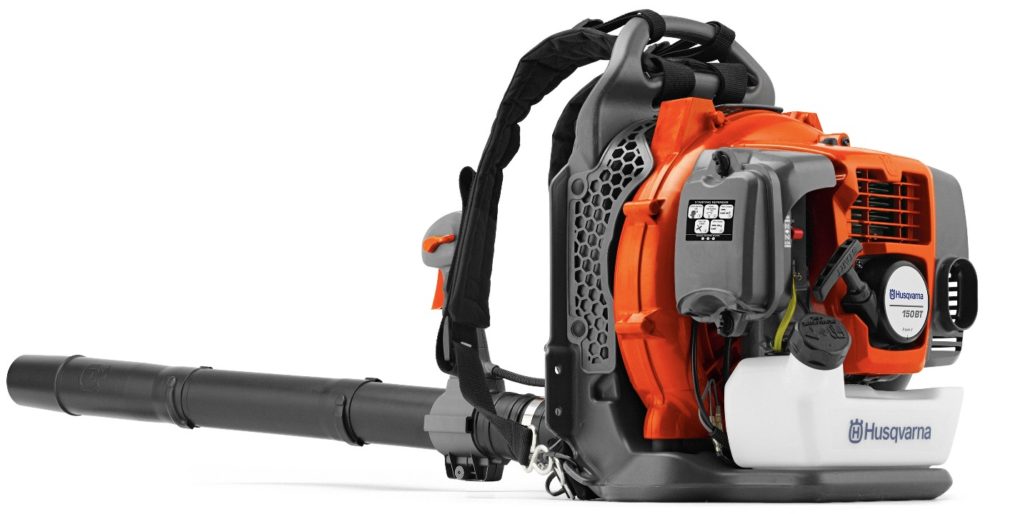 The 130BT is the best Husqvarna leaf blower for homeowners.
FYI: Husqvarna 350BT (listed above) is more powerful and mostly a commercial backpack blower.
For a homeowner, the 130 is relatively lightweight weighing only 22.5 pounds.
Similar to other Husqvarna backpack blowers, it's designed with X-Torq Engine — fuel efficient and low emissions.
Max Air Volume: 360 CFM
Max Air Velocity: 145 MPH
Buyers love its long battery power — runs for 2-3 hours continuously (on a single charge).
Looking at reviews, the Husqvarna blower is the best backpack leaf blower for professional landscapers.
Medium price and solid performance.
** I'll be adding #6 to best backpack leaf blower reviews soon!
Best Backpack Leaf Blower Review – Related:
Top 10 Best Cordless Leaf Blowers
Best Self-Propelled Lawn Mowers