Best Bosch Dishwashers.
A dishwasher is a good longterm investment for any household. It saves you time, does its job better than any individual person could hope to, shrinks your home utility bill, and the new models conserve energy and water.
Dishwashers are also better at sanitizing your dishes, too, because they use much hotter water than any person can tolerate through hand-washing.
Since 1886, the Bosch brand has produced high-end, yet affordable home dishwashers.
For my review, I listed some of the most popular Bosch dishwashers available online.  Many are cheaper online vs. retail stores.
Prices on my list range, $499 – $1799.
Bosch 800 Series
Bosch Ascenta Dishwasher
Bosch Benchmark Series
Bosch Original Series
Bosch SHX878WD2N Dishwasher
Bosch 300 Series Dishwasher
---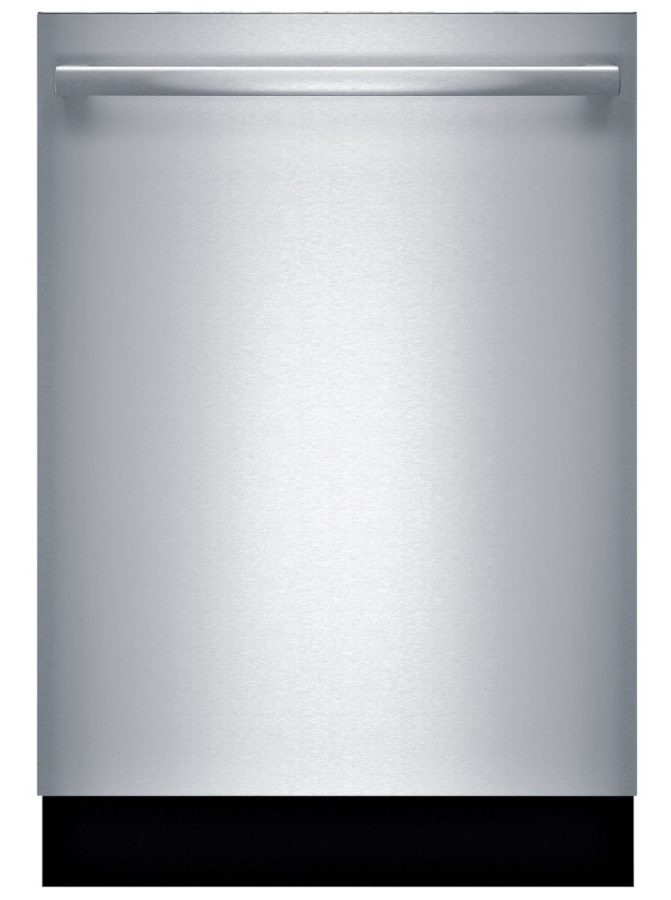 The Bosch 800 is a popular model w/ capacity for 16 place settings.
As one of the most expensive dishwashers it features high-end features + lots of versatility.
Dimensions:  24″ H x 34″ W x 24″ D
It operates at lower noise levels and usually won't exceed 42 dBs — excellent for running at night!
Buyers appear to love the flexible 3rd rack — it can be removed or folded down (making room for big items).
In total there's 9 possible rack options w/ 3 height levels.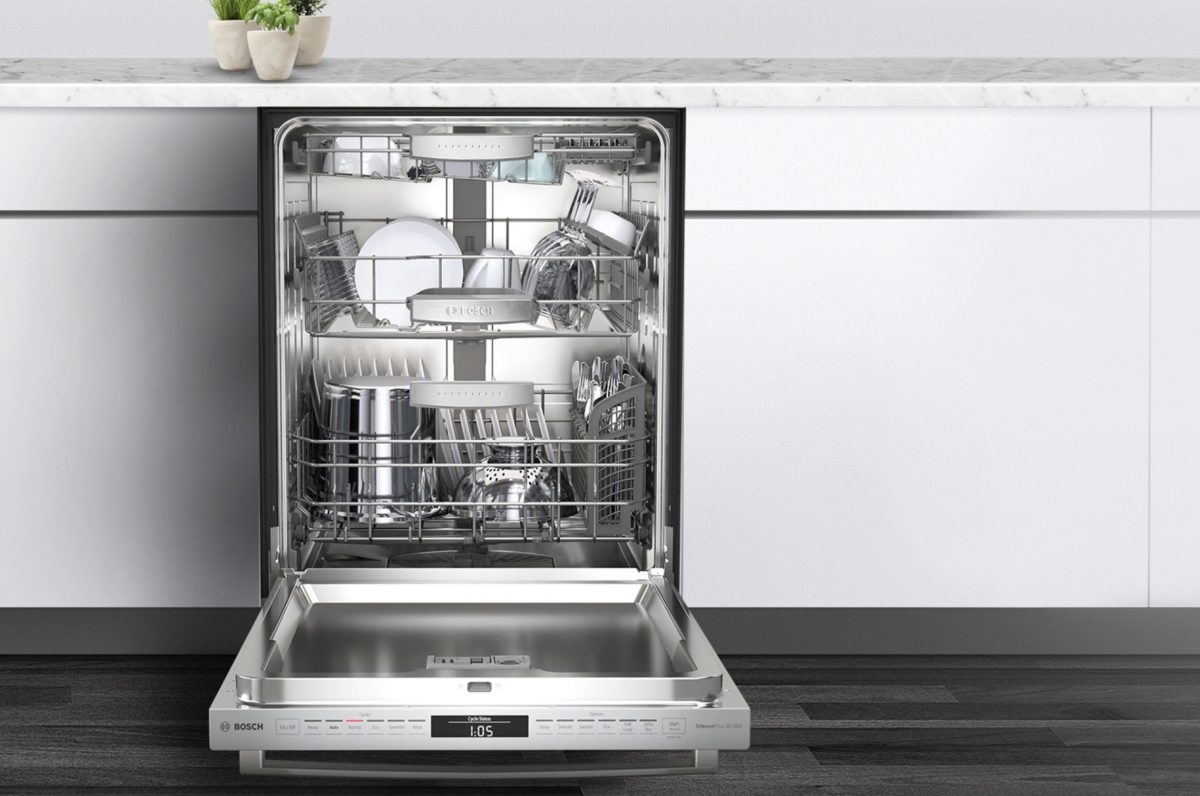 When pulled down it offers 30% more capacity.
Reviews say it's useful for holidays when larger pots/pans are used.
Bosch constructed the Flex Dishwasher w/ full stainless steel interior — not only beautiful, it's also very durable.
Benchmark comes w/ automatic sensors + includes the new "Info Light" feature.
If it detects an issue, you'll see a small red light alerting you. (avoids bad scenarios like flooding!)
Energy Star rated and coms w/ 6 wash cycles.
Most powerful wash setting finishes in only 1-hour — includes a jetted wash, rinsing + quick heat-dryer function.
Easy to install but very expensive Bosch dishwasher.
---


The Bosch Ascenta dishwasher is an Energy Star Rated — helps save on your monthly electric bill!
It comes w/ 6 different wash settings + 14 place settings.
Also includes a delay start (for energy saving) and very quiet operation.
The Ascenta 24-inch dishwasher has mostly positive reviews.  Buyers say it was easy to install + great for silverware/glasses (no smudges).
For a large dishwasher the Ascenta is very affordable.
Solid choice for families!
---
If you are looking for a quiet, low noise dishwasher the Bosch 800 Series is one of the best.
Very easy to install it comes equipped with custom control panels, making it easy for anyone to operate..
This special model comes with Bosch dishwasher "MyWay" technology, an extra rack that makes room for large items (such as pots and pans) in the bottom rack.
FYI: Many of the best Bosch dishwashers include additional flex racks
As a person who doesn't like to wash pots and pans, a dishwasher with extra space is perfect for me!
You get 3 height adjustments and up to 9 possible rack positions – all washes are suitable for use in this dishwasher, no problem, especially with 16 position settings.
This is a 40Db dishwasher and it is very quiet again. You may not even notice that it is already open! It also comes with Energy Star Ratings and Info Light technology to help you track your wash cycle.
You have 7 cycles and 7 programs to choose from, as well as a 24-hour delayed start timer. If you still need many features of the top model, but the price is slightly lower, this is a great choice.
PROS: 

you can match it seamlessly into your kitchen

CONS: 

we can't think of anything (although not all the features available)
---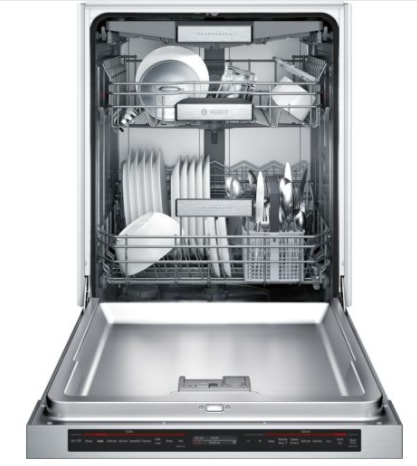 If you're a mobile app wizard, you'll want this dishwasher.
Stainless steal design will match nicely with your french refrigerator or stove.
Being able to control your home from your phone is fast becoming the new normal, and with the Bosch Home Connect mobile app, you can do that with this dishwasher.
Perfect for busy lives where you can load up the dishwasher in the morning — but no worries about forgetting to turn it on, because you can do that remotely.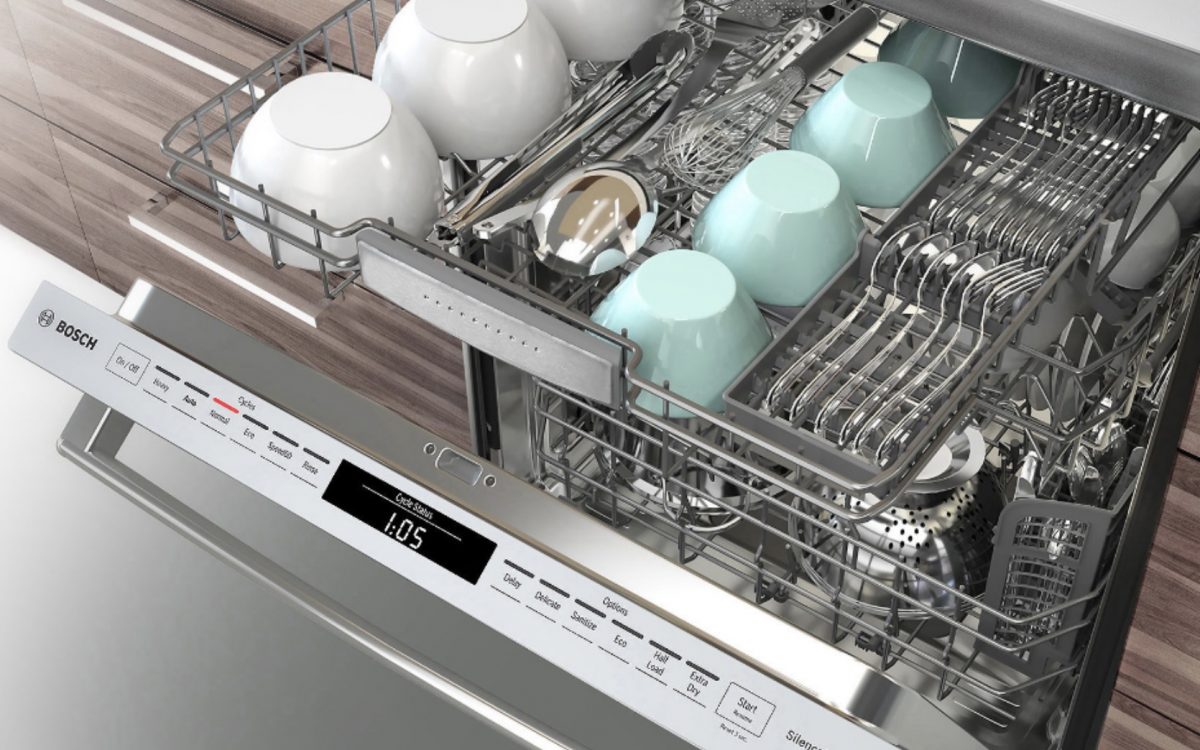 Of course, as well as being a dishwasher of the future, this dishwasher has all the features of other similar Bosch Dishwashers.
Comes with Energy Star rating, is whisper quiet, features the Info Light and the MyWay rack technology. So you're not sacrificing anything for your gadgets here; you're getting the same great product, with that little extra for all your early adopters.
Bosch 800 Series dishwasher are the most popular models online.
PROS:  

you can control it with your smartphone or tablet

CONS:  

it doesn't look as sleek as it could, for a "smart" dishwasher.
---

This white dishwasher is a brilliant mid priced option if the budget for your kitchen renovation isn't quite as free as you'd perhaps like!
Despite the bigger price tag, this dishwasher still delivers many of the great Bosch features.
42 dBs, so still a very quiet option, and has the flexible third rack to help you fit more dirty dishes in. It also, like all Bosch dishwashers, has EasyGlide technology, which means that the top rack is even easier to load and unload.
This model also has a flexible basket for your silverware which can be split into two parts and placed anywhere in the dishwasher for complete ease of loading, which is a feature not included in some of the other models.
I really like this model: for the price you are getting the majority of the features of the more expensive models.
It's available in other colors (black and stainless steel) meaning that you'll find the look to fit your new kitchen at a price that won't hurt your budget.
PROS:  lots of features for the price
CONS:  slightly louder than other models
---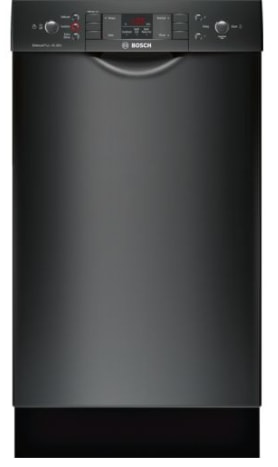 If your budget really won't stretch to the dishwashers featured above, then this is our favorite budget option from Bosch. It's not as stylish as some of the other models, but if price is a bigger concern than appearance for you, then this dishwasher fits the bill.
At 46Db, it's the loudest of the dishwashers we reviewed, but it's still very quiet, and is the quietest in it's class. It has a moveable middle rack, so you can still fit a good amount of dishes in.
What makes it one of the best Bosch dishwashers is narrower than the other models, so if you are short on space, you'll be able to squeeze this dishwasher in.
Capacity for 9 place settings, and 4 wash cycles and 4 options to choose from.
It has a red LED display to tell you the time remaining on the cycle. This dishwasher may be simpler than the others we have reviewed, but it still gives an excellent performance, and is a great choice for those on a smaller budget.
PROS: 

low price point, fits in smaller spaces

CONS: 

fewer features, less attractive than other models.
---
Conclusion:
There comes a time in life when you can finally afford that dream kitchen — you know, the one you've been thinking of and planning for.
Let's face it, we all want that perfect kitchen dishwasher; where we can entertain effortlessly and cook delicious meals in comfort and ease.
If you're lucky enough to be planning a kitchen renovation (I'm jealous, I really am!), then one thing that you might not yet be considering is the dishwasher. 
---
Other Bosch Dishwashers Benchmark Series Models:

  SHV89PW73N ; SHE89PW75N ; SHX89PW55N ; SHE89PW55N ; SHX88PW55N ; SHP88PW55N ; SHV88PW53N ; SHX87PW55N ; SHP87PW55N ; SPX68U55UC ; SHXM78W55N ; SHX878WD5N ; SHX5ER55UC 
Additional 800 Bosch DishwashersSeries Models:  SGE68U55UC ; SHXM98W75N ; SHVM98W73N ; SHP878WD5N ; ; SHVM78W53N ; SHV878WD3N ; SGX68U55UC ; SPE68U55UC ; SHPM78W55N ; SHEM78W55N ; SHE878WD5N 
Other 500 Series Models:

  SHXM65W55N ; SHPM65W55N ; SHP865WF5N ; SHP865WD5N
Other 300 Series Models:

  SHXM63WS5N ; SHXM63W55N ; SHX863WD5N ; SPE53U55UC ; SHSM63W55N ; SHX863WB5N ; SHS863WD5N ; SHS63VL5UC ; SHEM63W55N ; SGE53U55UC ; SHE863WF5N
Ascenta Series Models:  SHX5AVB5UC ; SHX5AVL5UC ; SHX5AVF5UC ; SHX3AR75UC ; SHX5AV55UC ; SHS5AVL5UC ; SHS5AV55UC ; SHS5AVF5UC ; SHE3ARB5UC ; SHX5AVF2UC ; SHE3ARF5UC ; SHE3AR75UC
---
Best Bosch Dishwashers Review