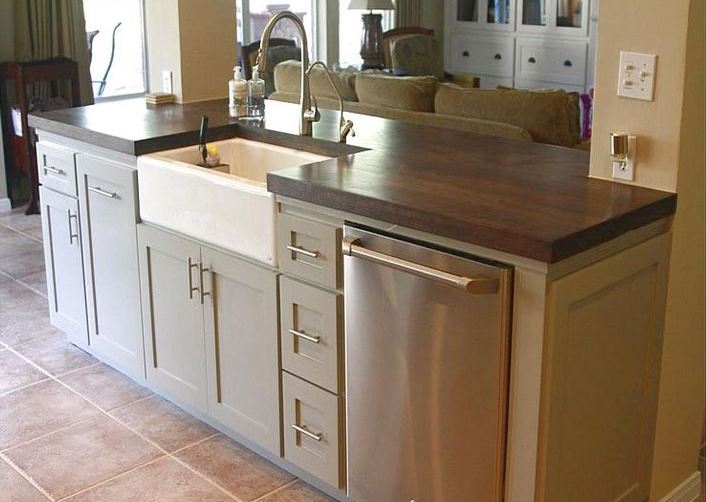 Best Bosch Dishwashers // Bosch Dishwasher
Here's my top picks for best Bosch dishwashers:
#1.) Benchmark Flex Rack
#2.) Bosch Ascenta Dishwasher
#3.) Bosch Benchmark Series
#4.) Original Bosch Dishwasher
#5.) Bosch 800 Series Dishwasher
** FYI — links go to Amazon (had lowest Bosch prices)

If you've got a large budget for your kitchen renovation (again, lucky you!) then this is the dishwasher for you.
It's the most expensive appliance in our list, but it's guaranteed to do exactly what you need it to do – and well. Plus, it will look stylish whilst doing it. It's streamlined appearance will fit right in to the new design of your kitchen.
At 38Db, this dishwasher won't be disturbing your sleep.
It's whisper quiet, and that's one of my favorite things about this dishwasher.
One brilliant feature is the flexible 3rd rack. This brilliant little addition has fold down sides, and when used gives you 30% more capacity – perfect for all those dinner parties you'll be hosting from your new kitchen!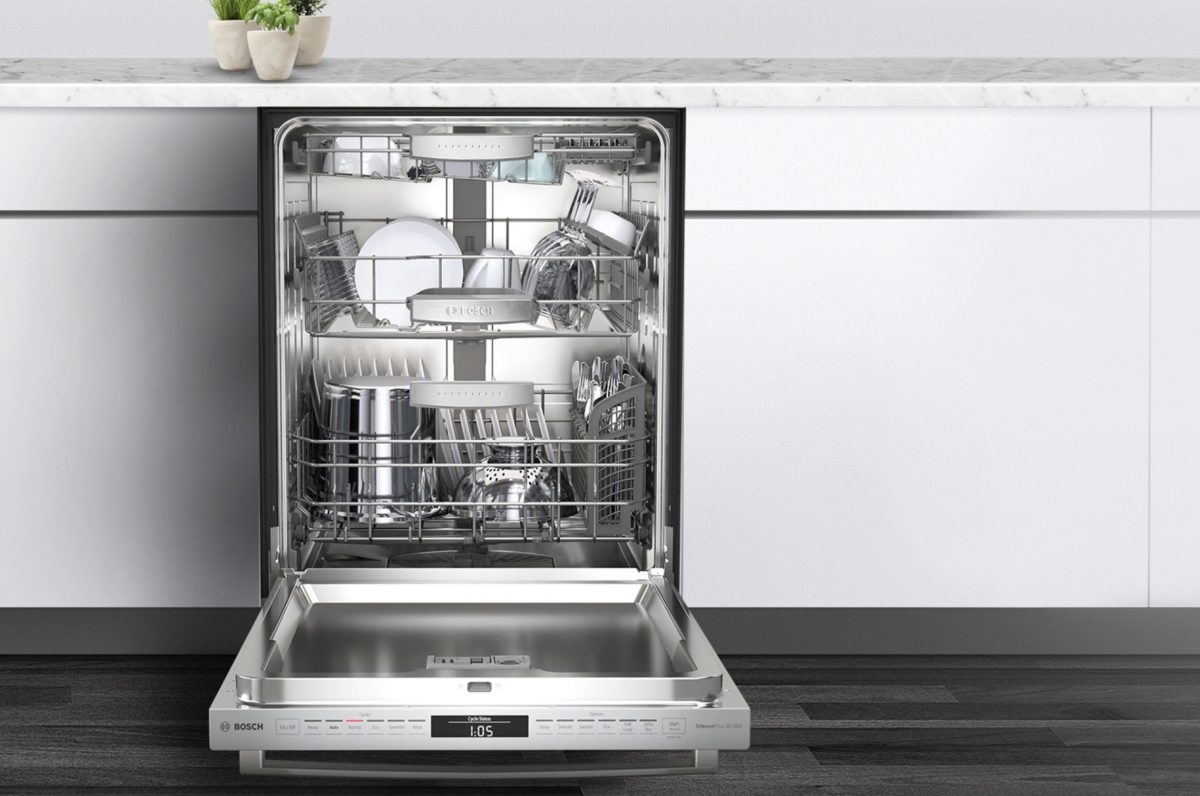 Interior light is there to help you find spaces to place smaller things such as bowls, small plates, and kitchen utensils. It is also handy if you happen to lose cutlery into the depths of the dishwasher.
One particularly innovative feature is the "Info Light" – a small red light that indicates if the dishwasher is working correctly, or if the wash cycle has completed.
The Bosch has 7 cycles and 7 wash options, as well as Energy Star rating. Your dishes can go from dirty to dry in an hour! Again, you'll be hosting dinner parties every weekend with this dishwasher helping you!
Also comes w/ sanitize option as a secondary bacteria filter.
** one of the best Bosch Dishwashers available, but is occasionally sold out
Highlights
Dimensions: 30 x 26 x 36 inches
Wash cycles: 7

Energy Star rating

Very quiet operation: <

38 dBs

Flexible 3rd rack

Very easy to install
Potential Flaws


The Bosch Ascenta dishwasher is an Energy Star Rated model, so users will save money on the energy bill when running it.
It comes w/ 6 different wash settings + 14 place settings. Also includes a delay start (for energy saving) and very quiet operation.
The Ascenta 24-inch dishwasher has mostly positive reviews. Many buyers say it was easy to install + great for silverware/glasses (no smudges)/.
As an affordable Bosch dishwasher, the Ascenta 24″ is a solid choice.
Highlights
Size: 23.6 x 22.6 x 33.9 inches
Weight: 71 pounds

6 wash cycles + 14 place settings

Energy Star Rated dishwasher

Easy to installation
Potential Flaws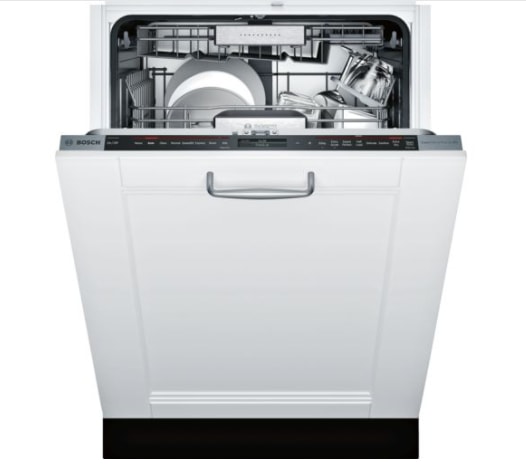 If you like less noise (as in whisper quiet) and easy integration, you'll love the Bosch 800 Series.
Although it's a type of model opposed to a specific dishwasher, most come with a custom control panel – this will make it easy enough for a teenager to use. 
Comes ready for you to install a custom front panel to match the rest of your cupboards, meaning that your dishwasher will disappear seamlessly into your kitchen, hidden among the other cupboards.
** Also check out Megan's review of Top 8 Tankless Water Heaters
If you are not a fan of having your appliances on show, then this is the dishwasher for you.
Aside from the integration, this dishwasher is also efficient, with many useful features. This particular model comes with Bosch Dishwashers "MyWay" technology, an additional rack which frees up space for larger items such as pots and pans in the bottom rack.
FYI: Many of the best Bosch dishwashers include additional flex racks

As someone who hates washing up pots and pans, a dishwasher with extra space for these would be perfect for me! You get 3 height adjustments and up to 9 possible rack positions — all that washing up is fitting in this dishwasher, no problem, especially with capacity for 16 place settings.
This is a 40Db dishwasher, so again, incredibly quiet. You might not even notice that it's on! It also comes with Energy Star rating and the Info Light technology to help you keep track of the wash cycle.
You have 7 cycles and 7 programs to choose from, as well as a 24h delay start timer. This is a brilliant option if you still want many of the features of the top model, but for a slightly lower price.
PROS: 

you can match it seamlessly into your kitchen

CONS: 

we can't think of anything (although not all the features available)
#4.)

Original 

800 Series Dishwashers (SHEM78WH5N)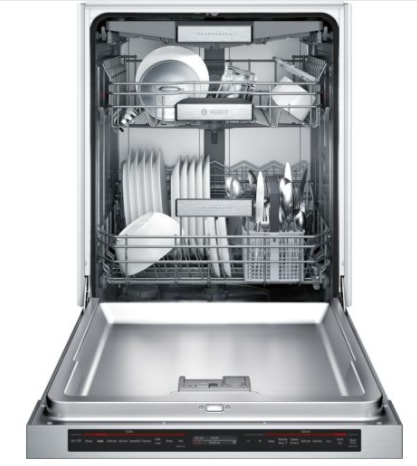 If you're a mobile app wizard, you'll want this dishwasher in, what is, no doubt going to be a Smart kitchen renovation.
Being able to control your home from your phone is fast becoming the new normal, and with the Bosch Home Connect mobile app, you can do that with this dishwasher.
Perfect for busy lives where you can load up the dishwasher in the morning — but no worries about forgetting to turn it on, because you can do that remotely.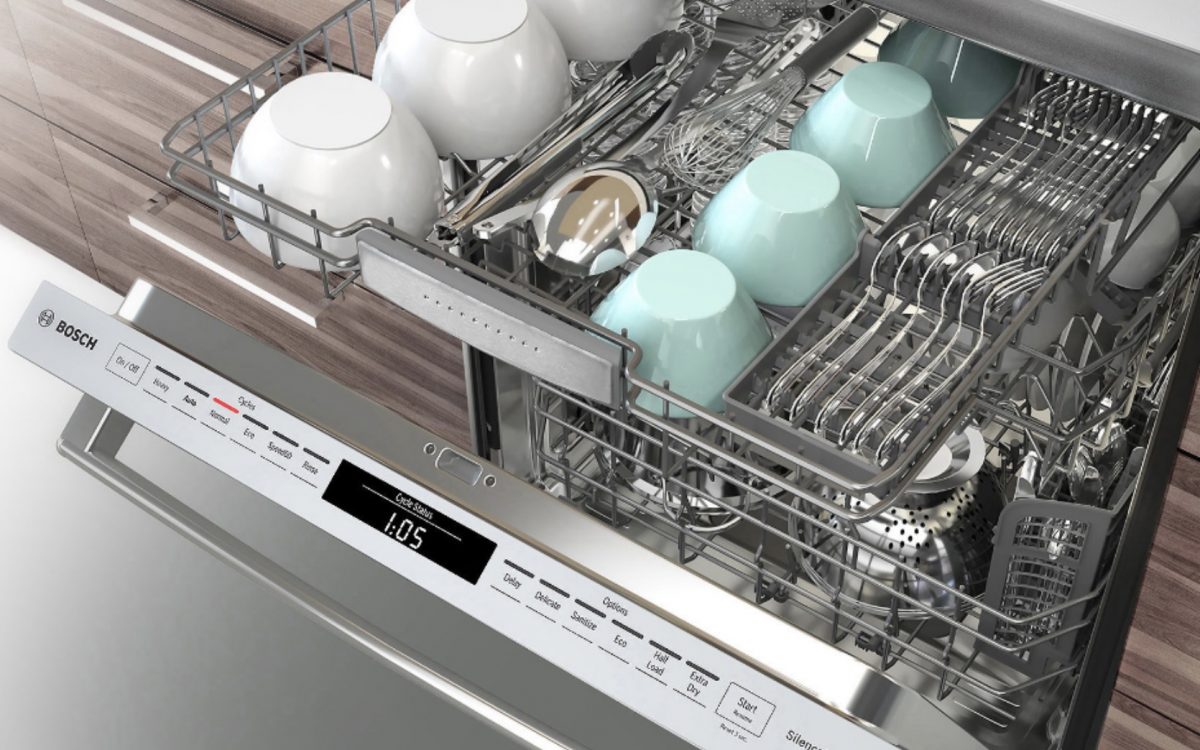 Of course, as well as being a dishwasher of the future, this dishwasher has all the features of other similar Bosch Dishwashers.
Comes with Energy Star rating, is whisper quiet, features the Info Light and the MyWay rack technology. So you're not sacrificing anything for your gadgets here; you're getting the same great product, with that little extra for all your early adopters.
** 800 Series includes many of the best Bosch dishwashers in the market
PROS:  

you can control it with your smartphone or tablet

CONS:  

it doesn't look as sleek as it could, for a "smart" dishwasher.

This white dishwasher is a brilliant mid priced option if the budget for your kitchen renovation isn't quite as free as you'd perhaps like!
Despite the bigger price tag, this dishwasher still delivers many of the great Bosch features.
42 dBs, so still a very quiet option, and has the flexible third rack to help you fit more dirty dishes in. It also, like all Bosch dishwashers, has EasyGlide technology, which means that the top rack is even easier to load and unload.
This model also has a flexible basket for your silverware which can be split into two parts and placed anywhere in the dishwasher for complete ease of loading, which is a feature not included in some of the other models.
I really like this model: for the price you are getting the majority of the features of the more expensive models, and it is available in other colors (black and stainless steel) meaning that you'll find the look to fit your new kitchen at a price that won't hurt your budget.
PROS:  lots of features for the price
CONS:  slightly louder than other models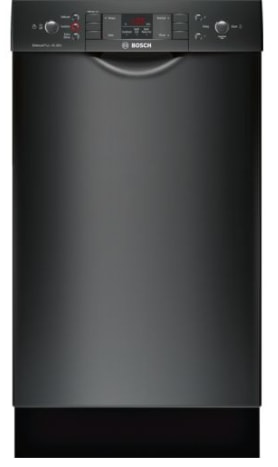 If your budget really won't stretch to the dishwashers featured above, then this is our favorite budget option from Bosch. It's not as stylish as some of the other models, but if price is a bigger concern than appearance for you, then this dishwasher fits the bill.
At 46Db, it's the loudest of the dishwashers we reviewed, but it's still very quiet, and is the quietest in it's class. It has a moveable middle rack, so you can still fit a good amount of dishes in.
What makes it one of the best Bosch dishwashers is narrower than the other models, so if you are short on space, you'll be able to squeeze this dishwasher in. Capacity for 9 place settings, and 4 wash cycles and 4 options to choose from.
It has a red LED display to tell you the time remaining on the cycle. This dishwasher may be simpler than the others we have reviewed, but it still gives an excellent performance, and is a great choice for those on a smaller budget.
PROS: 

low price point, fits in smaller spaces

CONS: 

fewer features, less attractive than other models.
Conclusion
There comes a time in life when you can finally afford that dream kitchen — you know, the one you've been thinking of and planning for.
Let's face it, we all want that perfect kitchen dishwasher; where we can entertain effortlessly and cook delicious meals in comfort and ease.
If you're lucky enough to be planning a kitchen renovation (I'm jealous, I really am!), then one thing that you might not yet be considering is the dishwasher. 
Other Bosch Dishwashers Benchmark Series Models:

  SHV89PW73N ; SHE89PW75N ; SHX89PW55N ; SHE89PW55N ; SHX88PW55N ; SHP88PW55N ; SHV88PW53N ; SHX87PW55N ; SHP87PW55N ; SPX68U55UC ; SHXM78W55N ; SHX878WD5N ; SHX5ER55UC 
Additional 800 Bosch DishwashersSeries Models:  SGE68U55UC ; SHXM98W75N ; SHVM98W73N ; SHP878WD5N ; ; SHVM78W53N ; SHV878WD3N ; SGX68U55UC ; SPE68U55UC ; SHPM78W55N ; SHEM78W55N ; SHE878WD5N 
Other 500 Series Models:

  SHXM65W55N ; SHPM65W55N ; SHP865WF5N ; SHP865WD5N
Other 300 Series Models:

  SHXM63WS5N ; SHXM63W55N ; SHX863WD5N ; SPE53U55UC ; SHSM63W55N ; SHX863WB5N ; SHS863WD5N ; SHS63VL5UC ; SHEM63W55N ; SGE53U55UC ; SHE863WF5N
Ascenta Series Models:  SHX5AVB5UC ; SHX5AVL5UC ; SHX5AVF5UC ; SHX3AR75UC ; SHX5AV55UC ; SHS5AVL5UC ; SHS5AV55UC ; SHS5AVF5UC ; SHE3ARB5UC ; SHX5AVF2UC ; SHE3ARF5UC ; SHE3AR75UC
Relevant Articles:
Top 10 Best Portable Dishwashers
Frigidaire Portable Dishwasher Review
10 Best Diswashers for 2018
Top Microwaves Under $100
Home Space Heaters
Top Kitchen Dishwashers
Top 10 Wireless Headphones
Best Home Humidifiers
Refrigerators for Kitchen Renovation