Black and Decker Portable AC. 
The Black and Decker portable AC was a top seller last year.
Because of last year's success, Black & Decker expanded their portable AC series for 2019.
Depending on room size, Black and Decker offers the following:
[table id=36 /]
Top 10 Portable Air Conditioners >>
** FYI — not all websites have correct info (above stats researched on B+D website)
What's surprising is how affordable they are — for their power size, they're 10-15% less than similar BTU units.
All models offer 3-in-1 functionality.
air conditioner, dehumidifier, 3 fan speeds
For my review I'll refer to the Black and Decker BPACT10WT air conditioner.
Cooling: 10000 BTU
Pricing: Medium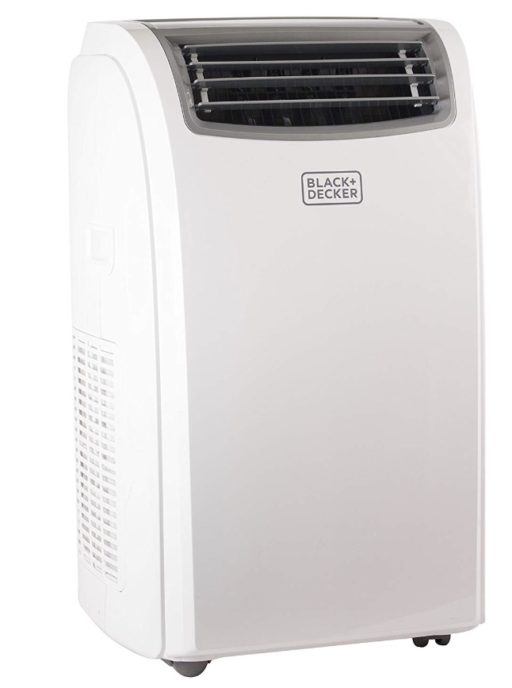 Black and Decker BPACT10WT Review:
The Black and Decker 10000 BTU is perfect for medium size rooms.
A downside is that they are a little louder than others, but that's expected units as powerful as this.
Cooling: 200 – 300 sq. ft.
Room size: 20 x 15 ft.
Noise Level: 56 – 75 dBs (on high)
Buyers confirm that it's easy to install w/ the window kit.
Takes 10-15 mins to install (arrives 90% preassembled!).
All models include a remote control w/ more advanced functions than similar portable AC models — Best of all, you can set the exact room temp you want.
similar models come w/ a remote control, but most only allow you to increase/decrease speed — not set a temperature
Buyers confirm that once you set the temp, the Black and Decker portable air conditioner is very quick to achieve it.
It will run at max power and switch to lower speed once the temp is reached — this provides a consistent room temp and doesn't force the AC unit to constantly turn on/off.
Temperature: 62°F – 88°F
Black and Decker BPACT12WT would be a good fit for a lot of scenarios.
city apartments, medium-size living rooms, dorm rooms, medium basements, garage activities (such as ping pong)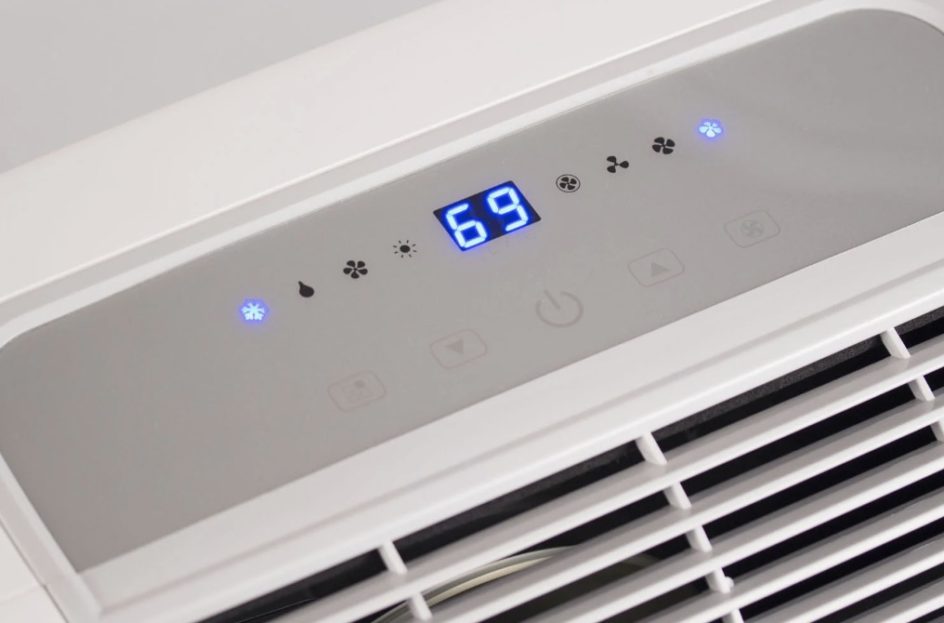 What's included:
The Black and Decker Portable AC unit comes mostly preassembled — here's a run-down of what to expect in the box.
Black and Decker BPACT10WT

Window installation kit

Air exhaust hose

Water drain hose

Remote control

4 caster wheels
Black and Decker Portable AC Review:
AC Unit: BPACT10WT
Power: 10,000 BTU
Room Size: 200 – 300 sq. ft.
Temperature: 62°F – 88°F

Remote control

Adjustable temperature settings

Washable air filters

Compatible for most windows

Double hung

Sliding windows

(no crank windows)

Caster wheels = portable ac

3 fan speeds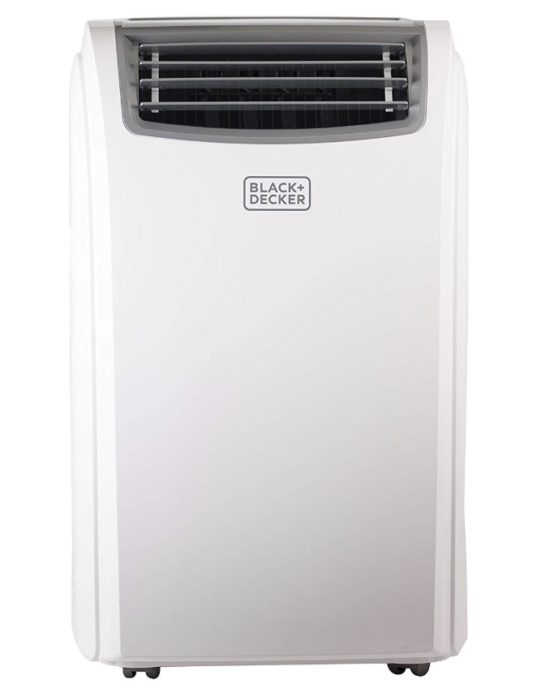 Black and Decker BPACT10WT Review:
I personally think the Black and Decker Portable ACs are some of the best options available online — Amazon had the best price compared to other sites (in the USA).
There's some mixed reviews from buyers, but overall the majority have been positive.
If there's a notable downside, it's the noise level.
Black and Decker's portable AC is louder than comparable models.
75 decibels isn't obnoxiously loud, but if you plan on using as a bedroom AC + you're a light sleeper, I suggest taking a look at the Shinco or JHS portable AC units.
Shinco SPF2-10C Air Conditioner Review >>
For uses in the home, I think the Black and Decker portable air conditioners are perfect — they're super fast at cooling and maintain cooler temperature for hours.
And you'll love the price compared to similar models!
---
Black & Decker Portable AC Reviews
Danby Portable Air Conditioners
Costway Portable AC Unit Review