Black & Decker BPACT12WT Review. 
The Black and Decker BPACT12WT is a high-powered, 3-in-1 portable air conditioner.
For a 12000 BTU unit it's reasonably priced.
It's also very versatile and can quickly cool medium and large rooms — perfect size for most homes and apartments.
Residential uses:
home offices, living rooms, dorm rooms & basements
Buyers say it's a good option for high ceilings or homes w/ open-layouts!
Black and Decker BPACT12WT Review:
Each offers the same 3-in-1 functionality.
air conditioning, dehumidify & fan mode
Buyers like the affordable price — it's less than similar 12,000 BTU air conditioners.
Overall I think it's a solid option for those looking for a powerful cooling AC.
I noticed some online descriptions have inconsistent info, so the stats listed below are from Black & Decker's website.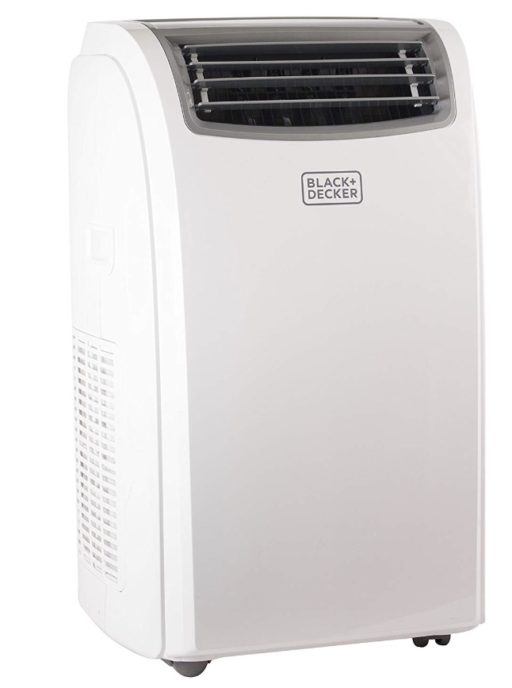 Black and Decker 12000 BTU Portable AC:
The Black & Decker 12000 BTU unit is built for faster cooling.
It's very good at maintaining cooler temps, especially for long durations of 5+ hours.
Power: 12000 BTU
Coverage: up to 400 sq. ft.
Area size: 20 x 20 ft.
It comes 95% preassembled which makes it super easy to install.
Buyers say it takes only 10-15 minutes!
All models come w/ a remote control and allow you to set a desired room temp.
most portable ACs include a remote, but only allow you to increase/decrease power.
Buyers say that once you set the room temperature, the Black & Decker BPACT12WT runs at top speed initially (which can be a little loud), but quickly achieves your desired temp in 10-20 mins.
Once it has cooled the temp it's able to operate quietly and maintain the room temperature.
Temp Range: 62 – 88°F
Here's a few scenarios which I think Black and Decker 12,000 BTU model is perfect for.
large living spaces, home office, classroom, shared kitchens or dorms, basements

What's included:
Black and Decker Portable AC Unit

Window kit w/ exhaust hose

Drainage hose for dehumidifier

LCD remote control

Caster wheels
Black and Decker BPACT12WT Portable AC:
Model: BPACT12WT
Cooling: 12,000 BTU
Area Size: up to 400 sq. ft.
Rooms: 20 x 20 ft.
Temp: 62°F – 88°F

LCD remote control w/ a

djustable temperature setting

Eco-friendly refrigerant

Washable air filters

4 caster wheels = portable air conditioner

Multiple fan speeds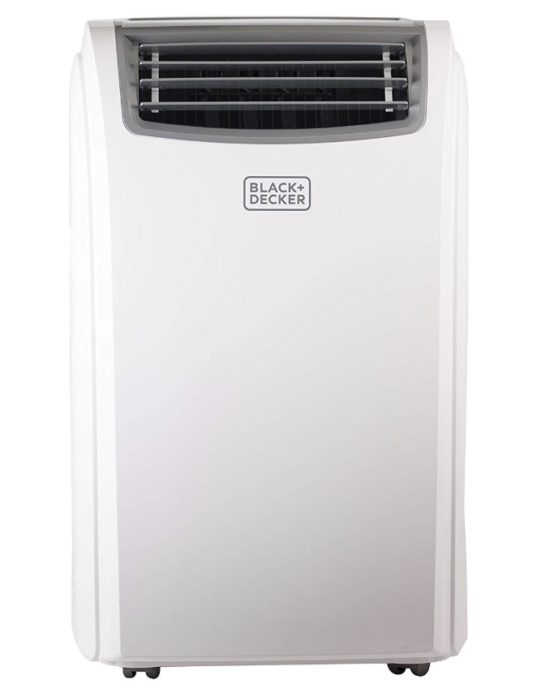 Black and Decker 12,000 BTU Portable Air Conditioner:
The Black and Decker Portable air conditioner units have very good buyer ratings online.
Compared to similar-size 12000 BTU ac units I think the BPACT12WT is middle-of-the-road — You can easily spot options that are cheaper or more expensive.
However, this is a model that's been around for a while.
It was a top seller last year and is expected to sell out again in 2020.
The downside is that it's a little louder than other portable AC units — ideal for large spaces. For bedrooms you might want to consider another unit.
Read our review on the B+D 14k portable ac.
But for those needing to cool large rooms I think the Black and Decker BPACT12WT is worth considering — fast cooling and great at maintaining room temp.
Also has received many positive reviews from buyers!
---
Black and Decker Portable AC Reviews"
Della 12000 BTU Air Conditioner
Edgestar Portable Air Conditioning Unit