Black and Decker 14000 Portable Air Conditioner.
The Black and Decker BPACT14WT is a powerful, 3-in-1 portable air conditioner.
For a 14,000 BTU unit it's reasonably priced — reading through reviews I saw that buyers used it for home offices, living rooms, dorm rooms and basements.
It's also great for homes with open layouts or high ceilings.
The 14,000 BTU unit is the most popular large-room AC, but Black & Decker offers the same model in 4 sizes.
BPACT08WT:  8000 BTU (150 sq. ft.)
BPACT10WT: 10000 BTU (250 sq. ft.)
BPACT12WT: 12000 BTU (400 sq. ft.)
BPACT14WT: 14000 BTU (550 sq. ft.)
BPACT14HWT: 14000 BTU w/ heater
Best Rated 14000 BTU Portable Air Conditioners
All units offer 3-in-1 functionality.
air conditioning, dehumidify, fan mode
What's surprising is how affordable it is compared to other 14000 BTU units.
Overall I think it's a good option for anyone looking for a high-powered unit in their home or office.
** FYI — many online descriptions have incorrect info. Stats listed are from Black & Decker's website.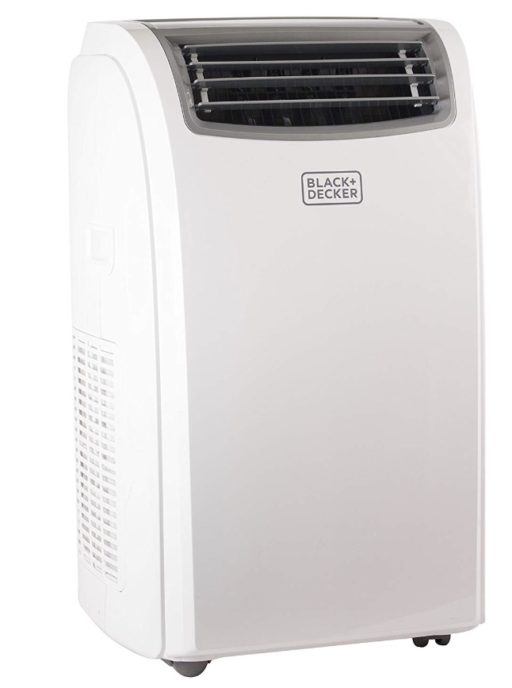 Black and Decker BPACT14WT Review:
The Black & Decker 14,000 BTU unit is designed for generating fast air-flow.
It's very good at maintaining cooler temperatures, especially for long durations of 5+ hours.
Power: 14,000 BTU
Coverage: 400 – 550 sq. ft.
Room size: 25 x 27 ft.
All models come w/ a remote control and allow you to set a desired room temperature.
most portable ACs include a remote, but only allow you to increase/decrease power.
Buyers confirm that once you set the room temp, the BPACT14WT will run at max speed initially (which can be a little loud), but quickly achieves your desired temp in 10-20 mins.
Once it has cooled the temperature it's able to operate quietly and maintain the room temp.
Temperature: 62°F – 88°F
Here's a few scenarios which I think Black & Decker 14000 BTU would be ideal for.
large living rooms, home offices, basements, classrooms, shared living areas (such as dorms)
It comes 95% preassembled which makes it super easy to install.
Buyers say it takes only 10-15 mins!
Top 10 Portable Air Conditioning Unit for Home

What's included:
BPACT14WT Unit

(83.7 lbs)

Window kit w/ exhaust hose

Water drain hose

LCD Remote control

4 caster wheels
Black and Decker Portable AC Unit:
Cooling: 14000 BTU
Area Size: 400 – 550 sq. ft.
Rooms: 25 x 27 ft.
Temperature: 62°F – 88°F

Adjustable temp settings

R410a : eco-friendly refrigerant

Washable air filters

Compatible w/ most windows

Double hung

Sliding windows

Caster wheels = portable ac

Multiple speeds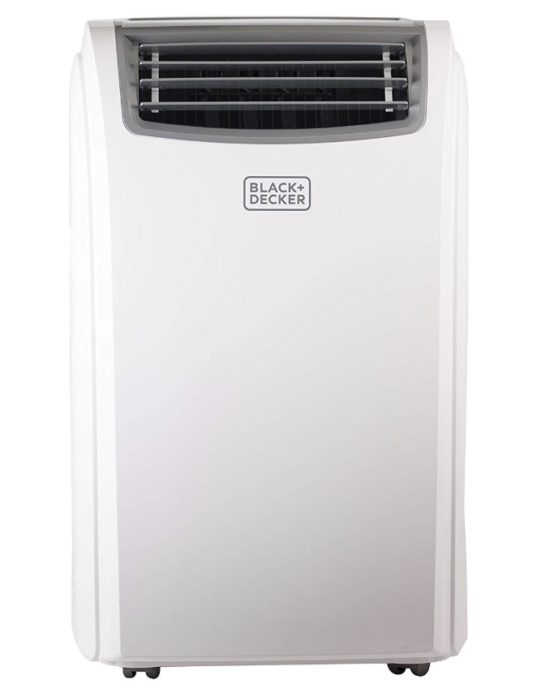 Black and Decker 14000 BTU Portable Air Conditioner:
The Black and Decker Portable AC units have very good buyer ratings online.
Compared to similar-size 14,000 BTU air conditioners I think the BPACT14WT is middle-of-the-road — You can easily spot options that are cheaper or more expensive.
However, this is a model that's been around for a while.
It was a top seller in 2018 and I expect it to be a Top 10 portable air conditioner in 2019.
The downside is that it's a little louder than others I've reviewed, but that's to be expected w/ larger size units.
For anyone needing to cool large, residential areas I think the Black and Decker BPACT14WT is worth considering — it's fast at cooling and maintains room temperature as good as any.
It also has tons of positive buyer reviews!
Let us know what you think in the comments below!
Black and Decker 14000 BTU Portable AC Review
Honeywell 14000 BTU Air Conditioner
Costway Portable Air Conditioning Unit
Quilo Portable Air Conditioner
hOmeLabs 14000 BTU Portable AC
Danby Portable AC Unit