Best Ductless Mini Split 2020.
Updated: 6/20
Ductless mini split air conditioners are an affordable luxury for homes (or businesses) without HVAC central heating and cooling.
There are a lot of options, but the top units offer the following:
whisper-quiet operation, temp control, heat pump, "smart" mobile app controls
To help you find the right one, here's my list of the best ductless air conditioner systems – picks are based on price, features, performance & buyer reviews.
Prices range from, $699 – $2199.
Senville LETO Ductless Mini Split

Senville Ductless Minisplit Systems

MRCOOL DIY Minisplit AC with Heat

Pioneer Ductless Split With Heating

MRCOOL DIY Minisplit Air Conditioner

DuctlessAire Mini Split Systems
---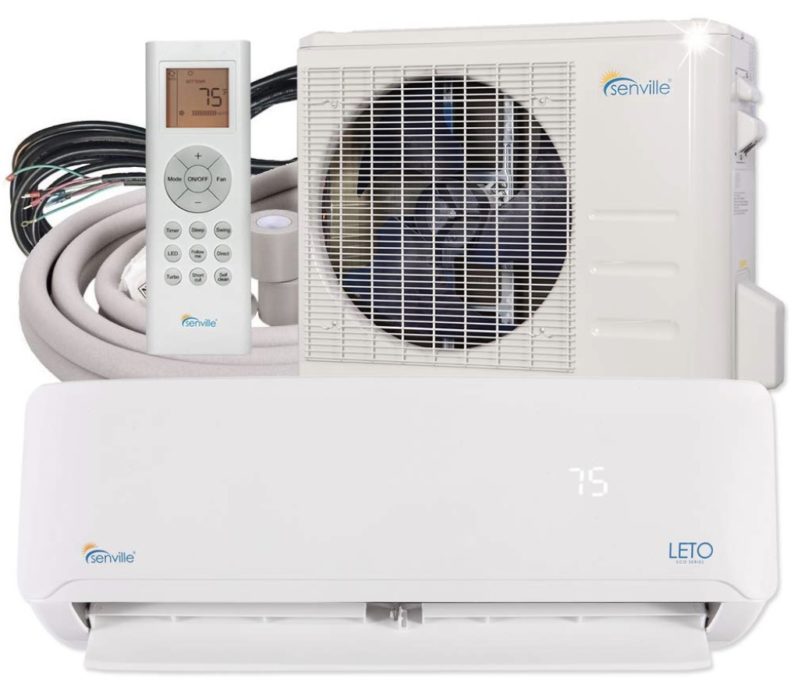 The Senville SENL is the best ductless air conditioner system.
It is offered in four sizes – each is designed to be high output w/ whisper-quiet operation.
As one of the quietest ductless mini split ac units, buyers say it's the best solution for bedrooms, living rooms or office spaces.
Noise level: 25 – 38 dB
SEER Rating: 19
Pricing: Medium
As a 3-in-1 model, the Senville ductless ac is designed w/ a low ambient system for maintaining a consistent temp for long durations.
(you won't hear it constantly shutting on and off)
Like other Senville mini split inverters, the heat pump is also high quality. It's a true all year-round model.
Includes remote control + DIY install kit.
Medium price w/ lots of positive buyer reviews!
---

The Senville SENA ductless mini split air conditioner is the top seller online.
As an Energy Star Rated ductless system, it comes with a DC inverter for ultra-high efficiency and quieter operation noise.
Cooling: 9000 / 12000 / 18000 BTU
Pricing: Affordable
Senville SENA comes w/ duel heating + cooling system making it a favorite among bars and restaurants. (very fast heating and cooling!)
Using the remote control you can use the new climate control feature to set exact temps.
Buyers confirm that it's extremely quick to cool rooms.
As a DIY mini split it's fairly easy to install (compared to other ductless air conditioner systems).
Lots of positive reviews w/ affordable price.
---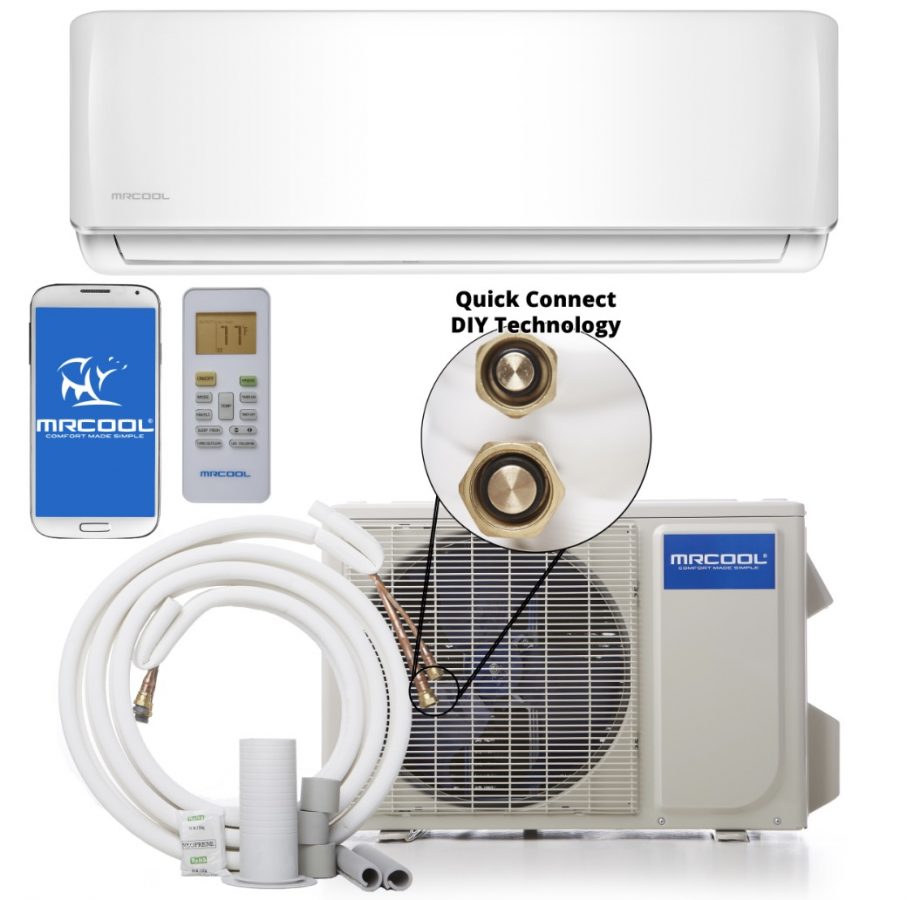 Mr Cool DIY mini split air conditioner is available with or without "smart" Wi-Fi connectivity.
With multiple fan speeds + variable operating modes it's able to maintain your desired temp without constantly turning on/off.
It is offered in multiple sizes, but the Mr Cool DIY 18k BTU mini split is the most popular.
Installation: 10-30 mins
Pricing: Affordable
Unlike the other mini-split systems, it requires just the basic tools to set up.
Additional features:
sleep mode, low ambient cooling, WiFi control (smart mini split system), heat pump for winter
Good buyer reviews w/ medium price tag.
---

The Pioneer WYS ductless mini split system is an affordable unit w/ heat pump included.
It's perfect for any size room and is offered in multiple sizes:
Cooling: 9,000 – 24,000 BTU
Pricing: Affordable
Ductless air conditioner system includes a remote control, washable filters and five fan speeds.
Using the remote control you can adjust room temp or fan speed — you can even set your desired temp.
Reviews confirm that it's very fast at cooling + heating.
** many buyers use for bars or restaurants
Some use the Pioneer WYS as their heat systems during the winter.
Lots of positive buyer reviews w/ affordable price!
---

The new Mr Cool DIY mini split is a top selling "smart home" mini split ac system.
It is a little different than the original Mr Cool DIY mini split because of the WiFi "smart" connectivity function.
As a smart mini split system, this ductless air conditioner + heat pump lets you change room temp. Using your smart phone select your temp MrCool will auto adjust its speed!
Mr Cool DIY ductless mini split acs:
12000 BTU: 350 – 500 sq. ft.
18000 BTU: 500 – 750 sq. ft.
24000 BTU: 750 – 1000 sq. ft.
36000 BTU: 1000 – 1500 sq. ft.
Also comes w/ high-powered motor which offers low ambient cooling — very quick, and fairly quiet.
Includes new Sleep Mode for even quieter operation!
Easy to install, the Mr Cool DIY mini split system won't require special tools. You can also sync with Amazon Alexa or Google Home for voice control.
Buyers love it as a smart diy mini split model!
---

The DuctlessAire mini split AC unit comes in multiple sizes.
From reviews, the most popular model is the 24,000 BTU unit.
Cooling: 24,000 BTU
Efficiency: 20.5 SEER
It can cool large rooms w/ high ceilings without overheating — buyers confirm that it's very fast at cooling.
Thanks to the inverter technology, it can be used for cooling + heating with the same efficiency.
DuctlessAire system was awarded an Energy Star Rating for its high SEER rating.
Over time you'll save on your monthly electricity costs.
---

If you are looking for compact ductless mini split, Pioneer ductless air conditioner unit ( model # WYS012AMFI22RL) is the perfect choice.
Includes many user-friendly features:
LCD display, wireless remote control, temp setting, sleep mode
Buyers like the washable filters — very easy to wash and only requires washing 2-3 times per year.
I also like the design of this Pioneer AC and Heat Pump. It has a beautiful front panel which has an LED display that shows you the current room temp.
Buyers also like the aesthetic for any type of decor.
Also check out our list of the top Pioneer Mini Split AC Units.
---

The Klimaire ductless air conditioner and heat pump comes equipped w/ the latest DC Inverter technology.
It is specifically designed to provide you with a consistent room temperature.
The DC Inverter maintains a consistent temp + can be used as a dehumidifier.
What I really like is that it features my favorite accessory – a full functional remote control. You're able to set the temp or adjust fan settings.
Reading reviews it's a top pick for bars and restaurants.
---

The Mr Cool Simple Comfort is the best DIY mini split system w/ WiFi "smart" controls.
Multiple sizes available but the 12,000 BTU is the most popular.
Mini split system comes w/ mobile app controls allowing you to adjust temp from anywhere.
Reviews confirm the Mr Cool DIY mini split is easy to install – once set up, you can control it through the remote control or using the mobile app! It is one of the first "smart" ductless mini split systems available.
Overall the Mr Cool DIY mini splits are very affordable and have good buyer reviews.
---

Pioneer WYS ductless air conditioner is a super energy efficient ductless mini split system.
It operates at 21.3 SEER efficiency which is better than most ductless systems.
Best of all you can operate it all year-round. It includes a very good heat pump, which has made it a favorite among restaurants and bars.
The easy-to-use remote control lets you control the temperature with a single button.
Expensive, but as an energy efficient unit, it will pay off in the long run.
---
What is a mini split air conditioner?
A ductless mini split air conditioner system includes two basic components, both of which are found in HVAC central air units, portable air conditioners, and window air conditioners. The difference is that they are separated, or "split", for purposes of delivering cooling capacity to areas not reached by duct work.
The first component is the actual cooling unit that is mounted on the wall inside the home.
In some cases it can be attached to the ceiling, such as the Pioneer Mini Split Ceiling Cassette. Inside mini split systems include a cooling coil and an air handler to draw in warm air so it can be cooled and then re-released back into the room.
As you can see on the mini split systems above, units are mounted high in the room so they can capture warm air that rises, and send cooler air downward, creating a balanced temp throughout the room or zone.
The second component is located outside the house, and consists of a compressor which delivers refrigerant. It is typically mounted outside the home or building.
How mini split units connect
Connecting the two units is accomplished with small diameter conduit through which the coolant is delivered and power is run to the individual air handlers. The conduit also contains a condensate drain to remove moisture.
Most ductless mini split systems include an adjustable temperature function w/a remote control or mobile app. From my research "smart" mini split air conditioners and heat pump systems will cost 10-25% more than non-smart units.
---
Best Ductless Mini Split Systems
Daikin Ductless Mini Split Review
Best Ductless Mini Split Systems