Best Type of Air Conditioners.
If you're stressing about staying cool this summer there's a few types air conditioners to consider ~ each comes with a tradeoff between price, convenience and cooling efficiency.
During peak summer months, a good air conditioner can make a world of difference.
Believe me – there is nothing worse than living in a home that's unbearably hot.
Sleeping is nearly impossible in 90-degree heat.
     I know. I've done it.
The apartment didn't have central cooling and the ceiling window was 11 ft. high.
I rented it in winter… bad idea.
In case you haven't done so, you'll want to first measure the room(s) you want to keep cool. Since an air conditioner's cooling power is measured in BTU you'll want to get the square footage.
| | |
| --- | --- |
| 100-150 sq. ft. | 5,000 BTU |
| 150-250 sq. ft. | 6,000 BTU |
| 250-300 sq. ft. | 7,000 BTU |
| 300-350 sq. ft. | 8,000 BTU |
| 350-400 sq. ft. | 9,000 BTU |
| 400-450 sq. ft. | 10,000 BTU |
| 450-550 sq. ft. | 12,000 BTU |
| 550-700 sq. ft. | 14,000 BTU |
| 700-1000 sq. ft. | 18,000 BTU |
| 1000-1400 sq. ft. | 24,000 BTU |
BTU estimates assume your home has an average ceiling height. Also new mildly flammable refrigerants are proven to be more energy efficient and produce lower emissions.
Other factors that may require a higher BTU estimate:
large windows, region humidity, or open home layouts.
Best Types of Air Conditioners for Home
The Energy Institute at Haas Berkeley reported President Obama's Clean Power Plan that calls for a 32% reduction in emissions by 2030. And that Biden's new energy reform will call for 100% reduction by 2035.
Below is my list of the four most popular types of air conditioners for home.
For each I detail the pros and cons, features, and price range ~ I also provide tips for best efficiency and scenarios they're ideal for.
#1.

Central Air Conditioning (HVAC)
The newest and most efficient type of home air conditioning is central air.
It's also the most expensive option, by far.
However compared to others, central air are the best type of air conditioners you can buy.
For new homes central heating and cooling is the standard.
Instead of cooling a single room, central HVAC systems are designed to heat and cool your entire home.
Another benefit is the "smart home" control panel or remote control – simply set your desired room temp and let the HVAC do the rest!
It's important to know that Central Air Conditioning also includes heating.
Since HVAC systems require professional installation, they are easily the most expensive.
A common mistake a lot of people make is buying a larger unit than they need. A larger air conditioner eats up more electricity, plus the higher BTU unit costs more.
Pro Tip: A good HVAC contractor will steer you in the right direction
Another common mistake is un-clean air ducts.
Running you system all summer gradually causes buildup in the ducts and air filters.
Whether you're installing a new system or replacing an old one, you should have all the ac ventilators cleaned, and ideally inspected.
A HVAC contractor will inspect for:
holes

dust or buildup

leakage

proper air flow
In terms of price a contractor will provide an estimate based on the square footage ~ estimates should include:
layout design, equipment cost & labor costs
They're the best type of air conditioners for home, but central air (or HVAC system) is the most expensive type by a mile.
---
#2.)

Ductless Mini Split Air Conditioning
In my opinion ductless mini splits are the best type of air conditioner for home use.
They aren't cheap, but are much more affordable than central air conditioning systems ~ it's the ideal option for older homes.
Most of the mini split systems are single units, but can be purchased as multi-zone split units too.
Another nice benefit is its quieter operation.
Buyers often use a ductless mini split for residential and commercial use.
bedrooms, home offices, school rooms, basements, restaurants
Many ductless mini split systems are DIY models too – this means you won't need to pay for installation.
Like a central air conditioning system, ductless units usually have a remote control or "smart" Wi-Fi functionality so you can control it using your smartphone.
If you purchase a multi-zone mini split you can regulate the temp in various room or areas of your house.
Overall ductless mini splits are a more affordable version of central air conditioning. It's a good option between a full HVAC system and a window or portable unit.
Ductless mini splits cost, $699 – $1,199 (per unit).
A number of manufacturers specialize in ductless air conditioning systems. Incidentally, they are also called duct-free split systems.
Pioneer, Senville, Daikin, LG, Klimaire and Fujitsu
---
#3.)

Portable Air Conditioners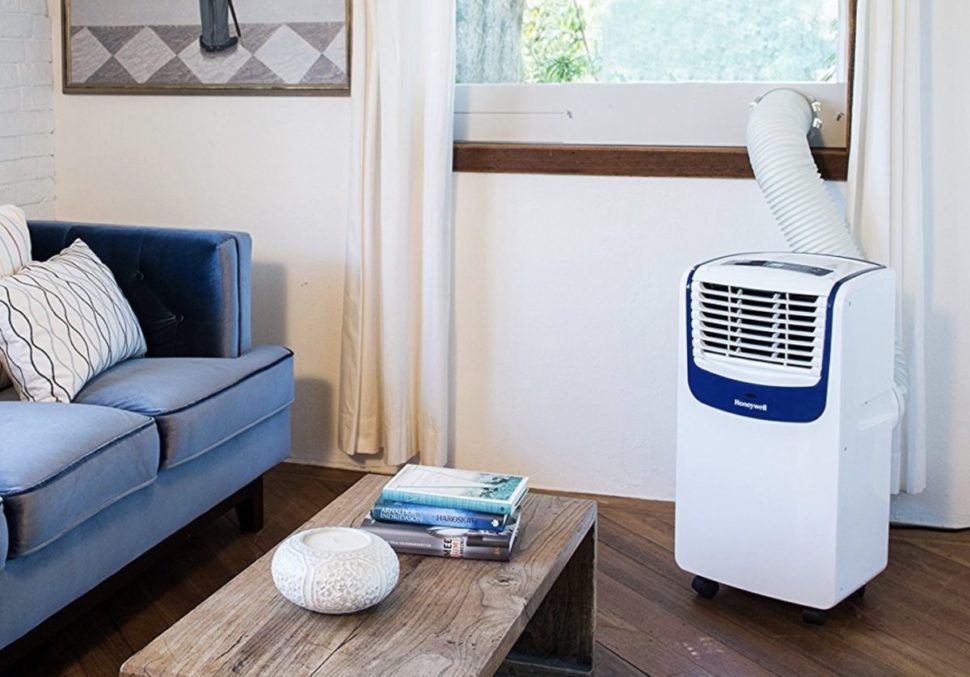 Outside of full HVAC systems, portable air conditioners are the most popular type of air conditioner in homes today.
Portable AC units are affordable, versatile, energy efficient, and fast install – takes only 10 mins!
Powerful and fast cooling ~ portable acs are actually NOT designed to be the primary cooling source in your home. They're often used as a secondary cooling source (usually alongside an HVAC system).
One of their key benefits is their energy efficiency.
Many portable air conditioners today are Energy Star Rated (EER)- this means they're certified by the U.S. EPA for the highest energy efficiency.
Portable units are more efficient than HVAC or mini split systems.
For residential use, here's a few scenarios to consider.
Small Apartments
It's a waste of money to have a central air conditioning system or purchase a mini split for an apartment or small home, especially if you're renting. Portable units are efficient and do not cost a lot to operate.

Also good option for college students.
Awkward Sized Windows
For those who have awkward window sizes (usually in city apartments), a portable air conditioner hose will do the trick!
Home Cooling on a Budget
Portable air conditioners are fairly affordable for most homes

Of all the types of air conditioners, portable units have the most Energy Star Rated models
Humid Regions
For high humidity, most portable units include a powerful dehumidifier. Looking online I'd say that most are capable of removing 55-65 pints of air moisture daily.
During Power Outages
Some portable air conditioners have the ability to operate even when if the power goes out. Keep in mind you will have to look for this feature on the label since it's a unique feature.
Camping or RVs
A few portable units can be used on vacations or camping trips. As battery-operated models, they can be powered using a portable generator

Users have used them to cools tents or RVs.

FYI: remember to check the product label to make this function is avail.
The basic models fairly affordable in terms of home cooling.
Some of the newest features include a built-in heater, smart air conditioning using your smartphone, and adjustable temp.
Expect a good portable air conditioner to cost $219 to $699.
Top manufacturers include Honeywell, Black and Decker, Costway, LG and Whynter.
---
#4.)

Window Air Conditioners & Wall Units
Window units are the most popular type of air conditioning for apartments or renting a home.
They're super affordable – especially compared to a HVAC system or a ductless mini split unit. In city apartments, window air conditioners are the go-to type for air conditioning.
FYI: Wall units can be mounted in a hole cut into the exterior wall.
Like portable air conditioners, today's window units are more efficient than ever before – many are Energy Star Rated and have an EER (energy efficiency rating) of 10 or higher (the higher the better).
In most cases 8000-12000 BTU window air conditioner is plenty of cooling power.
Some of the downsides are that they offer limited cooling, can be a hassle to install (because they're heavy), and will make more noise compared to another type of air conditioning.
Since they're a bit heavy, install can be a hassle. Online the newer models weigh 35-45 pounds, but the upside is it takes less than 10 mins to set up.
Ideally you'll want a friend to help you out.
Overall, they're a popular type of air conditioning because of their affordable price, compact size (for smaller rooms), and quick install.
If you're thinking of purchasing this type of air conditioning system for your home or apartment, expect to pay anywhere from $189 to $499.
Window ac producers include Frigidaire, LG, Haier, and Friedrich.
Best Type of Air Conditioners for Home
Hopefully my overview sheds some light on what to expect when it comes to home cooling.
Depending on your scenario, you'll probably end up buying one of these types of air conditioning for home cooling.
One last thing you should keep in mind is the efficiency in which you use your ac unit ~ the actual product is the upfront cost, but buying an inefficient ac can cost you a lot in electricity costs.
To help lower your energy bill here's a few tips.
Buy an Energy Star Rated model

Don't buy a larger unit for a smaller room

Make sure the air ducts or ac filter are clean

During peak summer months close shades on

windows

Set turn-off timer on the machine (in case you forget)
The best types of air conditioning is one that's efficient for your home and your wallet.
If money is a concern, I suggest buying an Energy Star Rated window or portable air conditioner for $189 to $399.
For those who want a quieter cooling option and can afford $800-1000 (per unit), a ductless mini split is probably the one for you.
And for home renovations or making a large investment to your home, a central cooling system or HVAC system is the best type of air conditioning you can get. Remember to find a good contractor too.
In the coming months I hope to include more tips for efficient home cooling.