Honeywell HFD120QCV2 QuietClean.
The Honeywell QuietClean is the best tower air purifier in Canada.
Its sleek frame makes it ideal for use in small or medium size rooms – many buyers have it in their bedroom or home office. Whether you have allergies, breathing problems or simply want cleaner air, this Honeywell HFD120QCV2 is ideal option because of its whisper quiet operation, performance & affordable price.
Designed with a true HEPA air filter it has an adjustable fan and uses a two-step cleaning process. As a tower air purifier it quickly filters air in rooms up to 170 sq. ft
The pre-filter catches larger particles that would normally clog the main filter . The pre-filter is a permanent feature that does not require replacement and ensures easy maintenance – as an air purifier it is nearly maintenance-free!
Honeywell HFD1210QCV2 is also a HEPA model – the double filtering system is able to remove 99.97% of airborne particles including pollen, household dust, mold spores, & some odors/smoke.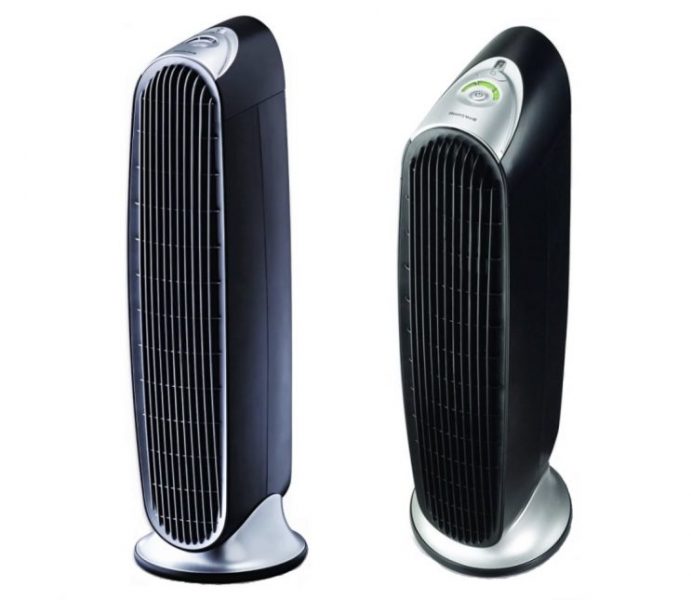 Honeywell HFD120QCV2 Air Purifier Review
The permanent pre-filter is requires zero maintenance. The Honeywell HFD120QCV2 also includes an electric filter-check indicator to inform you when the filter needs to be cleaned.
Buyers love the washable filters – it helps save money in the long run!
Another nice convenience is the LED touch-button control which allows three different fan speeds perfect for either fast filtering or slow purifying.
Its slim size allows the Honeywell HFD120QCV2 QuietClean to be stored or placed virtually anywhere. There is no need to continually move the Air Purifier around the room either. When the machine is turned on, the oscillating function allows it to rotate back and forth while blowing the air into a high arc. This ensures that every part of the room will be purified.
Honeywell HFD120QCV2 Review
Speeds: 3 levels

Capacity: 170 sq. ft. rooms

Energy Star Rated model

AHAM Certified

Dust CADR: 100

Smoke CADR: 110

Pollen CADR: 132

Washable air filters

On/off oscillation control
Read our review on the Levoit Air Purifier.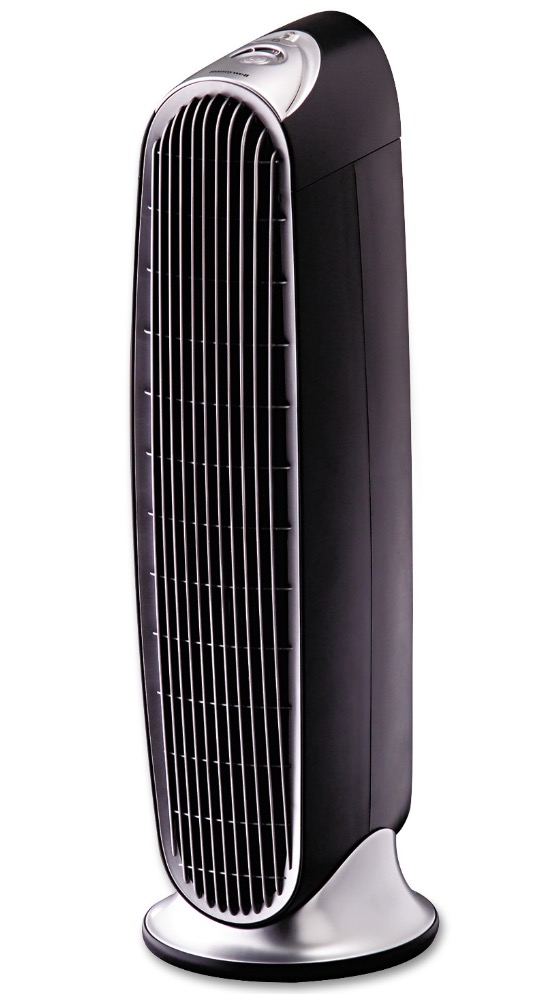 Honeywell Air Purifier Features
Weight: 13 lbs

HEPA quality air filters

Permanent pre-filter

Electronic filter check indicator for easy maintenance

Captures 99% of dust, pollen, cat dander, smoke, mold spores

LED controls w/ multiple fan speeds
Honeywell QuietClean Air Purifier
As one of the best tower air purifiers, the Honeywell HFD120QCV2 QuietClean includes a sturdy base for its 13 lb frame.
It's sleek style makes it easy to look at allowing you to breathe clean air while not jeopardizing your room's decor. Not only does it look great, but it is also one of the most energy efficient machines on the market.
There is no hassle necessary to assemble the product – It comes fully assembled. The only thing you have to do is plug it in and turn it on. Once you do that, the machine will do all the work for you!
With its adjustable fan speed and HEPA filter, the Honeywell HFD120QCV2 allows animal lovers with allergies to continue to enjoy their pets, dander free!
Overall a good option for home!
Honeywell HFD120QCV2 QuietClean Review